WASHINGTON — In just a few months, the United States has received more than 1.5 million requests from individuals to sponsor the entry of immigrants from four countries, an extraordinary number that could jeopardize the Biden administration's goal of reducing border crossings, according to internal documents obtained by CBS News. display
US citizens, residents and others with legal immigration status in the US are eligible to sponsor immigrants from these four countries, as long as they agree to support them financially. Immigrants covered by the program are granted a two-year work permit under the Humanitarian Parole Authority.
A flood of hundreds of thousands of sponsorship applications from immigrants from Cuba, Haiti, Nicaragua and Venezuela has overwhelmed caseworkers at US Citizenship and Immigration Services (USCIS), who cannot approve more than 30,000 arrivals under each program a month.
Because of the extensive and rapidly mounting backlog of pending applications, USCIS recently changed the way it processes these cases, selecting half of the requests it reviews through a lottery system each month. The other half will be judged on a first-come, first-served basis.
Internal Homeland Security documents obtained by CBS News indicate that as of late last month, the agency was receiving an average of about 12,000 applications a day from those seeking to sponsor Cubans, Haitians, Nicaraguans and Venezuelans, calling the number "overwhelming." The document noted that applications were processed in less than three days per month due to the 30,000 monthly cap.
More than 100,000 immigrants have come to the United States under sponsorship initiatives. But the government was overseeing more than 580,000 pending cases for Haitians, more than 380,000 for Cubans, about 120,000 for Venezuelans and more than 20,000 for Nicaraguans at the end of April. Other cases are under review or have been approved.
A version of the program was first launched in October 2022 to allow Venezuelans with US-based sponsors to fly directly to the US as part of efforts to reduce the record influx of Venezuelan migrants at the southern border at the time. In January, the initiative was expanded to include Cubans, Haitians and Nicaraguans, who traveled to the US-Mexico border in record numbers last year.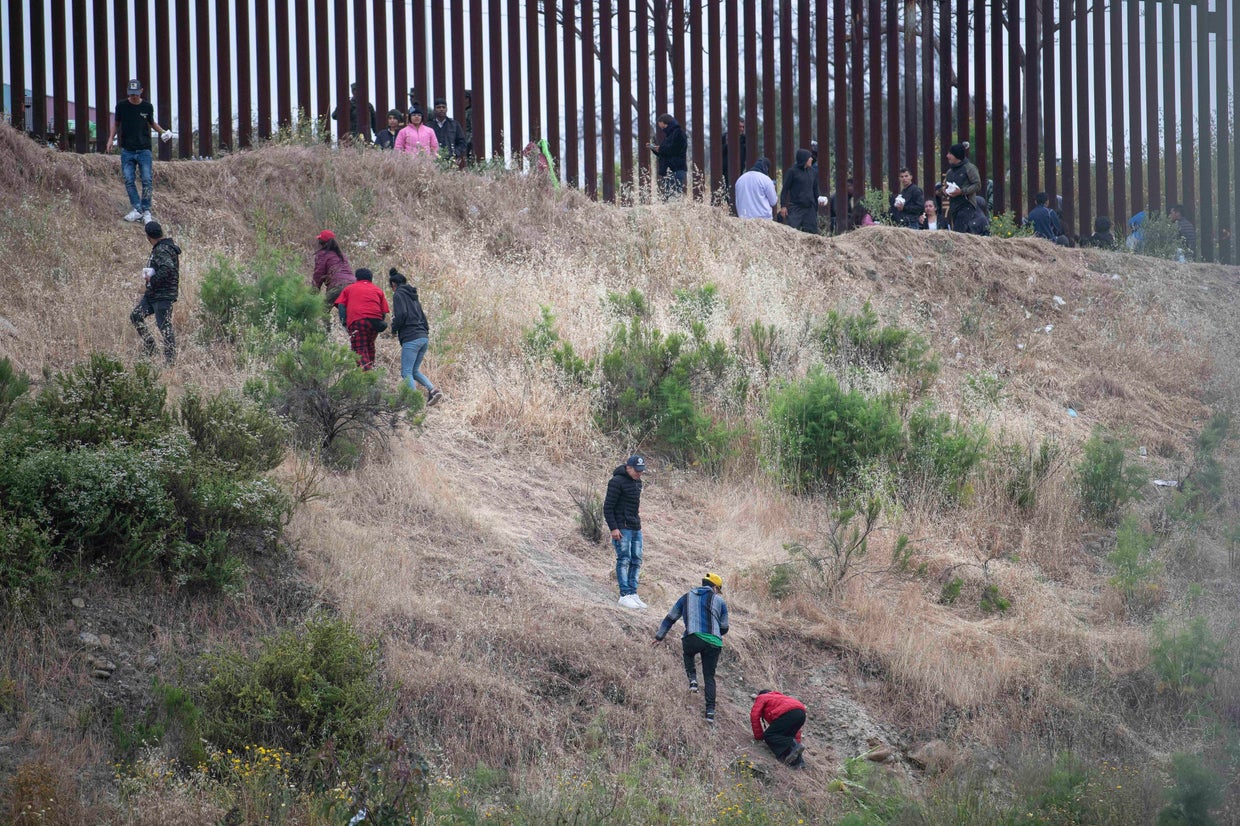 San Diego, California, USA – 2023/05/12: Asylum seekers are seen scaling a mountain between the US-Mexico border to reach the Mexican military who were providing assistance alongside US volunteers.
John Putman/Sopa Images/Lightrocket via Getty Images
The sponsor program is linked to the policy of returning Cubans, Haitians, Nicaraguans, and Venezuelans who illegally cross the southern border into Mexico, which agreed to take those nationalities back, first under the now-expired Title 42 public health order and now under regular U.S. immigration law.
The combination of repatriation to Mexico with the sponsorship program has led to sharp declines in illegal border crossings by migrants from these four crisis-hit countries, whose governments will not or will not accept large numbers of US deportees for diplomatic or operational reasons. because
Top White House officials boasted of the strategy's success. But the growing number of applications for the sponsorship program, well above its 30,000 monthly cap, threatens to derail the policy's main purpose: to encourage immigrants to refrain from illegally crossing the southern border by giving them a meaningful chance to enter the United States legally. .
Internal DHS documents say the tens of thousands of pending cases have created "significant" wait times for applicants. If the monthly cap is not raised, the documents acknowledge, the effectiveness of the program may decline.
"Immigrants who are desperate, and they are desperate immigrants, will wait so long before they say, 'It's not happening and I'll take a chance on something else,' whether it's sneaking in or let's see the border and see if they can get in," said Theresa Cardinal Brown, a former DHS official and current immigration analyst at the Bipartisan Policy Center, a Washington think tank.
Top US officials have not indicated whether they will raise the 30,000 monthly cap on admissions. DHS representatives did not respond to several questions about the program, including whether the ceiling would be changed.
In April 2022, the Biden administration launched the first version of its sponsorship policy, establishing a program called Ukraine for Ukraine to allow Americans to sponsor Ukrainians fleeing the Russian invasion of their homeland. Unlike other sponsor programs, Uniting for Ukraine has no numerical cap. Earlier in May, 127,000 Ukrainians came to the United States under the policy.
Changing the cap for Cuban, Haitian, Nicaraguan, and Venezuelan sponsorship initiatives could have legal and foreign affairs implications.
The Biden administration and the Mexican government have tied the arrival of up to 30,000 migrants to the U.S. to Mexico's pledge to take back the same number of Cubans, Haitians, Nicaraguans and Venezuelans turned away by U.S. border officials.
"Thirty thousand for 30,000 is something that has been proven to work, and we have committed — both countries — to continuing the 30,000 to 30,000 system after May 11," a senior U.S. official told reporters earlier this month.
The sponsorship policy is being challenged in federal court by a coalition of Republican-led states that argue the Biden administration has no legal right to use parole to admit 360,000 immigrants each year outside the regular visa system.
Blas Nunez Neto, the top DHS official for border and immigration policy, said last week that Mexico is "unlikely" to continue accepting returns of Cubans, Haitians, Nicaraguans and Venezuelans if the sponsorship program is blocked in court.
Daily illegal border crossings reached a record high of 10,000 earlier this month, just before the end of Title 42 public health restrictions on migration, but have fallen to 3,000 in recent days.
Biden officials have blamed the sharp drop in border crossings on increased formal deportations of those who enter the U.S. illegally and a restriction that disqualifies many migrants from asylum, as well as efforts by Mexican and Guatemalan military and law enforcement officials to slow U.S.-bound immigration. .
More Camilo Montoya-Galvez