At least eight people were killed after two boats capsized off Black's Beach in San Diego County overnight, as rescue workers continued their search for additional missing people Sunday, the San Diego Fire-Rescue Department said.
Shortly before midnight Saturday night, the San Diego Fire-Rescue Lifeguard Division received a 911 transfer call from a Spanish-speaking woman who said she was in a panga with 15 people and had reached shore after it capsized at Blacks Beach. Surf, San Diego Fire-Rescue Department Lifeguard Division Chief James Gartland said Sunday.
According to fire officials, the woman said another panga with eight people had drowned and the victims were still in the water.
Officials did not confirm the nationalities of the victims. The San Diego Fire-Rescue Department Lifeguard Division has seen a 700% increase in human trafficking, Gartland said.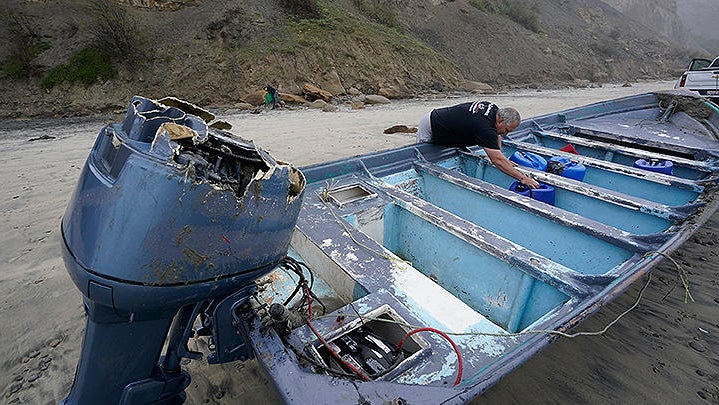 Boat salvager Robert Butler retrieves a canister from one of two boats sitting at Black's Beach, Sunday, March 12, 2023, in San Diego.
Gregory Bull/AP
Multiple agencies responded to the scene, including San Diego Fire Department lifeguards, Customs Border Protection and the US Coast Guard, but high tides made it difficult for rescue officials to access the beach and were forced to "walk knee-to-knee." waist deep water," according to fire officials.
"A few hundred yards later, lifeguards on the beach reached dry sand and then began to find lifeless bodies and two overturned parakeets strewn over an area of ​​about 400 yards," fire officials said.
Seven bodies were recovered by the first lifeguards on the scene, and an eighth body was found by CBP Air and Marine operations officers, fire officials said. Eight victims may be from both ships, according to Gartland.
Several life jackets and fuel barrels were also found at the scene, fire officials said.
The victims, who were all adults, have been turned over to the SD County Medical Examiner, according to fire officials.
Trending news
Thanks for reading CBS News.
Create your free account or login
For more features.