Lois E. of Warren, Michigan; It was the end of the day for Carter Middle School students. But for the students of Bus 46, that April afternoon was the beginning of an unforgettable ordeal.
It all started when the brakes slammed on April 26. Students told CBS News they were "horrified and shocked" at the sudden move. Then, they looked and saw what was happening.
The bus driver was unconscious — and so was seventh grader Dillon Reeves He grabbed the steering wheel.
Security footage showed Dillon witness the driver's medical emergency, causing the bus to overturn. The boy immediately got up from his seat, took the wheel and applied the brakes to bring the situation under control and save the driver and his passengers.
Dillon Reeves rescues his school bus driver in Warren, Michigan. April 26, 2023.
Steve Hartman / On the Road
"I just knew what to do in that moment," Dillon said. "The bus was veering off the road."
When police arrived at the scene, they called Dillon's parents, who were somewhat alarmed by the call from law enforcement.
"'Are you Dillon Reeves' parent?'" Steve Reeves recalled police asking him. "And I said, 'Yes.' And I go 'What did he do?' And he goes 'No, that's a good phone call. Your son is Hero. He stopped the bus.'
A student on the bus credits Dillon with saving "the whole bus" with his "quick action and thinking" and "being brave".
Warren Consolidated Schools said in a news release that paramedics quickly responded and treated the driver. Students were taken home in another school bus.
Soon, though, a question arose: How was Dillon the only one to notice what was happening?
The answer was simple. While other kids were on their cell phones, listening to music, or otherwise engrossed in their electronics, Dillon didn't have a cell phone to distract him from the world around him or limit his situational awareness.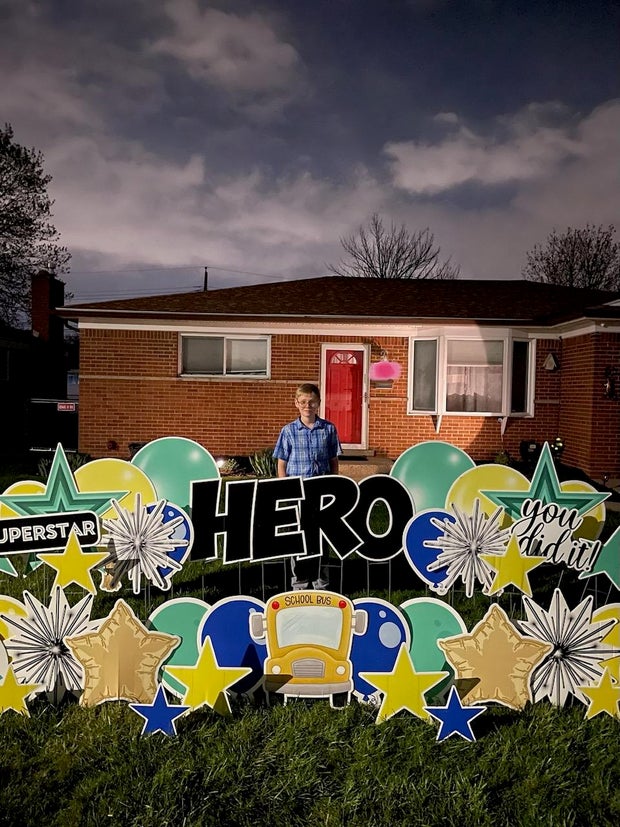 Dillon Reeves in his front yard the night of the bus incident.
Steve Hartman / On the Road
"What else would you do if you didn't have a cell phone?" Steve Reeves asked. "You're going to look at people. You're going to notice things. You're going to look out the window and enjoy the world. It's a very powerful lesson. Maybe a world-changing kind of lesson, I don't know."
Dillon is less convinced.
"My parents are old school, I guess," he told CBS News with a sigh.
Sometimes even heroes have it tough.
To contact On The Road or send us a story idea, email us: OnTheRoad@cbsnews.com.
Trending news
Steve Hartman