3 killed, 4 missing in West Reading candy factory explosion
3 killed, 4 missing in West Reading candy factory explosion
01:58
Another person was killed Chocolate factory explosion In West Reading, Pennsylvania, last week brought the death toll to four as of Sunday, officials confirmed. First responders continue to search for three other people who are still missing in the wake of the incident.
West Reading Police Chief Wayne Holben said at a news conference Sunday morning that rescue workers worked through the night to inspect the wreckage at the RM Palmer Company and discovered a fourth victim under the debris early Sunday morning. The man was pronounced dead at the scene.
"Crews are continuing their relentless efforts to comb through the wreckage to locate additional individuals," the police chief said, adding that crews are "fully committed to this task" and will "do everything to ensure our ability to close for all involved."
"I want to assure all of you that we will not rest until every person affected by this tragedy is held accountable," said Holben. He could not provide any update on the woman who was rescued alive from the rubble on Saturday.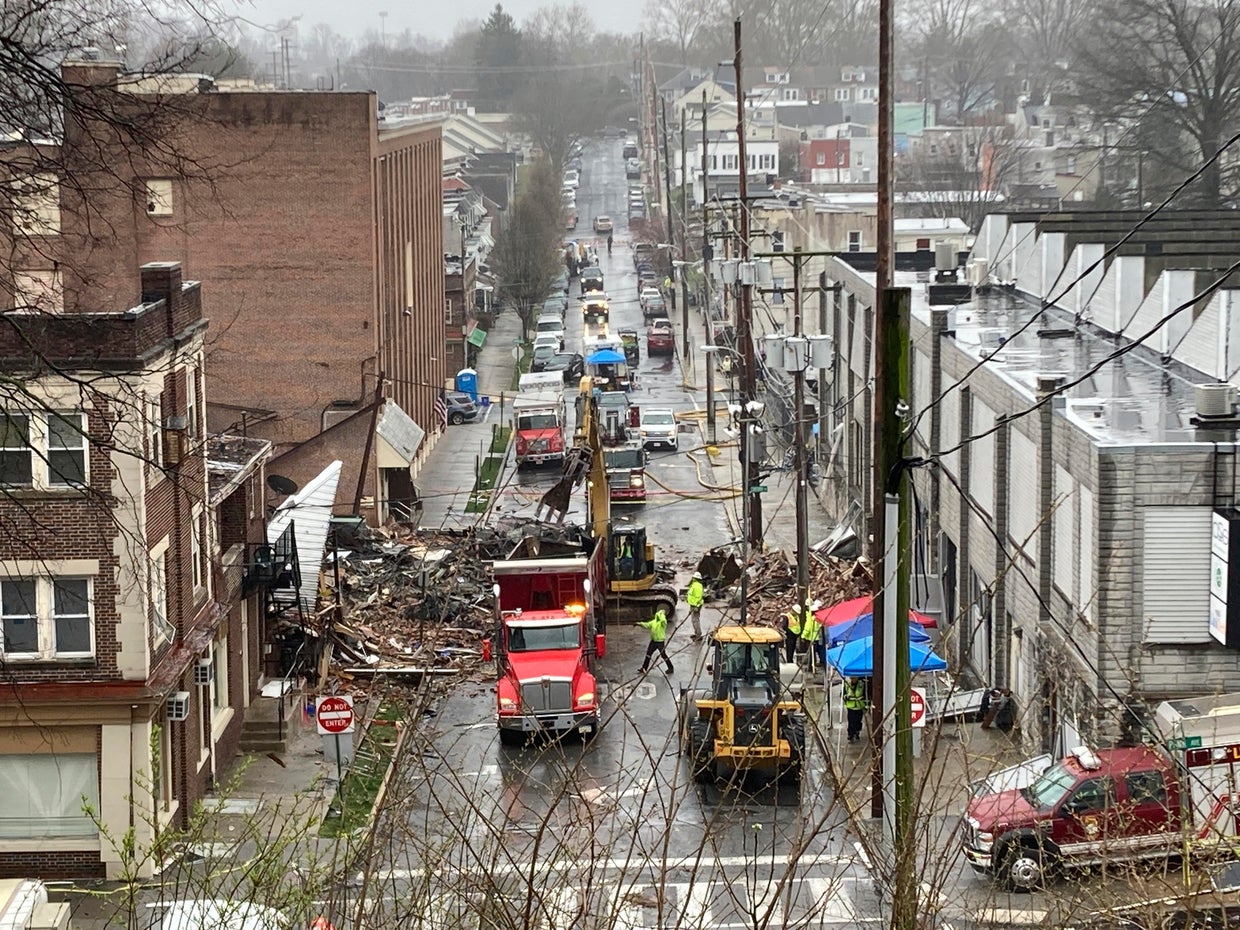 Emergency responders and heavy equipment are seen at the scene of a deadly explosion at a chocolate factory in West Reading, Pennsylvania, Saturday, March 25.
Michael Rubinkam/AP
RM Palmer, a candy company, operates a large factory building in West Reading, where the explosion occurred Friday night. Videos recorded at the site showed flames and thick clouds of black smoke engulfing the building and billowing hundreds of feet into the air. The death toll was initially uncertain after the explosion. On Saturday, Holben and West Reading Mayor Samantha Kaag said at a press conference that two people had been confirmed dead and five people were missing.
CBS Philadelphia reported at the time that 10 people injured in the incident were hospitalized, six of whom have already been released. A spokeswoman for Reading Hospital told CBS News that eight patients were admitted.
As emergency workers continue to search for missing people, Fire Chief Chad Moyer said Sunday that the chances of finding survivors diminishes as time passes. CBS Philadelphia Report
"Because of the violence of the explosion and the amount of time that has passed, the chances of finding survivors are diminishing rapidly," Moyer said.
RM Palmer acknowledged the blast in a statement shared on its website and said the company was "devastated by the tragic events that occurred Friday evening."
"While everyone at RM Palmer is devastated by the tragic events that occurred Friday evening at one of our West Reading facilities, we are focused on supporting our employees and their families," the statement read in part. "We have lost close friends and colleagues, and our thoughts and prayers are with the families and friends of all those affected."
The candy company, which makes seasonal chocolates for occasions like Easter, Christmas and Halloween, employs about 850 people, according to its website. The factory in West Reading has been there since the early 1960s.
Trending news