A Texas inmate convicted of fatally stabbing his estranged wife and drowning her 6-year-old daughter in a bathtub nearly 14 years ago was executed Tuesday.
Gary Green, 51, received a lethal injection at the state penitentiary in Huntsville. He was condemned in the September 2009 deaths in the Dallas home of Lovetta Armstead, 32, and her daughter, Jazmen Montgomery. Greene's attorneys have not filed an appeal to stay the execution.
A Buddhist spiritual advisor selected by Greene stood next to the death chamber gurney at the prisoner's feet and offered a brief prayer. Green then apologized when asked by the warden if he had a final statement.
"I apologize for all the harm I've caused you and your family," Green said, looking at relatives of his victims who watched through a window. "We ate together, we laughed and cried together as a family. I'm sorry I failed you."
He said he "took two people that we all loved, and I had to be with them while I was here."
"We were all one and I broke that bond," he continued. "I'm asking that you forgive me, not for me, but for you. I'm okay with going home and you all stay here. I want to make sure you don't suffer. You have to forgive me. And heal and move on." Go. … I'm not the same person I used to be."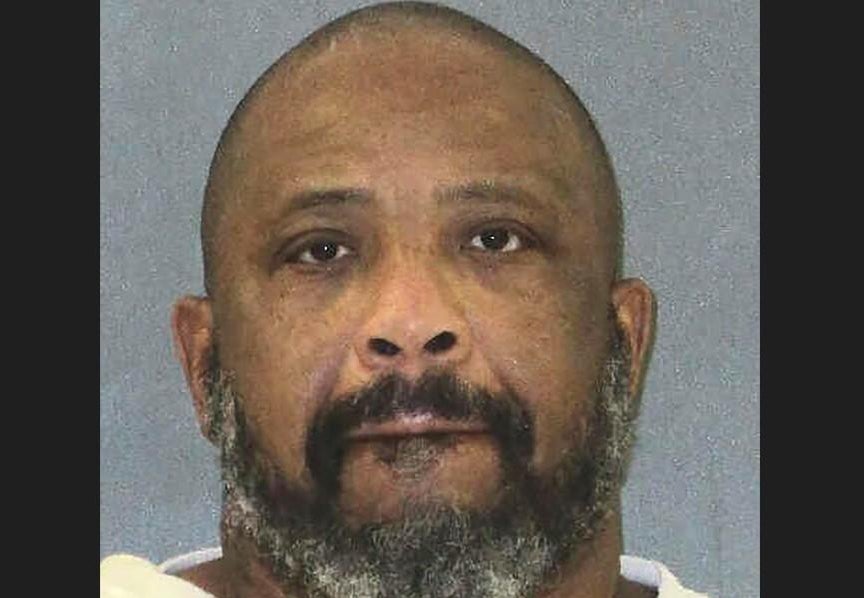 This undated photo provided by the Texas Department of Criminal Justice shows inmate Gary Greene.
Texas Department of Criminal Justice via AP
Instead of inserting IV needles into each arm, prison technicians had to use a vein in Green's right arm and a vein in his upper left arm, delaying the injection briefly.
As the lethal dose of the sedative pentobarbital began, Green was thanking the prison administrator, the chaplain and "all the beautiful people at the Polunsky Unit," the prison that houses the condemned men in Texas. Then he took several quick breaths, which turned into snoring. After nine snorts all movement ceases. Several relatives of the victims are hugging and crying.
He was pronounced dead 33 minutes later at 7:07 PM
Ray Montgomery, Jazmen's father and a witness, recently said he was not cheering for Greene's execution but saw it as a form of justice.
"It's justice for the way my daughter was tortured. It's justice for the way Love was killed," said Montgomery, 43.
In earlier appeals, Green's attorneys claimed he was intellectually disabled and had a lifelong history of mental illness. Those appeals were rejected by the US Supreme Court and lower appeals courts.
The Supreme Court has banned the death penalty for the mentally retarded, but not for the severely mentally ill.
Authorities said Green committed the murder after Armstead tried to annul their marriage. On the day of the murder, Armstead wrote two letters to Greene, telling her that although she loved him, she had to "do what's best for me." In his own letter, which was angry and confused, Green expressed his belief that Armstead and his children were involved in a plot against him.
"You asked to see the monster so here he is the monster you made me. … They'll take 5 lives today I'm the 5th," Green wrote.
Armstead was stabbed more than two dozen times and Green drowned in the bathtub at the Judgemans' home.
Authorities said Green wanted to kill Armstead's other two children, then-9-year-old Jarrett and 12-year-old Jerome. Green stabs Jarrett but both boys survive.
"We're not going to tell anybody about it," Jarrett said in testimony to investigators about how he convinced Green to spare their lives.
Josh Healy, a prosecutor with the Dallas County District Attorney's Office that prosecuted Greene, said the boys were incredibly brave.
Green "was an evil guy. It was one of the worst cases I've ever been a part of," said Healy, now a defense attorney in Dallas.
Montgomery said he still has a close relationship with Armstead's two sons. He said that both lead productive lives and that Jerome Armstead has a daughter who looks like Jazzman.
"They still struggle a lot, I think," said Montgomery, who is a special education English teacher.
Greene's execution was one of two scheduled in Texas this week. Inmate Arthur Brown Jr. will be executed Thursday.
Greene was the eighth incarcerated in the United States this year.
He was one of six Texas death row inmates who joined a lawsuit they sought to stop the state's prison system from using expired and unsafe execution drugs. Four Texas inmates, including Greene, have been executed this year, despite a civil court judge in Austin initially agreeing to the claim.
Trending news