All Los Angeles Unified School District schools will be closed Tuesday as a strike by tens of thousands of workers and teachers appears imminent, Superintendent Alberto Carvalho announced Monday. If no deal is reached, the strike will begin at 4:30 a.m. Tuesday and continue through Thursday.
"We do not believe at the moment that tomorrow's event can be avoided," Carvalho told a news conference on Monday evening. "With that said, I'll be here as long as it takes to wait for a call from a partner willing to have a meaningful conversation."
Negotiations between LAUSD, the nation's largest school district, and Service Employees International Union Local 99, which represents LAUSD support workers such as custodians, cafeteria workers and bus drivers, broke down last week. The union then accused the district of leaking a confidential mediation meeting that was scheduled for Monday to the press.
"This afternoon, SEIU Local 99 agreed to enter into a confidential mediation process with LAUSD to attempt to resolve our differences," the union said in a statement Monday. "Unfortunately, LAUSD broke confidentiality by sharing with the media before our bargaining team, which makes all the decisions, had a chance to discuss how to move forward. This is another example of the school district's continued disrespect for school workers. We are ready. To strike."
SEIU Local 99 added, "We want to be clear that we are not in negotiations with LAUSD." "We are engaging in impasse proceedings with the state."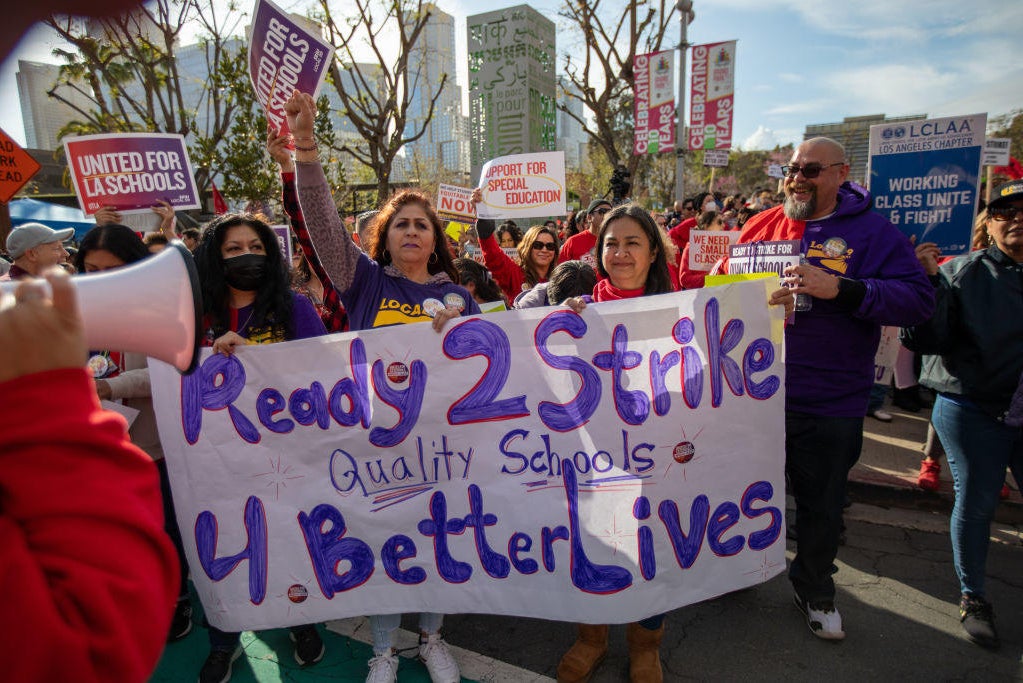 A crowd gathers at Grand Park Children's at City Hall on Wednesday, March 15, 2023, in Los Angeles, CA. United Teachers of Los Angeles and SEIU 99 members held a joint rally in Grand Park in a historic show of solidarity.
Francine Orr
The union represents about 30,000 school support workers. The local teachers union, United Teachers Los Angeles, said it would also honor the strike, which would mean about 60,000 workers would walk out on Tuesday.
"We are running out of time," Carvalho said on Monday. "I made myself available to my team for hours today, hoping we'd actually be able to have a conversation. For many reasons, some of which I don't understand, we've never been in the same room. Not even in the same building."
Carvalho said he would be available for talks the rest of the night and Tuesday.
Carvalho said two dozen grab-and-go food sites will be open, and several Los Angeles County parks and recreation sites and the Los Angeles Public Library will be open for student supervision.
Carvalho said on Monday that the strike was not called "on the basis of economic conditions or demands for compensation", but because of "allegations of unfair treatment". But the workers who CBS spoke to Los Angeles Citing a living wage as a major demand, one said the demands included a 30% pay rise along with increased staffing and more hours for part-time workers.
"It's not a question of being greedy," LAUSD employee Adrian Alvarez told CBS Los Angeles. "We have to make living wages."
"We live in this strange paradox as workers who help feed children and yet we struggle to feed our own children," Alvarez added. "It's a paradox. We help students go to college, yet we don't have enough money to send our kids to college."
Carvalho said Monday that the district has offered a 23% pay raise with a 3% "cash in hand bonus."
Trending news