Aid workers in non-profit organizations Afghanistan Those who receive financial aid from the US government say they are forced to pay fees and provide services to the Taliban. The head of the U.S. government watchdog office tasked with monitoring how U.S. tax dollars are spent in Afghanistan told lawmakers that his staff "simply don't know" the extent to which the American public may be unwittingly funding terrorists.
"Since the Taliban takeover, the U.S. government has sought to continue supporting the Afghan people without providing benefits for the Taliban regime," John F. Sopko, special inspector general for Afghan reconstruction (SIGAR), told the U.S. House Committee on Oversight in testimony Wednesday. and accountability. "However, it is clear from our work that the Taliban are using a variety of methods to divert US aid dollars."
The situation has been dire since the Taliban took over
"Unfortunately, I cannot sit here today and assure this committee or the American taxpayer that we are not currently funding the Taliban," Sopko told lawmakers. "And I can't assure you that the Taliban aren't sending the money we're sending to our intended recipients, who are poor Afghan people."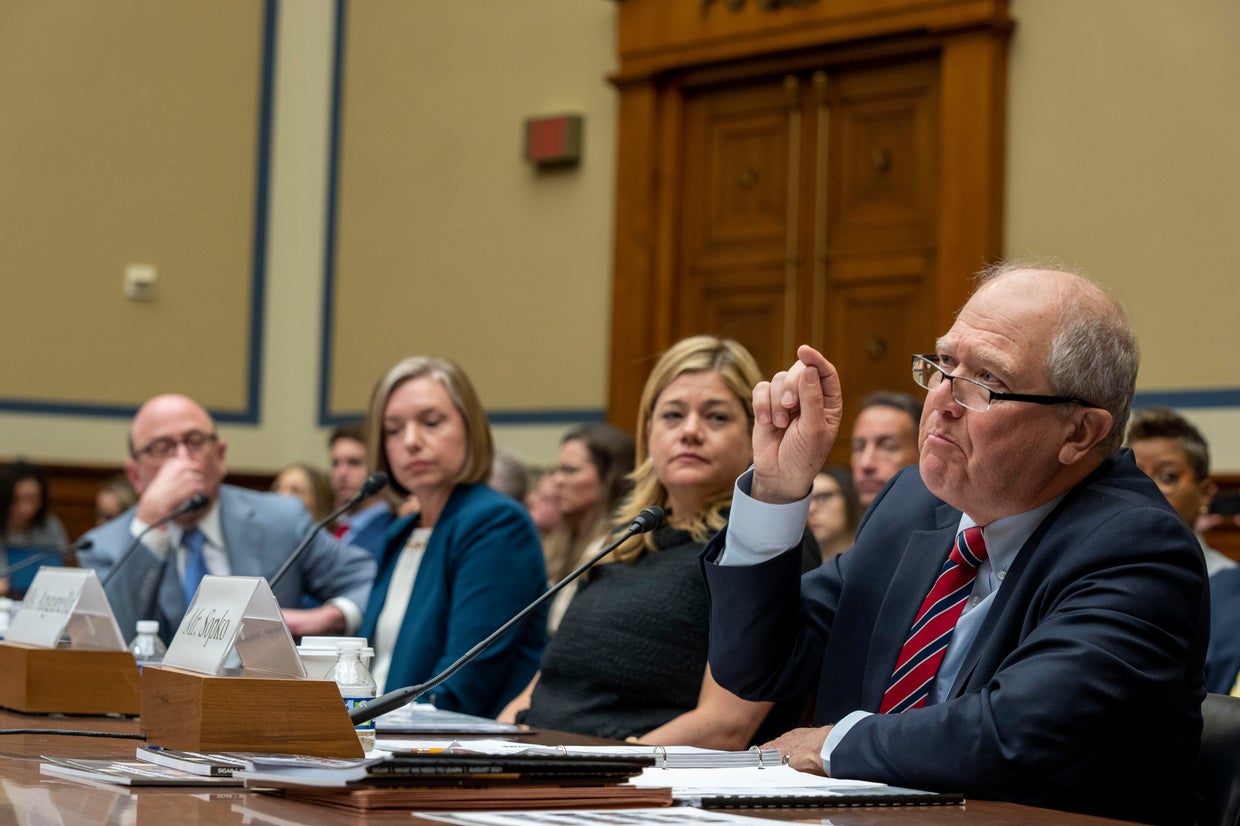 John Sopko, right, Special Inspector General for Afghanistan Reconstruction (SIGAR), speaks during a House Oversight and Accountability Committee hearing on the US withdrawal from Afghanistan, April 19, 2023, on Capitol Hill in Washington.
Alex Brandon/AP
Since the US withdrew from Afghanistan and the Taliban regained control of the country in August 2021, the country economic and humanitarian crisis. Now, almost the entire population is at risk of poverty, with 91% of the average Afghan household's income spent on food. An estimated 24.4 million Afghans are in need of humanitarian assistance.
Sopko presented SIGAR's list of the greatest risk sources that could continue to expose abuse, fraud, waste or mission failure of U.S. financial assistance in Afghanistan.
He said the U.S. has given $8 billion in aid to Afghanistan since the military withdrawal, including about $2 billion in humanitarian aid, a level of aid he said "has changed little from before the withdrawal."
Taliban "taxes and fees"
At the top of the list of risks to US funding identified by SIGAR was Taliban interference in the work of local NGOs and UN aid agencies.
"The Taliban earns US aid by imposing customs charges on shipments coming into the country and levying direct taxes and fees on NGOs," Sopko said, adding that if NGOs don't pay the Taliban fees, they can close their offices and freeze their bank accounts. has been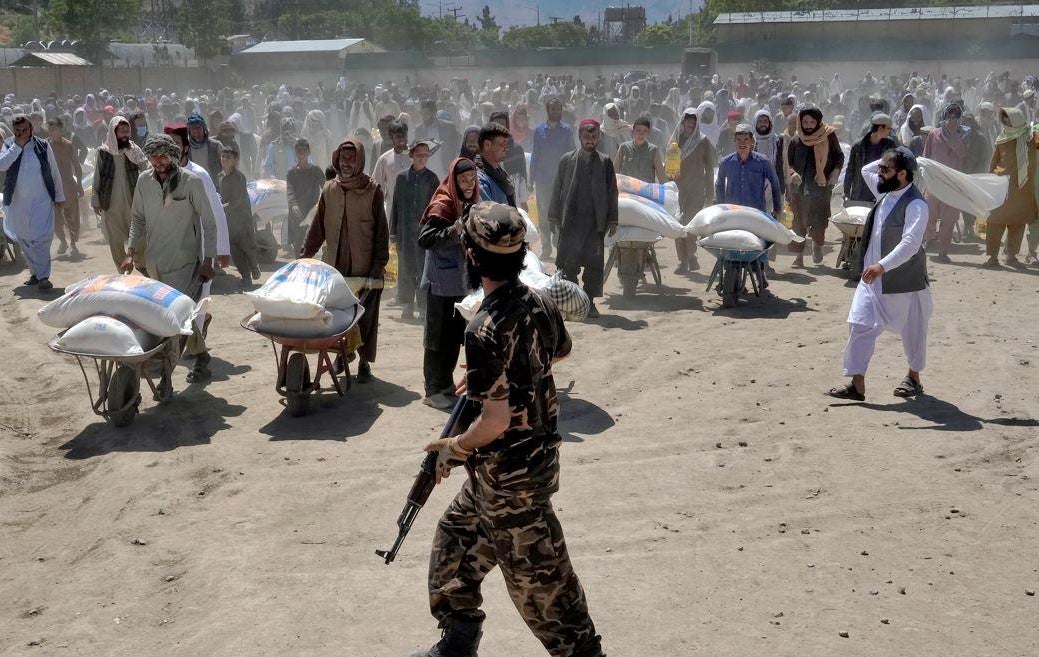 A Taliban fighter stands guard as people receive humanitarian food rations in Kabul, Afghanistan, on April 30, 2022.
AP/Ibrahim Narouji
The previous Afghan government also did this, Sopko noted, and the Taliban taxed aid to areas under their control for years before 2021. But Sopko said Islamic hardliners are now going further, including charging fees to vendors doing business with NGOs, such as landlords and cell phone companies.
Sopko said the Taliban is also diverting funds from groups it does not support, including the ethnic minority Hazara community, and in some cases, requiring NGOs to work with them, such as insisting they only rent cars from the Taliban or Taliban-affiliated. group
Aid workers on the ground in Afghanistan told CBS News that the intervention goes beyond all that, and the Taliban demand services directly from groups that receive U.S. funding. They said these demands have increased since the party returned to power nearly two years ago.
"Taliban first"
"We have to serve the families of Taliban police commanders, governors and other people they specifically ask us to serve," a UNHCR aid worker told CBS News on condition of anonymity. "Once a Taliban governor told one of our subcontracted aid agencies that 15% of aid must go to his guards and other Taliban personnel, and it has become a rule now to serve the Taliban first and then serve ordinary civilians."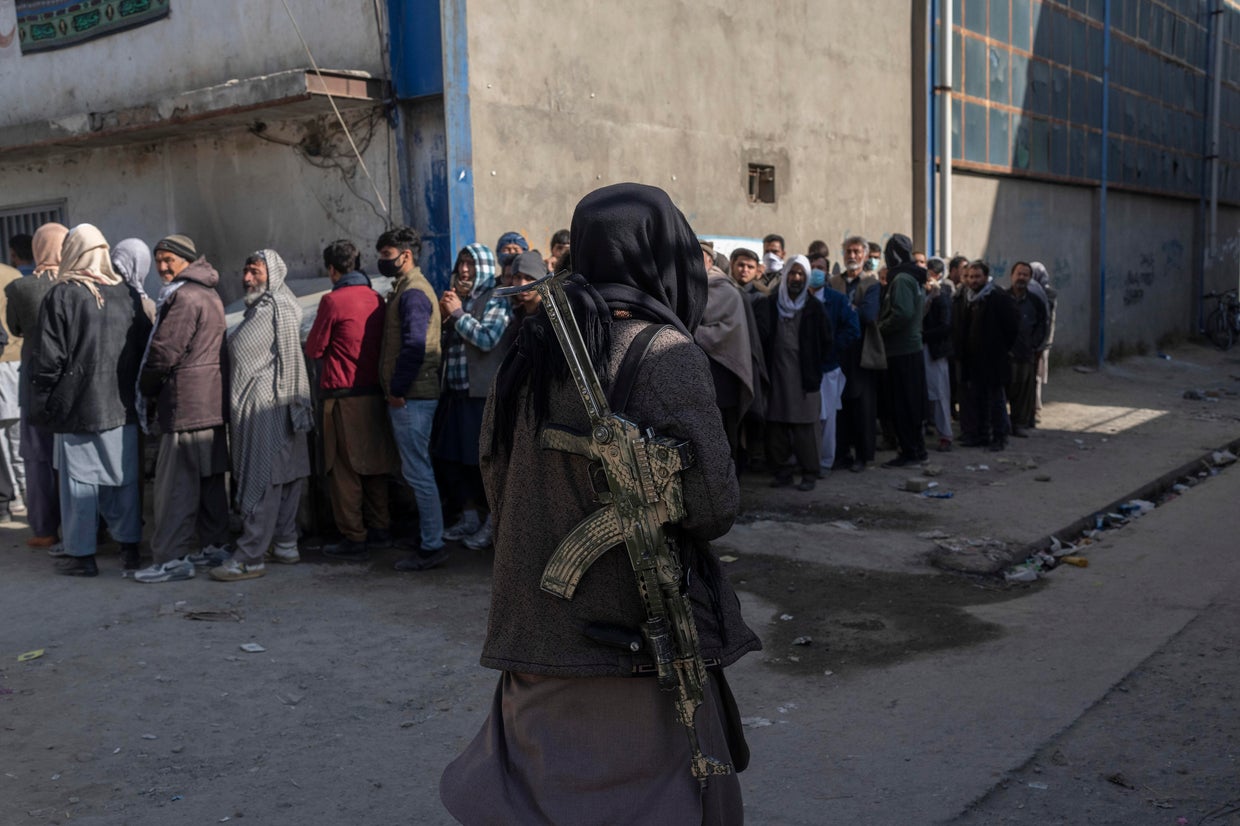 A Taliban fighter secures the area as people line up to receive cash at a cash distribution site hosted by the World Food Program (WFP) in Kabul, Afghanistan, Nov. 17, 2021.
Petros Gianakouris/AP
Hamid Khan, an aid worker at a local NGO subcontracted to the U.N. World Food Program in Afghanistan, told CBS News that Taliban interference has made it increasingly difficult for the organization to determine whom to help.
He said his NGO aims to "help people who need help the most, such as pregnant women, orphans, widows and other people in dire need, but the Taliban also make their own list of people they choose."
"If we don't serve them first, we'll be banned from working and dozens of excuses will be made to prevent the NGO from working altogether and others won't get the help they need," Hamid Khan told CBS News. said
"We have to work with them."
Abdullah Khan, who works for a United Nations agency in Afghanistan, told CBS News that Taliban members position themselves to gain access to international aid by becoming partners or shareholders in local nonprofit groups, which often act as partners or subcontractors to large aid agencies.
"The Taliban cannot dictate directly to the United Nations, but the United Nations, the World Food Program, and even the International Committee of the Red Cross-subcontracted NGOs cannot resist Taliban pressure," said Abdullah Khan. "In a meeting with our provincial governor, we were told by the Taliban that we must help the families of the suicide bombers and the injured Taliban soldiers who are alive but unable to work. The Taliban interferes with our aid operations, but we have to help the poor. We have to work with them."
A year after US troops withdrew from America's longest war, many Afghans are living in fear
09:12
A staff member of a regional NGO in northern Afghanistan who spoke on condition of anonymity told CBS News that the organization was "forced to hire at least 70% local staff based on the wishes and desires of Taliban members. If we don't do that, we are not allowed to operate. We are in every province. There are about 50 employees and about 35 of them are locals of their (Taliban's) choice who have agreed to share their salaries with Taliban members. We are forced to hire them."
He said the NGO's work was being severely restricted due to Taliban demands, which he called "brutal".
"Those who need help don't get it, because it is diverted to the families of Taliban members," the aid worker said.
Asked about the Taliban's interference in aid distribution in Afghanistan, UN Secretary-General Deputy Spokesman Farhan Haque told CBS News that all of the global organization's "humanitarian operations are based on serving people in need, and we make sure our work reaches those who need help and not diverted." No."
Roza Otunbayeva, the UN Secretary-General for Afghanistan and head of the UN Assistance Mission in Afghanistan, admitted to the Security Council in March that "in some provinces we have had to temporarily suspend aid delivery because local officials have placed unacceptable conditions on its delivery. In general, the recent humanitarian situation has deteriorated." ."
CBS News correspondent Pamela Falk contributed to this report.
Afghanistan: The New Reality
More Halley Oats