to improve Long-term health of military horses At Arlington National Cemetery, the Army is developing a rehabilitation plan built on lessons learned about horse care over the past year.
The plan is being implemented during a 45-day hiatus for Arlington National Cemetery to use horses to pull caissons carrying caskets of fallen service members to their final resting place. The hiatus is the result of an Army consultation since two horses in a caisson platoon died within 96 hours of each other in February 2022.
Maj. Gen. Alan Pepin, commander of the Army Military District of Washington, said the horses were mismanaged — not mistreated — because of a lack of knowledge about horse care.
"The challenges we face in our casson program stem from a number of growing problems resulting from a lack of adequate facilities, pasture space, feed, nutrition and poor livestock management that date back at least as far as 2010." Wednesday reporters.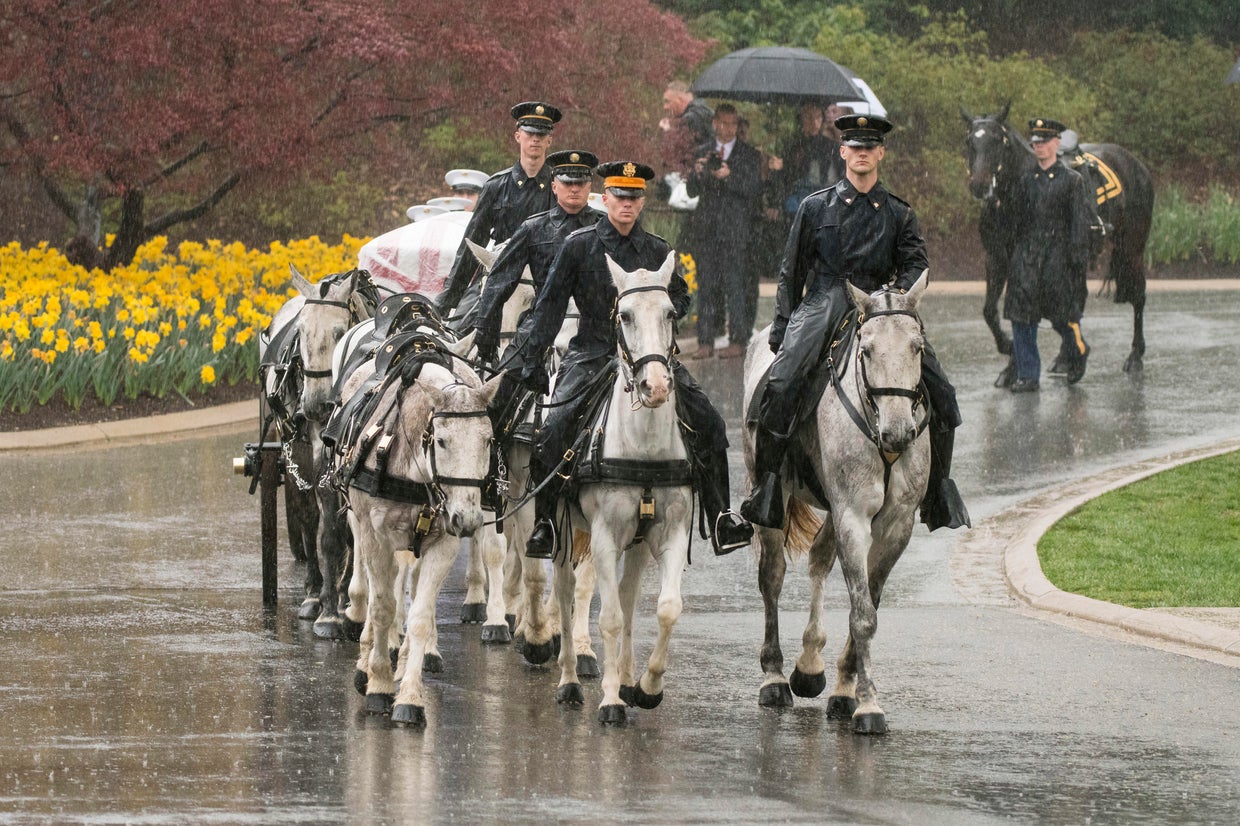 FILE: A horse-drawn caisson carries former astronaut and U.S. Senator John Glenn to his final resting place during an interment ceremony at Arlington National Cemetery in April 2017 in Arlington, Virginia.
Aubrey Gemignani/NASA via Getty Images
The rehabilitation plan included rotating 49 horses under the supervision of the 3rd US Infantry Regiment, also known as "The Old Guard", through physical therapy, increasing the number of staff and contract trainers, and purchasing new horses of the correct ability, age and temperament. training
The Army Military District of Washington is also considering reducing the weight of the caisson, which is about 2,800 pounds without the casket. The Army is exploring building caissons from lighter weight materials and potentially installing an automatic brake system, so the horses don't have to carry so much load when going down the hill at Arlington.
The Army plans to buy new equipment such as saddles for better fit and to reduce injuries. To expand horse space, the Army will lease land through contracts with other federal agencies.
The break and development of the plan for the long-term health of the horses was driven by the input of a new livestock manager, who was appointed in August 2022, and the recruitment of additional equine specialists.
"If we hadn't suspended, we were going to increase the risk of mission failure, because more horses wouldn't have been available and potentially not recovered," Pepin said.
Burial honors at Arlington National Cemetery continue during intermission for horses.
During the 45-day break, 200 families were scheduled to receive military funeral honors and bury their loved ones at Arlington National Cemetery. So far, 199 families have been contacted about postponing the use of caskets, and six of those have requested to reschedule their funerals to a date when a casket can be delivered, Pepin told reporters Wednesday.
Trending news
Eleanor Watson