Sana'a, Yemen – At least 78 people were killed and at least 73 wounded when a crowd apparently spooked by gunfire and electric explosions at a ceremony to distribute financial aid during the Muslim holy month of Ramadan in Yemen's capital late Wednesday, according to witnesses and officials from the Houthi rebel group that controls the city. It was the deadliest incident in Yemen in years that was not directly related to the country's long-running civil war and came ahead of the Muslim holiday of Eid al-Fitr, which marks the end of Ramadan later this week.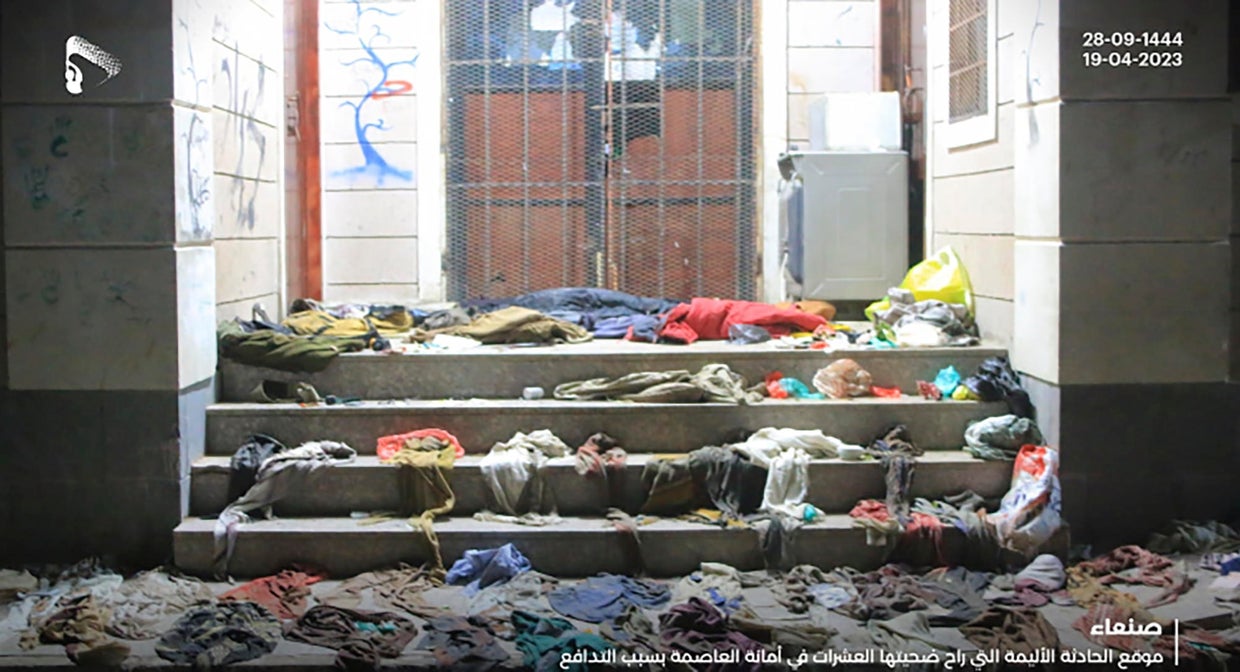 A photo released by the Ansar Allah Houthi media office shows the aftermath of a deadly stampede in Sanna, Yemen on April 19, 2023.
Ansar Allah Houthi Media Office/AP
According to two witnesses, Abdel-Rahman Ahmed and Yahya Mohsen, armed Houthis fired into the air in an attempt to control the crowd, apparently hitting an electrical wire and causing it to explode. This sparked a panic and people, including many women and children, began to stampede, they said.
Videos posted on social media showed dozens of bodies, some still, and others screaming as people tried to help. Separate videos of the aftermath released by Houthi officials showed bloodstains, shoes and clothes of the victims scattered on the ground. Investigators were seen checking the area.
According to the Houthi-run Interior Ministry, the crush happened in the Old City in the heart of Sana'a, where hundreds of impoverished people had gathered for a charity event organized by traders. Witnesses said people gathered to receive less than $10 each from a charity funded by local merchants. Rich people and businessmen often hand out cash and food, especially to the poor, during Ramadan.
Spokesman of the Ministry of Interior Brigadier Md. Abdel-Khalek al-Aghri blamed the crash on the "random distribution" of funds without coordination with local authorities.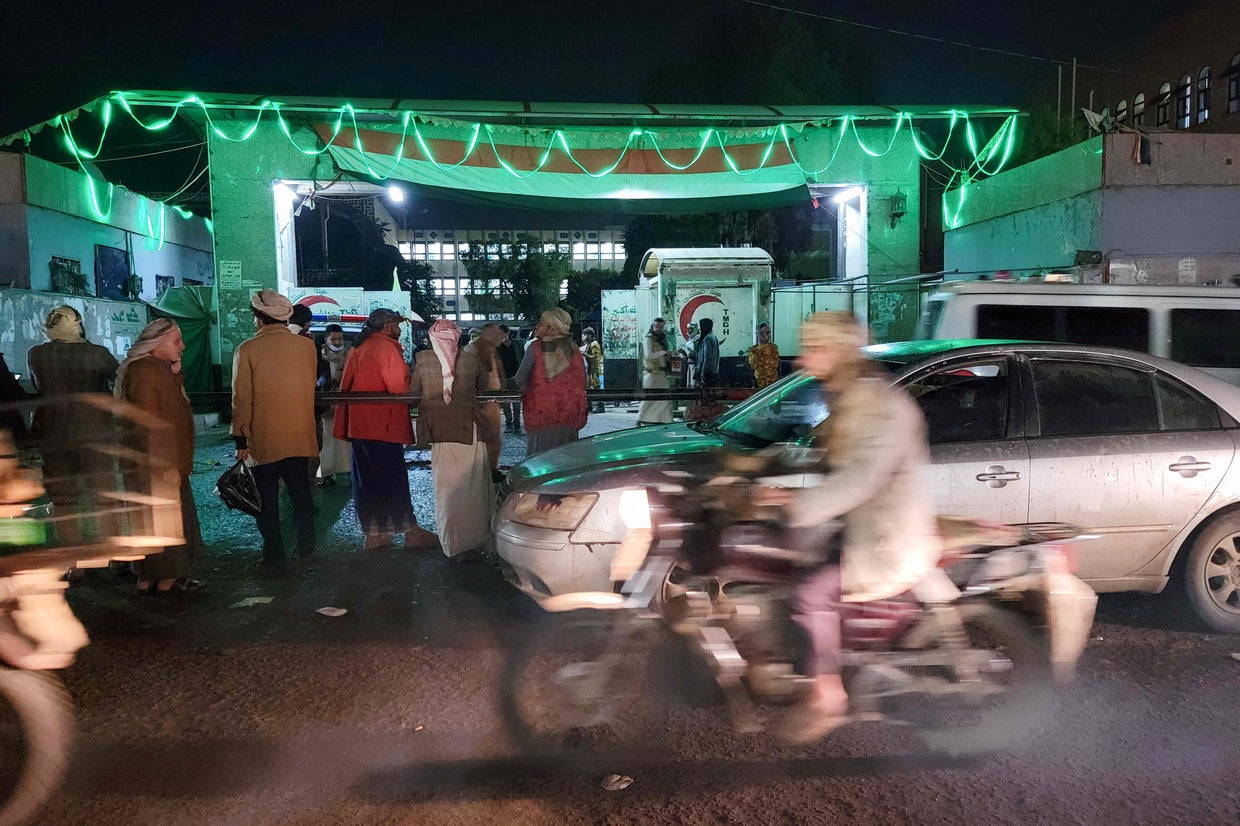 Yemenis wait outside a hospital in Sana'a, early April 20, 2023, after a stampede during a Ramadan charity event killed nearly 80 people and injured dozens more.
AFP/Getty
Mutaher al-Marouni, a senior health official, said 78 people were killed, according to the rebels' al-Masirah satellite TV channel. Hamdan Bagheri, deputy director of the hospital, said at least 73 people were injured and taken to Al-Thawra Hospital in Sana'ar. Other officials put the death toll as high as 85, but there was no immediate confirmation from officials.
The political leader of the Houthi rebels, who have since controlled much of the country a civil war Started nearly a decade ago, Prime Minister Abdulaziz bin Habtoor said the group's internal, health and prosecutorial authorities would "examine this unfortunate incident so that it never happens again."
"We are facing a big tragedy, a large number of our citizens have died during this stampede," Habtoor told people at the scene on Wednesday evening.
The rebels quickly closed down a school where the event was being held and barred people, including journalists, from entering. The interior ministry said it had detained two organizers and confirmed that an investigation was underway.
The Houthis said they would pay about $2,000 in compensation to each family that lost a relative, and the wounded would receive about $400.
Yemen's capital has been under the control of the Iran-backed Houthis since 2014, when they fell from their northern stronghold and ousted the internationally recognized government. This prompted the Saudi-led coalition to intervene in 2015 to try to restore the government.
Yemen's civil war continues as Al Qaeda strengthens its presence in the region
02:17
In recent years the conflict has turned into a proxy war between regional powers Saudi Arabia and Iran, killing more than 150,000 people, including fighters and civilians, and creating one of the world's worst humanitarian disasters. That war continues in spite of one A ceasefire was attempted at the end of last year and more recently, The nascent thaw in diplomatic relations between Saudi Arabia and Iran.
The conflict has left more than two-thirds of Yemen's population – or about 21 million people – in need of aid and protection, according to the UN Office for the Coordination of Humanitarian Affairs. Of those in need, more than 17 million are considered particularly vulnerable.
In February, the United Nations said it had raised just $1.2 billion of a $4.3 billion target at a conference aimed at building funds to ease the humanitarian crisis.
More

Source link