President Joe Biden issued an emergency declaration for Mississippi early Sunday morning, making federal funds available in Carroll, Humphrey, Monroe and Sharkey counties, the hardest-hit areas Friday night. Deadly tornado that tore through the Mississippi DeltaOne of the poorest regions in the United States
CBS News confirmed that at least 26 people died in Mississippi and Alabama as the severe storm passed through several cities on its hour-long path. Dozens more were injured.
Search and recovery workers on Sunday resumed the difficult task of digging through the rubble of flattened and destroyed homes, commercial buildings and municipal offices after hundreds of people were displaced.
Homeland Security Secretary Alejandro Mayorkas and FEMA Administrator Dean Criswell will travel to Mississippi on Sunday to assess the damage.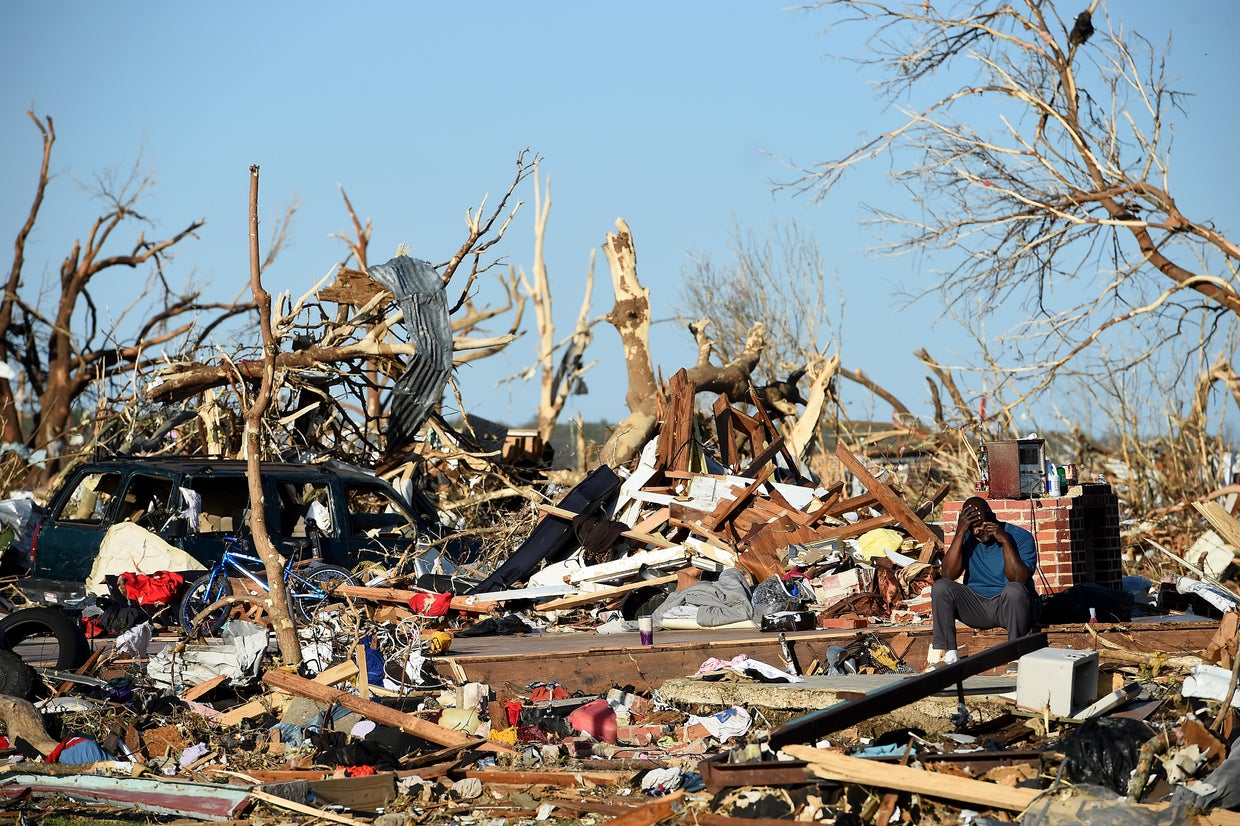 A man sits amid damage from multiple strong storms and at least one tornado on March 25, 2023 in Rolling Fork, Mississippi.
Will Newton/Getty Images
FEMA Coordinating Officer John Boyle has been appointed to oversee the federal recovery program. After Biden's announcement, federal funds could be used for recovery efforts, including loans for temporary housing, home repairs, uninsured property damage and other personal and business programs, the White House said in a statement.
The twister flattened entire blocks, destroyed homes, tore off a church steeple and toppled a municipal water tower. Even as the recovery has just begun, the National Weather Service warned of the risk of more severe weather – including high winds, large hail and possible tornadoes – in eastern Louisiana, south central Mississippi and south central Alabama on Sunday.
March 26: Today increases the risk of severe thunderstorms across parts of LA/MS/AL (level 3 out of 5). A few storms are possible. Very large hail (some over 2 inches), a few tornadoes (1 or 2 possibly strong/EF-2+) and damaging gusts are possible. pic.twitter.com/6O4hn66sSf
— NWS Storm Prediction Center (@NWSSPC) March 26, 2023
Based on preliminary information, the tornado received a preliminary EF-4 rating, the National Weather Service office in Jackson tweeted late Saturday night. According to the service, an EF-4 tornado has maximum sustained winds between 166 mph and 200 mph (265 kph and 320 kph). Jackson's office cautioned that it is still gathering information about the tornado.
The tornado devastated the town of 2,000 people in Rolling Fork, turning homes into piles of rubble, flipping cars on their sides and toppling the town's water tower. Other parts of the Deep South were digging out from damage caused by other suspected twisters. One person has died in Morgan County, Alabama, the sheriff's department said in a tweet.
Pope Francis offered a special prayer for the people of Mississippi "hit by a devastating tornado" during his weekly noon blessing overlooking St. Peter's Square in Vatican City on Sunday.
"How anyone survived is unknown to me," said Rodney Porter, who lives 20 miles (32 kilometers) south of Rolling Fork. When the storm hit on Friday night, he was immediately there to help in any way he could. Porter arrived to find "total destruction" and said he smelled natural gas and heard people screaming for help in the dark.
"Houses gone, vehicles piled on top of houses, houses on top of that," he said.
Annette traveled from nearby Belozie to the hard-hit town of Silver City to survey the body damage. He said he "feels blessed" because his own home wasn't destroyed, but other people he knew lost everything.
"Cried last night, cried this morning," she said, looking at the flat house. "They said you have to take cover, but it happened so fast that a lot of people didn't even get a chance to take cover."
Storm survivors walked around Saturday, many dazed and shocked, as they searched for survivors through thick piles of debris and fallen trees with chain saws. Power lines were pinned under decades-old oak trees, their roots ripped from the ground.
Mississippi Gov. Tate Reeves has declared a state of emergency and pledged to help rebuild after seeing the damage scar a wide swath of cotton, corn and soybean fields and catfish farming ponds. He spoke with Biden, who also had a call with the state's congressional delegation.
More than a half-dozen shelters have opened in Mississippi for displaced people.
Lance Perilloux, a meteorologist at the National Weather Service's Jackson, Mississippi office, said preliminary information based on storm reports and estimates from radar data indicated the tornado had been on the ground for more than an hour and had traveled at least 170 miles (274 kilometers). .
"It's rare — very, very rare," he said, attributing the long path to widespread atmospheric instability.
Perilloux said preliminary findings showed the tornado began its path of destruction just southwest of Rolling Fork before moving northeast toward the rural communities of Midnight and Silver City and toward Tuchula, Black Hawk and Winona.
The supercell that produced the deadly twister appeared to produce damaging tornadoes in northwest and north-central Alabama, said Brian Squittieri, a severe storm forecaster with the Weather Service's Storm Prediction Center in Norman, Oklahoma.
Trending news