Blue Bell Ice Cream and Dr. Pepper are teaming up. The brands have announced that they have teamed up to create a new ice cream flavor: Dr. Pepper Float Ice Cream.
In a joint press release, the companies said Thursday that the new product consists of Blue Bell vanilla ice cream "swirled together with Dr. Pepper flavored sorbet." The new flavor is already available in 23 states where Blue Bell is sold, the companies said.
Two iconic brands, Blue Bell® and Dr Pepper®, have come together to create a delicious ice cream flavor, Dr Pepper Float – our creamy vanilla ice cream swirled together with Dr Pepper flavored sorbet. Find it in half gallon and pint sizes starting today! pic.twitter.com/Os9vUwkKw1
— Blue Bell Ice Cream (@ILoveBlueBell) May 18, 2023
"The best ice cream floats are made by pouring Dr. Pepper over a few scoops of Blue Bell," said Jimmy Lawhorn, Blue Bell's vice president of sales and marketing. "Why not put a spin on this popular treat and create our own version?"
The Texas-based company says Dr Pepper Float will be available in pint and half-gallon sizes by 2024.
"Our Texas heritage is very important to us at Dr. Pepper, and we're excited to team up with fellow Texas-born brand Blue Bell to create this new delicious treat," said Dr. Pepper Senior Vice President of Brand Marketing John Alvarado. "We can't wait to provide our fans with another refreshing way to enjoy Dr. Pepper."
This isn't the first ice cream collaboration to take the internet by storm recently. Back in March, Hidden Valley Ranch and Van Leeuwen Ice Cream have released a ranch ice cream Taste in honor of National Ranch Day.
Trending news
Tre'Von Howard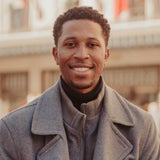 Thanks for reading CBS News.
Create your free account or login
For more features.