Brandon Johnson, a union organizer and former teacher, was elected mayor of Chicago on Tuesday, a major victory for the party's progressive wing as the nation's third-largest city struggles with high crime and fiscal challenges.
Johnson, a Cook County commissioner endorsed by the Chicago teachers union, A close race is won On former Chicago schools CEO Paul Vallas, who was backed by the police union. Johnson, 47, will succeed Lori Lightfoot, the first black woman and first openly gay person to serve as the city's mayor.
Lightfoot become The first Chicago mayor in 40 years to lose his re-election bid when he finished third in a crowded February race. The top two vote-getters, Vallas and Johnson, advanced to Tuesday's runoff as neither candidate was able to earn more than 50% to win outright.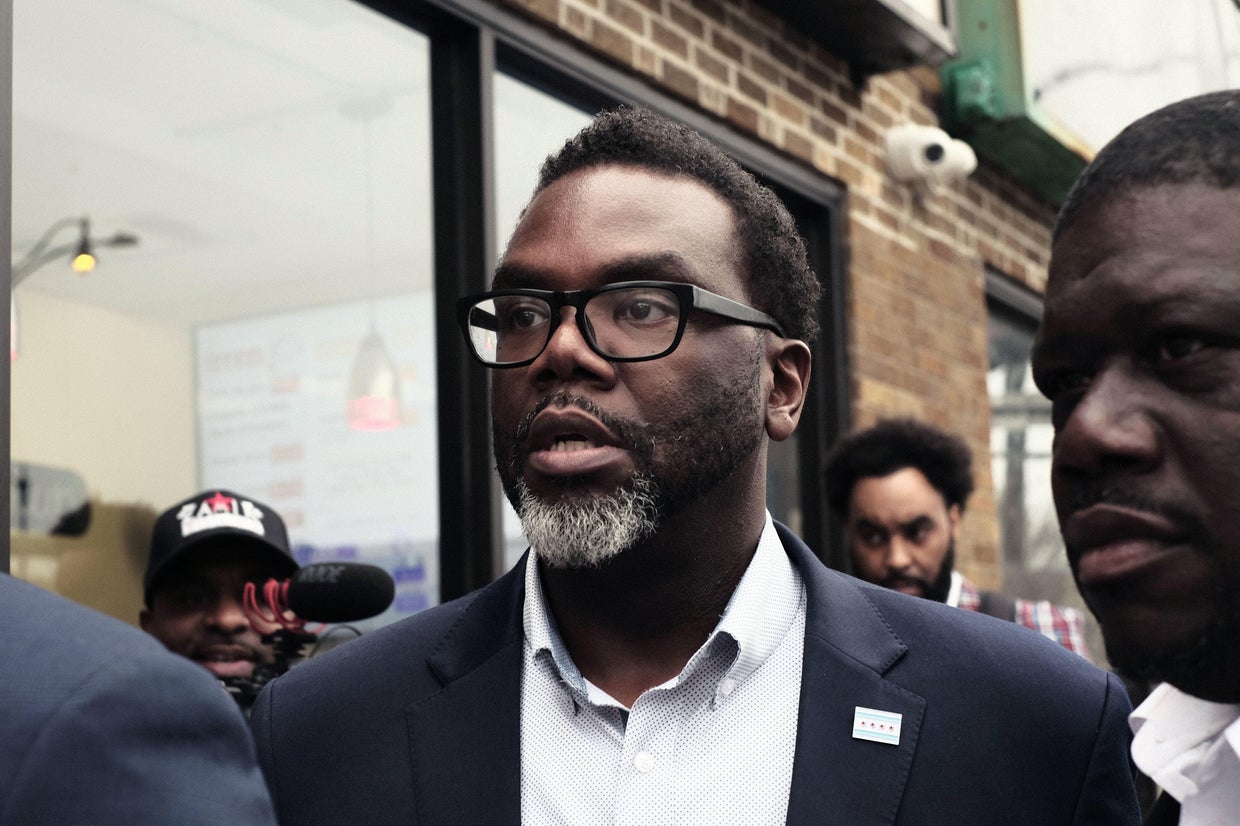 Chicago mayoral candidate Brandon Johnson campaigns at Robert Healy Elementary School on April 4, 2023 in Chicago, Illinois.
Alex Wroblewski/Getty Images
Johnson's victory capped a remarkable trajectory for a candidate who was little known when he entered the race. He topped the field with organizing and financial support from the politically influential Chicago teachers union and high-profile endorsements from progressive Sens. Bernie Sanders and Elizabeth Warren. Sanders appeared at a rally for Johnson in the final days of the race.
Leaders said it was an important victory for a progressive organization like the teachers union, with Johnson winning the highest office of any active teachers union member in recent history. It comes as groups like Our Revolution, a powerful progressive advocacy organization, push to win more local and state office, including in upcoming mayoral elections in Philadelphia and elsewhere.
The contest exposed long-standing tensions among Democrats, with Johnson and his supporters blasting Vallas — who was endorsed by Sen. Dick Durbin of Illinois, the chamber's second-ranking Democrat — as too conservative and a Republican in disguise.
One of the biggest disputes between Johnson and Vallas was how to solve the crime. Like many U.S. cities, Chicago has experienced a spike in violent crime during the Covid-19 pandemic, reaching a 25-year high of 797 homicides in 2021, though the number has declined in the past year and the city has a lower homicide rate than others in the Midwest, such as St. Louis.
Vallas, 69, said he would hire several hundred more police officers, while Johnson said he did not plan to cut the number of officers, but that the current system of policing was not working. Johnson was forced to defend past statements that expressed support for "defunding" police — something he insisted he would not do as mayor.
Instead, he said, he planned to allocate more money to areas such as mental health treatment and youth jobs.
Johnson also unveiled a plan calling for $800 million in new taxes, which he said would be levied on wealthy individuals and businesses while suspending property taxes. Vallas, who received strong support from the business community, said the tax plan would be disastrous for Chicago's economy.
Trending news