China began military exercises around Taiwan on Saturday, in what it called a "stern warning" to the self-ruled island's government. A meeting follows In the President and Speaker of the US House.
Dubbed "United Sharp Sword", the three-day operation will continue until Monday, the People's Liberation Army's (PLA) Eastern Theater Command said in a statement.
"It will be held in the maritime area and airspace of the Taiwan Strait from the north and south coasts of the island and to the east of the island," PLA spokesman Shi Yin said, according to state news agency Xinhua.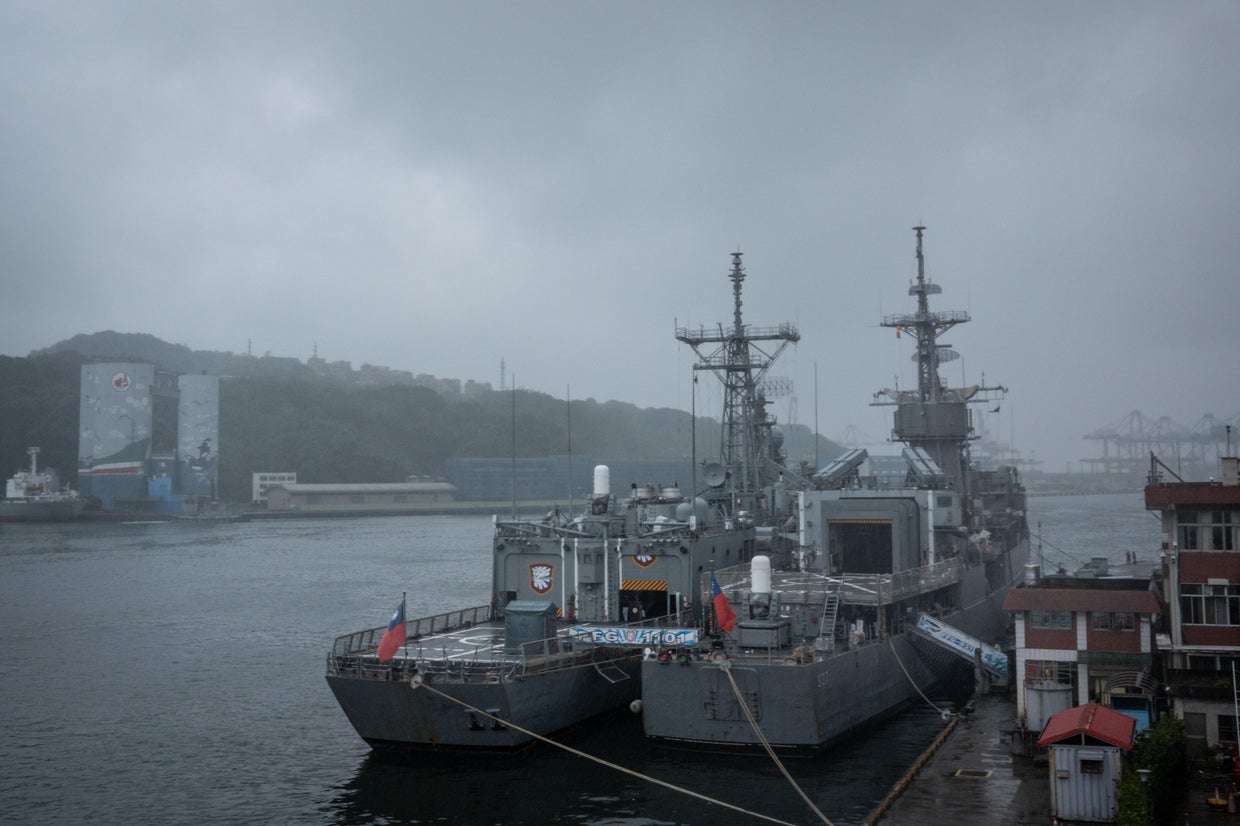 Two warships of the Taiwanese Navy are seen anchored in Keelung, Taiwan on April 7, 2023.
Getty Images
China on Thursday Warships begin to deploy Around Taiwan. In the past 24 hours, three Chinese warships have sailed through waters around Taiwan, the island's defense ministry said.
The exercise will also include live-fire drills off the coast of China's Fujian province on Monday, facing Taiwan, local maritime authorities said in a statement.
The exercise comes after Taiwanese President Tsai Ing-wen met with House Speaker Kevin McCarthy in California, angering Beijing.
On Thursday, meanwhile, Rep. Michael McCaul, R-Texas, chairman of the House Foreign Affairs Committee, House led the delegation which traveled to Taiwan to meet with Taiwanese business leaders and senior government officials "to discuss how the United States can strengthen our economic and defense relationship with Taiwan in the face of growing threats in the region," his office said.
China views democratic, self-ruled Taiwan as part of its territory and has vowed to one day seize it, using force if necessary.
"These operations serve as a stern warning against collusion between separatist forces and external forces seeking 'Taiwan independence' and their provocative activities," said the PLA's Xi.
"The operations are necessary to protect China's national sovereignty and territorial integrity."
The drills also come after the departure from Beijing of French President Emmanuel Macron and EU chief Ursula von der Leyen, who were in China to help Xi Jinping end the war in Ukraine.
Taiwan's defense ministry on Saturday strongly criticized Beijing's announcement of the drills, saying they threatened regional stability.
China is using Tsai's visit to the US as a pretext to "carry out military exercises, which have seriously damaged peace, stability and security in the region", the ministry said.
Last August, China deployed warships, missiles and warplanes around Taiwan in its biggest show of force in years, following a trip to the island by McCarthy's predecessor, Nancy Pelosi.
McCarthy planned to go to Taiwan first. The decision to meet in California instead was seen as a compromise that would underscore Taiwan's support but avoid escalating tensions with Beijing.
Pingtan, a southwestern Chinese island that is Taiwan's closest point to the mainland, showed no immediate signs of heightened military activity.
A handful of cargo ships cruised through the waters near the shoreline, while tourists in sunglasses and baseball caps snapped selfies on viewing platforms.
But Fujian's provincial maritime authority on Monday warned ships not to enter waters near the live-fire drill.
Tsai returned to Taiwan on Friday after visiting the island's dwindling band of official diplomatic allies in Latin America, where two US stopovers included meetings with McCarthy and other lawmakers.
"We let the international community see that Taiwan is more united in the face of pressure and threats," he told reporters, describing his visit as a success, adding, "We will never give in to repression."
Hours before his meeting with McCarthy on Wednesday, China sent its Shandong aircraft carrier through Taiwan's southeastern waters en route to the western Pacific.
Beijing said earlier on Friday that "Taiwan is an inalienable part of China", after repeatedly warning against the Tsai-McCarthy meeting.
"China's sovereignty and territorial integrity will never be divided," Foreign Ministry spokesman Mao Ning told a regular press briefing.
"Taiwan's future lies in reunification with the motherland."
Trending news