Sen. Christmas movies Arizona said in an interview last week that while the Biden administration's new proposals for immigration action are "helpful," she is "very concerned that all of this is happening in the next week or so." Title 42.
In an interview with "Face the Nation" moderator Margaret Brennan at the McCain Institute's Sedona Forum, Sinema said neither she nor Arizona Gov. Katie Hobbs had received answers from the Department of Homeland Security to specific questions about immigration delivery and processing. Title 42 expires on May 11.
"Just today, I was on the phone with a sheriff in Cochise County – he didn't get any information from the federal government's Department of Homeland Security about what the flow would be like, what they can expect in terms of processing. How long it takes to process immigrants," Sinema said. "He has no information."
"Either the administration has that information and they're choosing not to share it, which is a problem because we're the ones who are going to deal with the crisis," Sinema said. "Or they don't have it and that's even more worrisome, because how do you prepare for an influx of immigrants when you don't know what you're going to expect?"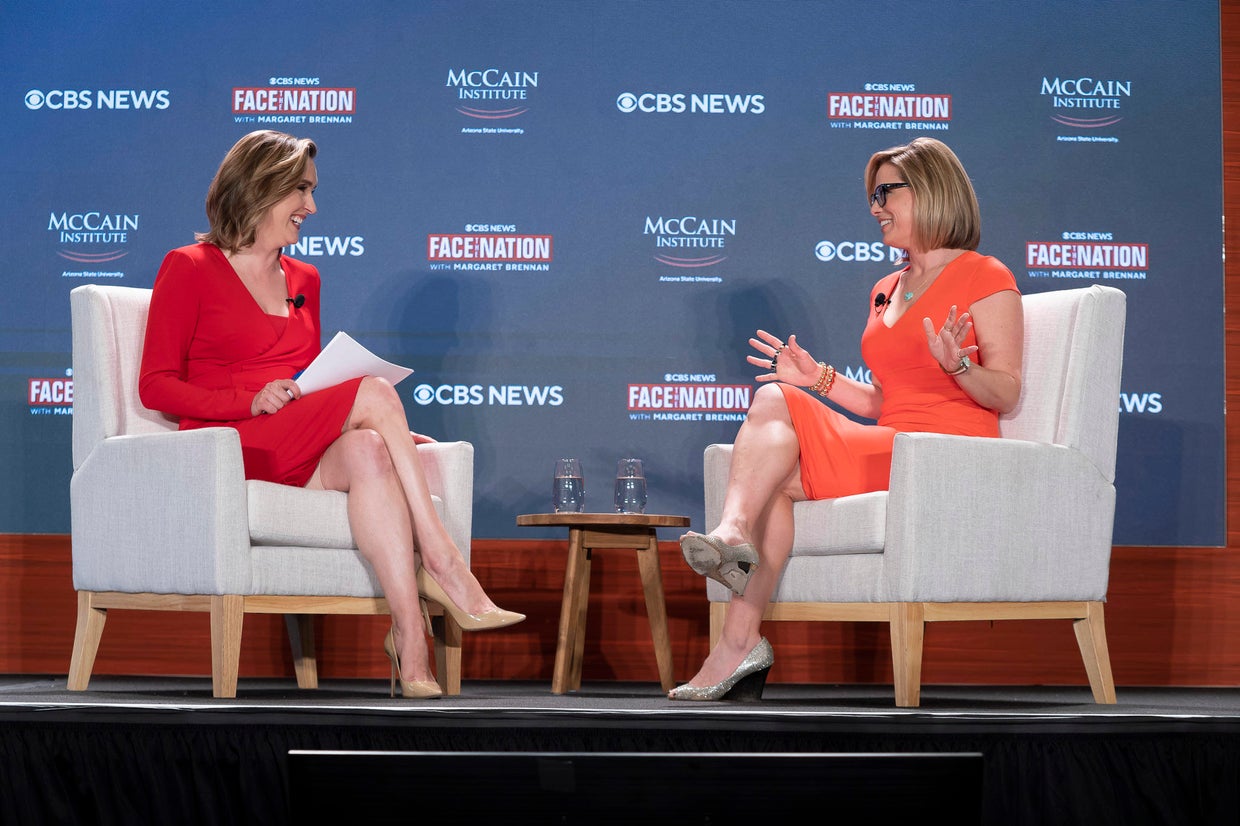 "Face the Nation" moderator Margaret Brennan interviews Sean Kirsten of Arizona.
CBS News
The Biden administration plans to open New processing center For and will send Latin American immigrants 1,500 soldiers Texas is ready to assist the Department of Homeland Security in its efforts to stem the flow of immigrants at the southern border and receive those who arrive.
Cinema praised those parts of the administration's plan, but said he had spent the last two years looking for "concrete plans."
"While it's surprising that the administration is announcing things like the deployment of 1,500 troops and these new processing centers — which won't be operational until next Friday — that's a good thing," Sinema said. "These are aspirational. That's not the same as being effective. And so what I've been asking for, and have been doing for two years, is to have concrete plans for the administration."
Brennan asked Sinema if he had spoken directly with the White House about migrant preparedness. Cinema said he had but the response "wasn't enough."
The movie also talks about a bill Recently launched With Sen. Thom Tillis, Republican of North Carolina, which allows the US government to deport immigrants for the next two years — the same way Title 42 health emergency authorities worked.
However, Cinema referred to this proposal as a "Band-Aid".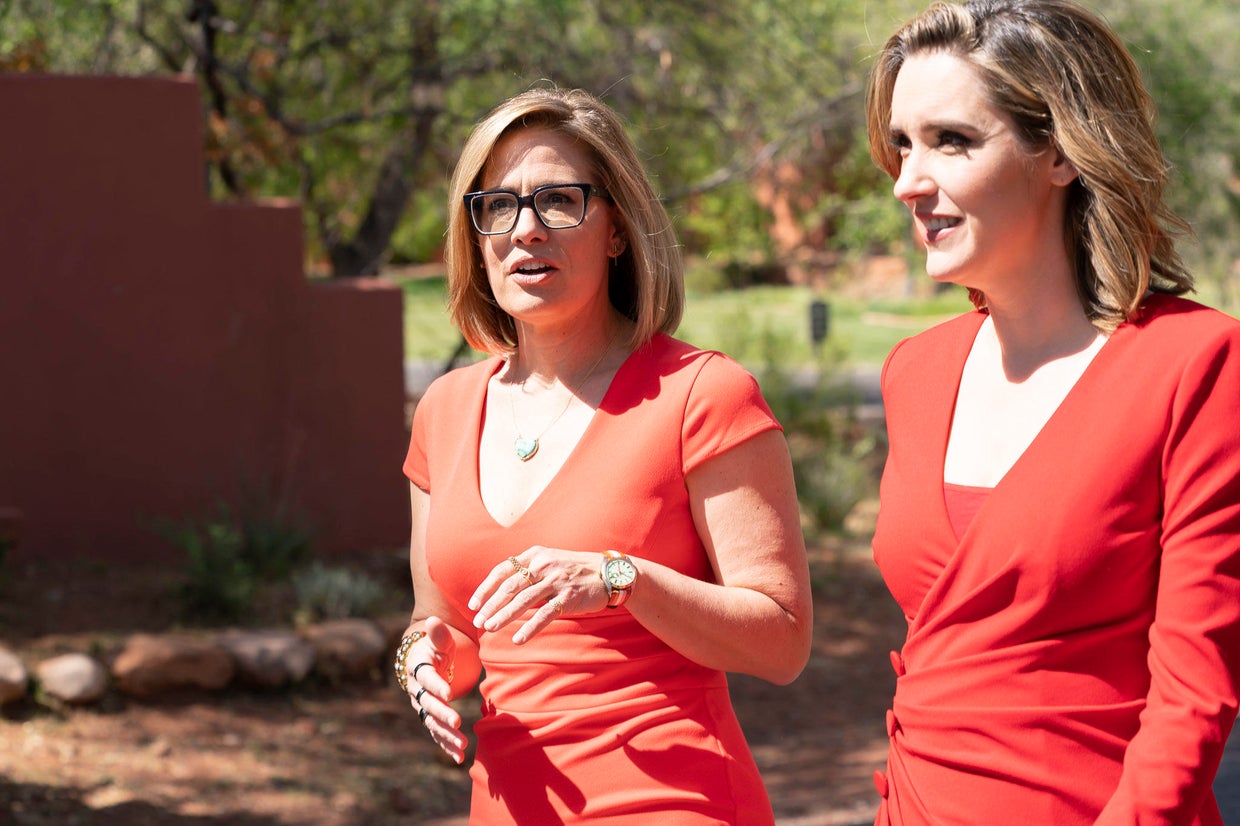 Sen. Kirsten talks to Margaret Brennan about the movie "Face the Nation."
CBS News
"That bill says, hey, Title 42 goes away on Thursday, and everybody here in Arizona knows we're not ready," Cinema told Brennan. "The Biden administration had two years to prepare for this and didn't. And our state is going to bear the brunt and immigrants will be in crisis within the next week."
His legislation, he argued, "will allow the Biden administration some time and space to do their work. And for our legislators to actually craft a plan that can get through both the House and the Senate."
"And the thing that bothers me, Margaret, is that look, they don't live in a border state," Sinema said. "So they don't know that the mayor of Gila Bend has to put immigrants in his car and drive them to Phoenix, because they're dropped off in a town with no bus stops. They don't know what it's like for immigrants. Sleep outside, on farms in Yuma, because They have nowhere to go. This is a crisis for our border communities and immigrants."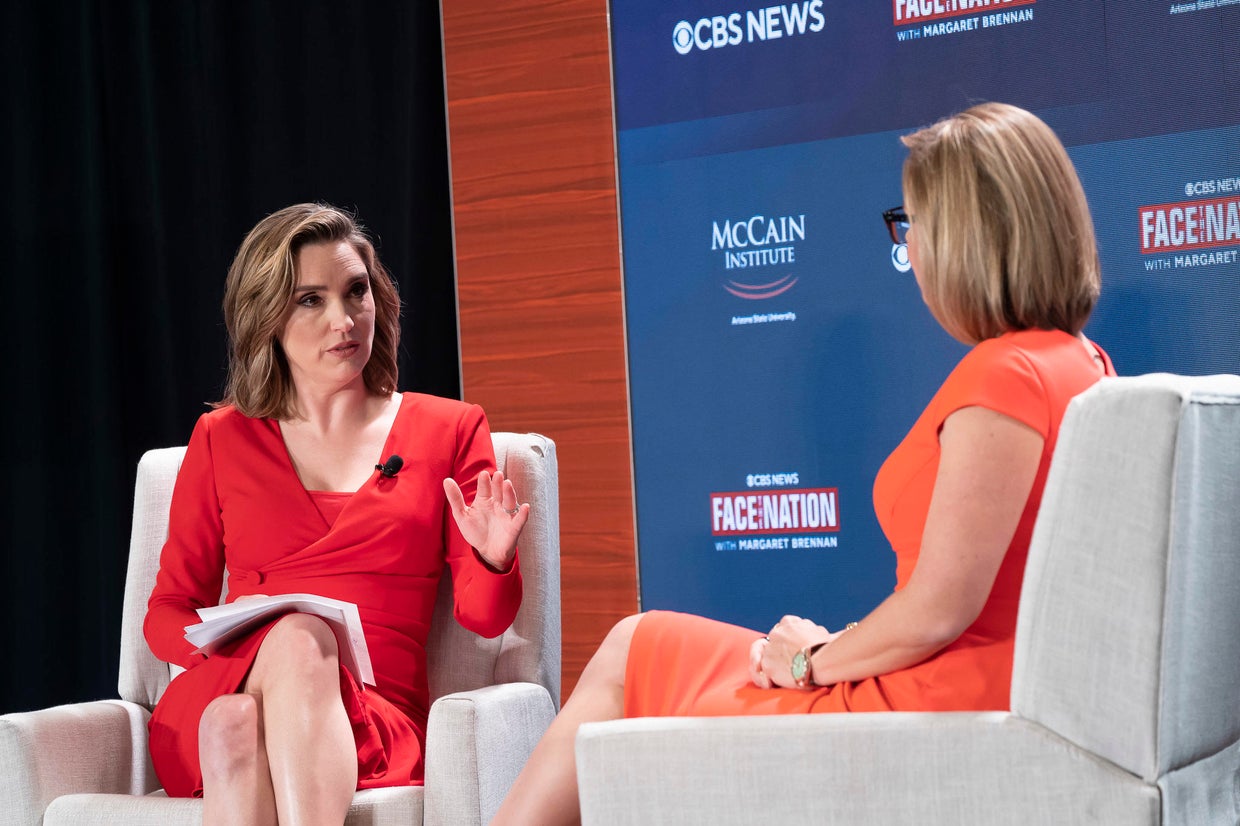 Sean Kirsten interviews Margaret Brennan in the movie "Facet He Nation".
CBS News
"Unfortunately, parties are thinking about it from a political point of view rather than a humanitarian point of view," he added.
Apart from offering movies and TV shows, House Republicans are also acting A new border security bill will be voted on on May 11, but it is almost certainly dead after reaching the Democratic-controlled Senate.
Asked about the stalemate over the debt ceiling, Sinema addressed the lack of willingness to renegotiate across the congressional aisle.
"Both sides are talking without listening to each other," Sinema said. "We're in a situation where one side is saying they're not going to negotiate with the other side at all. I think that's a very dangerous place to be because one, it's not realistic. And two, it's not going to happen."
However, Sinema expressed confidence that the ceiling on actual defaulted loans would be lifted "soon".
Can they pass it by June 1, when Treasury Secretary Janet Yellen said US may default early? "They can get it done," Sinema said, "but it will be a challenge."
More Sophia Berkoff