A chemical company was ordered to pay $16 million and sentenced to two years' probation for its role Four workers died due to toxic gas leak at a Houston-area plant nearly a decade ago, federal prosecutors announced Monday.
Employees at the now-closed DuPont chemical plant in LaPorte, Texas, died in November 2014 when methyl mercaptan, a chemical used in the manufacture of pesticides and fungicides, was released.
US Attorney Alamdar S. Hamdani, who is based in Houston, said the deaths were "due to DuPont's criminal negligence."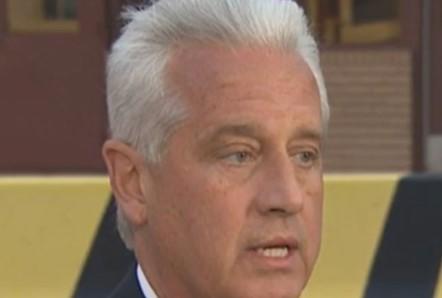 Randall Clements, plant manager at the DuPont site where a gas leak killed four workers in November 2014.
CBS News
"The sentence imposed today sends a clear message of my office's dedication to holding managers at industrial facilities, and the corporations that own and operate those facilities, accountable for their violations of … laws to protect workers and surrounding communities," Hamdani said.
During a court hearing Monday, DuPont, along with Kenneth Sandel, who managed the unit at the plant where the dead employees worked, each pleaded guilty to negligent release of a highly hazardous substance.
US District Judge Lee Rosenthal ordered DuPont to two years of probation, meaning federal officials will have full access to all of the company's operating locations. DuPont was ordered to pay $12 million in criminal fines and $4 million in community service payments to the National Fish and Wildlife Foundation.
Sandel was ordered to serve one year of probation.
In a statement, Corteva, a DuPont spinoff that has taken over its agricultural operations, said it "deeply regrets" the fatal gas leak.
"We are committed to the highest safety standards, and safety is a core value," Indianapolis-based Corteva said in a statement.
In a final report released in 2019 on the fatal gas leak, the US Chemical Safety Board concluded that deficiencies in various safety management systems, including troubleshooting activities, safe work practices, and toxic gas detection problems contributed to the severity of the incident.
An attorney for Sandel, 52, did not immediately return emails seeking comment. In court documents, federal prosecutors asked for an eight-month prison sentence for Sandel.
The chemical began leaking from a valve around 4 a.m. on Nov. 15, 2014, at a unit at the La Porte plant, about 20 miles east of Houston. Crystal Wise, Wade Baker and brothers Robert and Gilbert Tisnado were killed. A fifth worker was injured.
Sandel and DuPont engineers allegedly devised a plan to divert large amounts of methyl mercaptan gas into a waste gas pipe system the day and night before the fatal incident, according to prosecutors and an indictment. However, according to prosecutors, Sandel failed to implement procedures necessary to evaluate the security aspects of that plan.
The unit where the workers died did not have adequate ventilation or air monitoring to ensure worker safety and did not follow procedures that would have restricted worker access to areas where ventilation fans were not operating, according to the Chemical Safety Board.
In 2016, DuPont permanently closed the pesticide manufacturing plant where the worker died.
Brent Kuhn, an attorney who represented Wise's family, said jail time for executives would be more effective in preventing similar tragedies. DuPont settled lawsuits filed by Wise's family and the families of other workers killed.
"It remains to be believed by the general public whether … probation is a fair criminal punishment for someone whose decisions resulted in a number of very avoidable and painful deaths," Kuhn said.
Trending news