Iran is set to execute 75% more people in 2022 than last year, two rights groups said Thursday, warning that the country's "killing machine" could kill even more people this year after protests rocked the country.
A report by the Norway-based Iran Human Rights (IHR) and Paris-based Together Against the Death Penalty (ECPM) said at least 582 executions for Iran are the highest since 2015 and more than 333 for 2021. .
Last year was marked by nationwide eruptions The death of Mahsa Amini sparked protests in SeptemberA 22-year-old ethnic Kurd who was arrested for violating the strict dress code for women.
Authorities responded with a crackdown that resulted in several executions from protest-related cases that sparked international criticism.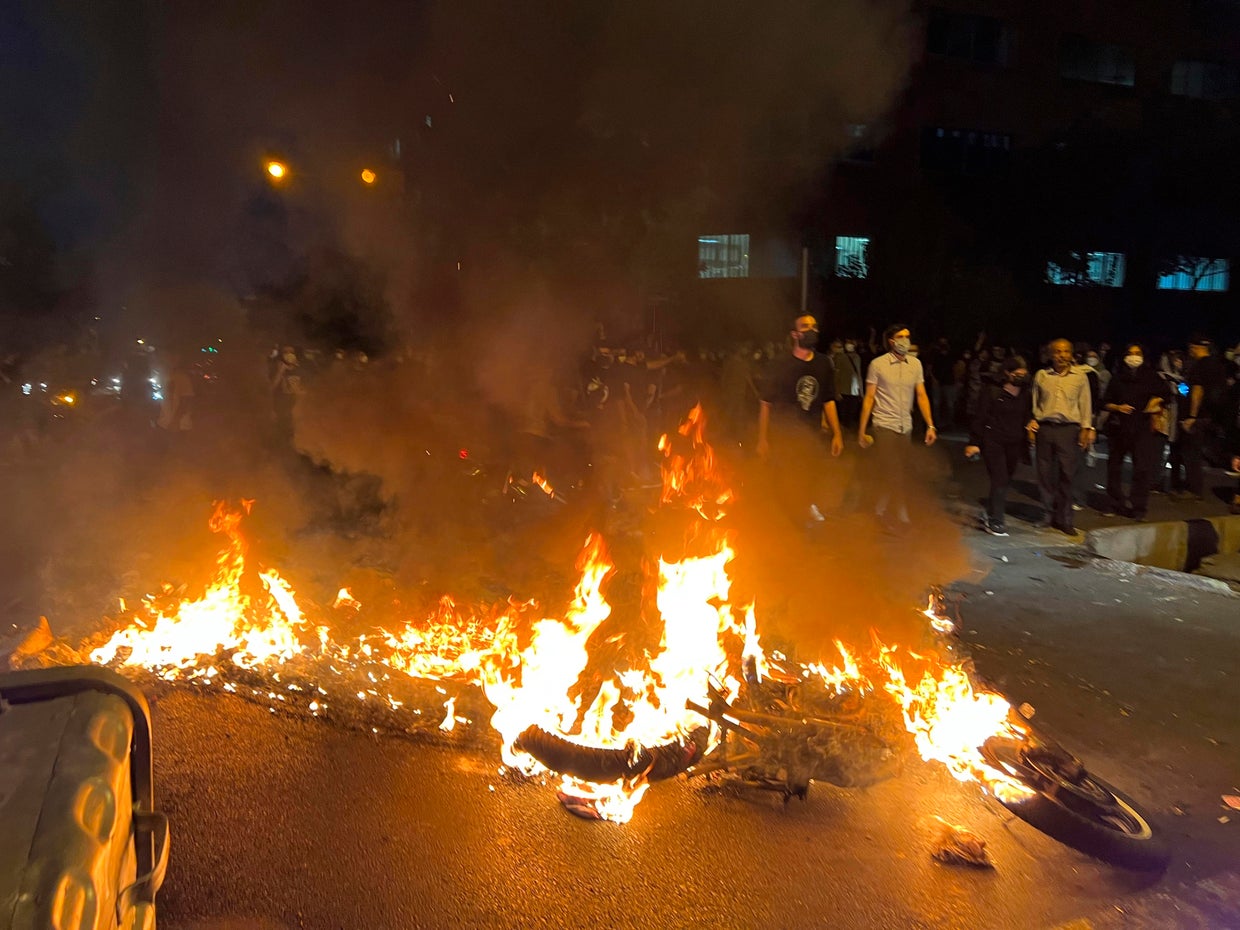 A photo taken by a person not employed by The Associated Press and obtained by the AP outside Iran shows a police motorcycle burning during a protest over the death of a young woman arrested for violating the country's conservative dress code, in downtown Tehran, Iran, Sept. 19, 2022.
Ap
IHR director Mahmoud Amiri Moghaddam said that while the international response was keeping protest-related executions under control, Iran was pushing for executions on other charges "to compensate and spread fear among people".
"We fear that the number of executions will increase dramatically in 2023 if the international community does not act more," he told AFP.
"Every execution in Iran is political, regardless of the charge," he added, describing those sentenced to death on drug or murder charges as "low-cost victims" of Iran's "killing machine."
Moghaddam said that with more than 150 executions in the first three months of this year alone, the overall total risk for 2023 is the highest in nearly two decades, surpassing even 2015 when, according to the IHR, 972 people were executed in Iran.
The report cited a "60 Minutes" interview with Iranian President Ibrahim Raisi on September 18, 2022, in which he referred to the protesters as "security breakers" and said they would continue to be prosecuted and punished.
Reports say that after four people were executed on protest-related charges, another 100 protesters face the death penalty or face the death penalty for capital crimes.
The report expressed concern about a sharp increase in the number of drug-related executions following the protests.
The decline in the number of drug-related executions – driven by a 2017 amendment to the anti-narcotics law – was behind the decline in the overall number of executions in Iran through 2021.
More than half of those executed after the protests began, and 44 percent of the 582 executions recorded in 2022, were on drug-related charges.
That's more than double the number in 2021 and 10 times the number of drug-related executions in 2020, the report said.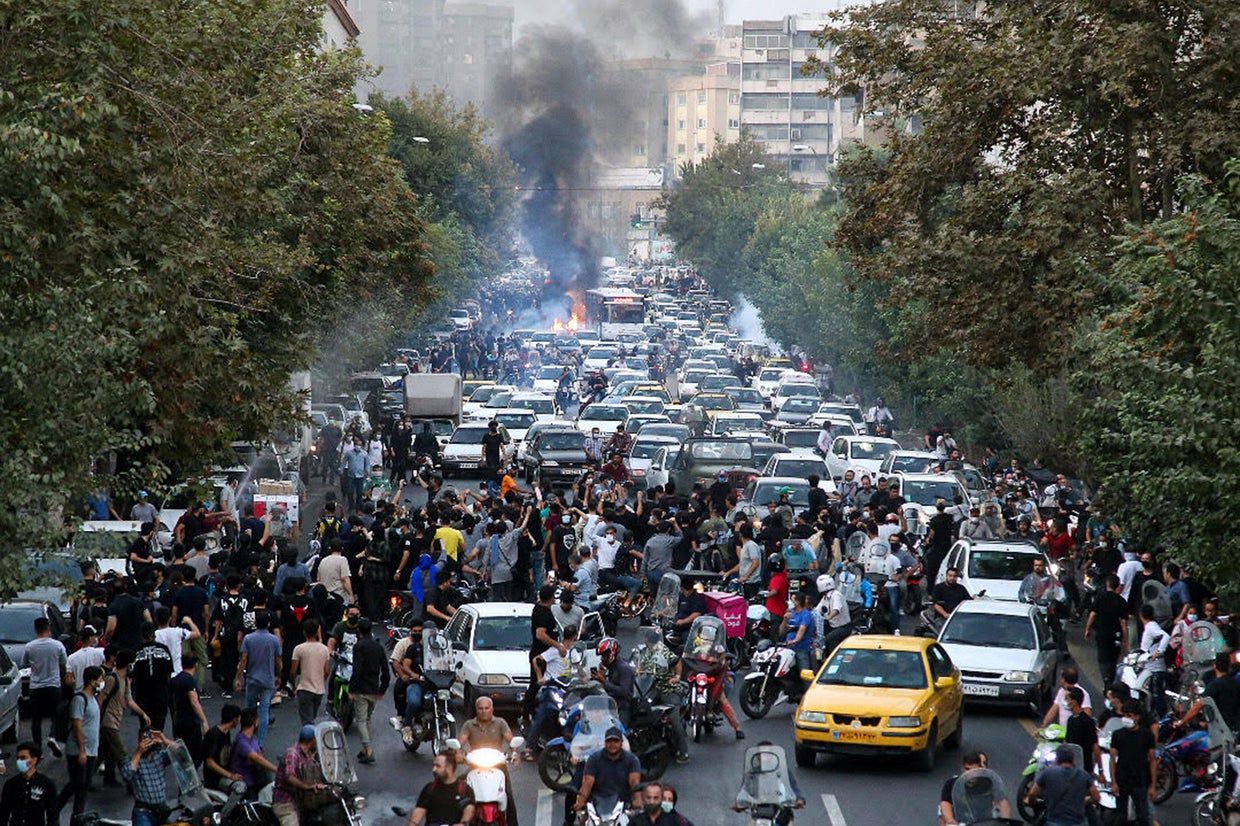 People demonstrate against the death of a 22-year-old woman in the custody of the morality police in Tehran, Iran on September 21, 2022.
Stringer/Anadolu Agency/Getty
Rights groups lamented what they said was a lack of response from the United Nations Office on Drugs and Crime (UNODC) and its donor states.
"The lack of response from UNODC and donor countries to these (2017) reforms sends the wrong signal to the Iranian authorities," ECPM director Raphael Chenouil-Hazan said.
The report states that members of the predominantly Sunni Muslim Baloch minority are responsible for 30 percent of executions nationwide, even though they make up only 2% to 6% of Iran's population.
Executions of ethnic Kurds and Arabs were also disproportionate, particularly for drug crimes. "The death penalty is part of systemic discrimination and widespread repression of Iran's ethnic minorities," the report said.
Most executions – 288, or 49% – were for murder, the highest in more than 15 years.
Two protesters, including Majidreja Rahnavard, were reportedly hanged in public. At least three juvenile delinquents were among those executed, and at least 16 women were hanged.
Iran's penal code allows for executions by firing squad, stoning and even crucifixion, but in recent years all executions have been carried out by hanging.
Iran executes more people annually than any other country except China — for which no accurate data is available — and more as a proportion of its population than any country in the world, Chenouil-Hazan said.
Iran: Crisis in the Middle East
more and more

Source link