The FBI has offered a $40,000 reward for an American woman who disappeared in Mexico more than three months ago.
Authorities are hoping to generate additional tips and information about the disappearance of Monica de Leon Barba, 29, who was last seen walking her dog home from work on Nov. 29 in Tepatitlan, Jalisco, Mexico. De Leon hails from San Mateo, California, CBS Bay Area Report.
"If you have any information that could help us locate Monica, please contact law enforcement," the FBI San Francisco office tweeted.
If you have any information that could help us find Monica, please contact law enforcement. The FBI is offering up to $40,000 for information leading to his recovery. Submit tips via https://t.co/JwFJorXiX7 or call us at 1-800-CALL-FBI. Tips may remain anonymous. pic.twitter.com/DiBP2CkBUI
— FBI SanFrancisco (@FBISanFrancisco) March 30, 2023
De Leon was on her way to a gym called Fit4Life in the Guadalupe fraction between 5-6pm when she was pushed into the van "leaving the poor puppy alone in the street," her family and friends said on a community Facebook page called Search for the Missing Woman.
"I can't even begin to imagine the extreme fear and pain she has faced over the past 121 days," her brother Gustavo de Leon said in a statement on the page. He said his sister was abducted from their hometown and a head of state that "allows any kind of kidnapping under their watch must answer and provide them with assistance to bring my sister home."
According to research by Global Guardian, a security risk intelligence agency, Mexico has one of the highest kidnapping rates in the world due to organized crime and opportunism. Virtual and express kidnappings are widespread in Mexico, they found, and are often carried out for financial extortion, robbery or ransom.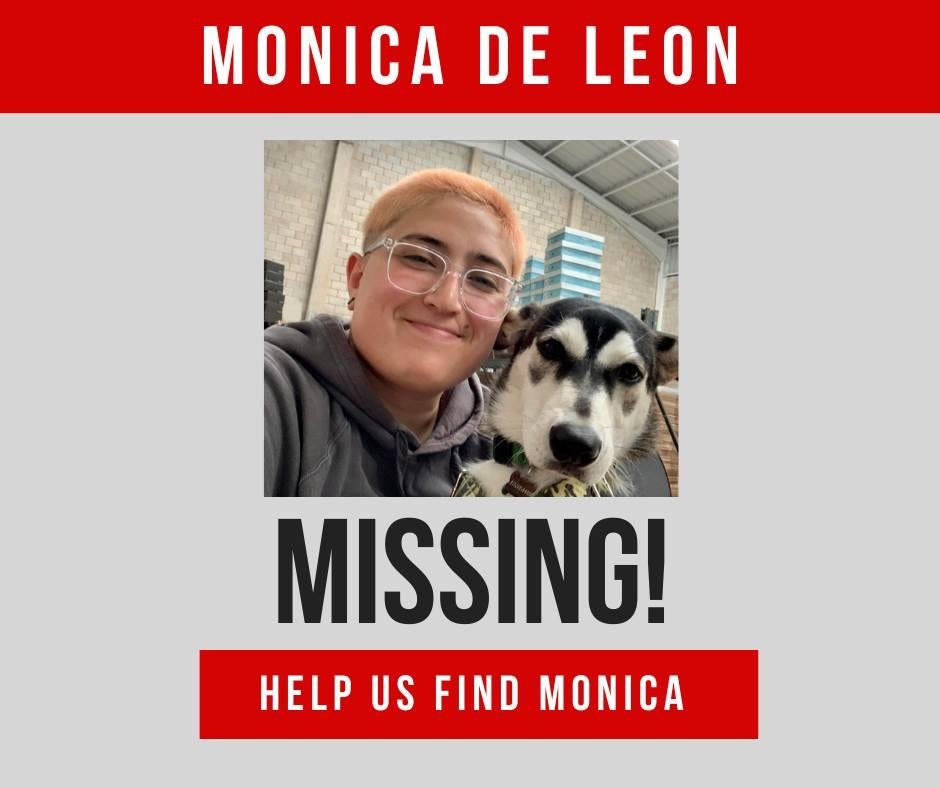 Monica de Leon Barba, who was last seen walking her dog home from work in Tepatitalan, Jalisco, Mexico, has been missing since November 2022.
Photo via Facebook
Officials in the former Western District of Texas have not said if they have any suspects or leads Kidnapping is the "bread and butter" of drug cartels, says US Marshal Robert Almonte.
Almonte, who spent 25 years with the El Paso Police Department conducting undercover narcotics investigations, said cartels routinely kidnap and extort local businesses. The cartels then demand funds from the families — a tactic he said is part of Mexican cartel "culture."
Almonte said kidnappings are increasing because the cartels "feel emboldened," while relations between Mexican and U.S. law enforcement have soured.
"It's getting worse because the Mexican government can't get control of the cartels," he says. "The United States is going to take its toll."
De Leon's brother posted a statement yesterday pleading for his sister's safe return, saying, "We cannot allow this to be the status quo and I will not allow my sister to become another figure of cowardice and inaction in politics."
Trending news
Who is Tabachnik?