Indonesia was stripped of hosting rights to the Under-20 World Cup on Wednesday, just eight weeks before the tournament begins, amid political turmoil over Israel's participation.
FIFA said Indonesia had been pulled from staging the 24-team tournament, which starts on May 20, "due to the current situation", without elaborating.
The decision was made after a meeting in Doha, Qatar between Indonesian Soccer Federation president Erik Thohir and FIFA president Gianni Infantino.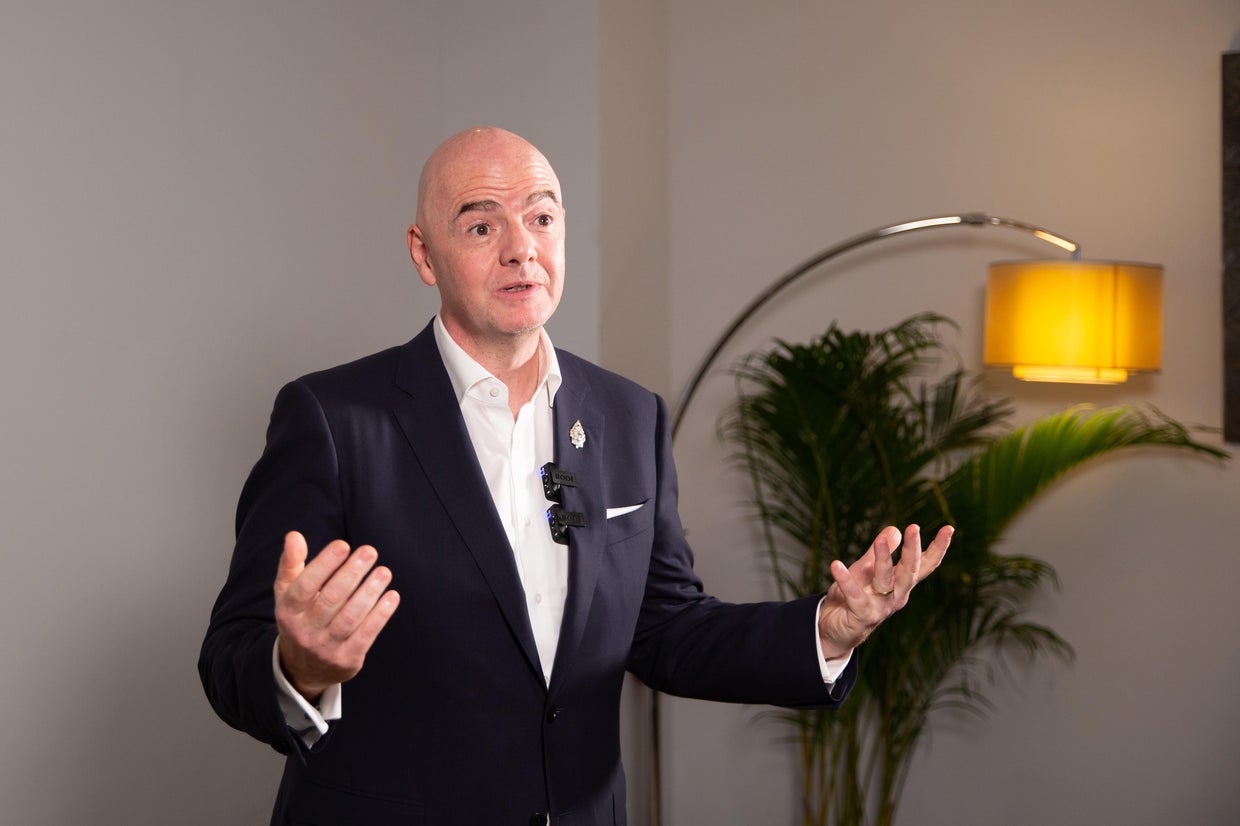 FIFA President Gianni Infantino speaks in an exclusive interview with Xinhua News Agency in Bali, Indonesia on November 15, 2022.
Wang Yiyang/Xinhua via Getty Images
Israel qualified for the first U-20 World Cup in June last year. But the country's participation in the official draw for the tournament's groups to be held Friday in Bali has fueled political opposition this month.
Indonesia is the world's most populous Muslim-majority country and, while openly supporting the Palestinian cause, does not have formal diplomatic relations with Israel.
Indonesia's hosting status for the tournament was thrown into doubt when FIFA postponed the draw last Sunday.
It is unclear who will host the tournament, which will be held across six stadiums in Indonesia. Argentina, who did not qualify for the tournament, are reportedly interested in hosting.
"A new host will be announced as soon as possible, with the dates of the tournament currently unchanged," FIFA said.
The Indonesian Football Federation may be further disciplined by FIFA. A suspension could remove Indonesia from Asian qualification for the 2026 World Cup. The continental qualifiers will begin in October.
FIFA on Wednesday appeared to shift all blame from Thohir, the former president of Italian club Inter Milan – the team Infantino backs – and former co-owner of the Philadelphia 76ers.
FIFA staff will continue to work in Indonesia in the coming months, the governing body said, "under the leadership of President Thohir."
As a FIFA member, Thohir said Indonesia had no choice but to accept the decision.
He said in a statement, I tried my best. "Following a letter from President Joko Widodo and lengthy discussions with FIFA President Gianni Infantino, we must accept FIFA's decision to cancel the event we both await."
He said that while he had expressed the concerns and hopes of the Indonesian president, football fans as well as the Indonesian under-20 national team players, "FIFA considers that the current situation cannot continue."
Indonesia's soccer and public authorities agreed to FIFA's hosting requirements in 2019 before being selected to stage the 2021 edition of the U-20 World Cup. The coronavirus pandemic has forced the tournament to be postponed for two years.
But Indonesian President Joko Widodo said Tuesday evening that his administration objected to Israel's participation. He told citizens that the country had agreed to host before he knew Israel would qualify.
However, the removal of hosting rights by FIFA has raised concerns within Indonesian football.
Arya Sinulinga, executive committee member of Indonesia's national soccer association PSSI, was concerned about further backlash.
"It's a sign that we can't abide by what is said (by FIFA) … that there should be no discrimination, among other things," Sinulinga said in an interview with a local television station. What is most worrying right now is that we will be deprived of international events, especially world football activities."
He said that "it could happen and it would be detrimental to us in many ways."
"We have something bigger than losing the right to host the U-20 World Cup. We have to face it in the near future and it may affect the future of our game," Sinulinga said, "We are not fighting now. To get approval, but people should know. … It's very difficult."
Israel qualified for the tournament by reaching the semi-finals of the U-19 European Championship. The team lost to England in that final.
Israel plays in Europe as a member of UEFA after leaving the Asian Football Confederation in 1970 for political and security reasons.
FIFA has called the Men's U-20 World Cup a "tournament of tomorrow's superstars".
Diego Maradona, Lionel Messi and Paul Pogba are previous winners of the tournament's official player of the tournament award, and Erling Haaland was the top scorer in the 2019 edition.
Trending news