Flash flood emergency extended until 2 p.m
Flash flood emergency extended until 2 p.m
02:22
Fort Lauderdale received nearly a foot of rain in a matter of hours — causing widespread flooding, closing the city's airport, closing schools and suspending high-speed commuter rail service for the Broward County region.
The city of Fort Lauderdale released a statement Wednesday evening asking residents and visitors to stay off the roads until the water recedes.
"Police and fire continue to respond to calls for rescue services," the statement said. "Public works crews are clearing drains and operating pumps to alleviate the water as quickly as possible."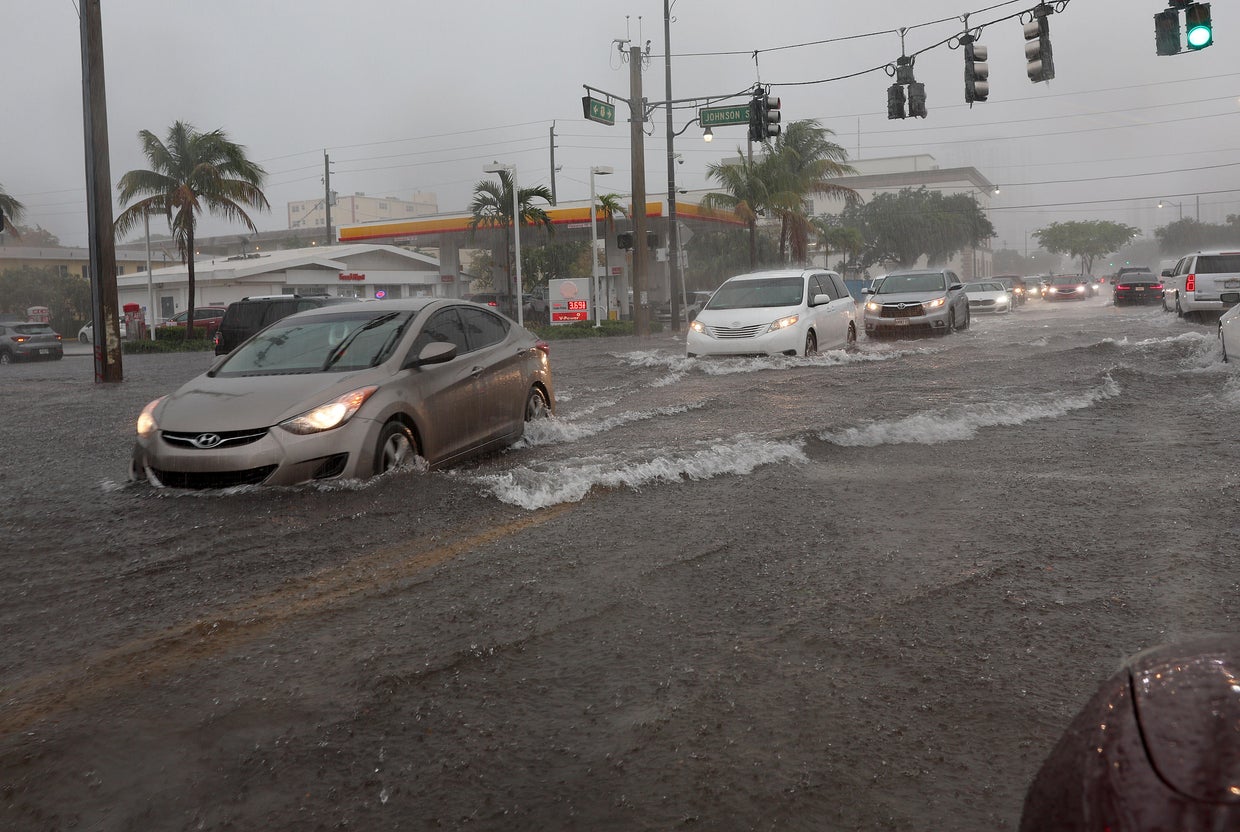 Cars drive through flooded streets on April 12, 2023 in Dania Beach, Florida.
Getty Images
Broward County Public Schools, one of the nation's largest school districts — and which serves nearly all of the Fort Lauderdale area — announced late Wednesday that all of its schools would be closed Thursday.
Wednesday's persistent rain prompted Fort Lauderdale-Hollywood International Airport to suspend all arriving and departing flights at 4:15 p.m. ET. Late Wednesday night, the airport tweeted that it would likely remain closed until at least noon Thursday.
"The airport road is still closed and affected by flooding," an airport statement said.
#TravelAlert No. 5. Please note that #FLL is now expected to remain closed till at least noon (12PM) on Thursday, April 13, 2023. Entrances are still closed until further notice. Street updates will be provided as more information becomes available… pic.twitter.com/tu02MavaeJ
— Fort Lauderdale-Hollywood International Airport (FLL) (@FLLFlyer) April 13, 2023
Up to 14 inches of rain fell across the area through Wednesday, and the National Weather Service said another 2 to 4 inches could fall as a warm front continues to push north, bringing the possibility of thunderstorms.
More than 12,000 customers were without power in Florida Wednesday night, according to poweroutages.us.
Heavy rains also shut down high-speed commuter rail service in South Florida. Brightline posted on Twitter Wednesday evening that train service between Miami and Fort Lauderdale has been suspended.
The National Weather Service in Miami declared a flash flood emergency for areas around Fort Lauderdale, Hollywood and Dania Beach Wednesday around 8 p.m. Shortly after, forecasters issued a tornado warning for nearby Davie, Plantation and Lauderhill.
The service issued a flash flood emergency for Fort Lauderdale and other areas, and the possibility of thunderstorms continued through early Thursday morning in other areas, warning: "This is a life-threatening situation. Seek higher ground now!"
The state of emergency is said to last until early Thursday morning as thunderstorms continue to develop across the region.
Eyewitness video shows water pouring into doors at an airport terminal and a virtual river cascading down the tarmac inside the plane.
On Broward Boulevard, a man was seen swimming through the flooded road as cars rolled by during rush hour.
Drivers recorded themselves driving down roads where the brown, swirling water was up to the wheel wells or almost up to the hood of the car.
There were no immediate reports of injuries or deaths.
Trending news