WASHINGTON – Mother of a young man Immigrant girl who died U.S. Border Patrol custody requested medical help at least three times in the day her sick daughter was pronounced dead at a Texas hospital last week, government officials said Sunday.
Eight-year-old Anadyth Tanay Reyes Alvarez, who was born with a heart condition, died on May 17 after experiencing a medical emergency inside a Border Patrol station in Harlingen, Texas. A local medical examiner is still investigating the death, but a preliminary autopsy noted Reyes Alvarez had heart disease and sickle cell anemia, officials said.
Reyes Alvarez was held with his parents and siblings for more than a week at a Border Patrol facility, despite internal rules that direct agents to hold immigrants for no more than three days. Border Patrol agents can release immigrants for a court hearing or asylum interview, deport them, or transfer them to another agency, such as Immigration and Customs Enforcement (ICE).
In an updated statement Sunday, Customs and Border Protection (CBP), the Border Patrol's parent agency, said agents first processed Reyes Alvarez and his family on May 9. The family was in agency custody for eight days
It's unclear why Reyes Alvarez and his family stayed in Border Patrol custody beyond the 72-hour limit. But earlier this month, the agency struggled to contain thousands of stranded immigrants after arrivals at the border surged to 10,000 a day shortly before the expiration of Title 42 pandemic-era restrictions on immigration. Illegal crossings on the southern border have since declined.
CBP representatives did not respond to several questions about how the family was processed, including the reason for their prolonged detention. CBP's Office of Professional Responsibility, which issued the statement Sunday, is investigating the girl's death.
In a separate statement Sunday, Acting CBP Commissioner Troy Miller said the results of an internal investigation into Reyes Alvarez's death will be released. Miller also announced that he has directed officials to ensure that medically vulnerable immigrants spend only a "limited" amount of time in Border Patrol facilities and that medical contractors provide "appropriate care" to those in custody.
"The health and safety of those in our custody, our workforce and the communities we serve are paramount," Miller said. "To that end, we must ensure that medically fragile individuals receive the best possible care and spend the least amount of time possible in CBP custody."
While the Office of Professional Responsibility's statement leaves many questions unanswered, it provides the first official timeline of Reyes Alvarez's cause of death.
According to the statement, Reyes Alvarez, his family and dozens of other immigrants were detained by Border Patrol agents near Brownsville, Texas on the night of May 9. The family was initially taken to an outside processing area, where they had spent the previous night. The next day, a tent was being transported to a holding facility in Donna, Texas, officials said.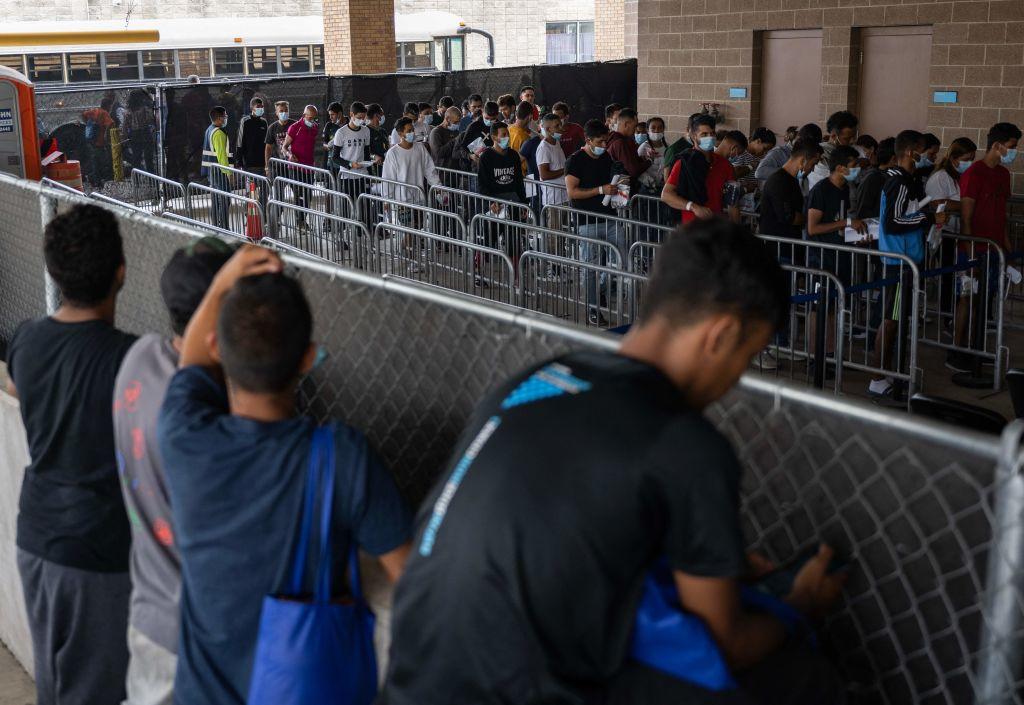 Immigrants look over a fence as they try to locate family members and friends who arrived at a processing center in Brownsville, Texas on May 11, 2023. On May 11, 2023, the United States will officially end its 40-month Covid-19 state of emergency, also repealing the Title 42 Act, a tool that has been used to prevent millions of immigrants from entering the country.
Andrew Caballero-Reynolds/AFP via Getty Images
Reyes Alvarez, officials added, was medically examined at the Dona facility and "did not report any acute illness or injury." Parents informed officials about the girls' heart condition and sickle cell anemia, the statement said.
According to the CBP statement, Reyes Alvarez began complaining of "abdominal pain, stuffy nose and cough" in the early afternoon of May 14. After recording a temperature of 101.8 and testing positive for influenza A, Reyes Alvarez was prescribed several medications, including Tamiflu, officials said. Medical contractors also learned that Reyes Alvarez had heart surgery when he was five years old, the statement said.
CBP said Reyes Álvarez and his family were transferred to the Border Patrol station in Harlingen, where it noted the immigrants were "infected with or have been in close contact with an infectious disease." After arriving there on the night of May 12, Reyes Alvarez was again medically screened, officials said. Over the next three days, CBP said, Reyes Alvarez received Tamiflu and ibuprofen.
According to CBP, the situation deteriorated on May 17. "At this time, CBP can confirm that medical records document that the eight-year-old girl and her mother visited the (Harlingen Station) medical unit at least three times on Wednesday, May 17, 2023," the agency said.
Reyes Alvarez was given Zofran — a drug used to prevent nausea and vomiting — and "instructed to hydrate and return as needed" after his first visit, at which time he reported vomiting, officials said. Reyes Alvarez then complained of abdominal pain, but medical contractors ordered the mother to follow up again, saying the girl was "stable."
At 1:55 p.m., Reyes Alvarez's mother returned with the child, who CBP said "appeared to have had a seizure" and was later unresponsive. Medical contractors called an ambulance and administered CPR, officials added.
The ambulance arrived at 2:07 p.m. and took Reyes Alvarez and her mother to Valley Baptist Medical Center in Harlingen. Less than 50 minutes later, Reyes Alvarez was pronounced dead at the hospital.
"Preliminary autopsy results, which were shared with the CBP OPR, indicated the absence of blunt force trauma, the presence of a pleural effusion within the chest cavity, evidence of attempted surgical repair of the girl's aortic stenosis, and the history given of sickle cell anemia, " CBP said.
Reyes Alvarez's mother told The Associated Press that officials at the Border Patrol facility ignored earlier calls to hospitalize her daughter.
"They killed my daughter, because she couldn't breathe for about a day and a half," the mother said, according to the AP. "He cried and begged for his life and they ignored him. They did nothing for him."
In addition to the week-long detention of Reyes Alvarez and his family appearing to violate CBP's detention policy, it's also unclear whether the family's processing complies with a 2022 legal agreement that CBP forged in a landmark court settlement with lawyers representing immigrant children. The Flores Agreement, which provides basic rights for minors in US immigration custody.
The 2022 agreement requires Border Patrol agents in El Paso and South Texas to conduct "enhanced medical monitoring" of migrant children if they are held for more than 72 hours. This includes regular medical check-ups, at least every 4 hours.
"Between this settlement, and their own internal policy that recognizes that 72 hours should be the maximum time in custody, it is extraordinarily difficult to understand how this tragedy could have happened. Ultimately, Anadith's death is a reflection of our inhumane and dangerous immigration system," said Neha Desai, National Senior Director of Immigration at the Center for Youth Law, which represented the children in the Flores case.
While Reyes Alvarez was born in Panama, his parents and siblings are from Honduras. The family has been released from US custody pending their immigration case.
Honduran government officials and Democratic lawmakers in Congress have all demanded a "thorough" investigation into Reyes Alvarez's death.
More Camilo Montoya-Galvez