The Republican governors of Indiana and Idaho have signed bills into law banning gender-affirming care for minors, making those states the latest to restrict transgender health care as Republican-led legislatures continue to curb LGBTQ+ rights this year.
Indiana Governor Eric Holcomb signed law Wednesday that would bar transgender youth from accessing drugs or surgeries that help transition and force those currently taking the drugs to stop by the end of the year.
Idaho Governor Brad Little signed law Tuesday evening that criminalizes gender-affirming care for youth.
More than a dozen other states are considering bills that would ban transgender youth from accessing hormone therapy, puberty blockers and transition surgery, even after parental approval and doctors' advice. Other proposals target the everyday lives of transgender people — including sports, workplaces and schools.
In a statement about the Indiana bill, Holcomb said, "Permanent sex-reassignment surgery with lifelong effects and medically prescribed preparation for such a change should occur as an adult, not as a minor."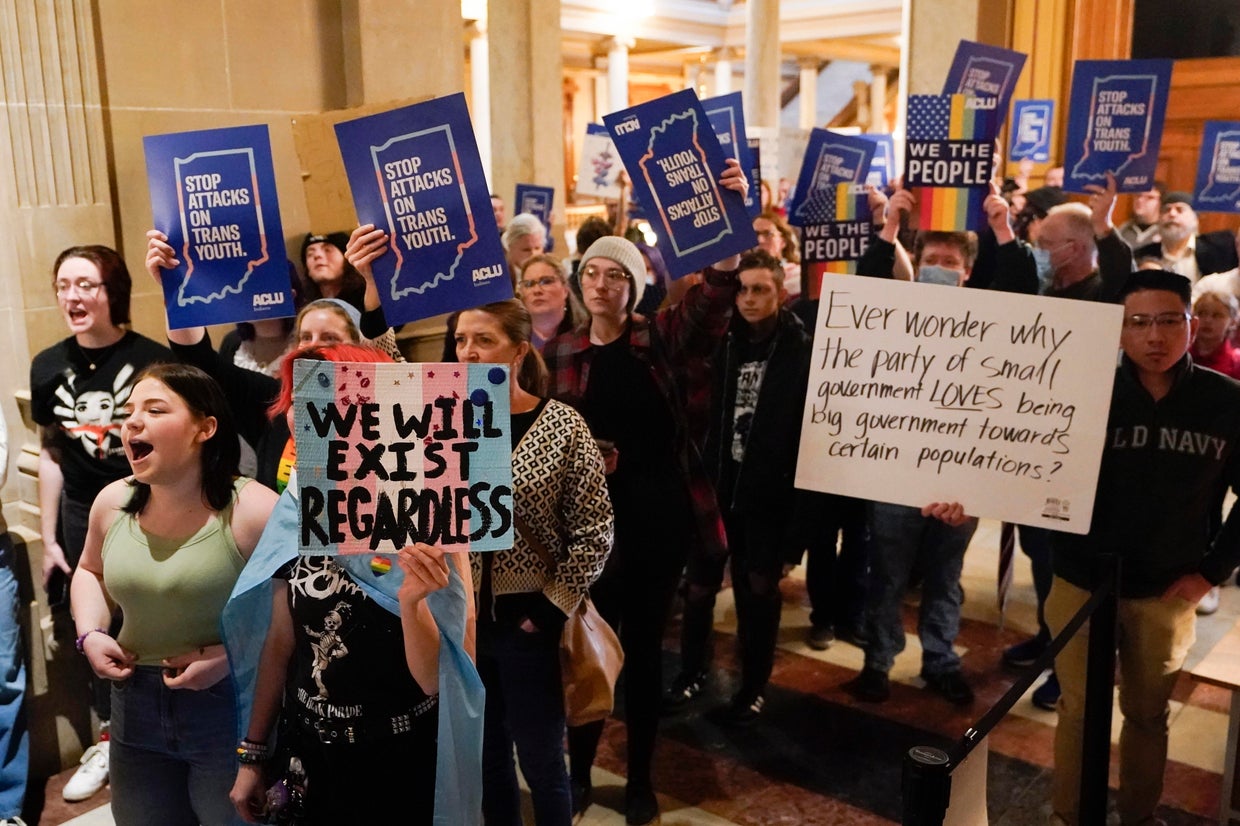 FILE – Protesters stand outside the Senate chamber at the Indiana Statehouse on Feb. 22, 2023 in Indianapolis. The Republican governors of Indiana and Idaho have signed into law bills banning gender-affirming care for minors as early as April 2023, making those states the latest to ban transgender health care this year.
Darron Cummings/AP
The American Civil Liberties Union of Indiana quickly filed a lawsuit after Holcomb signed the Indiana law — something the group promised to do after the Republican supermajority advanced the ban this session. The American Civil Liberties Union of Idaho announced Wednesday that it plans to file a lawsuit against that state's new law.
The ACLU of Indiana has filed a lawsuit on behalf of four transgender youth and an Indiana doctor who provides treatment for transgender people. It argues that the ban violates the U.S. Constitution's equal protection guarantee as well as federal laws related to essential medical services.
"The Legislature did not prohibit the various treatments that are outlined," said Indiana Legislative Director Ken Falk. "It just banned it for transgender people."
Under the Indiana law that took effect July 1, doctors who provide sex-affirming care to minors will be disciplined by the licensing board. And under an Idaho law that takes effect next January, it will be a felony to provide hormones, puberty blockers or other gender-affirming care to people under 18.
"In signing this bill, I recognize the role our society plays in protecting minors from surgery or treatment that could irreparably damage their healthy bodies," Little wrote. "However, as policymakers we should exercise extreme caution whenever we consider allowing government to interfere with loving parents and their decisions about what is best for their children."
Proponents of the law claim that prohibited care is irreversible or carries side effects. They argue that only an adult — and not a minor's parent — can consent to treatment.
But opponents say such care is vital and often life-saving for trans children, and medical providers say most procedures are reversible and safe. Transgender treatment for children and adolescents has also been available in the United States for more than a decade and is endorsed by major medical associations.
"When I started hormone therapy, it made me feel so much better about myself," Jessica Weiner, 16, said at an Indiana House Public Health Committee hearing last month.
At least 13 states have laws banning sex-affirming care for minors: Alabama, Arkansas, Arizona, Georgia, Idaho, Indiana, Iowa, Kentucky, Mississippi, Tennessee, Utah, South Dakota, and West Virginia. Federal judges have blocked Alabama and Arkansas from enforcing the law.
GOP-led Kansas Legislature Wednesday also overrode Democratic Gov. Laura Kelly's veto of a bill that would have banned transgender athletes from girls and women's sports from kindergarten through college.
Nineteen other states have imposed bans on transgender athletes, most recently Wyoming.
The Arkansas Senate also sent a bill to Republican Gov. Sarah Huckabee Sanders on Wednesday that would not mandate schools allow its employees to call transgender students by their preferred names or pronouns.
In some states where Democrats control the legislature, lawmakers are ensuring access to gender-affirming health care. Democratic New Mexico Gov. Michelle Lujan Grisham signed a bill Wednesday that protects gender-affirming health care providers against potential civil and criminal prosecution.
Dr. Molly McClain, who provides gender-affirming health care to patients of all ages, said the new law sends a message to people exploring their identities in ways that may not conform to gender norms.
"It says you can see, you're safe, you're valued and your access to health care will be protected here," said McClain, who teaches medicine at the University of New Mexico. "I think that sends a huge message to trainees" in the medical field.
Trending news