"I'm in the pinch-me phase. I can't believe I actually get to work here and call this place home right now," new 60 Minutes correspondent Cecilia Vega said of joining the program.
For his first assignment, Vega traveled to the island nation of Dominica where he reported on a sperm whale, one of the largest marine mammals in the ocean. Sperm whales are considered a "vulnerable" species by the International Union for Conservation of Nature, a non-profit made up of governments and civil society organizations. They breed once every five to seven years and have experienced significant population declines. The species is under threat due to noise pollution, plastic ingestion and ship strikes.
For the assignment, Vega went snorkeling with National Geographic Explorer Enrique Sala. He is working with the government of Dominica to try to create a sanctuary to keep the whales safe.
"Sperm whale populations have been in steady decline for the past 20 years because of human threats that affect whales not only here, but in Dominica, all over the world," Sala told Vega. "If nothing is done, the population will likely continue to decline, so reducing these threats will hopefully allow the sperm whale population to rebuild. And the more whales there are, the more benefits Dominica and local communities will have."
For Vega and the 60 Minutes team, the story was a reminder that some things are worth waiting for. It took five days for a sperm whale to come alongside the boat. It was the last day 60 Minutes was scheduled to be in the Caribbean.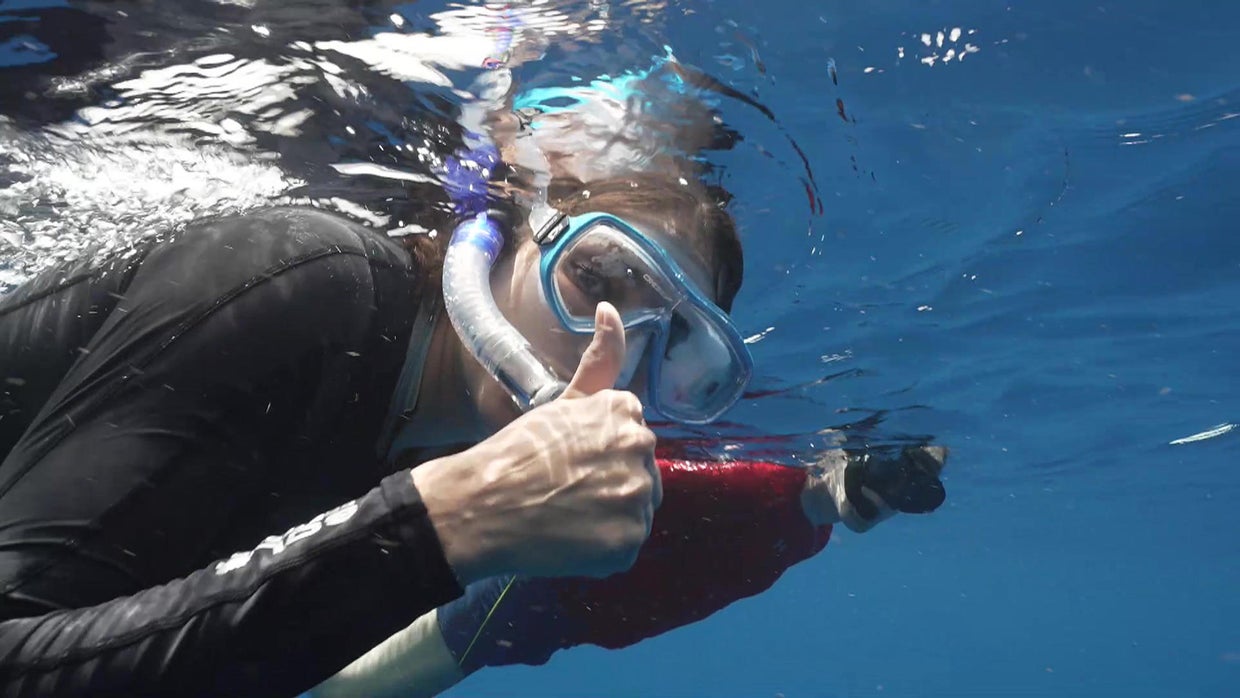 60 Minutes correspondent Cecilia Vega went snorkeling with sperm whales off the coast of Dominica.
60 minutes
"Once you see that whale, it's a little bit like SEAL Team Six," Vega told 60 Minutes Overtime. "You're jumping off the back of a moving boat. In water 8,000 feet deep. And you're swimming. And then all of a sudden, he's right there. And he's making eye contact with us."
Vega said the whale stayed for about 10 minutes and described it as "otherworldly."
"It was the scariest professional experience I think and probably the most satisfying and rewarding," Vega said.
You can watch Cecilia Vega's full report, Dominic's Sperm Whales, below.
Sperm whale protection focuses on creation of marine sanctuaries in the Caribbean 60 minutes
13:30
The video at the top was produced by Keith Zubrow and edited by Sarah Shafer Prediger. Crystal Garces was the broadcast associate.
Trending news