Iranian authorities announced on Tuesday that the first arrests were linked to a series of mysteries Poisoning of schoolchildren All over the country.
"Several people have been arrested in five provinces and relevant agencies are conducting a full investigation," Iranian Deputy Interior Minister Majid Mirahmadi said on state television.
According to Iranian state media and government officials, chemical or biological attacks have sickened more than 1,200 Iranian schoolchildren from at least 60 different schools since November. Reports of poisoning spiked over the weekend, with students describing a range of unexplained odors reminiscent of everything from paint to perfume to burning something. After the smell, they reported experiencing numbness, temporary paralysis or near blackout.
"It definitely sounds like a chemical or biological incident," British chemical weapons expert Hamish de Breton-Gordon told CBS News. "It's not something that seems to happen naturally."
"Tear gas, especially poorly made tear gas, will produce these types of symptoms without killing people, and possibly other chemicals like sulfur dioxide, and some people have suggested nitrogen dioxide as well. These are industrial chemicals that are perfectly (legitimately) commercial. use, but certain doses can be toxic to humans," he said.
No deaths have been reported and almost all of the affected girls seem to have recovered within days.
Iranian leaders and officials do not appear to have reached a consensus about the cause – unusual for a top-down authoritarian regime led by Islamic clerics.
Supreme Leader Ayatollah Ali Khamenei said if the girls were deliberately poisoned, it was "a great and unforgivable crime," punishable by death.
State media said the interior ministry had found suspicious samples and sent them for analysis, but the deputy interior minister had previously suggested that "hostile" media outlets, rather than poison, may be to blame.
"More than 99% of this is caused by pressure, rumors and psychological warfare, especially started by hostile TV channels, to create an unstable and stressful situation for students and their parents," Mirahmadi said earlier before announcing the arrest on Tuesday.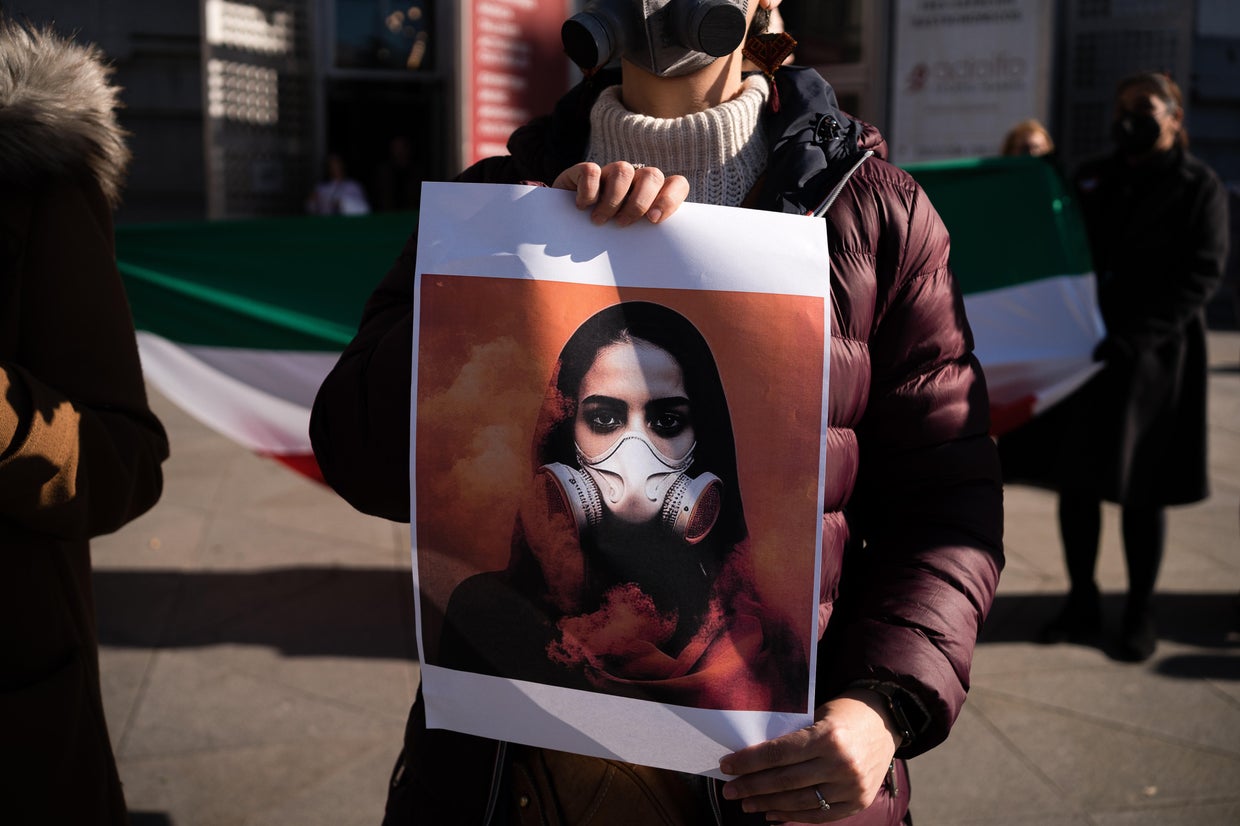 A woman holds a placard depicting a girl wearing a gas mask during a protest against hundreds of cases of poisoning of girls in Iranian schools on March 4, 2023 in Madrid, Spain.
Diego Radamas/SOPA Images/Lightrocket/Getty
In the streets of the capital Tehran and other cities around the world, angry Iranian citizens demonstrated against the government and accused the government of committing state terrorism against its own people. They believe Iran's leaders, or those in positions of power, may retaliate against a wave of women-led, anti-government protests across the county that began last summer after the death of Mahsa Amini in police custody.
"I think you can't underestimate the psychological impact of using chemical and biological weapons," said de Breton-Gordon. "Certainly, any young Iranian women thinking about protesting in the future might want to think twice if they think they'll basically be gassed because of it."
If Iranian officials were behind the mysterious poisoning, de Breton-Gordon said, the ultimate goal was to silence protesters and instill fear.
"They don't have the luxury that we have in a democratic world to express our views," he said. "In a country like Iran, any dissent is stamped out very quickly. That's what these authoritarian governments do."
Iran: Crisis in the Middle East
More More Remy Inocencio