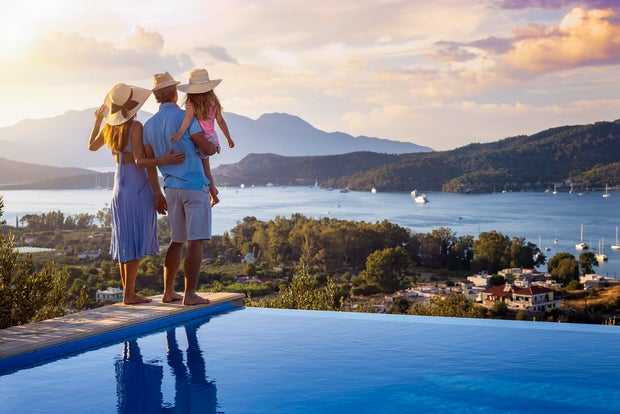 Travel agents usually recommend buying travel insurance every time you travel, if you can afford it.
Getty Images/iStockphoto
Travel insurance Can save you if your trip doesn't go according to plan. This can help if you lose your luggage, get injured abroad and, perhaps most of all, if your travel plans change (or have to be canceled altogether).
Still, travel insurance comes at a cost, and in some cases, it may not be worth the investment. When should you consider it and how can you get the best coverage? We spoke to travel agents to find out.
You can now start exploring your travel insurance options here to learn more
Why (and when) travel agents think travel insurance is worth it
Travel agents usually recommend buying travel insurance every time, if you can afford it. As Tara Minson, executive vice president of travel advisory firm InteleTravel, explains, "Safe travel starts with travel protection."
If you're on a tight budget, however, consider investing in insurance only for big trips — the ones that cost you a lot of cash and planning time — or international ones.
"Medical costs can be very expensive in other countries, and you may have to pay upfront for medical care, including hospitalization and surgery," says Michelle Osborne, who runs travel agency Outta Hare Travels. "Travel insurance can help cover those costs."
This can be helpful if you're going to be participating in any high-risk activities while traveling — things like bungee jumping, skiing, or other adventure sports that could injure you. If you're taking a low-risk trip in the same country or state, it may not be worth the money.
"The only time I'd say travel insurance isn't necessary is if you're going at the last minute domestic travel", says Shane Mahoney, founder of luxury travel agency Lugos Travel. "In that case, you probably haven't prepaid for any non-refundable expenses and you're not worried about last-minute trip cancellations, so it might be safer not to get travel insurance."
Explore your travel insurance options now or in the table below to find the right protection for your next trip.
How to choose a travel insurance policy according to agents
There are many companies that offer travel insurance, so choosing the right one is not always easy. To get started, agents say it's important to think about your specific needs and travel details.
"Do you have a pre-existing health condition that you want to make sure is covered," Osborne asks. "Is there a possibility that you may have to cancel the trip due to work or something else? Are you worried about arriving at your destination but your luggage not arriving and having to buy new things while in a foreign place?"
Knowing what your biggest concerns and risks are can help direct you to the right type of coverage.
Osborne also says to consider things like the insurer's reputation for customer service and their financial rating, which tells how stable the company is (and how likely they'll be in business over the long term).
Finally, make sure to buy from a third party, not the company providing the trip.
"The biggest mistake travelers make when it comes to adding travel protection is to book a 'protection plan' directly with the travel supplier — the cruise line, tour operator, or vacation company," says Minson. "Booking travel protection from a third-party insurance company is always the best protection. It offers you, the traveler, higher value coverage, more types of coverage, cash back — not just future travel credits — and more."
Be aware of what travel agents warn travelers about
In general, travel is risky. There are obstacles in the way of your position, you may get injured or sick while abroad, and you also have a lot of money on the line.
"Imagine Steve Martin trying to get home for Thanksgiving by plane, train and automobile," says Marie Despain, president of travel agency Destination CLEs. "A car fire, a missed flight and a nightmare to get home. Lost luggage could only be the beginning – and her trip was to the US."
Travel insurance can help offset some of these risks and ensure you're not just covered for medical treatment while traveling (most US health insurance doesn't extend to other countries). Financially too.
"Traveling without travel insurance carries a huge risk – a risk that many people cannot afford if something happens before or during their trip," says Mahoney. "If you don't have travel insurance, you could be paying for everything that happens during your trip, from flight cancellations and lost baggage to more serious situations like medical emergencies abroad."
Purchase your travel insurance policy
When you are confident about the type of policy, coverage and insurer to use, You can buy your travel insurance online. Some credit cards also come with travel coverage, although this may not be as comprehensive as third-party policies.
You are not sure how to choose the right policy How much coverage do you need?, you can always enlist a travel agent for help. They can recommend insurers, coverage amounts and more. They may be able to negotiate a better deal for you.
Start comparing your travel insurance options here now.
MoneyWatch: Managing Your Money
more and more

Source link