JERUSALEM – Israel carried out rare strikes in southern Lebanon early Friday and stepped up bombing targets in the Gaza Strip, marking further tensions in the region following Violence this week At the most sensitive holy site in Jerusalem. The attack came a day after a militant attack in southern Lebanon on Friday About three dozen rockets were fired from there to Israel, injuring two people and damaging some property. The Israeli army says it has targeted installations of the Palestinian militant group Hamas in southern Lebanon.
The exchange of rocket and missile fire comes at a time when religious fervor is heightened as Jews celebrate Passover, Muslims mark the middle of the holy month of Ramadan and Christians begin the Easter weekend. In 2021, clashes at the Al-Aqsa Mosque compound in Jerusalem also sparked an 11-day war between Israel and Gaza's Hamas rulers.
Associated Press correspondents in the area said several missiles fired by Israeli warplanes hit an open field in the town of Kalili, near the Palestinian refugee camp of Rashidiyah, near Lebanon's coastal southern city of Tyre, while others hit a nearby bridge and power transformer. A farm on the outskirts of Malia town and Rashidiyeh town, killed several sheep. No deaths were reported.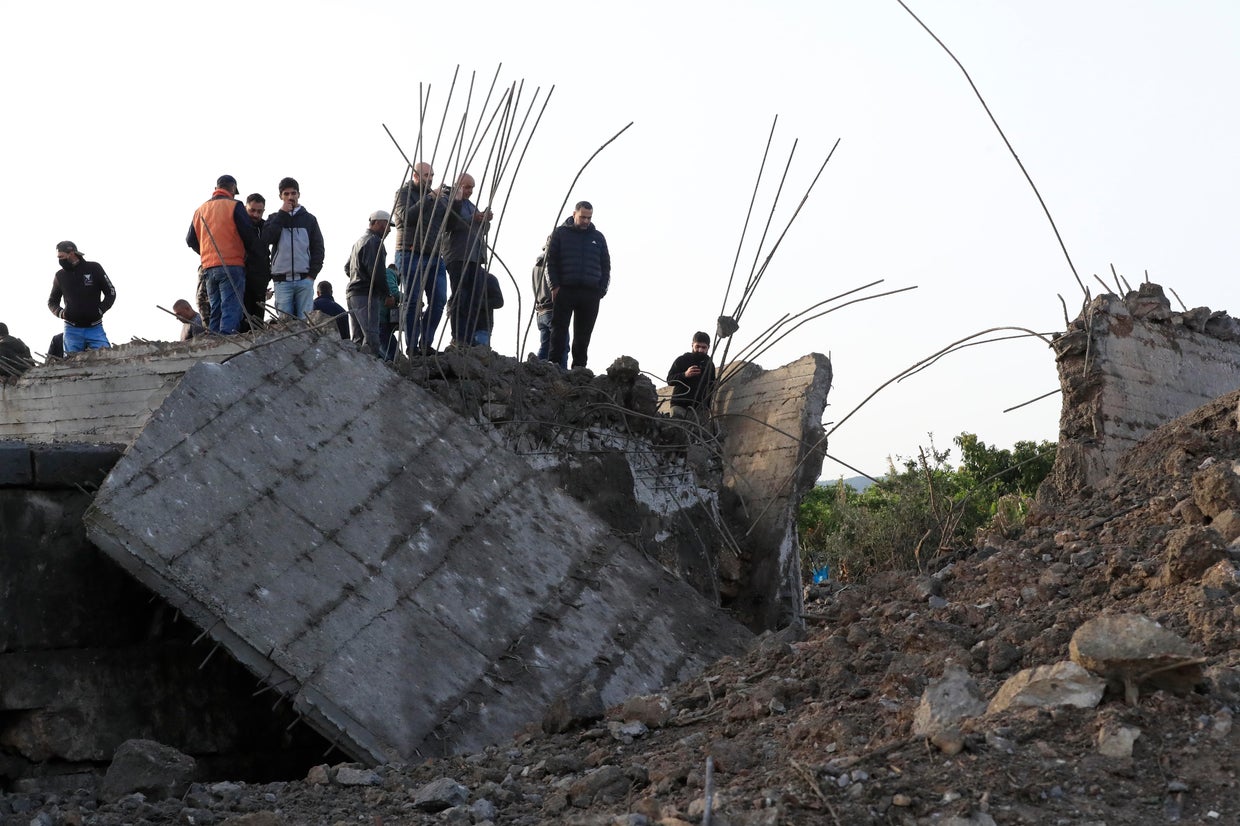 Lebanese civilians inspect a small bridge destroyed by an Israeli airstrike in the village of Malia, southern Lebanon, on April 7, 2023.
Mohammad Zaatari/AP
An Israeli attack on Lebanon risks drawing Lebanon's Hezbollah militia into the conflict, which could lead to war. The Iran-backed group, armed with thousands of rockets and missiles, dominates much of southern Lebanon and Israel views them as a bitter enemy.
The Israeli military was cautious about Friday's attack in its announcement that it was only targeting sites linked to Palestinian militants. In recent years, Hezbollah has distanced itself from other stimuli related to the Al-Aqsa Mosque, which stands on a hill revered by Muslims and Jews.
Israel and Hamas exchange fire after clashes at Al-Aqsa Mosque in Jerusalem
03:44
Hamas issued a statement condemning the Israeli attack, while Israel's military said it hit militant group targets in southern Lebanon and the Gaza Strip in response to rocket attacks.
"(The Israel Defense Forces) will not allow the Hamas terrorist organization to operate from inside Lebanon and holds the Lebanese state responsible for every directed fire emanating from its territory," it said in a statement.
In Washington, principal deputy State Department spokesman Vedant Patel said Israel had "legitimate security concerns" and "every right to self-defense," but urged calm, saying "any unilateral action that disrupts the status quo (around Al Aqsa Mosque). Our unacceptable."
In a tweet Friday morning, Lebanon's national army said it had discovered a rocket launcher with an unfired missile in the south of the country, just five miles from the border with northern Israel, and was working to dismantle the device.
An army unit found a rocket launcher with several unlaunched missiles in the Marjeun Plain and is working to dismantle it. #Lebanese_Army #LebaneseArmy pic.twitter.com/rAuphj06Ms
— Lebanese Army (@LebarmyOfficial) April 7, 2023
Major General Aroldo Lazaro, head of the UN peacekeeping force in Lebanon, said he was in contact with Israeli and Lebanese authorities early Friday. The force, known as UNIFIL, said both sides said they did not want war.
In Jerusalem, before dawn prayers on Friday, violence erupted again in the hilltop courtyard as Israeli police stationed at a gate forcibly dispersed a large crowd of worshipers who pushed their way into the limestone courtyard to cheer for Hamas. Video from the scene showed police beating a large group of Palestinian men with batons until they stumbled back, fell and smashed vendors' tables.
Meanwhile, Israeli airstrikes have resumed in Gaza, after militants fired more rockets from the besieged Israeli coastal city of Ashkelon. The military said the targets included access shafts to an underground network used to manufacture weapons.
April 7, 2023, Fires and smoke rise after an Israeli airstrike in the central Gaza Strip.
Fatima Shabair/AP
The current round of violence began on Wednesday after Israeli police raided the al-Aqsa mosque in Jerusalem's Old City twice. This led to rocket fire from Gaza on Thursday and, in a significant escalation, a rocket barrage from Lebanon.
Israeli Prime Minister Benjamin Netanyahu summoned his security cabinet for a three-hour meeting late Thursday. "Israel's response tonight and beyond will exact a heavy price from our enemies," he said in a statement after the meeting.
Almost immediately, Palestinian militants in Gaza began firing rockets into southern Israel, setting off air raid sirens throughout the region. Loud explosions could be heard in Gaza from Israeli strikes, with outgoing rockets hurtling into the sky toward Israel. For now, Palestinian militants have fired only short-range rockets from Gaza, rather than long-range missiles that can reach Tel Aviv and usually invite harsh Israeli retaliation.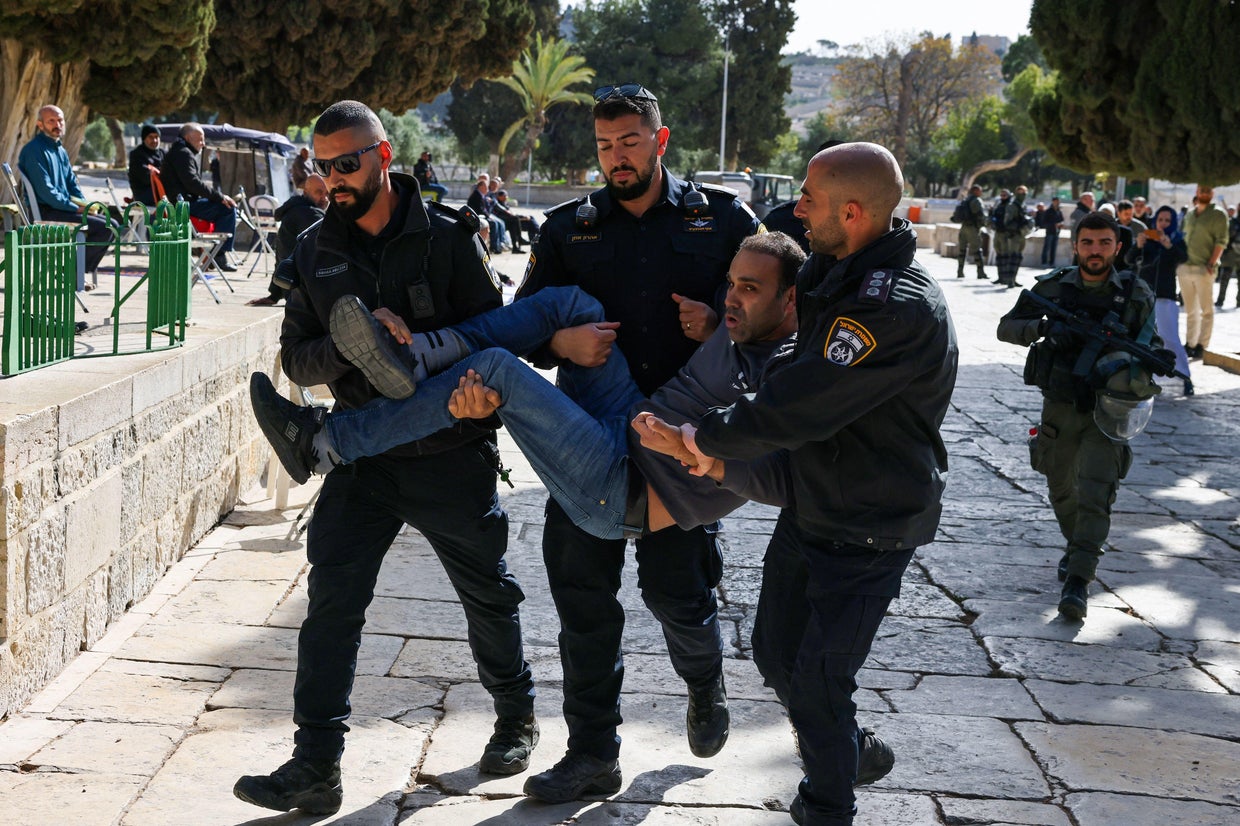 Israeli police detain a Palestinian man in the Al-Aqsa Mosque compound after clashes during the Islamic holy month of Ramadan, April 5, 2023, in Jerusalem.
Ahmed Gharabli/AFP/Getty
The Israeli military said this week's violence at al-Aqsa was sparked by Palestinian militants firing rockets at its northern and southern fronts while Israeli police entered the building with tear gas and stun grenades to barricade two straight inside in front of Palestinians. The violent scene at Din Masjid sparked tension across the region.
In a briefing with reporters, Lt. Col. Richard Hecht, an Israeli military spokesman, said the army had made a clear connection between the rocket fire in Lebanon and the recent unrest in Jerusalem.
"This is a Palestinian-oriented event," he said, adding that Hamas or the Islamic Jihad militant group, which is based in Gaza but also operates in Lebanon, could be involved. But he said the army believes Hezbollah and the Lebanese government are aware of what happened and take responsibility.
The mosque – Islam's third-holiest site – stands atop a hill revered by Jews as the Temple Mount, Judaism's holiest site. Competing claims to the site have erupted in repeated violence over the years.
No Lebanese group claimed responsibility for the rockets. A Lebanese security official, who spoke on condition of anonymity because he is not authorized to speak to the media, said the country's security forces believe the rockets were launched by a Lebanon-based Palestinian militant group, not Hezbollah.
Lebanon's caretaker prime minister, Najib Mikati, condemned the rocket fire from Lebanon and added that the Lebanese army and UN peacekeepers were investigating and trying to find the perpetrators. Mikati said his government "clearly rejects any military escalation" and the use of Lebanese territory to threaten stability.
Hezbollah has condemned the Israeli police operation in Jerusalem. Both Israel and Hezbollah have avoided all-out conflict since the 34-day war was drawn in 2006.
The current escalation comes against a backdrop of Netanyahu's domestic problems. For the past three months, tens of thousands of Israelis have been protesting against plans to overhaul the country's justice system, claiming it would lead the country to authoritarianism.
What is behind the violence and protests in Israel?
06:02
Key military units, including fighter pilots, have threatened to stop reporting for duty if the overhaul passes, drawing a warning from Defense Minister Yoav Galant that Israel's national security could be harmed by the divisive plan. Netanyahu said he was firing Gallant, but then backed off as he held up the overhaul for weeks. Critics may also accuse him of trying to use the crisis to divert attention from his domestic problems.
Netanyahu said that internal divisions would not affect national security and that the country would remain united in the face of external threats.
Trending news