KUALA LUMPUR – Malaysia's parliament passed a bill on Monday to abolish the mandatory death penalty, with rights groups hailing the vote as a "significant step" that could have ramifications elsewhere in Southeast Asia. Convictions for several crimes, including murder and drug trafficking, which previously came with automatic death sentences, gave jurors no leeway.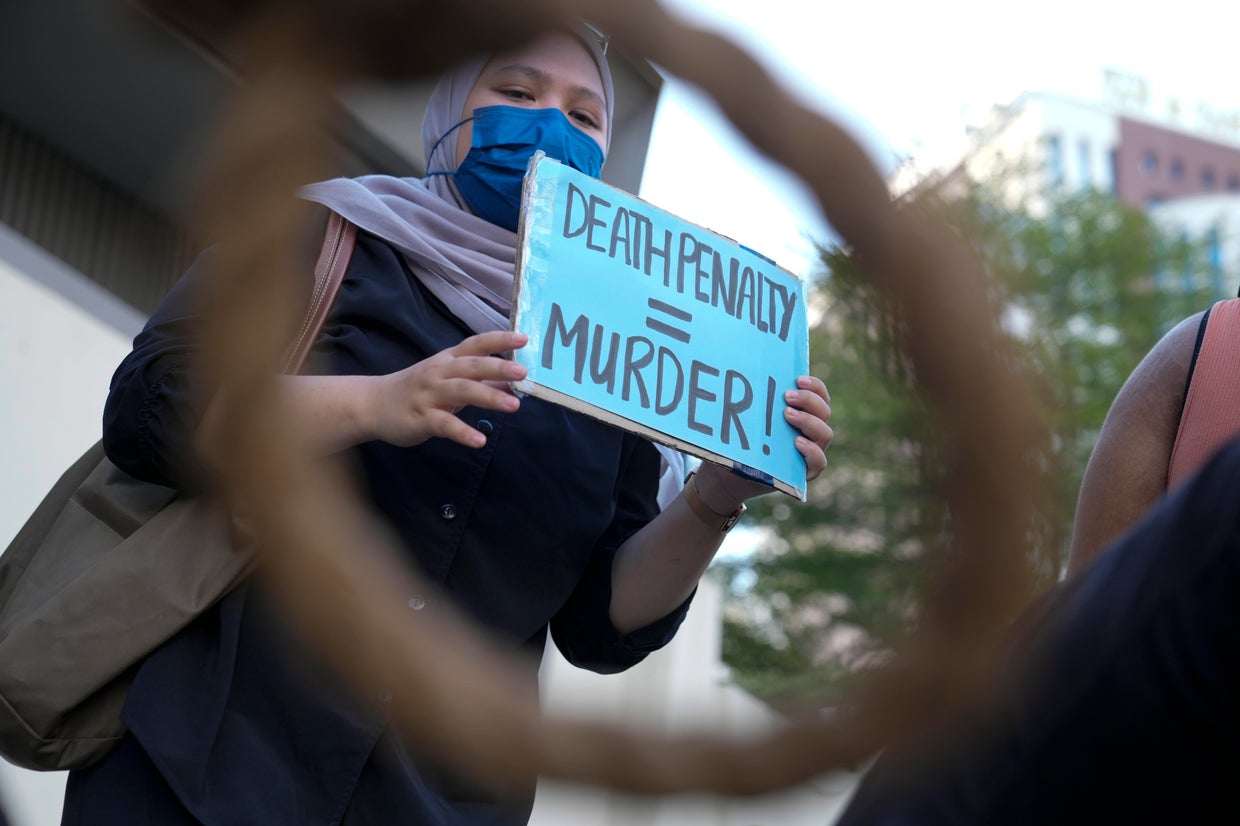 An activist holds a sign against the impending execution of a man on death row in Singapore for heroin trafficking during a rally outside the Singapore embassy in Kuala Lumpur, Malaysia, on April 23, 2022.
Vincent Thien/AP
The bill does not abolish the death penalty, but grants judges the option of imposing longer prison terms of 30 to 40 years in lieu of certain conditions.
Speaking before the lower house of the Malaysian Parliament, Deputy Law Minister Ramkarpal Singh said: "We cannot arbitrarily ignore the existence of every individual's inherent right to life."
Malaysia has had a moratorium on executions since 2018, but courts continue to execute prisoners.
The reform still needs to clear the Senate, but is widely expected to pass without major opposition.
Human Rights Watch deputy Asia director Phil Robertson called Monday's vote "an important step for Malaysia" and said he hoped it would increase pressure on other Southeast Asian countries to follow suit.
"This is an important development that will cause some serious conversations in the halls of the upcoming ASEAN meetings," he told AFP, referring to the 10-member Southeast Asian bloc.
"Malaysia should show regional leadership by encouraging other ASEAN governments to reconsider their continued use of the death penalty, starting with Singapore which recently implemented post-Covid executions."
Last year, Singapore, a prosperous city-state, executed 11 people, all for drug offences.
Myanmar's junta has also resumed the use of the death penalty after a decade-long hiatus.
Cambodia and the Philippines are the only ASEAN members that have completely abolished the death penalty.
While the Malaysian vote stopped short of ending the death penalty, Dobby Chiu, executive coordinator of the Asia Network Against the Death Penalty, hailed the vote as "a good way forward".
"We have data that shows the death penalty doesn't make a difference," he told AFP.
Trending news
Thanks for reading CBS News.
Create your free account or login
For more features.