County officials in Memphis voted for reappointment Wednesday Justin Pearson to the Tennessee House of Representatives, less than a week later The legislature voted for expulsion He and a black Democratic lawmaker Protest against gun violence.
The Shelby County Board of Commissioners, which was tasked with appointing someone to fill the seat, convened to discuss reappointing Pearson and voted to send him back to Nashville. Pearson addressed the commissioners and dozens of supporters who gathered at the meeting.
"Nashville thought they could silence democracy, but they don't know the Shelby County Commission," Pearson said to cheers after the vote. "So message to all the people in Nashville who decided to boycott us: You can't boycott the hope. You can't boycott the love. You can't boycott our voices. And you sure can't boycott our fight. We're watching. Until To keep fighting, to keep advocating, until justice rolls down like water, and righteousness like a never-ending stream. Let's get back to work."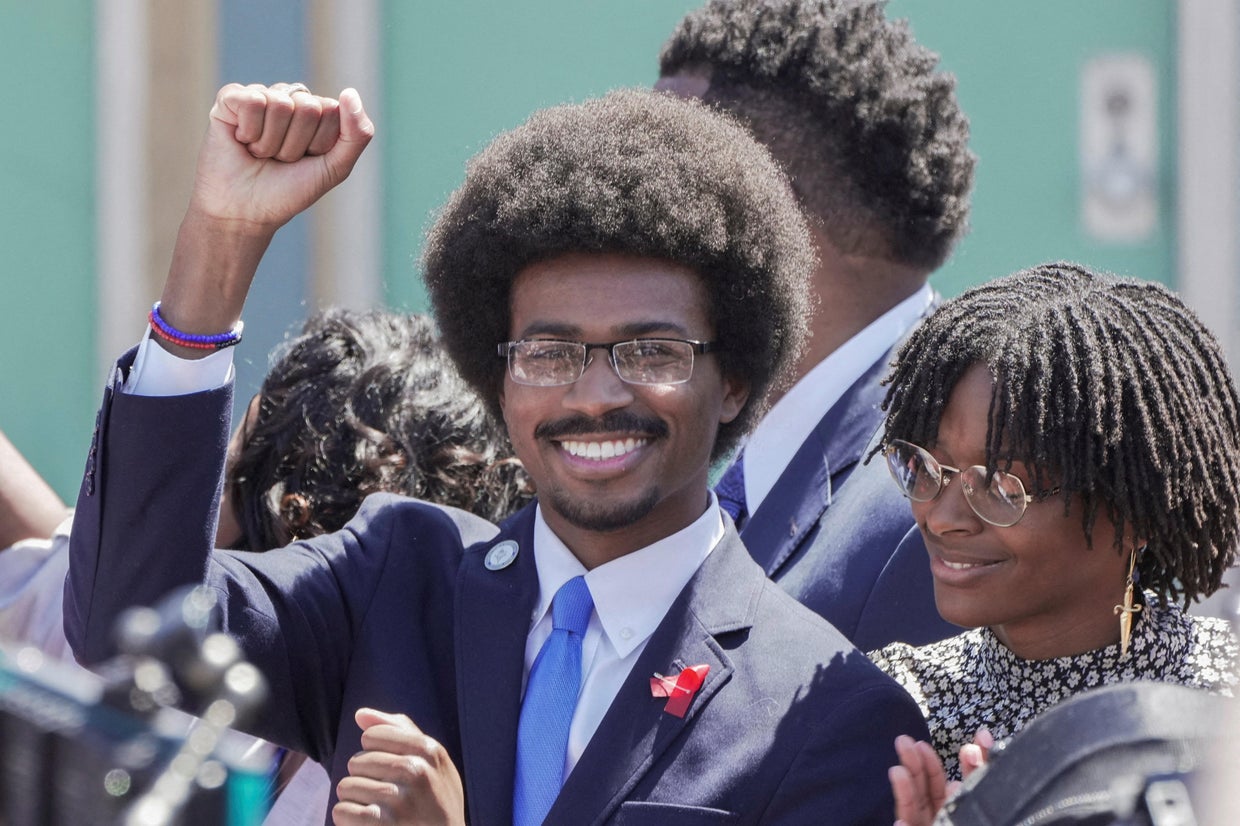 Justin Pearson gestures as he marches with supporters from the National Civil Rights Museum to the Shelby County Commission on April 12, 2023.
Karen Palfer Focht / Reuters
Before the vote, commission chairman Michael Lowry told CBS Memphis affiliate WREG that many commissioners wanted to reappoint Pearson.
"My goal was to make sure we had a quorum. I feel pretty confident about that. If I didn't feel confident we would be able to hire Justin Pearson, I wouldn't have called the meeting," Lowry told WREG. .
Justin Joneswho represents Nashville and was ousted along with Pearson, was reappointed by that city's Metro Council on Monday.
Pearson, Jones and a third lawmaker, Gloria Johnson, participated in a protest against gun violence at the Tennessee Statehouse on March 30, just days after a school shooting in Nashville killed three children and three adults. Republicans hold a majority in the legislature and moved to expel three lawmakers on April 6. Johnson survived one vote and the other two were expelled.
Asked why she survived unlike Jones and Pearson, Johnson, who is white, told MSNBC that she was a "60-year-old white woman and they were two young black men."
But following the recall rule, Gov. Bill Lee, a Republican, still has to sign a writ of election to set the date for a future special election. Expulsions by the House are rare — only two have been expelled by the chamber since 1866, when six lawmakers were removed in Tennessee after trying to pass the 14th Amendment that prevented former slaves from being granted citizenship, according to CBS affiliate WTVF in Nashville.
The battle in the Tennessee statehouse received national attention. US Senate Democrats sent a letter to the Justice Department on Wednesday requesting an investigation into the deportations and whether they violated federal civil rights laws.
Vice President Kamala Harris made a last-minute visit Jones, Pearson and Johnson traveled to Nashville last Friday to meet with what some are referring to as the "Tennessee Three." Harris, who received wild applause and several standing ovations, told a crowd at Nashville's historically black Fisk University that Jones, Pearson and Johnson were silenced and suffocated as they fought "to protect our children."
Trending news