Miami Beach officials declared a state of emergency and imposed a curfew Sunday night during spring break after two fatal shootings and a chaotic, chaotic crowd that police had difficulty controlling.
The city said in a news release that the curfew will last from 11:59 p.m. Sunday to 6 a.m. Monday, with the possibility of an additional curfew starting next Monday, Thursday, March 27. The curfew mainly affects South Beach, the party location for the most popular spring breakers.
The statement said two separate gunfights on Friday night and early Sunday that left two people dead and "excessively large and disorderly crowds" led to the decision. The City Commission plans a meeting Monday to discuss possible further restrictions next week.
Miami Beach Mayor Dan Gelber said in a video message posted Sunday that the crowds and the presence of numerous firearms "created a danger that cannot be controlled" despite a large police presence and many city-sponsored activities to keep people busy.
"We don't want spring break in our city. We don't want spring break in our city. It's too exciting, it's too chaotic and too difficult to police," Gelber said.
Gelber added that city officials will meet Monday to discuss a possible curfew next weekend, noting that "the manager's emergency powers are limited to only 72 hours."
Miami Beach police said the latest shooting happened around 3:30 a.m. Sunday on Ocean Drive in South Beach.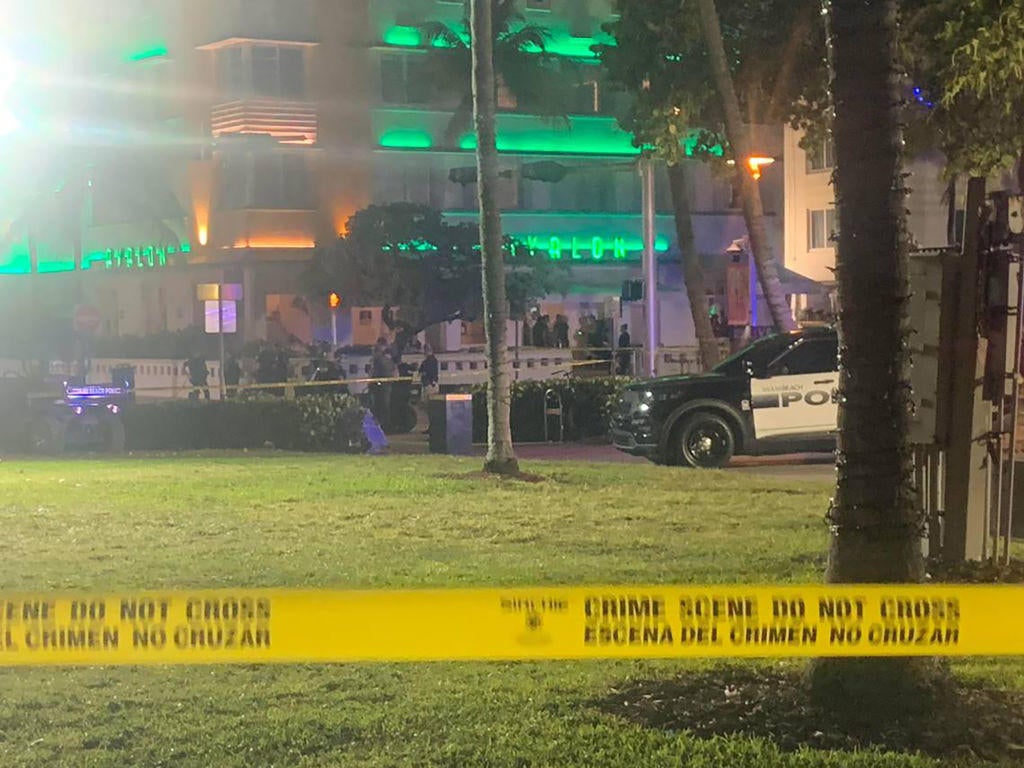 Police cordon off an area of ​​Ocean Drive in Miami Beach with crime scene tape after a shooting on March 17, 2023.
Miami Herald
After responding to a report of shots fired, officers found a man with a gunshot wound, police said. The victim died after being taken to Jackson Memorial Hospital. A second person was injured, but was treated at the scene and released, police said.
Police said on Twitter that the suspect was arrested after a foot chase with a firearm that police said belonged to the suspect. Police said they also recovered a second firearm from the victim.
"MBPD confirms this was a targeted and isolated incident," police tweeted. "The identities of all parties cannot be released pending the investigation."
It is not clear what charges have been filed.
In Friday night's shooting, which left one male victim dead and another seriously injured, the sound of gunfire sent panicked crowds out of restaurants and clubs into the streets. Police arrested one person at the scene and recovered four firearms, but no other information was available.
Under the curfew, people must leave businesses before midnight, though hotels can only operate to serve their guests later. Restaurants may be open for delivery only, and the curfew will not apply to residents, commuters to and from work, emergency services and hotel guests, the city release said. Some roads will be closed and guests arriving at the hotel may be required to show proof of their reservation.
Last year, the city Midnight curfew has been imposed After two shootings on Ocean Drive as well. The year before, nearly 1,000 arrests were made and dozens of guns confiscated tumultuous spring break This led Miami Beach officials to step in to calm the situation.
Trending news