The city of Minneapolis agreed Thursday to pay nearly $9 million to settle a lawsuit filed by two people who said former police officer Derek Chauvin kneed them in the neck years before he used the same move to kill George Floyd.
John Pope Jr. will receive $7.5 million and Zoya Code $1.375 million, respectively. The settlements were announced during a meeting of the Minneapolis City Council.
Both cases stem from arrests in 2017 — three years before Chauvin killed Floyd — captured on a video that sparked global protests, launched a national reckoning on racial injustice and forced the Minneapolis Police Department to reform. The lawsuit states that if the city had acted sooner to discipline Chauvin, "history could have stopped repeating itself with George Floyd."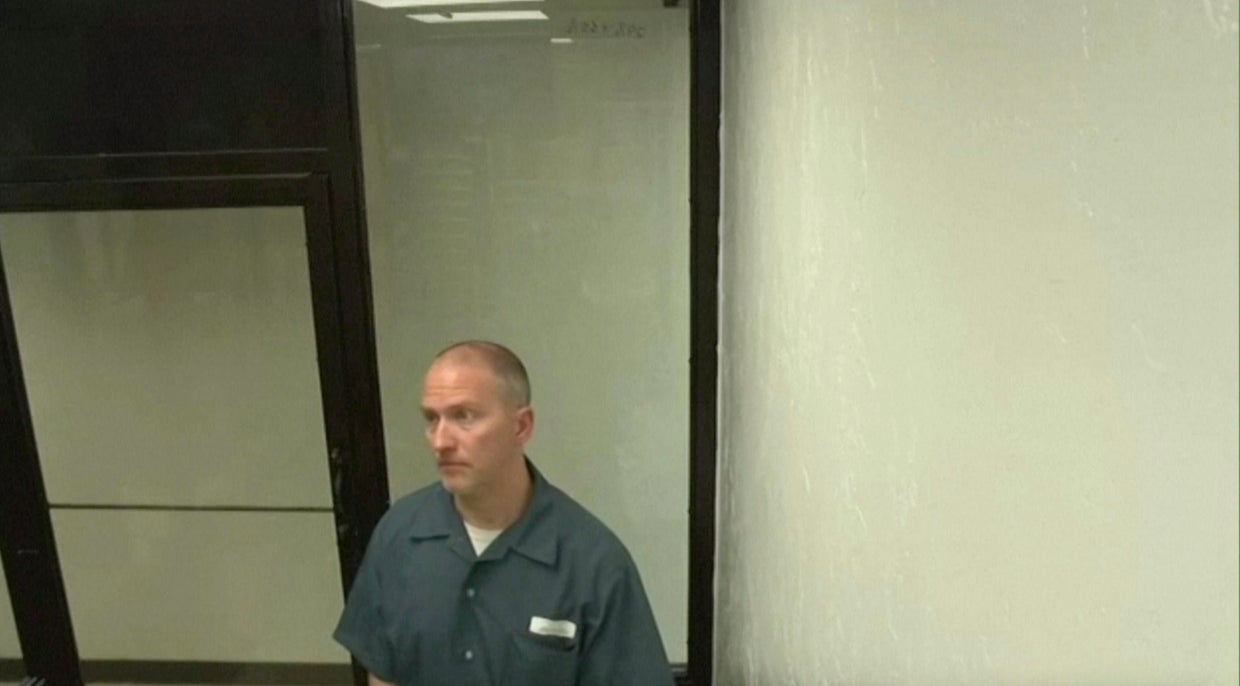 Former Minneapolis police officer Derek Chauvin, serving time for the 2020 murder of George Floyd, appears via Zoom from a federal prison in Tucson, Ariz., Friday, March 17, 2023. Chauvin pleaded guilty to aiding and abetting tax failure to file for 2016 and 2017 returns to the state of Minnesota.
Minnesota Judicial Branch/AP
Bob Bennett, Pope and Code's attorney, noted in a statement that other officers failed to intervene or report Chauvin, and that police leaders allowed Chauvin to continue working even though they had body camera video evidence of his wrongdoing. He said that the video will be released soon.
"It's easy to blame Chauvin for everything," Bennett said. "The important thing that the video shows is that none of the nine to a dozen officers on the scene ever reported it, never tried to stop it. They violated their own ethics and really any sense of humanity."
Bennett said police leaders could have fired Chauvin, but ignored the evidence "until George Floyd was killed."
Council member Elliott Payne said he hoped the settlements would "bring some closure to this era and a stark reminder of the work we have ahead of us." He agreed with Bennett's assessment that it was "an organization problem".
Code was arrested in June 2017 after he tried to strangle his mother with an extension cord. Pope was 14 years old in September 2017 when, according to her lawsuit, Chauvin used excessive force on her while responding to a report of a domestic assault.
Both cases named Chauvin and several other officials. The lawsuit alleges police misconduct, excessive force and racism — Pope and Code Black; Chauvin is white. They also said the city knew Chauvin had a record of misconduct but did not stop him. Criminal charges were ultimately dropped in both cases.
A law enforcement officer escorts Chauvin from the back of the Family Justice Center after a motion hearing on Sept. 11, 2020, in Minneapolis.
David Joles/Star Tribune/Getty Images
The lawsuit says body camera recordings showed Chauvin using the same tactics on Pope and Code that he used on Floyd. Chauvin was sentenced in 2021 to 22 1/2 years in prison on state murder charges for killing Floyd by kneeling on Floyd's neck for 9 1/2 minutes because he couldn't breathe. The city also paid $27 million to Floyd's family.
Code's lawsuit states that Chauvin was handcuffed when he pinned his head to the ground and pinned his knee to the back of his neck for 4 minutes and 41 seconds. A second officer did not intervene and a responding police sergeant authorized the force, the lawsuit states.
Pope's lawsuit says her mother was drunk when she called police because she was upset that she and her 16-year-old sister had left their cellphone chargers plugged in, leading to a physical altercation. It is alleged that Chauvin hit the Pope in the head at least four times with a large metal flashlight. It says he then put Pope in a chokehold before pinning him to the floor and placing his knee on Pope's neck.
"Chauvin held John in this prone position for over fifteen minutes, even though John was fully subdued and was not resisting," the complaint alleges. "During that minute, John repeatedly screamed that he couldn't breathe."
The complaint alleges that at least eight officers did nothing to intervene. It said Chauvin did not mention in his report that he hit Pope with his flashlight, nor did he mention that he pinned Pope for so long. Chauvin's sergeant reviewed and approved his report and allegedly used force "despite knowing the report was false and misleading."
Chauvin admitted to many of Pope's allegations when he pleaded guilty in December 2021 to federal charges of violating the civil rights of both Floyd and Pope. He was sentenced to 21 years in prison in July on the charge.
Chauvin is serving his sentence in a federal prison in Arizona.
Police reform and racial justice
more and more

Source link