"I'll never be the guy who rides a motorcycle. If I were, I'd be the guy in the back of the pack who's like, 'Oh no, I'll miss the lights!'" This is Nick Kroll, working on another recipe for jokes in the comedy kitchen.
After a wildly successful standup special last fall, "Sunday Morning" found Kroll back on stage at one of Los Angeles' best nightclubs, Largo, trying out new, as-yet-unrefined, material.
"I'm so excited for tonight's show. We have an insane lineup. You guys, Kanye West is here tonight!"
Turner Classic Movies host Ben Mankiewicz asked, "Are there a few things you know that originally worked that will probably show up in the next special, whenever that is?"
"Yeah," Kroll said, "at least there's got to be a base of operations that's going to be tentpoles that I'm like, well, that works well enough to put that joke on here."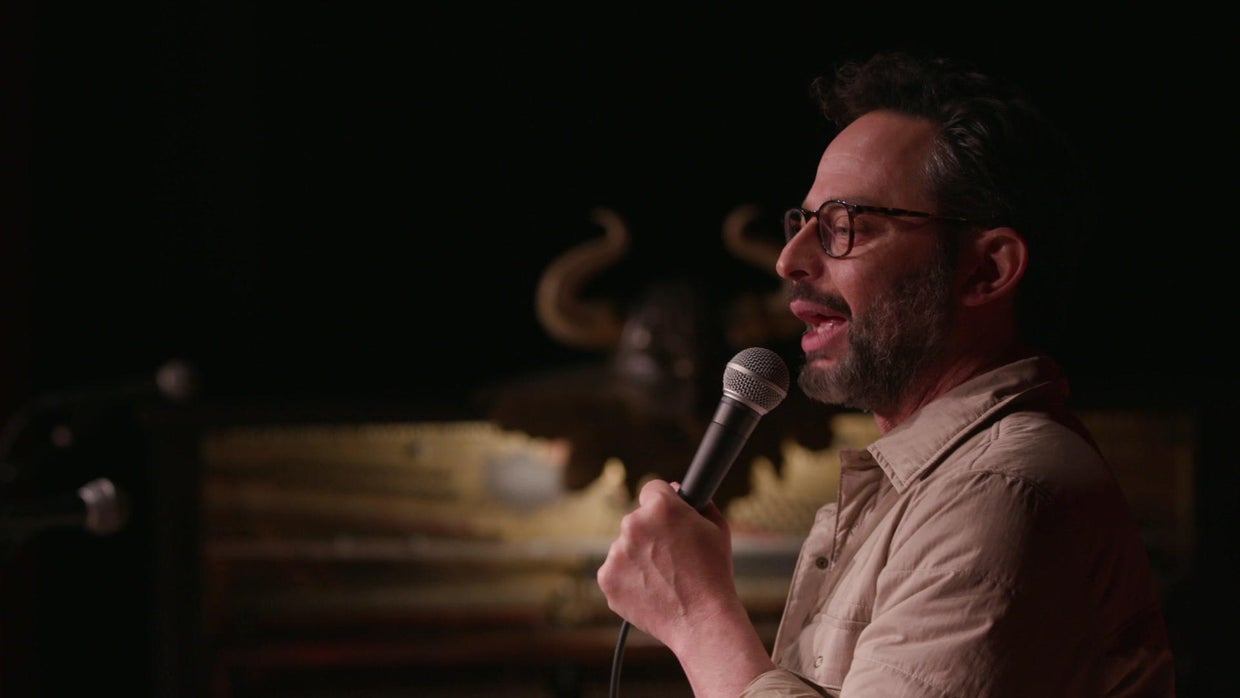 Comedian Nick Kroll.
CBS News
Forty years old, Kroll has had an enviable career in show business over the past decade, including jobs producing, writing and acting. But his profession did not change. He is a comedian.
"Yeah. Whenever you tell someone, you're like, 'I'm a comedian,' before you've even met, or when people think, 'I'm dating a comedian,' or like, 'I'm a comedian,' They say, 'Oh! How's it going?' And you're like, 'Well it's actually going pretty well!'
He forged his identity early on, growing up outside New York City, the youngest of four children.
Mankiewicz said, "My impression of your family, they will not be surprised by your career path?"
"No," replied Kroll. "I was always performing for them. Like I remember being with my family and reciting Andrew Dice Clay jokes to them when I was 11."
Kroll arrived in LA in 2007. "I lived in Oakwoods with a bunch of child stars. Not child stars — kids aspiring to be stars. Like they had a little deli, and it was all, like, 150 head shots of seven-year-olds raising."
After auditioning for pilots, he landed a show called "Cavemen," inspired by the popular Geico commercials. The ABC sitcom failed to develop, being canceled after only seven episodes.
"Dear ad, crap show," says Kroll. "It's not bad it's funny … I still stand by it.
Mankiewicz asked, "So, it didn't feel like a failure to you?"
"Well, it didn't feel like a personal failure. It felt like I was participating in a failure. It's different."
Kroll is philosophical about failure: "My dear friend Maya Angelou said, basically, 'If you don't appreciate, you don't criticize.' So, it's like, how much do you let in? … If you don't let other people's opinions influence you too much?"
Kroll continued to work with a steady diet of supporting roles on TV such as "Parks and Recreation" and "Curb Your Enthusiasm." Along the way, he's found a strength, writing and playing outlandish characters, from a crass lawyer playing fantasy football with his buddies on "The League" to a flashy, overconfident entrepreneur, Bobby Bottleservice, who eventually becomes Kroll's confidante. . The title is a sketch comedy show.
"The Kroll Show" ran for three seasons on Comedy Central. "If somebody doesn't like it, it's not that they didn't like Nick Kroll," he said. "And it gave me the freedom and confidence to say things and do things that were hard to do on my own."
These days, Kroll is putting the finishing touches on his latest sketch comedy show for Hulu: "History of the World, Part II," a limited-series sequel to the 1981 Mel Brooks comedy.
It's the same sketch style with an updated cast including Wanda Sykes and Ike Berinholtz.
For Kroll, it's not just a chance to collaborate with his friends and colleagues, but a chance to work with his comedy hero.
When asked how important Mel Brooks was to a young Nick Kroll, he replied, "It's Mel Brooks and 'Saturday Night Live.' But the Mel Brooks movies, to me, we own 'History of the World' on VHS. I watched 'The Producers' basically every day as a teenager for like three or four years."
There's a mindset in Hollywood these days that Brooks' brand of comedy isn't 2023-friendly, an era in which movies like "Blazing Saddles" couldn't be made today, when comedians like Kroll have to watch what they say. "But I don't think it's limiting," he said. "I just think it's like anything else. There are just challenges that have to be figured out. And the best ones have to learn how to continue to surprise and surprise, and also to be aware of the time and place we live in. But We understand how to maintain that connection with the audience where you're making them laugh is the ultimate goal. The journey is figuring out how to do that."
Click on the video player below to watch the trailer for "World History, Part II":
World History Part 2 | Trailer | Hulu by Hulu on YouTube


For more information:
Story created by John Goodwin. Editor: Remington Corper.
More

Source link