SEOUL, South Korea – The South Korean and US militaries have launched them The biggest joint military exercise of the year On Monday, North Korea said it had tested a submarine-launched cruise missile in apparent protest of what it said was an attack drill. North Korea's launch on Sunday signaled that the country would operate Provocative weapons testing Activities during the US-South Korea exercise which will last for 11 days. Last week, North Korean leader Kim Jong Un ordered his troops to be ready to counter his rivals' "frantic war preparatory measures."
The South Korean-US drills include a computer simulation called Freedom Shield 23 and several combined field training exercises, collectively known as Warrior Shield FTX.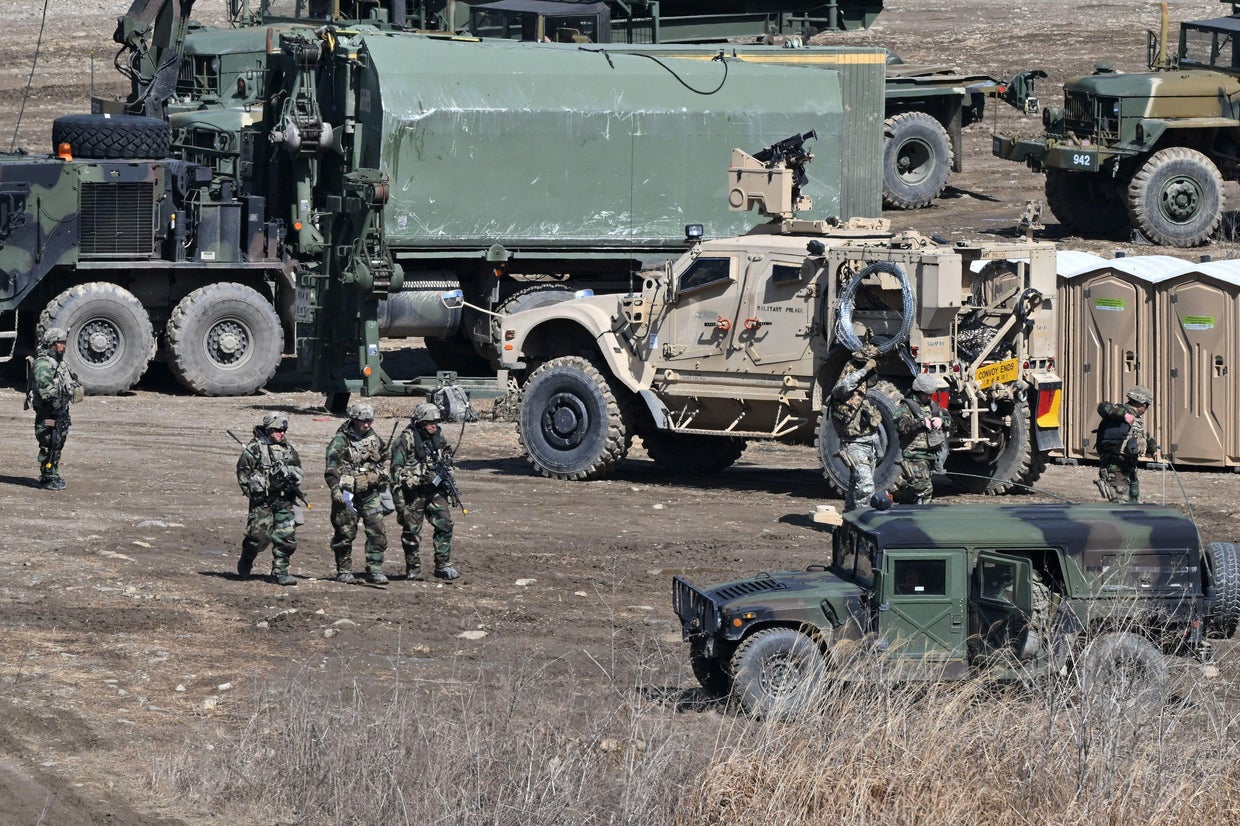 U.S. soldiers walk past military vehicles at a military training ground near the South Korean city of Yeoncheon, March 13, 2023, as the U.S. and South Korea begin the Freedom Shield joint military exercise, their largest ever, on March 13, 2023. In five years.
Jung Yeon-jae/AFP/Getty
South Korea and the US military have previously said the computer simulation is designed to strengthen allies' defense and response capabilities amid North Korea's growing nuclear threat and other changing security environments. They said the field exercises will return to the scale of their previous largest field training known as Foal Eagle which was last held in 2018.
A recent U.S. military statement said the field exercise is intended to "enhance cooperation through air, land, sea, space, cyber and special operations and improve tactics, strategies and procedures" between the two militaries.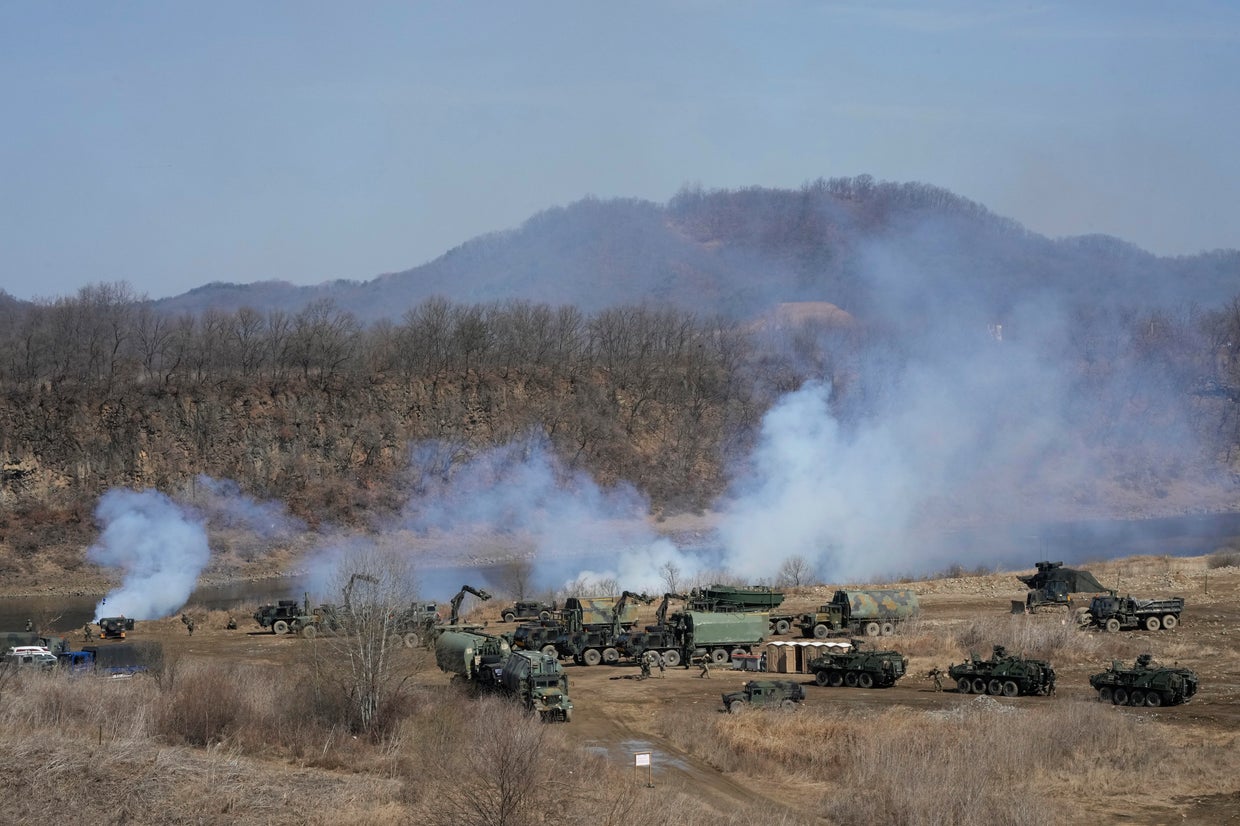 U.S. Army armored vehicles prepare to cross the Hantan River at a training ground in Yeoncheon, near South Korea's border with North Korea, on March 13, 2023, during the largest joint U.S.-South Korean military exercise in years.
Ahn Yong-joon/AP
North Korea said in state media that the launch of two cruise missiles from a submarine off its east coast showed its determination to respond with "overwhelmingly strong" force to intensified military tactics by "US imperialists and South Korean puppet forces".
The North's official Korean Central News Agency called the missiles "strategic" weapons and said their launches verified the country's "nuclear war deterrence" operational posture. This suggests that North Korea intends to equip cruise missiles with nuclear warheads.
It said the missiles flew for more than two hours, painted figure-eight patterns and demonstrated the ability to hit targets 930 miles away. 8.24 The missiles were fired from the Yonggung ship, KCNA said, referring to a submarine that North Korea used to conduct its first submarine-launched ballistic missile test in 2016.
Kim Dong-yub, a professor at the University of North Korean Studies in Seoul, said details of the launch showed that Japan, including the US military base on Okinawa, was within striking distance of the cruise missiles being fired from the North's eastern waters. . He added that the weapons could even reach the US Pacific territory of Guam if North Korean submarines could operate further from its shores.
North Korea's military parade displays a record number of missiles
02:34
Sunday's actions were the North's first underwater missile launches since testing a weapon from a silo under an inland reservoir last October. Last May, the country test-fired a short-range ballistic missile from the 8.24 Yongeong submarine.
North Korea's command of a submarine-launched missile system would make it difficult for adversaries to detect a launch in advance and give the North the ability to launch a retaliatory strike. Experts say it will take years, vast resources and major technological improvements for the heavily armed nation to build a fleet of several submarines that can travel quietly at sea and launch attacks reliably.
Sunday's tests were the North's first known launch of cruise missiles from a submarine since its previous underwater launch of all ballistic missiles. Observers say it is the first time North Korea has fired multiple missiles from a submarine.
"At a time when efforts to build (larger submarines) have reported little progress because of sanctions, North Korea wants to show that it still has almost the kind of missile that can be launched from a submarine," said Moon Kyun-sik, a submarine expert who Taught at Kyunggi University in South Korea.
North Korean leader Kim Jong Un's daughter, Ju Ae, has made consistent public appearances
02:48
Moon said the North's submarine-launched cruise missiles are likely designed to hit US aircraft carriers and large ships or other short-range targets on land, while the North intends to use submarine-launched ballistic missiles to hit targets on the US mainland.
South Korea's military said the North Korean launches were made in waters near the northern port city of Sinpo, where the country has a major submarine-building shipyard. Military spokesman Lee Sung Joon said South Korea's assessment did not match North Korea's account of the launch, but did not elaborate.
Lee said South Korea's military is upgrading the necessary assets to counter North Korea's submarine threat. South Korea's Unification Ministry separately called the North's launch "very regrettable", saying North Korea has nothing to gain by escalating tensions on the Korean Peninsula.
After a record number of missile tests last year, North Korea has fired several additional rounds since January 1. Ahead of Sunday's launch, the country tested an intercontinental ballistic missile capable of reaching the US mainland; short-range, nuclear-capable missiles designed to strike South Korea; and other weapons.
Experts say Kim, who sees his nuclear arsenal as his best security guarantee, is trying to pressure the United States to accept the North as a legitimate nuclear power and ease international economic sanctions.
North Korea views regular South Korea-US military exercises as a major security threat, although allies say their drills are defensive. Some observers say North Korea is using its rivals' drills as a pretext to test weapons and modernize its nuclear arsenal to secure the upper hand in dealings with the United States.
In past years, the United States and South Korea have canceled or scaled back drills to pursue diplomatic efforts to denuclearize North Korea and express concern over the issue. Covid-19 is global. The two countries expanded the exercises once more in 2022 after North Korea conducted more than 70 missile tests and adopted an increasingly aggressive nuclear doctrine.
In recent weeks, the United States has flown long-range bombers for exercises with South Korean warplanes. South Korea's defense ministry said the deployment demonstrated the US commitment to use the full range of military capabilities, including nuclear, to protect its Asian ally in the event of a direct conflict with North Korea.
Last Thursday, Kim oversaw a live-fire artillery drill simulating an attack on a South Korean airbase. He ordered his military to maintain the ability to "react irresistibly" to enemy actions, which he said included "all kinds of more frantic war preparatory actions," according to KCNA.
North Korea's foreign ministry also accused the US and other Western countries of plotting to convene a UN Security Council meeting to discuss what it called a "non-existent human rights issue" on Monday. It said North Korea would "take the strongest possible action against the most formidable enemy conspiracy of the United States and its followers."
More

Source link