Tennis champion Novak Djokovic is set to miss his second US tennis tournament this year, as he was denied entry into the country for not being vaccinated against COVID-19.
Djokovic, 35, will miss the Miami Open, which starts on March 22, tournament director James Blake confirmed to Tennis Channel on Friday. Djokovic has won the Miami Open six times – three of them in a row. The last win came in 2016.
Blake said tournament organizers have spoken with federal officials and tried their best to get an exception to the U.S. policy, which bars unvaccinated international travelers from entering the United States.
"Obviously, we're one of the biggest tournaments in the world, we want to have the best players we can play," Blake told Tennis Channel. "We have done everything we can. We have tried to talk to the government, but it is out of our hands."
Tournament director @JRBlake talks about @DjokerNole's status ahead of the #MiamiOpen 🌴#TCLive pic.twitter.com/rRLKVpS0HT
— Tennis Channel (@TennisChannel) March 17, 2023
Some, like Florida Gov. Ron DeSantis, have called on President Biden to remove the vaccination requirement and allow Serbian athletes to compete in U.S. tournaments again.
At a press conference earlier this month, DeSantis joked that he would sail a boat from the Bahamas to Miami to bring Djokovic to the tournament.
"He poses zero risk to the United States, zero risk to the state of Florida and zero risk to Miami," the governor said at the time.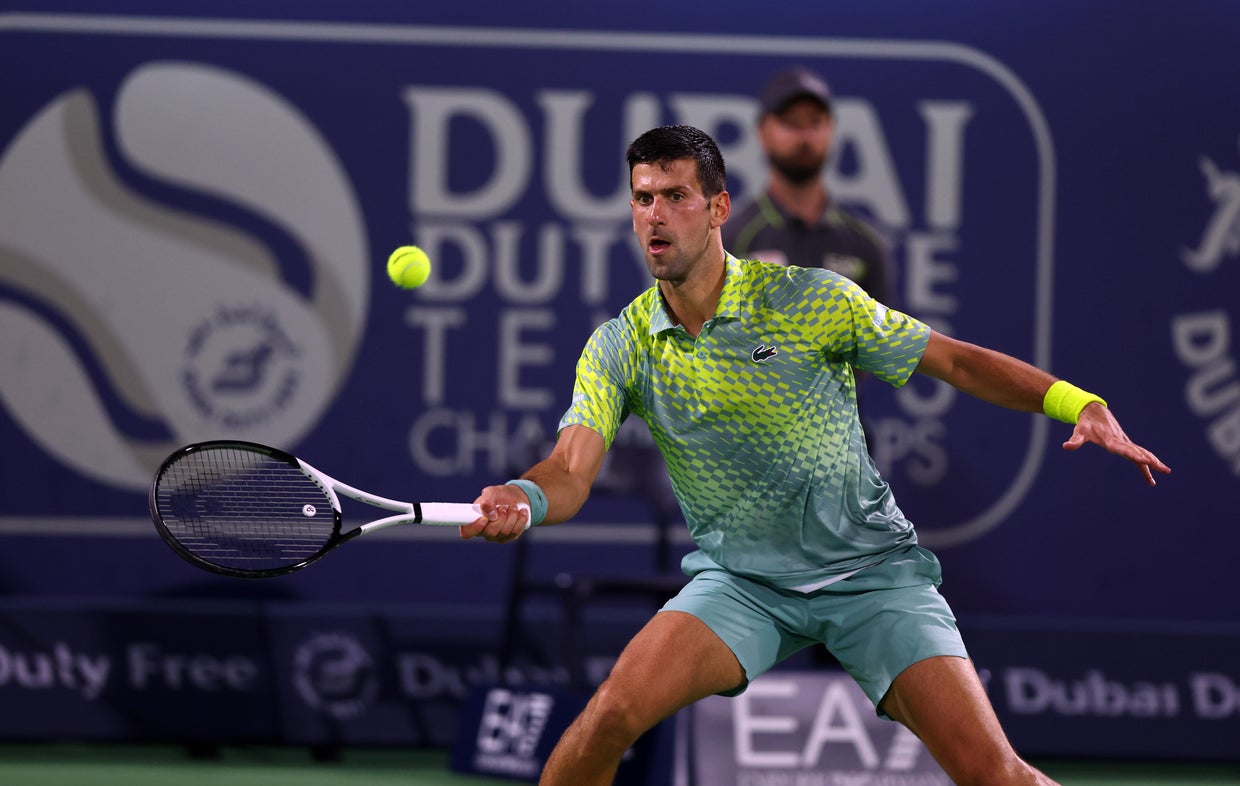 Novak Djokovic in action against Daniil Medvedev during the men's singles semifinal match at the Dubai Duty Free Thirteen Days of Tennis at the Dubai Duty Free Tennis Stadium on March 03, 2023 in Dubai, United Arab Emirates.
Amin Mohammad Jamali/Getty Images
A spokesman for the US Tennis Association told The Associated Press on Saturday that they are "very optimistic" Djokovic will be able to play at the US Open, which starts on August 28.
Chris Widmaier said, "Policies regarding entry into the United States are set by the White House. We are very hopeful that the policy barring Novak Djokovic from entering the United States will be lifted or ended in the near future." "There are no COVID-19 restrictions at the US Open for any players, fans or other participants. Novak, one of our sport's greatest champions, is welcome to compete in the 2023 US Open."
Djokovic is currently tied with Rafael Nadal for the most career Grand Slam titles, with 22. In February, he broke the record for the longest time spent at the No. 1 spot in the ATP rankings by a professional tennis player. Won the men's singles title at the Australian Open January — a tournament he was turned away from in 2022 for not vaccinating.
Trending news
Simreen Singh