GAZA CITY – Israel and Gazan militants traded more heavy fire early Thursday, the third day of the worst escalation of violence since the middle of last year over the Palestinian coastal enclave. Israeli airstrikes and missiles have killed 25 Palestinians since Tuesday, according to Gaza officials. Combatants and civilians, including several children.
By early Thursday, shops in Gaza were closed and streets were largely deserted as Israeli military aircraft circled over the area where several buildings were left in ruins.
Militants fire rockets into Gaza, Israel retaliates
More than 500 rockets have been fired from Gaza into Israel since Tuesday, the military said, with no casualties reported in Israel so far. Of these, 368 were made over the border and 154 were intercepted by the Iron Dome missile defense system, while 110 fell short inside Gaza, it said.
At least 13 Palestinians have been killed in Israeli airstrikes in Gaza, officials say
04:03
The Islamic Jihad militant group has confirmed it has lost four military leaders in attacks in recent days, the most recent being Ali Ghali, the commander of a rocket launch unit who was killed in an attack on Thursday morning.
Another militant group, the Popular Front for the Liberation of Palestine, said four of its fighters were killed.
Israeli Prime Minister Benjamin Netanyahu said in a late-night TV address on Wednesday that "we are still in the middle of the campaign" and that "the Gaza Strip is under serious attack."
"We say to terrorists and those who send them: we see you everywhere, you cannot hide and we choose the place and time to strike you."
Civilians caught in the crossfire
"We hope that the wave of tension will end, but we support revenge for the martyrs," said Mamun Radi (48) in Gaza City's al-Rimal district. "Israel killed a leader of (Islamic) Jihad early today because they don't want peace."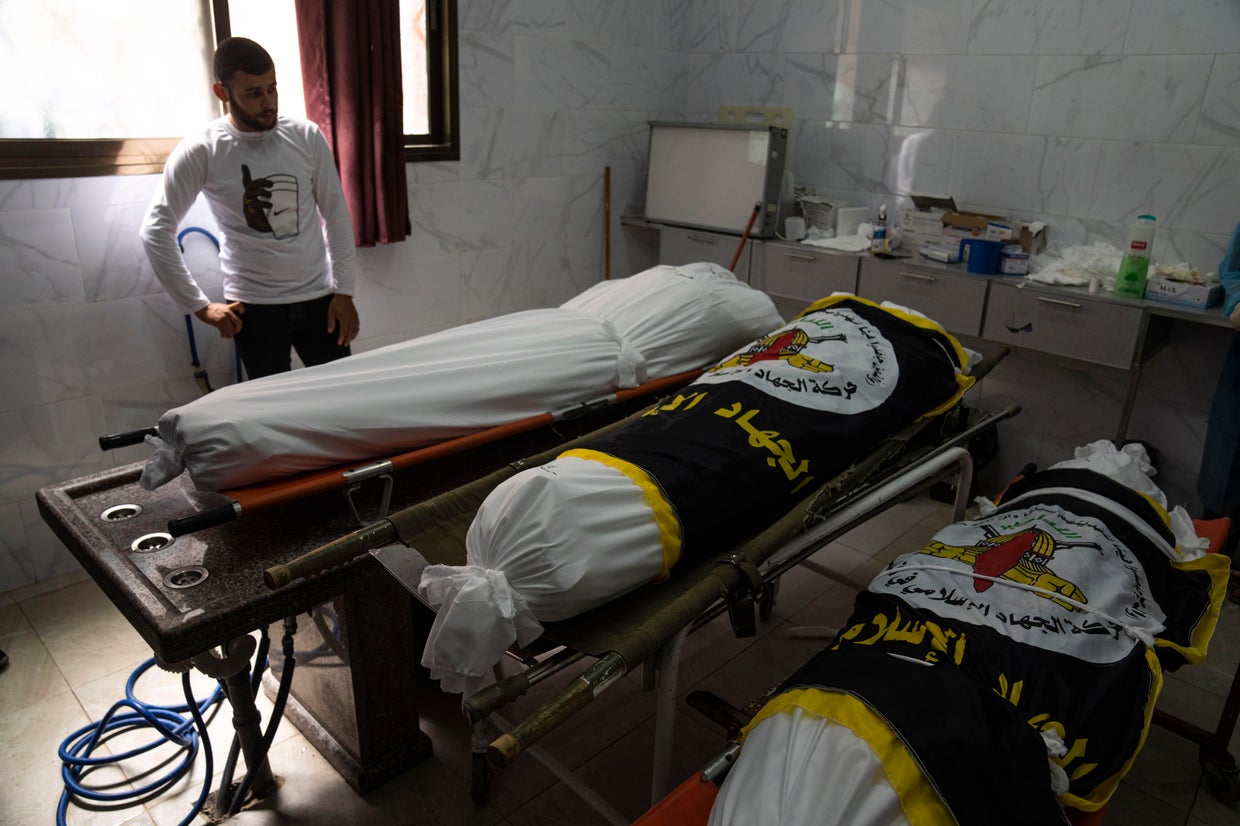 A Palestinian man views the bodies of Mahmoud Abdeljawad, center, and Islamic Jihad commander Ali Ghali, right, killed in an Israeli airstrike, before their funerals in Khan Yunis, southern Gaza Strip, on May 11. 2023.
Fatima Shabair/AP
Across southern Israel, sirens wailed intermittently throughout the night and into Thursday morning.
Miriam Keren, 78, an Ashkelon resident, said a Gaza rocket destroyed a workshop and damaged her home.
"All the shrapnel is in the house, the house shook very strongly, the glasses fell, the walls were damaged," he told AFP. "Fortunately, I have a safe room and I immediately went in there and locked the door.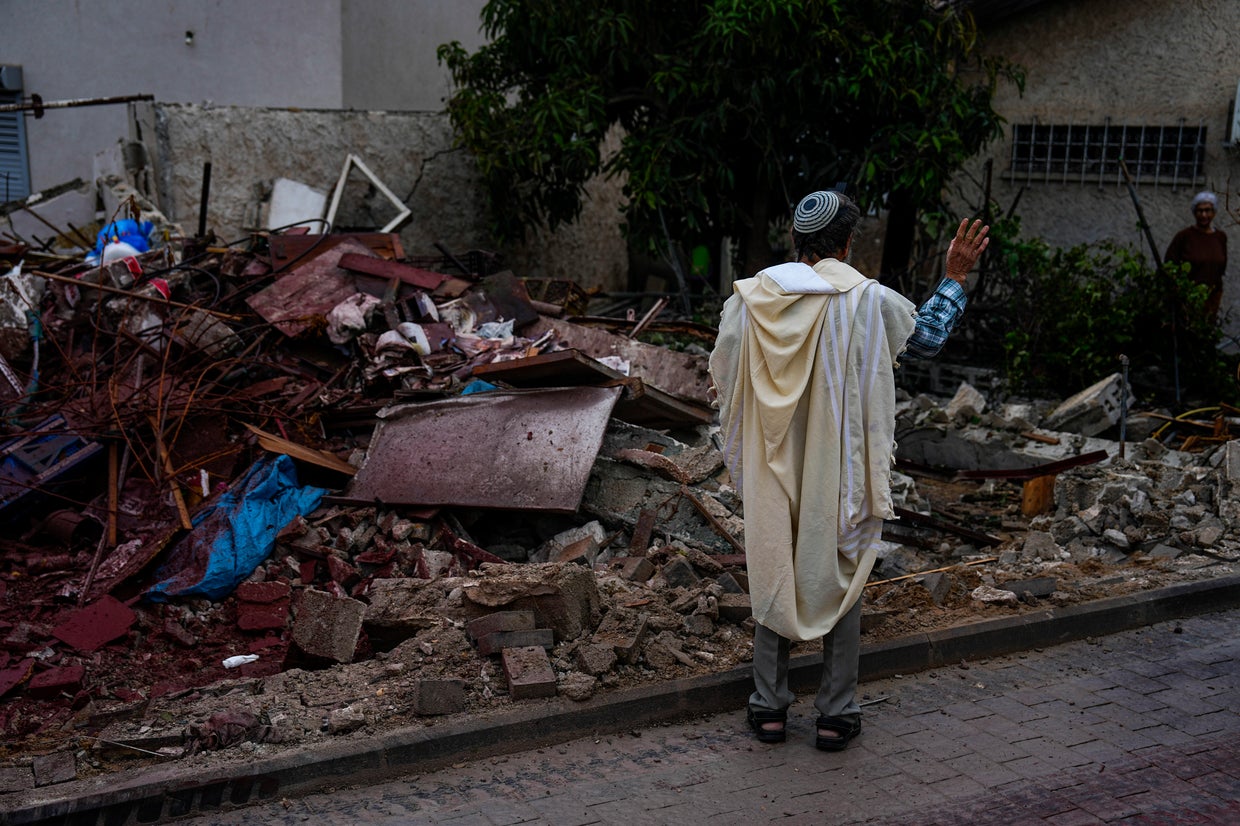 A man covered in a prayer shawl holds a holy book as he stands next to a structure destroyed by a rocket fired Wednesday night by Palestinian militants from the Gaza Strip in Ashkelon, Israel, May 11, 2023.
Ariel Shalit/AP
"It's not the first time the house has been hit but I'm not scared, I wasn't yesterday either," Keren said. "You're shocked for a moment but it's not scary. It's more unpleasant, very unpleasant."
called for a ceasefire
Egypt is "trying to facilitate a ceasefire," an Israeli official told AFP on condition of anonymity, with Hamas and Islamic Jihad officials confirming the effort, who did not elaborate. As of Thursday afternoon, there were no signs of significant progress in any talks between the warring parties.
Hamas spokesman Abdul Latif al-Qanou said on Wednesday that the "unified resistance attacks are part of the process of responding to the genocide committed by (Israel)."
The Arab League "condemned the barbaric Israeli attack on the Gaza Strip, which targets civilians, children and women in residential areas."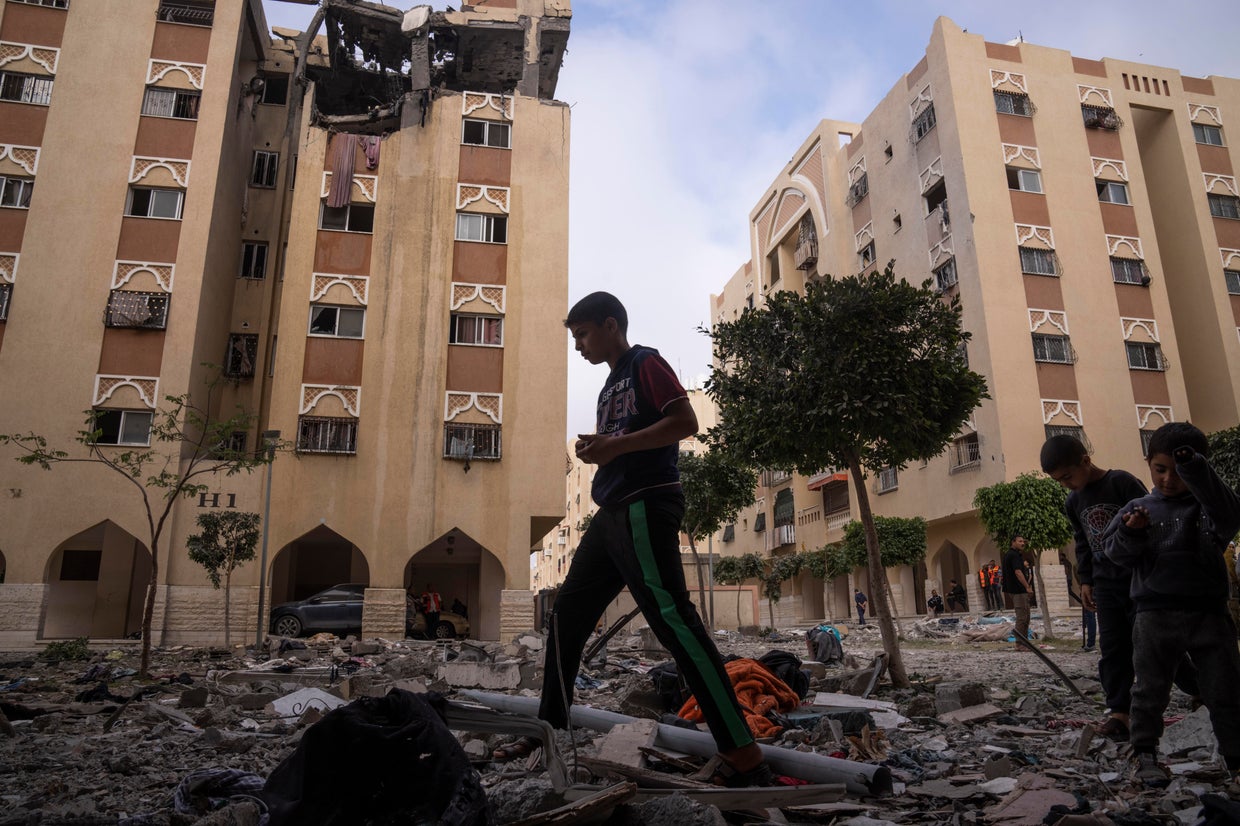 Palestinians inspect the rubble of the home of Islamic Jihad commander Ali Ghali after it was hit by an Israeli airstrike in Khan Yunis, southern Gaza Strip, on May 11, 2023.
Fatima Shabair/AP
In a call with his Israeli counterpart on Wednesday, US National Security Adviser Jake Sullivan reaffirmed Washington's ironclad support for Israel's security as well as its right to protect its people from indiscriminate rocket attacks, according to a US government readout. It said Sullivan "also referred to continued regional efforts for a ceasefire and emphasized the need to de-escalate tensions and prevent further loss of life."
Both Hamas and Islamic Jihad, which rule Gaza, are considered terrorist groups by Israel and the United States.
Israeli-Palestinian conflict escalated under Netanyahu
This week's Gaza clashes were the worst since a three-day escalation in August, killing 49 Palestinians, with no Israeli casualties. There has been violence Occupied West Bank burnedWhere the Israeli army has carried out repeated operations against the militants that have often turned into street clashes or gun battles.
The conflict has escalated since veteran leader Netanyahu returned to power late last year leading a coalition with far-right and ultra-Orthodox parties.
What is behind the violence and protests in Israel?
06:02
Israel is also reeling from its biggest domestic political crisis in decades as mass protests erupt against plans to reform the judiciary, led by Netanyahu who is battling corruption charges in court.
Trending news