SHANGHAI, China – The new challenge for America's auto industry is coming from China. Chinese auto exports have jumped more than 50% in the past two years, moving the country to the top spot among global vehicle exporters alongside longtime powerhouses Japan, Germany and the US.
Americans may soon have the opportunity – if they want it – to drive a "Made in China" car.
At the end of April, China's industrial hub Shanghai hosted the first auto show since the country's strict "zero-Covid" pandemic restrictions ended. It gave a glimpse of the future.
From Chinese startups to established players in the market – such as China's BYD, which is already one of the world's largest electric vehicle (EV) makers – to legacy American brands, nearly every car at the show was either an EV or a hybrid.
Developing new etiquette for charging electric vehicles
08:03
China's automotive exports have more than tripled in the past half decade. Until now, they have mainly gone to developing countries, but that is changing.
Geely, the Chinese automotive giant that owns Volvo, has the US market in its sights with a completely new concept and brand.
Allen Visser, CEO of the new Geely subsidiary Link, told CBS News that the plan is not just to change the vehicles Americans drive, but how they get them.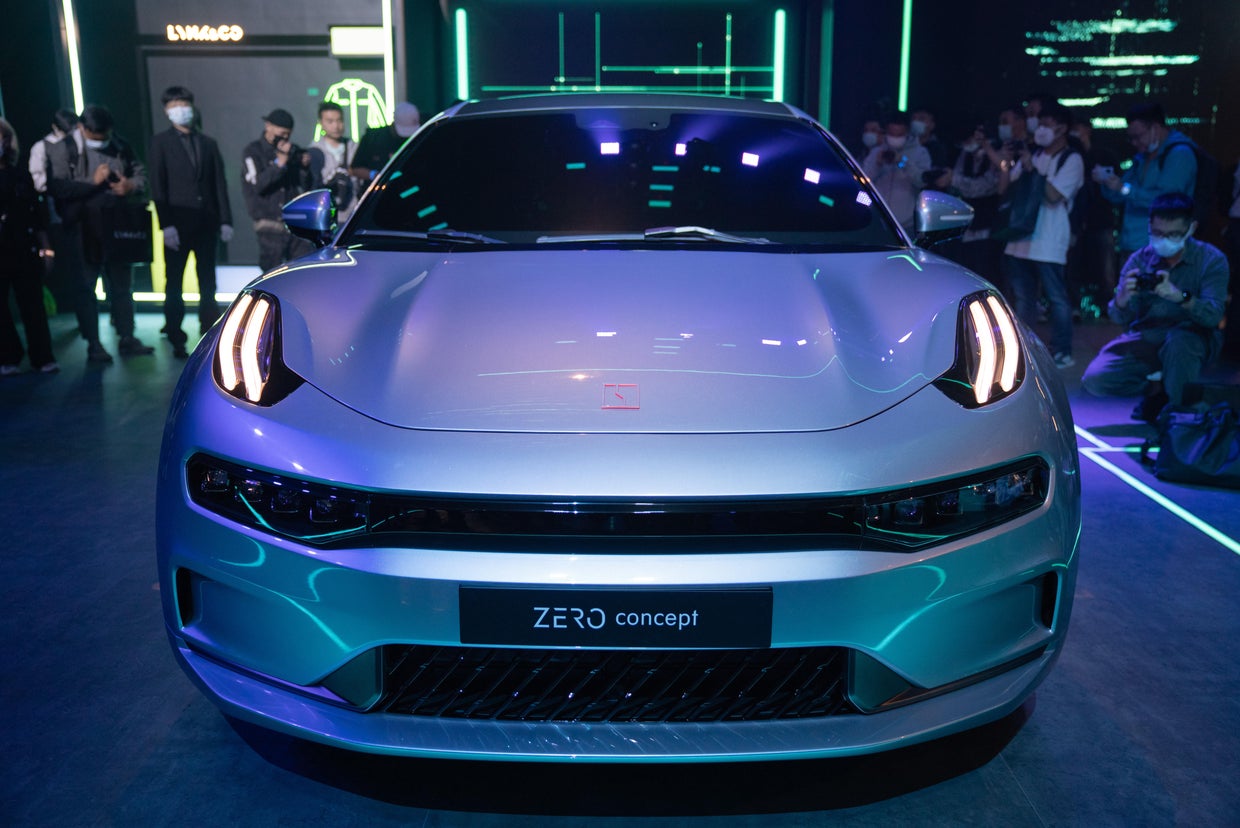 Geely Automobile Holdings Ltd. Lynk & Co. The Zero Concept Vehicle is displayed during a launch event in Beijing, China in this Sept. 23, 2020 file photo.
Ian Kong/Bloomberg via Getty
Link hopes to be, he said, "like the Netflix of the auto industry."
For a flat fee of about $600 per month, drivers can lease a Lynk vehicle. This subscription fee covers maintenance and insurance, and users can back out of the contract at any time.
What the shift to electric vehicles means for the auto industry, mechanics
03:52
The Lynk app enables drivers to share their vehicle usage when not in use and earn cashback for doing so.
"We now have some customers in Europe who actually make more in sharing than they pay (with) their monthly fees," Visser said. The brand is reportedly planning to offer its first EV in the US market within the next year.
It's a bold venture, especially now, given the frosty state of US-China relations.
Visser acknowledged the challenge, but said he was confident consumers would buy into the Link concept, Chinese-owned or not. The concern, he said, is politics, and how actions by governments on opposite sides of the world could create new barriers to trade.
The USis one of the toughest car markets in the world, but two things seem certain: the road ahead is electric, and the Chinese are fast approaching in the rearview mirror.
More Elizabeth Palmer