About four years ago, the Notre Dame Cathedral in Paris is on fire. It was one of those 21st century moments that people around the world watched in horror on live video on their smartphones and televisions.
For the people of France, this was particularly painful, as Notre Dame has been a powerful symbol – both sacred and secular – since the Middle Ages.
French President Emmanuel Macron has promised that Notre Dame will reopen by the end of 2024. Little did he know then how difficult it would be to keep that promise. But this Easter Sunday, four years later, the resurrection of the great cathedral seems within reach.
On the evening of April 15, 2019, flames shot through the roof of Notre Dame and engulfed its 200-foot spire with incredible speed and ferocity.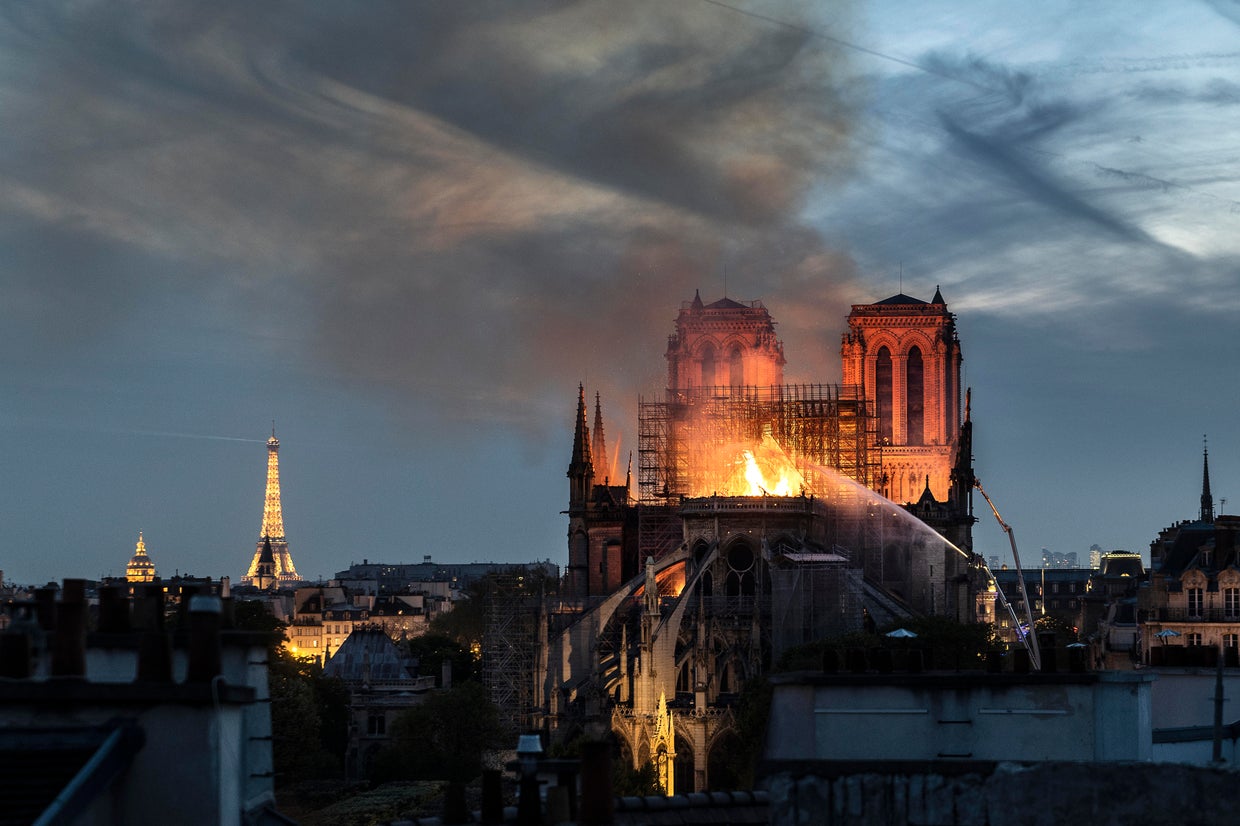 Flames and smoke are seen billowing from the roof of Notre Dame Cathedral on April 15, 2019 in Paris, France.
Véronique de Viguerie/Getty Images
General Jean-Louis Georgelin: Everyone stops.
Jean-Louis Georgelin is now in charge of restoring Notre Dame.
General Jean-Louis Georgelin: And many people in France were crying because they felt that there was something deep in the soul of France and that the soul of France was about to collapse.
Just a heroic effort by the Paris Fire Brigade Saved Notre Dame from destruction, some workers ran through the falling embers to retrieve precious relics. Philippe Villeneuve, the cathedral's chief architect, was out of town that night and returned to Paris. He was devastated by what he saw.
Philippe Villeneuve (translation): I said that the little boy who fell in love with the cathedral, and the architect who was in charge died that day, and another man took over and said 'I have to save the cathedral. . This is my mission. It is my duty.'
Villeneuve now shares that responsibility. If he's the artist who knows every inch of Notre Dame's stone, retired Army Gen. Georglin is the commander—called back to meet that five-year deadline.
General Jean-Louis Georglin: I will relax only when it is done.
Bill Whittaker: What does this cathedral mean to the people of France?
General Jean-Louis Georgelin: The Cathedral of Notre-Dame de Paris is somehow the heart of France. For Catholics, of course, for Christians, but for everyone. All the great events of France, in one way or another, took place here in the cathedral.
Napoleon crowned himself emperor at Notre Dame in 1804. In 1944, as Paris was liberated from Nazi occupation, General Charles de Gaulle braved sniper fire to enter the cathedral.
Agnes Poirier: In many ways, you could say he is the people's palace.
Agnes Poirier is a journalist and writer who lives and works across the Seine from Notre Dame. He and his neighbors witnessed the most horrific moment on the night of the fire, the collapse of that imposing spire.
Agnes Poirier: I remember the crowd shouting, 'No,' as if they couldn't– they couldn't conceive– something like that.
The spire meant so much to Philippe Villeneuve that he had it tattooed on his arm.
Philippe Villeneuve (Translation): They say I have Notre Dame on my skin. This is very practical, because when I have to explain how the spire fell, it is always better to show that it tips from here to there.
The great spire, made of oak and covered with lead tiles, collapsed through the two stone vaults that formed the roof of Notre Dame, leaving a gaping hole in the upper part and a pile of broken stone and charred wood on the floor below.
The highest priority was to shore up the weakened structure of the Grand Cathedral. Huge temporary wooden supports were placed under the surviving stone vaults of its roof and under the flying buttresses to save this prime example of medieval engineering.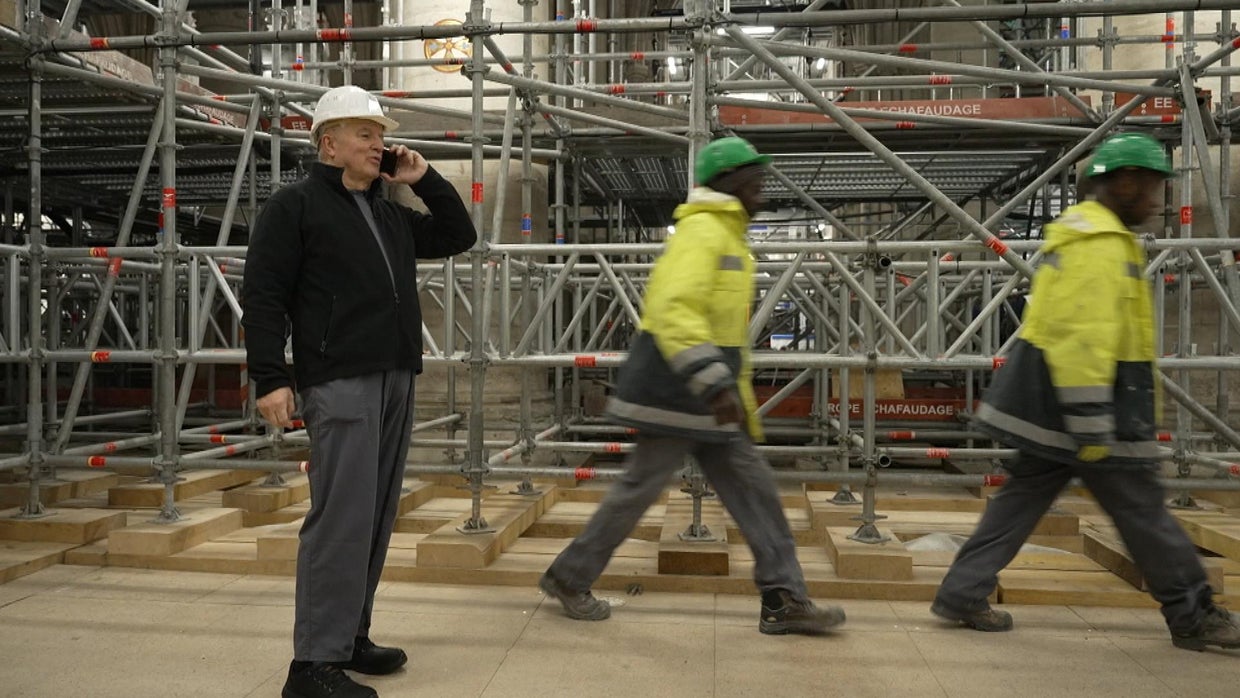 General Jean-Louis Georgelin at the site of Notre Dame
60 minutes
General Jean-Louis Georgelin: We must examine every stone, every pillar of the cathedral.
At the same time, a massive decontamination project was mounted to remove the melted lead tiles from the burning roofs and spires and all the toxic lead dust that had spread in the fire.
Four years later, workers still take extraordinary precautions against lead poisoning. We had to wear disposable hazmat suits to enter the cathedral.
Tons of rubble had to be removed, paintings and stained glass windows removed for restoration, and twisted steel scaffolding erected for the ongoing restoration work had to be dismantled.
Bill Whittaker: So you were in the process Restoring the Spire 2019 when the fire broke out. Does your restoration project have anything to do with fires?
Philippe Villeneuve (translation): An investigation is still ongoing. And no cause of the fire is known. But personally, it's unbearable. This fire should never have happened, and it did. Inevitably, I feel responsible.
Philippe Villeneuve: So you know…
At that point in our interview, Villeneuve switched to English with a rueful smile.
Philippe Villeneuve: Actually, I am completely destroyed.
Bill Whittaker: Really?
Philippe Villeneuve: Yes. I want to rebuild Notre Dame, because I want to rebuild myself.
The fire's profound emotional impact on Philippe Villeneuve was reflected around the world. About a billion dollars are personal donation Notre Dame is promised to be rebuilt, much of it from France … $50 million from the Americans.
Bill Whittaker: I know a lot of people in the United States have contributed.
General Jean-Louis Georgelin: They can contribute again.
Bill Whittaker: They can contribute, huh?
General Jean-Louis Georgelin: Yes. Cash is always flowing, I need them if they want to pay me.
In the weeks immediately following the fire, all sorts of ideas floated about the century-old Notre Dame. Can be given a touch of avant-garde.
Agnes Poirier: And all those architects around the world said, 'Yeah, let's have a roof garden. Let's have a golden torch. Let's have a titanium–spire.' You know, even I, for 20 seconds, I thought, 'Hmm. To add some 21st century talent to Notre Dame, why not?'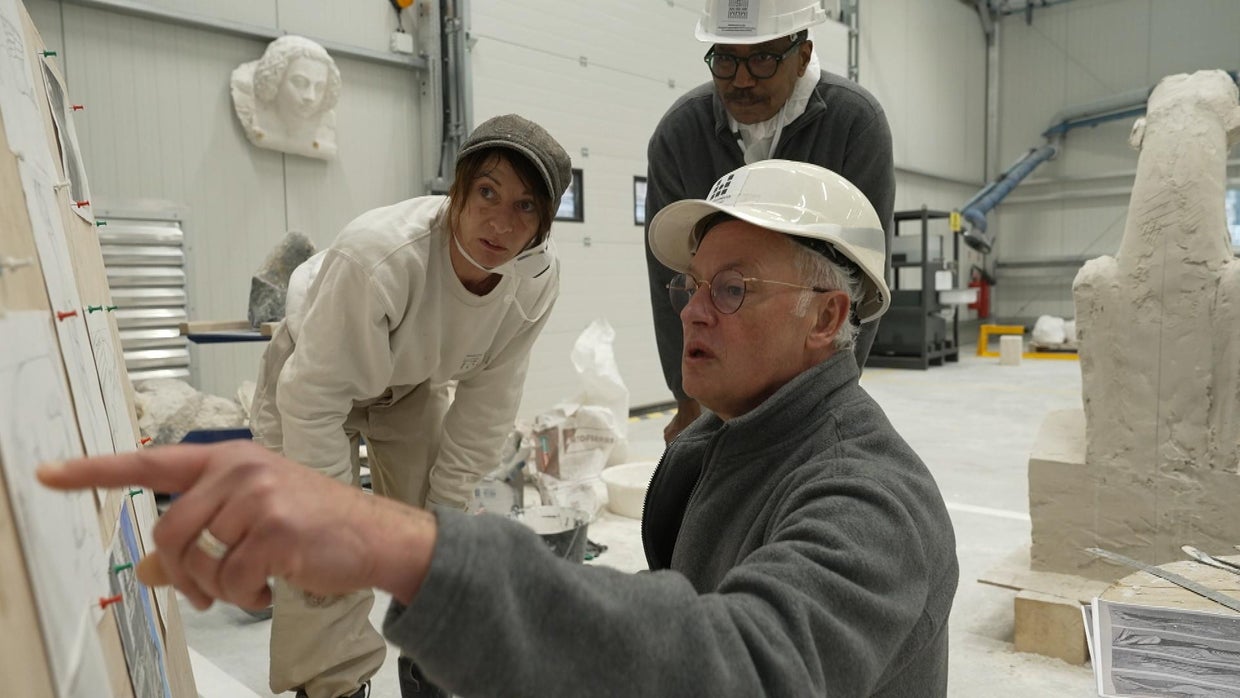 Philippe Villeneuve
60 minutes
Chief architect Philippe Villeneuve had a very simple answer as to why not:
Philippe Villeneuve (translation): A historical monument, a cathedral, is not something to be played with. Notre Dame stood for 850 years with a wooden frame and a lead roof. So wood is the way!
In the end, President Macron and a special committee agreed to rebuild Notre Dame exactly as it was, and with the same materials: stone, wood and lead.
Bill Whittaker: How do traditionalists win?
Agnes Poirier: Well, I think wisdom wins.
Notre Dame's signature spire is a fairly recent addition. Images of the cathedral from the mid-1800s show it without a spire and in an advanced state of decay.
Bill Whittaker: The cathedral was in pretty bad shape, wasn't it?
Agnes Poirier: It was supposed to collapse, but due to negligence, not fire.
There was even a proposal to demolish Notre Dame before the cathedral collapsed on its own. Instead, the French government hired a young architect named Violette-le-Duc. He built that famous spire.
Bill Whittaker: So you're rebuilding the spire just like Violet-le-Duc?
Philippe Villeneuve: Yes.
Bill Whittaker: Are you using his original drawings?
Philippe Villeneuve (translation): We were lucky because it was extremely well documented. We have drawings, sketches, surveys of Violett-le-Duc, everything we need to be able to rebuild it.
A thousand French oak trees were felled for the new spire, then finely hewn by carpenters from eastern France. In other workshops around the country, the cathedral's organ, the largest in France, and its many stained glass windows were restored.
Bill Whittaker: How many workers and technicians do you have on this project?
General Jean-Louis Georglin: If we consider all the people in France, it is about 1,000 people.
In the plaza in front of Notre Dame, a huge tent has been erected where stonecutters and sculptors are recreating fire-damaged Gothic gargoyles and decorations. Philippe Villeneuve oversees every detail.
Philippe Villeneuve (trans.): I will place their fingers on the layers of their original sculpture. And then in layers they are sculpting.
Bill Whittaker: So you want him to feel it, not just see it?
Dana LeBlond: Yes. yes yes
Bill Whittaker: And that works?
Dana LeBlond: Yes. I think– I think so.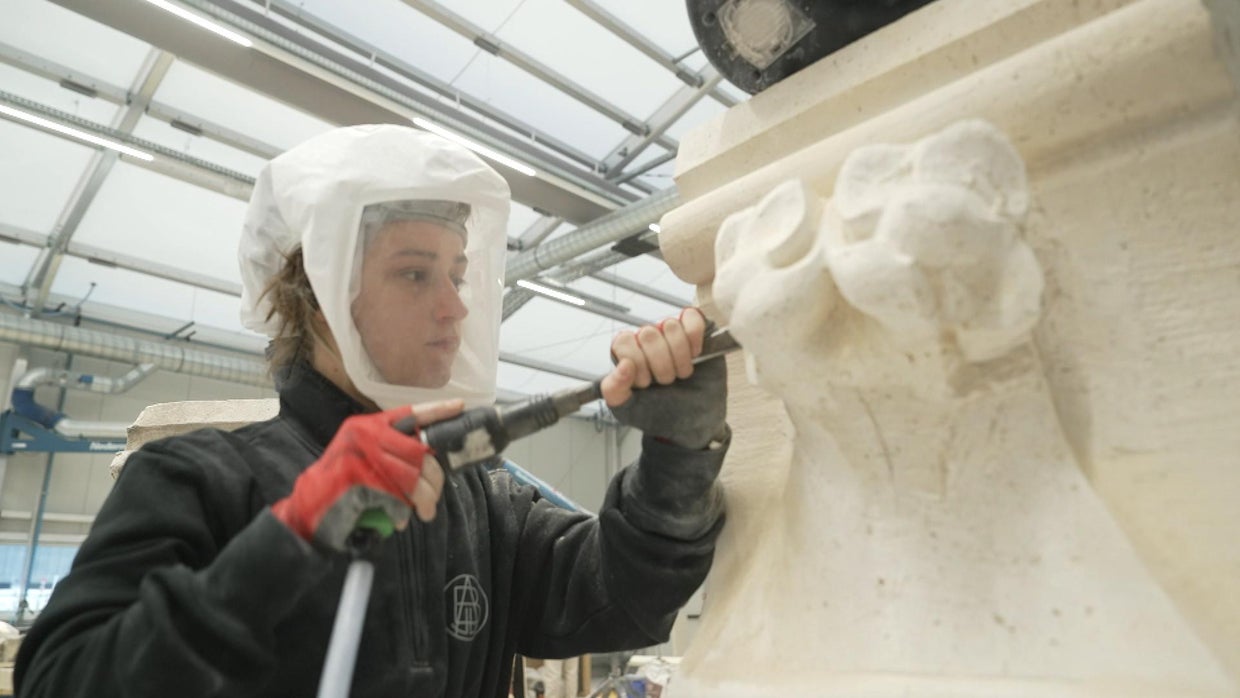 Dana Leblond
60 minutes
Dana Leblond Just 23 years old, sculpted and chiseled to recreate a floral detail carved hundreds of years ago.
Danae Leblond (translator): We try to remake things the same way. But we're trying to understand the original sculptors' intentions, so we looked at their tool marks.
We were given rare access to the painstaking restoration of Notre Dame, as workers and craftsmen revived the exterior of the cathedral…
…and its interior.
The cathedral's magnificent rose windows have been meticulously cleaned and every inch of stone coated with latex, which makes the surface glow when peeled off. We saw restorers Mathilde Mayer and Aude Masimi at work on stone sculptures depicting scenes from the life of Christ.
Bill Whittaker: How old is that?
Mathilde Maire (Translation): This part of the cathedral was built at the beginning of the 14th century. These sculptures are medieval.
Restorers are carefully wiping each surface with small cotton swabs dipped in a water-based cleaning solution.
Bill Whittaker: So I think you have to be very patient.
Mathilde Maire: Yes, yes.
Mathilde Maire (Translation): Yes. You have to be calm and know that it will take time, but it is a joy.
Bill Whittaker: We see him erasing centuries.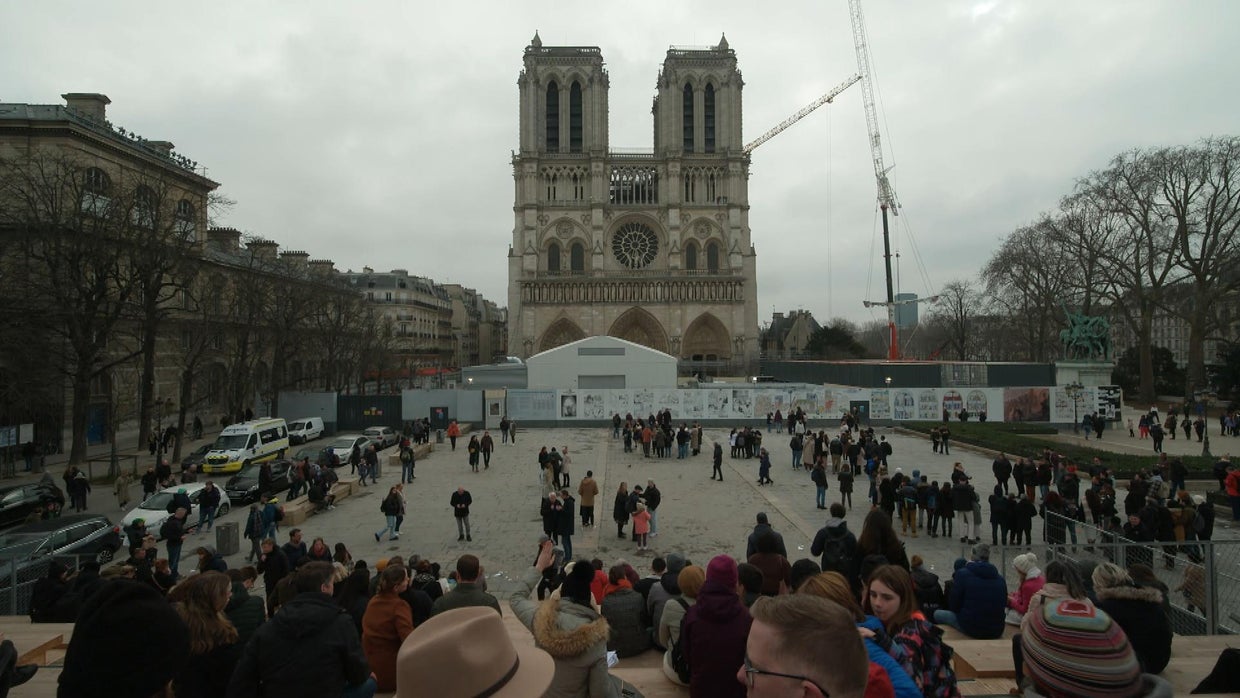 Renovation work at Notre Dame
60 minutes
A 600-ton scaffolding was erected inside Notre Dame to support all the work, especially the rebuilding of the spire. General Georgelin took us through… two-thirds of the way in a construction elevator. We reached the steps and stairs going up.
We were standing 100 feet above the cathedral floor, right where the burning spire had collapsed… four years ago there was nothing but a huge crater.
General Jean-Louis Georgelin: The drama took place here. And we have to rebuild the vault of the transept. The spire will be there, 66 meters high.
At the top of the old 200-foot spire sat a copper sculpture of a rooster—the symbol of the French people. The day after the fire, Philippe Villeneuve found it on a lower terrace, somewhat stunned, but miraculously, untouched by the flames. It has been left as it was found and will be displayed in the restored cathedral.
Philippe Villeneuve (trans.): Can I tell you that I plan to put a new rooster on top of a new rooster a year from the day before the cathedral reopens. There will still be scaffolding, but the spire frame will once again be in the Paris skyline.
General Jean-Louis Georgelin: And the spire will be–rest, repose, rest on these four pillars, you see here?
Bill Whittaker: To be noble?
General Jean-Louis Georgelin: Great, yes, for the glory of God and France.
Trending news