The team behind the global sensation "Natu Natu" of the Indian film "RRR" has created history. Oscar Awards Sunday took home the Oscar for Best Original Song. It is the first song from an Indian film to win an Oscar.
The song was performed on stage at the event — the first Indian song to do so since "Joy Ho" and "Oh Saya" from 2009 Best Picture winner "Slumdog Millionaire".
Although the "Natu Natu" performance was a big moment in the representation of the South Asian community, and particularly the South Indian and Telugu communities, there was one major problem: none of the 20 dancers on stage appeared to be of South Asian descent.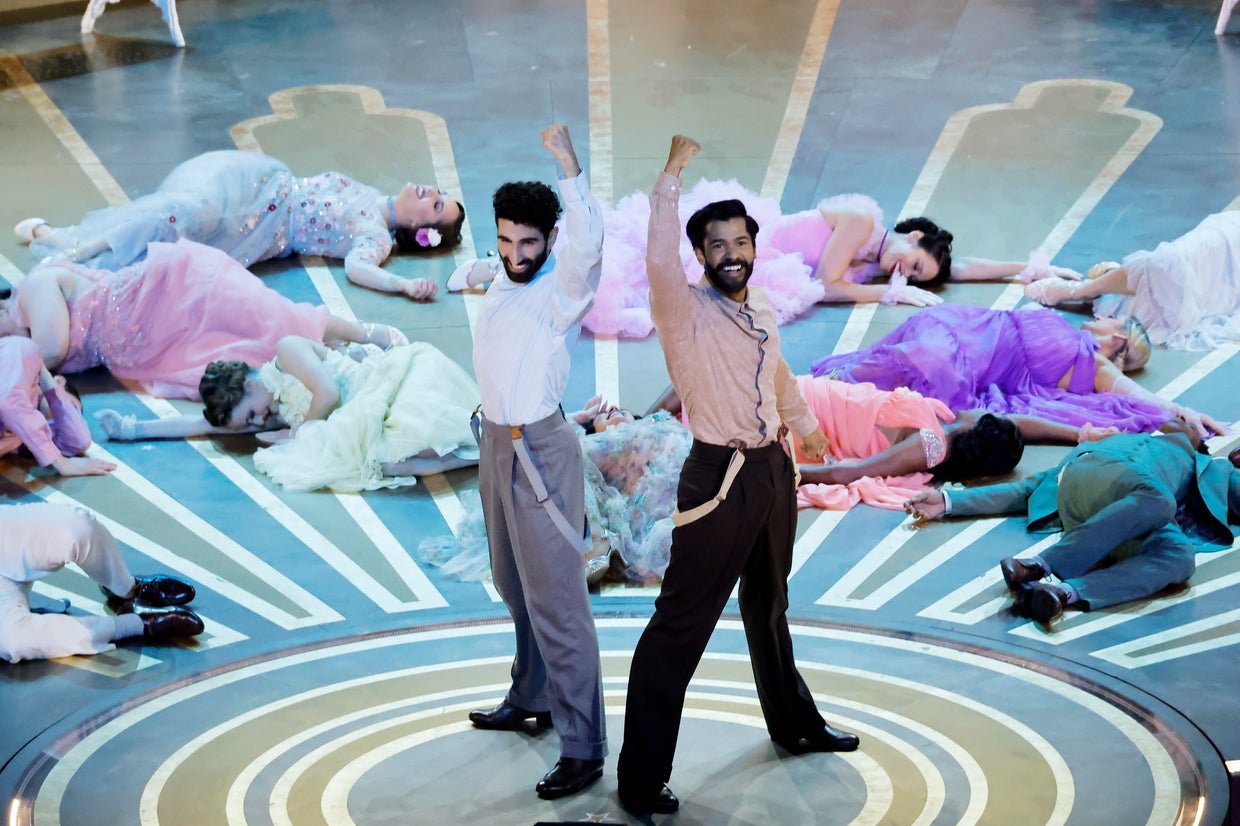 Dancers perform 'Natu Natu' from "RRR" during the 95th Annual Academy Awards at the Dolby Theater on March 12, 2023 in Hollywood, California.
Kevin Winter/Getty Images
South Asian producers took to social media to criticize the performance, slamming the academy for the non-Indian duo Tabitha and Napoleon Duomo, or the Nappytabs, who choreographed, directed and cast the act, as well as overseeing the costume and set design.
The two leads of "RRR" — Telugu actors NT Rama Rao Jr., Jr., NTR Jr. and Ram Charan — also declined to participate due to other commitments and limited time for rehearsals, Oscar producer Raj Kapoor said in an interview published on the academy's website on Tuesday. . In an interview with The Juggernaut ahead of the Oscars, Jr. NTR said that the group does not want to take away from the focus that singers deserve.
In the song featured in the movie, Jr. NTR and Charan's characters dance in front of Caucasian British colonialists who say the two are not sophisticated enough to dance. The characters put on a spectacular show with a dance native to their culture, impressing women and angering men who can't keep up with their skills.
Both the song and the film emphasize strong anti-colonial themes.
Natu Natu Full Video Song (Telugu) (4K) | RRR | NTR, Ram Charan MM Kiravani SS Rajamouli of Lahari Music T-Series on YouTube

At the Oscars presentation, the two lead roles were played by American Jason Glover and Canadian Billy Mustafa, who were made to look like the two main characters in the movie despite not being South Indians.
While the choreography and production teams made the troupe more diverse by casting people of color in some "white" colonialist roles, they failed to extend that representation to South Asians, argues Shivani Reddy, a Telugu. American film and TV critic and TikTok content creator.
"I liked that they took a more diverse route, because the movie itself became this global phenomenon," Reddy told CBS News. "It felt very exclusionary that a race they didn't include was because of the film and was supposed to represent where it came from.
Reddy, who is part of the South Asian dance scene in Los Angeles, said that South Asians are rarely represented in the arts and this performance would have been the perfect opportunity to represent them on Hollywood's biggest stage.
"It's unfortunate because I know there are a lot of South Asian dancers who are trying to get into places in the industry that just don't afford those opportunities," she said. "And for the one time that we could possibly have had access, we were denied."
Jaya Kazi, a professional dancer, choreographer, consultant and producer in Los Angeles who is a member of both the Screen Actors Guild and the Television Academy, said her agent submitted her for consideration as a dancer or production team member for the Oscars. ' "Natu Natu" performance. Her agent later told her that NappyTabs had decided not to audition or even consider dancers they hadn't worked with before.
Kazi explained to CBS News that this is not an uncommon practice and that he assumed the pair had decided to accompany other South Asian actors for the performance. However, when she saw a now-deleted social media post by a friend and "Natu Natu" Oscar dancer Lauren Gottlieb, who had previously appeared in Bollywood productions, she was surprised that no one appeared to be South Asian. the crew
Many of the dancers who got to perform were alumni of "So You Think You Can Dance" — where Nappytabs gained popularity under the tutelage of choreographers.
"I felt weird about it, because I had a feeling that maybe we wouldn't see any South Asians on stage," Kazi said.
After watching the performance, the artist who worked on Hollywood sets like "Never Have I Ever" felt it was a bittersweet moment. He said he was happy to see his friends perform on a big stage, but it was unfair for Nappytab to ignore South Asian talent, especially in a song that comes straight from a South Indian movie and "has lyrics about the villager's ability to 'dance.'"
"It was really frustrating," Kazi said. "I feel like the Napitabs really need to take a moment and admit that there was a misstep and (that) they should have included someone from their culture."
Hina Patel, a cultural strategist, consultant and producer in the South Asian performing arts community, told CBS News that Asian representation was at the forefront of the Oscars this year. big win Like for movies "everywhere everything at once" and "Elephant's Whisper." But, Patel says, the misrepresentation of the Indian community in the "Natu Natu" dance casting was hard to ignore.
"It is very unfortunate that this piece has now affected the innocent execution of an evening of diversity and equity," Patel said. "If you can't find people right away, if that's a priority, it's on you to try harder. (NappyTabs) took the easy way out."
Reddy said another disappointing aspect of the performance was how little screen time the actual singers of the song got while performing at the Academy Awards.
"Of course, the dance is this huge reason why ("Natu Natu") has become a phenomenon," he said. "But I like it Lady GagaAnd like Rihanna, the camera should have been on those singers, because that should have been the focus of the performance."
He added that the original choreographer, Prem Rakshit, while involved in the Oscar production according to the Academy, did not get the recognition he deserved at the award show for creating the viral moves.
In Kapoor's interview published on the Oscars website, he explained the process of creating the "Natu Natu" dance for the Oscars stage and said that the team sought to involve the "RRR" team in India to capture its energy. the dance
But Kazi said the explanation is not enough.
"I think that was an attempt to justify how this whole production came together," he said. "And they've completely failed to acknowledge the fact that they've left out the people of India, trying to make it feel like a global performance."
"In a way, it's this very quiet public gaslighting, where they're pretending there's no problem," he added.
Divya Jethwani, a music manager, co-founder of a music label, dancer and choreographer who has worked with Indian Canadian artist Teshar, notably on his hit "Jalebi Baby," told CBS News that it's important to acknowledge the way Indians work. India realized that this performance might be different from how Indians in America saw it.
"People in India don't think there is anything wrong with it. The reason behind it is that they are very happy to see the song performed on the Oscars stage. For them, it is representation," said Jethwani. "But to people here who have literally never seen themselves represented on the big screen … it's a big deal because we don't get those opportunities. We don't get to celebrate our culture on this big screen."
Reddy says apart from the casting issue, the film should have provided more context about the culture it emerged from.
"It can only improve to represent the culture and the industry that the film comes from," he said. "There was really no information about the Telugu film industry or Tollywood."
In fact, Kazi, Patel, Jethwani and Reddy all pointed out how Oscar host Jimmy Kimmel referred to "RRR" as a Bollywood production, which is usually a Hindi-language film, as a Telugu-language film rather than a Tollywood production.
Jethwani said that in future, when working with a particular culture, it is up to the industry to select the right people to make decisions like casting.
"You put a person who has cultural competence and understands the nuances of culture in that position of power. And then beyond that, it will serve your casting," Jethwani said. "You have to start at the top. Creatives can't be helped if they don't have someone to help them in that position."
Despite the flaws, there were some bright spots in the performance as well, Patel said.
"Great job presenting the song to a South Indian person with Deepika Padukone, not just an Indian person," he said. "Choreographers, Napoleon and Tabitha, involved with Prem Rakshit, who was the original choreographer of the film, in this piece… Great work, spot on."
The Telugu language song is penned by Chandrabose and sung by Rahul Sipliganj and Kala Bhairav, and music by MM Kiravani. Junior NTR and Ram Charan, both of whom primarily work in Telugu cinema, starred in "RRR" and performed viral dance moves in the movie.
The "Kuthu"-style song, with its infectious dance and rhythm and important anti-colonial themes, beat out stiff competition at the awards show, including Rihanna's "Lift Me Up" from "Black Panther: Wakanda Forever" and Lady Gaga's "" Top Song: "Take My Hand" from Maverick.
CBS News reached out to NappyTabs for comment but did not immediately receive a response. We also reached out to the academy, which referred us for an interview with the aforementioned Kapoor.
More Simreen Singh