A SpaceX Falcon 9 rocket carried a third batch of 40 OneWeb Internet satellites into orbit Thursday, helping the London-based company expand its constellation of broadband relay stations to 582 operational spacecraft.
Another group of 36 OneWeb satellites, scheduled for launch later this month aboard an Indian GSLV rocket, will give the company global coverage to peak the fleet at about 650 via SpaceX flights later this year.
For Thursday's flight, Falcon 9, making its 13th flight using a first-stage booster, blasted off from Pad 40 at the Cape Canaveral Space Force Station at 2:13 EST, moving rapidly into a southeasterly trajectory.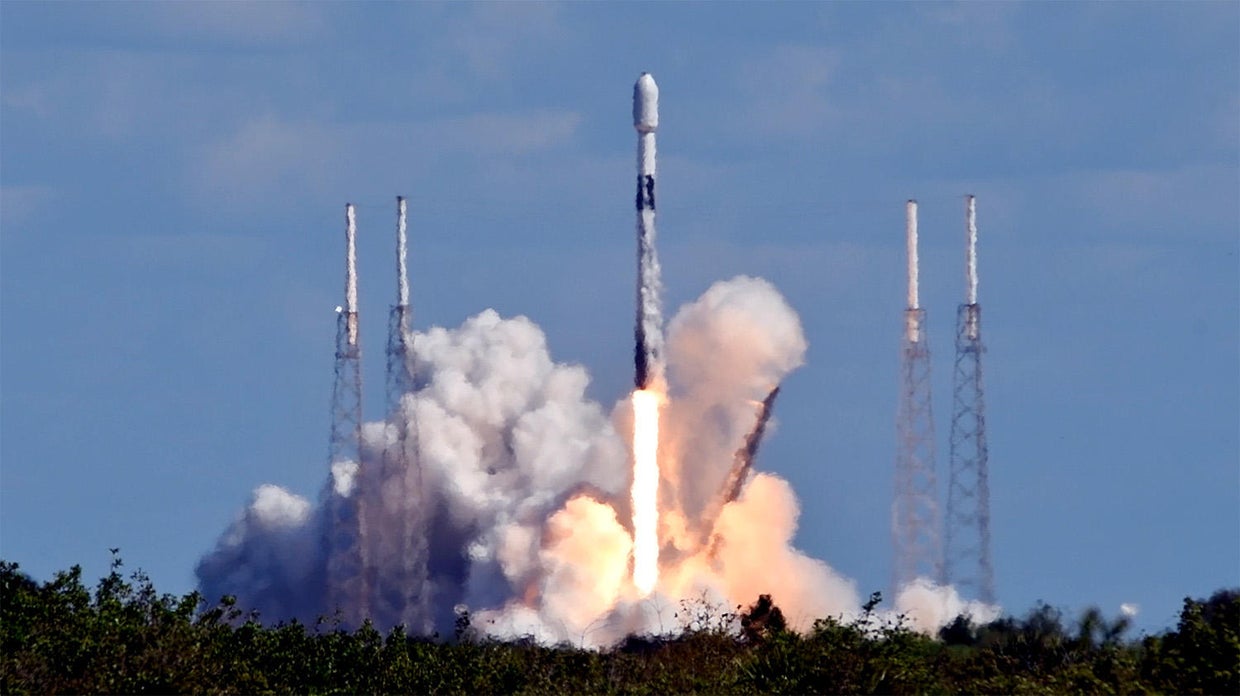 A Falcon 9 launched SpaceX's 16th flight so far this year, launching 40 OneWeb Internet satellites from Cape Canaveral.
William Harwood/CBS News
The well-traveled first stage lifted the rocket out of the lower atmosphere and then fell away for a picture-perfect landing back at the Space Force Station while the second stage continued its ascent into orbit. The landing marked SpaceX's 177th successful booster recovery and its 32nd landing at Cape Canaveral.
The second stage, meanwhile, reached its planned orbit after two engine firings and the first two 325-pound OneWeb satellites were released to fly on their own about an hour after launch. The remaining 38 were released over the next 36 minutes.
Placed in an initial 373-mile-high orbit tilted 87 degrees to the equator, the solar-powered satellites will use on-board xenon ion thrusters to reach their operational altitude of about 745 miles.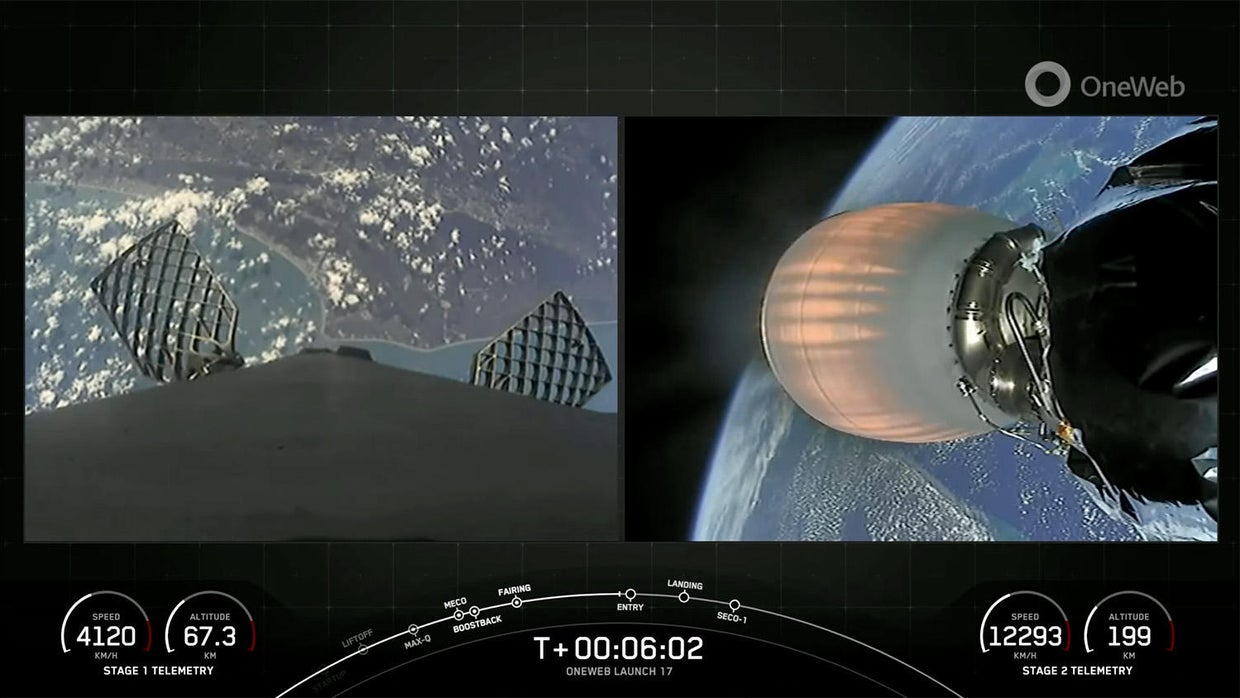 A camera on the Falcon 9's first stage captures a dramatic view of Cape Canaveral (left) as the booster descends toward landing. At the same time, the rocket's second stage engine (right) continued to push into orbit.
SpaceX
SpaceX and OneWeb are both building space-based constellations of broadband relay satellites, but the two companies are targeting different segments of the data communications market.
SpaceX is launching thousands of low-altitude Starlink Internet satellites — 4,053 have been launched so far — to provide high-speed, low-latency broadband access to customers around the world as well as government agencies and commercial customers.
OneWeb focuses more on the government/commercial maritime, aviation and land-based mobility markets using a much smaller number of high-altitude satellites. With Thursday's launch, OneWeb's constellation grew to 582 operational spacecraft.
Getting to this point wasn't easy, as the company faced bankruptcy and the fallout from Russia's invasion of Ukraine.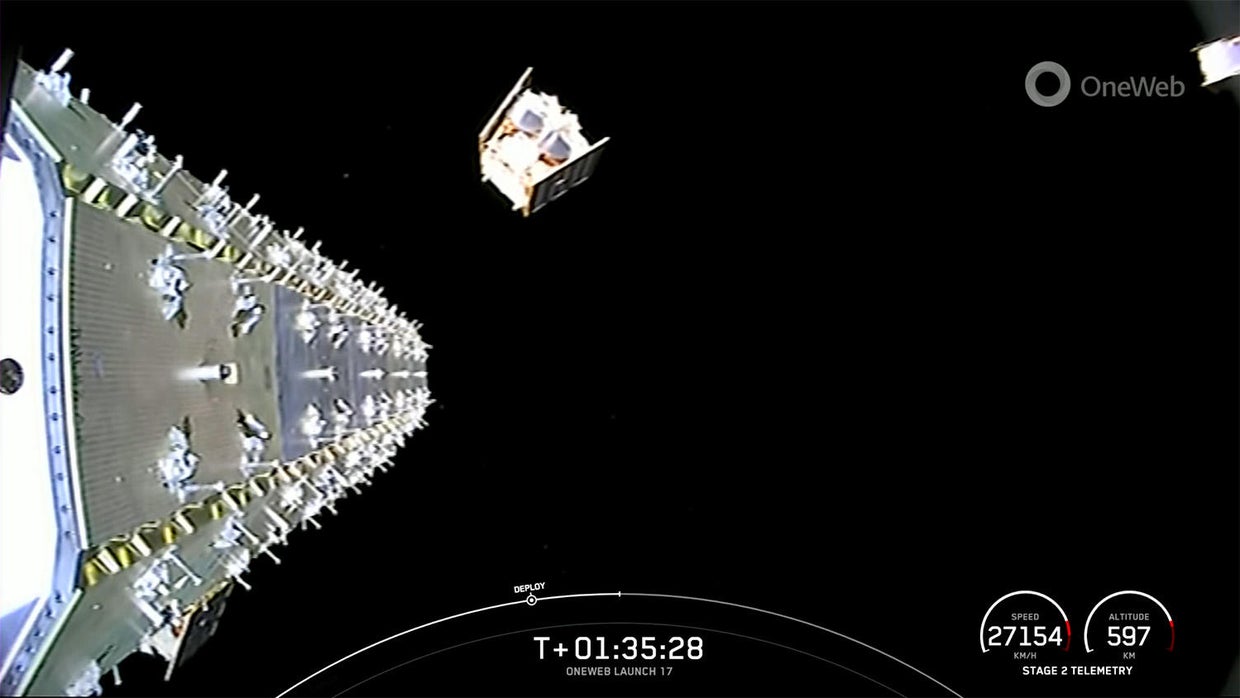 Two of the last four OneWeb satellites blasted into space on Thursday, with one only releasing the second stage dispenser and the other at the very top right. A total of forty OneWeb satellites have been deployed.
SpaceX
OneWeb's first 13 launches used Russian Soyuz rockets. Last March, the company was preparing for its 14th launch of another Soyuz when the Ukraine invasion triggered tough Western sanctions. In retaliation, Russia demanded that OneWeb cut ties with the British government, which partially owns the company.
OneWeb refused, and Russia seized the satellites awaiting launch at the Baikonur Cosmodrome in Kazakhstan. OneWeb then scrambled to make a replacement and booked its next flight on an Indian GSLV which flew successfully last October. SpaceX then launched two batches of 40 OneWeb satellites in December and January.
Thursday's launch was the third of four currently booked with SpaceX.
More William Harwood