One atrocity of Vladimir Putin's ill-advised war in Ukraine remains largely hidden – the torture of prisoners. We met three former POWs, survivors, in Kiev, the capital of Ukraine. They were soldiers, and all women. What they say is extremely disturbing. Their stories cannot be independently verified, but they track with testimony the UN has collected from more than 150 former detainees. At the end of a demonic battle, the fear of Russian captivity was so great that one of the men we met simply looked up to God and said, "Please let me die."
They fought in the southern port city of Mariupol. Once alive with 400,000 inhabitants, Putin left Mariupol in misery. In April, the last Ukrainian soldiers were cornered in the steel mills above the cemetery.
Scott Pelley: Tell me about the fight at the steel plant.
35-year-old Sergeant Irina Stogni is a doctor.
Irina Stogni (translation): We saw people dying, children dying, children's heads being blown off… civilians… it's hard to bring back those memories…
Difficult, because at least 25,000 civilians were killed.
Irina Stogni (Translation): We tried to help the civilians. We tried to give them some assistance, at least something – water, medicine, food. We had small children with us. It's so hard to see your friend's head blown off in front of you… it was… you can't describe it in words, hard, so hard when people you know, and children, die for no reason.
Sergeant Stogni worked in Mariupol with 31-year-old military doctor Captain Mariana Mamonova.
Mariana Mamonova (translation): There was a time when we saw a family when we were driving to save our soldiers and when we were coming back, the father was crying for his family – () the dead body of the mother and a small child.
Also at the steel mill, 33-year-old Sergeant Anastasia Chornenka ran communications.
Scott Pele: The fight there was desperate.
Anastasia Chornenka (translation): Yes, constant aviation, artillery. It was non-stop fighting, non-stop shelling.
During the war, Chornenka often sent a text to his family, only one character.
Anastasia Chornenka (translation): It was very fast. If you (sent) a "plus" (sign) it means you survived.
Dr Mamnova also had a message. It should have returned home to her husband. But he won't send.
Scott Pelle: When did you realize you were pregnant?
Mariana Mamonova (translator): I realized I was pregnant in mid-March. And when I saw that the test result was positive, I cried. I was mad.
But she didn't want her husband to know how much she stood to lose.
Mariana Mamonova (translation): I knew, if I died, it would be easier for him to lose his wife than to lose his wife.
By April, the fight for Mariupol was hopeless. Sergeant Stogni's unit was surrounded.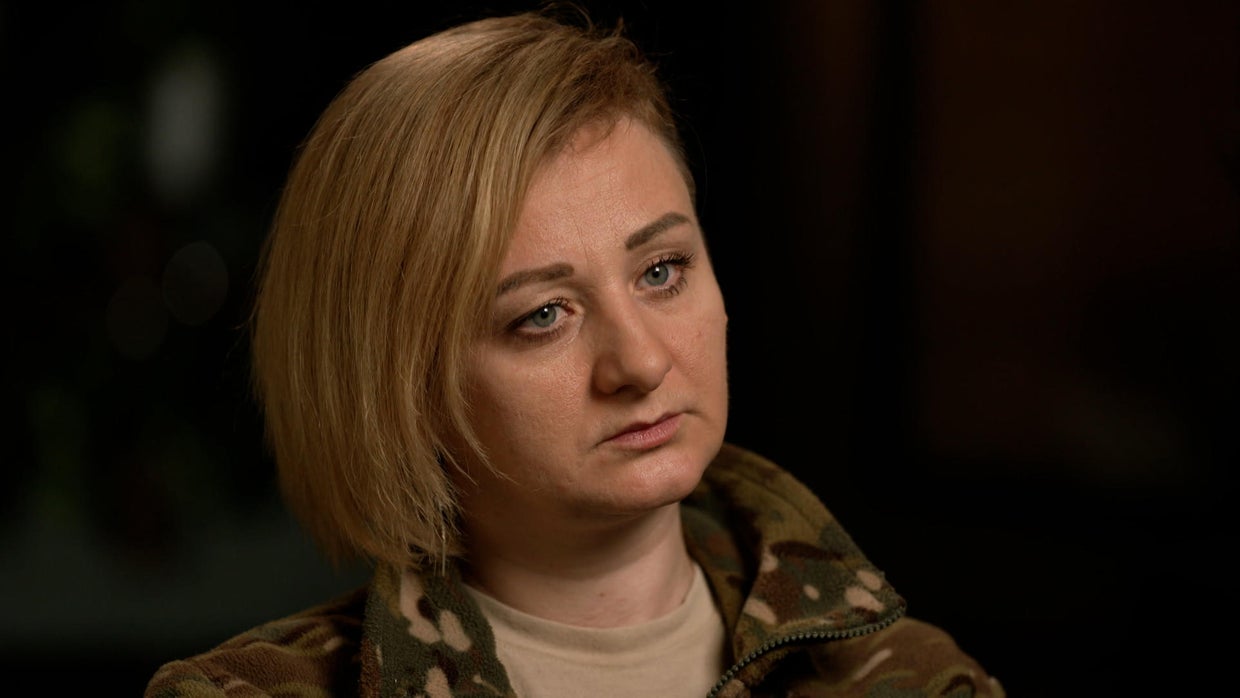 Sergeant Irina Stogni
Irina Stogni (translation): They took our men apart, divided them, some people were beaten, some of our people were… how shall I put it… shot in the head…
Scott Pele: Russians killed unarmed people?
Irina Stogni (Translation): Yes, we were unarmed.
Around the same time, Captain Mamnova's unit was moving at night to reinforce soldiers fighting for their lives.
Mariana Mamonova (translation): I (just) tell my soldiers in my medical unit that if I'm going to be captured – "Just shoot me." "Don't look at me – just shoot me." And do not let me be a prisoner. don't give me
Suddenly, during our interview, he was back, hiding behind a truck that was passing a Russian patrol. He turned to a fellow warrior.
Marianna Mamonova (Translation): Please tell me we're not caught. And she's looking at me, not knowing what to say. I see fear in his eyes. I realized that he couldn't tell me that we weren't caught because we were captured.
After that, came a blinding light and voices that they would be shot.
Mariana Mamonova (translator): (Artillery shells) were falling down. (And) at that moment I was praying to God for my death. I thought, "Oh God, I don't want to (be imprisoned). I want to die here. Please let me die."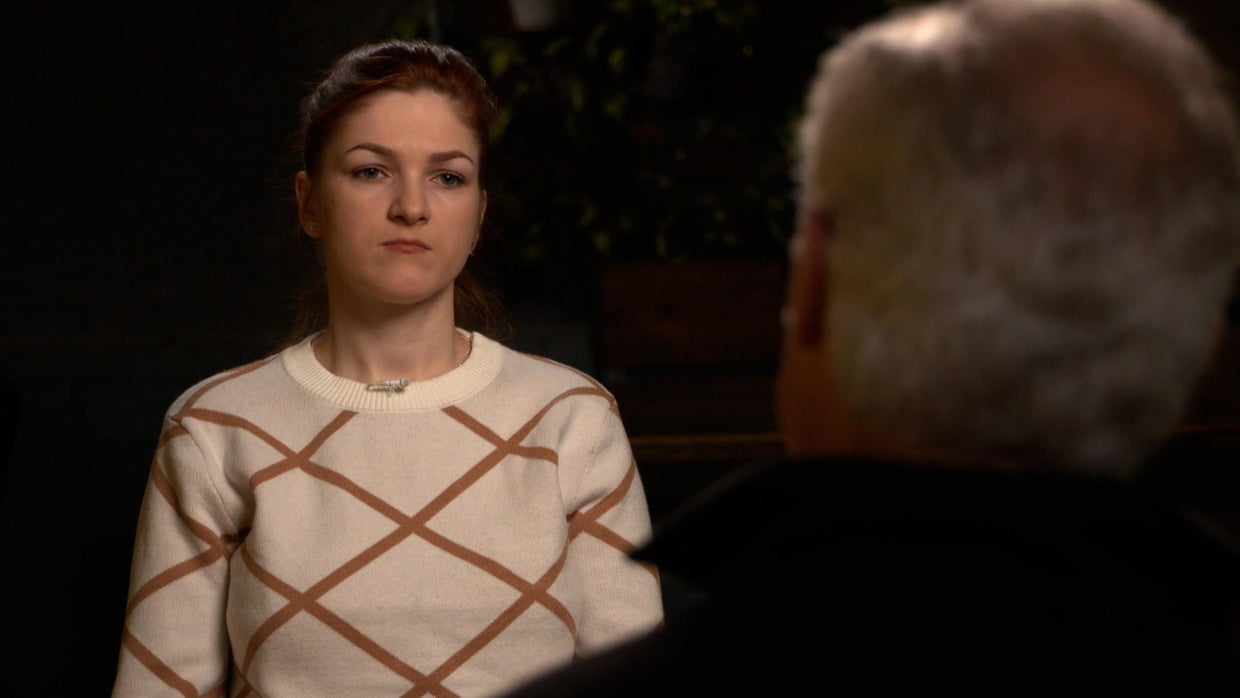 Captain Mariana Mamonova
He knew that the walls of Putin's prison were dripping with cries of torture. The UN POW investigation gathered evidence of executions, starvation, attacks by dogs, dismemberment and mock executions.
Anastasia Chornenka (translation): When they first said they were going to take me to the gallows, I had enough time to pray and say goodbye to my children. Perhaps, the worst thing you feel is that you will never see your children again.
All her children knew was that the plus sign turned off the text phone light.
Anastasia Chornenka (translation): You don't know where the fighting is going on and whether your children are in a safe place. This is the most feared thing for a mother.
After Putin's unprovoked invasion, the UN POW report also found Russians mostly abused by Ukraine while in captivity. But Ukraine opens its POW camps to international inspection while Russia hides its penal colonies. Irina Stogni said she was transferred between four Russian prisons and tortured with electricity.
Irina Stogni (translation): They will rape some men. When we were in Taganrog (prison) there was a cell for men and a cell for women. And we could hear the screams of our men as they were being raped. They had our men scrape off their tattoos. They were beaten severely. They did the same to the women – they would beat them, pour boiling water over them. The only thing they didn't do – they didn't rape women. But the beatings were brutal, the abuse very bad.
This is a Russian propaganda film, from April, that shows Mariana Mamnova in captivity. She is almost four months pregnant and was told privately, what will happen to her baby.
Mariana Mamonova (translation): (They say) they will take my child away from me and they (the child) will take it from one orphanage to another orphanage again and again so that I never find my child.
Scott Pelley: I'm wondering, when you felt your daughter move, what did you say to her?
Mariana Mamonova (translation): I was telling my child that we are strong, and we can do it. "Your mom is strong. Your mom is military. Your mom is a doctor. Your mom will save you."
In return he asked only one thing from his child.
Mariana Mamonova (Translation): You will be born in Ukraine. Can you hear me there? You must be born in an independent Ukraine.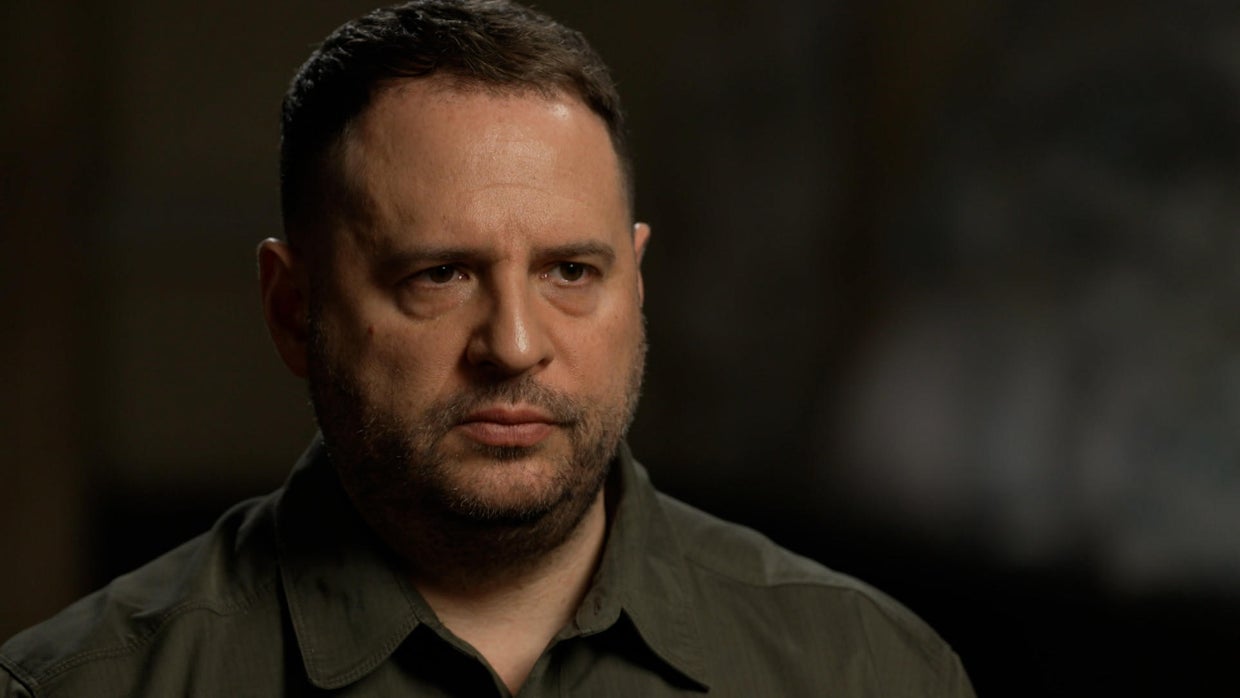 Andriy Yarmak
Unknown to the prisoners, a free Ukraine was working to take them home. Andriy Yermak is President Volodymyr Zelensky's Chief of Staff.
Andriy Yarmak (translation): From the first day, (President) Zelensky set up (jobs) to return prisoners of war.
The leading negotiation for prisoner exchange is Yermak's work. So far, his team has negotiated 38 POW swaps – about the same number of trades. 1,800 Ukrainians were freed. An estimated 4,000 or so remain.
Scott Pell: What is your commitment to the Ukrainian POWs who are still being held by Russia?
Andri Yarmak (Translation): (They) should hold on and remember that your country will never forget you. We will do everything to release you. Have strength and faith in your ability to bring everyone home.
His work was given renewed credence in October by a deal to free 108 Ukrainians at once – all of them women. Irina Stogni was among them — hooded, tied and saying nothing.
Irina Stogni (Translation): Many times before we were taken by vehicle and by plane, we thought they were taking us to another cell.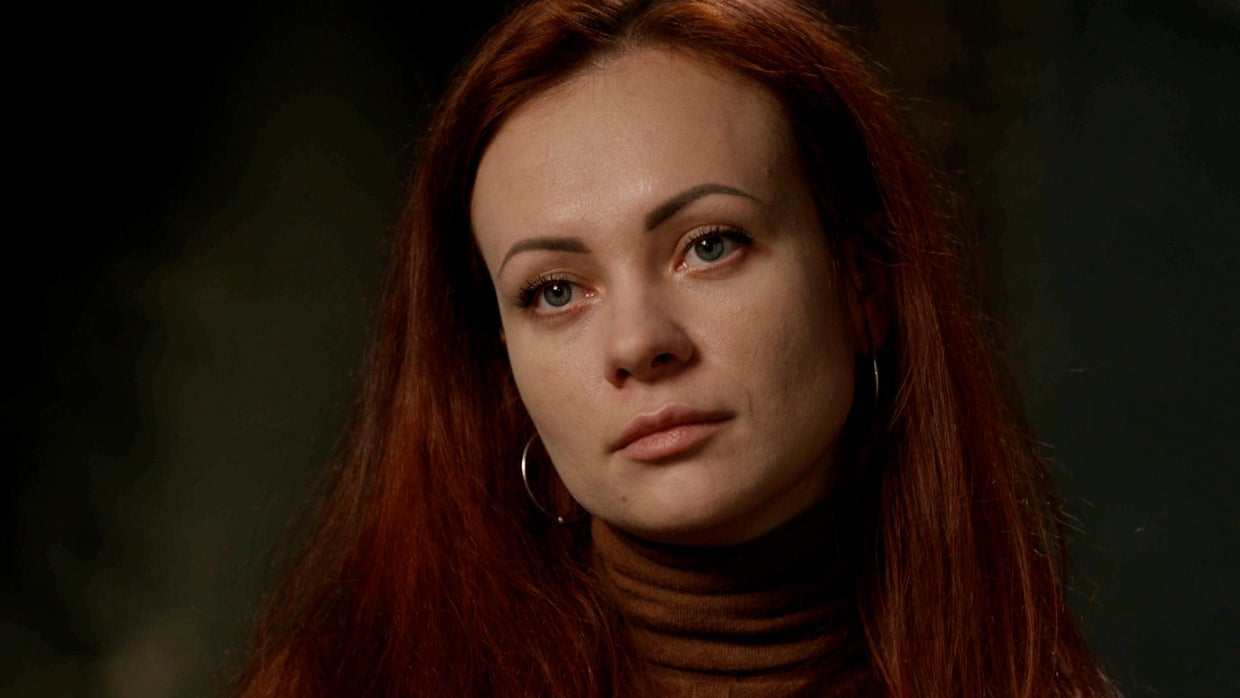 Sergeant Anastasia Chornenka
Anastasia Chornenka was also in the dark. He had duct tape over his eyes so, his first glimpse was something he could feel.
Anastasia Chornenka (translation): They took us in very comfortable buses that were never used (and we thought) something was wrong. Something happened because the bus felt comfortable and soft.
Later the blindfold was cut from his eyes.
Anastasia Chornenka (translation): And you realize that there is no guard behind you, and you are standing there (looking) at the big sign that says "Ukraine."
Scott Pele: I understand you got a new tattoo after you were released? Can I see it?
Irina Stogni (translation): It reads, "They were trying to kill me, they captured me, but I didn't give up because I was born in Ukraine."
Another Ukrainian birth was considerably delayed. This is Dr. Marianna Mamonova walking the path to freedom. Toward the end of his captivity, he told us, a kind Russian officer sent him to a hospital. And a few weeks later he was in a prisoner exchange.
Scott Pell: How long was it from that moment of release until the birth of your daughter?
Marianna Mamonova (translator): Four days. I was freed on 21st September and my baby was born on 25th September.
A healthy girl named Anna.
Scott Pelley: So, he did exactly what you told him to do – don't give birth until you're getting out of there.
MARIANA MAMONOVA (Translation): Yes. I was stroking my bump and I said: "Okay, we are home now, and you can give birth. Everything is fine, we are home.
No one knows freedom like those who have lost it. The people we spoke to were held for six months. Anastasia Chornenka retired from the army. Sergeant Irina Stogni is on duty near the front. And Captain Mariana Mamonova took maternity leave before returning to fight for Ukraine's freedom–and now–independence's future.
Produced by Maria Gavrilovich. Associate Producer, Alex Ortiz. Broadcast Associate, Michelle Karim. Edited by Michael Mangula.
Trending news
Scott Pele