Sudan's armed forces, one of two parties engaged in violence that is believed to have killed more than 500 people across the East African nation in recent days, said on Wednesday that the country's Former dictator Omar al-Bashir, was kept in a military-run hospital in the country. The army's announcement came after rumors of an attack on the prison where the ousted dictator was being held, raising questions about his whereabouts and rumors that he could be released amid chaos.
The military said on Wednesday that the former dictator, who has been indicted by the International Criminal Court (ICC) on charges of genocide, and 30 members of his former government were moved to a hospital and guarded before the fighting began on April 15. Judicial Police.
Reuters reported that the ICC declined to comment on al-Bashir's release from prison.
Sudanese President Omar al-Bashir has been ousted by the military
02:23
A 72 hours ceasefire Despite sporadic clashes that started late on Monday, it continued into Wednesday morning. Residents of Khartoum said the intensity of the fighting had subsided and they were able to leave their homes in search of food or water or to try to leave the city, the AP reported.
The violence has been devastating for Sudanese civilians, a third of whom were in need of humanitarian assistance before the war began. A UN World Health Organization official in Sudan said on Tuesday, citing the country's health ministry, that at least 559 people had been killed, most of them civilians.
The fighting has forced aid agencies to suspend some of their operations in Sudan, and the U.N. humanitarian agency said Tuesday it was preparing for 270,000 refugees to arrive in neighboring countries.
Egypt announced that 10,000 people crossed the border from Sudan through two entry points between April 21 and April 25 alone.
Arizona mother on evacuation of her son from war-torn Sudan
05:14
Declining hostilities enabled the ramp-up of evacuations of foreign nationals. Germany said it had finished evacuating its citizens on Tuesday, leaving around 700 people out of the country. The UK said it had evacuated around 300 of the 4,000 British nationals stranded in Sudan.
Late Tuesday, the U.S. Embassy in Sudan issued guidance saying Americans must "decide the safest and best method of departure for yourself and your family. We cannot guarantee your safety in transit."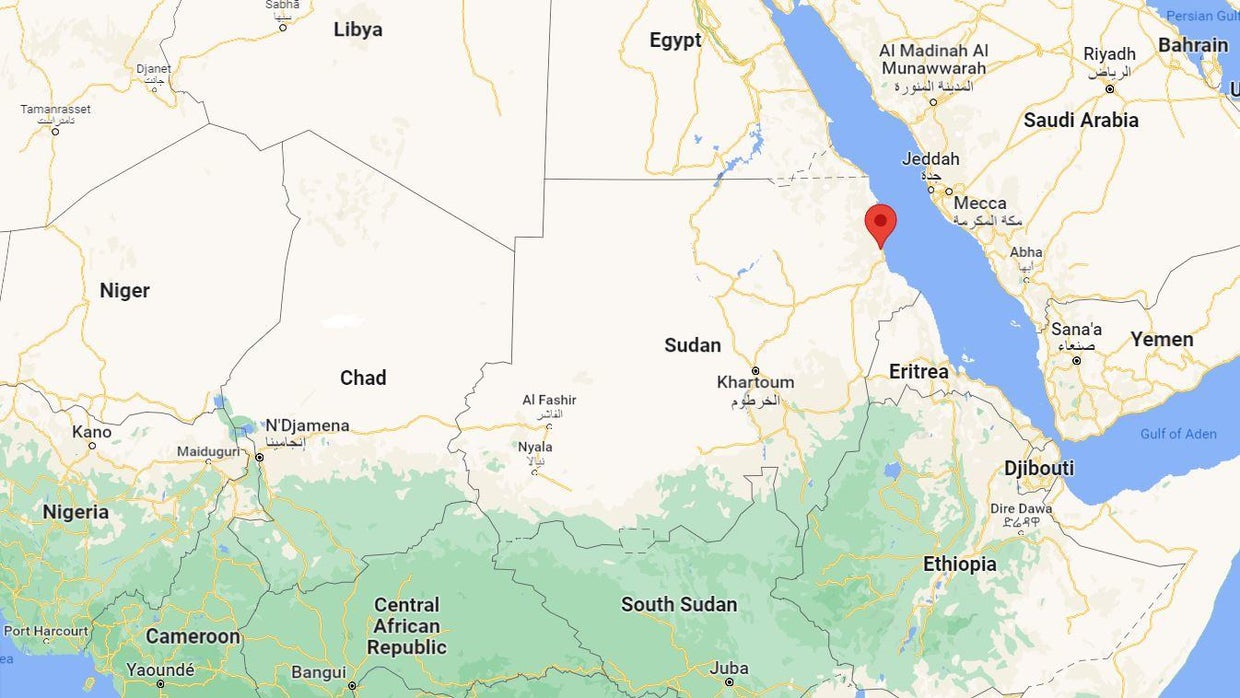 A red marker shows the location of Port Sudan, about 500 miles northeast of Khartoum on Sudan's Red Sea coast.
Google Maps
The American embassy said it would evacuate citizens who were able to get to Port Sudan by ship in Saudi Arabia. It said it believed it would be possible for US citizens to cross land borders to neighboring countries.
"Although there are cease-fire agreements in place, the length of time they hold is uncertain. The security situation across Sudan remains violent and unpredictable due to the ongoing armed conflict, active fighting in the country and the precarious security situation. There have been reports of individuals being robbed along with their US passports. Done. We recommend carefully considering routes and travel risks, as roads may be congested, open to combat operations, or infrastructure may deteriorate due to damage to bridges, roads, and facilities. The United States Government advises that travel is at your own risk. ."
Trending news
Haley Ott