Texas Attorney General Ken Paxton came to the brink of impeachment Thursday after years of scandals, criminal charges and corruption allegations that the state's Republican majority has so far met with silence.
In a unanimous decision, a Republican-led House investigation committee that Spent months staring at Paxton in silence The state's top lawyer has recommended impeachment. The state House of Representatives could vote on the recommendation as soon as Friday. If the House impeached Paxton, he would be forced out of office immediately.
The move marks a remarkably abrupt fall for one of the GOP's most prominent legislative warriors, who in 2020 asked the U.S. Supreme Court to overturn President Biden's victory. Only two officials have been impeached in Texas' nearly 200-year history.
Paxton has been under FBI investigation for years over allegations that he used his office to help a donor and was separately indicted in 2015 on securities fraud charges, but has not yet been tried.
Unlike Congress, impeachment in Texas requires immediate removal from office pending trial in the Senate. That meant Paxton was ousted by GOP lawmakers just seven months after easily winning a third term against challengers — among them George P. Bush — who urged voters to reject a compromise position but discovered that many were unaware of Paxton's litany of alleged misdeeds or dismissed the charges as political attacks. Republican Gov. Greg Abbott may appoint an interim replacement.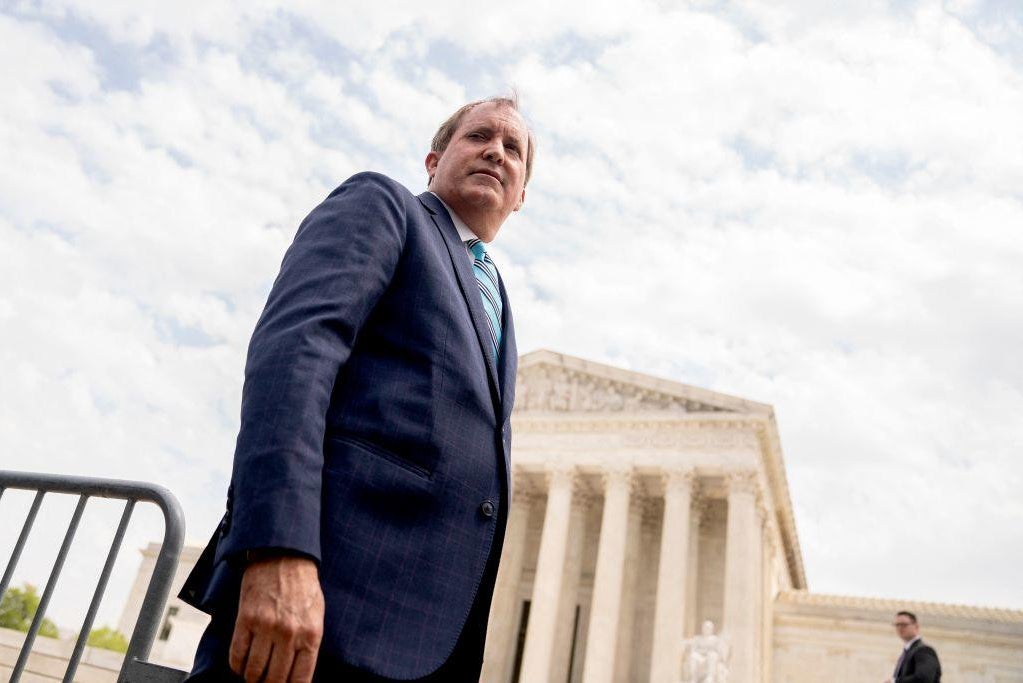 Texas Attorney General Ken Paxton speaks to reporters in front of the U.S. Supreme Court on April 26, 2022 in Washington, DC.
Stephanie Reynolds/AFP via Getty Images
Two of Paxton's defense attorneys did not immediately respond to requests for comment. Paxton suggested the investigation that came to light this week was a politically motivated attack by a "liberal" Republican House speaker, whom he also accused of being drunk on the job.
Chris Hilton, a senior lawyer in the attorney general's office, told reporters before the committee's vote Thursday that what investigators said about Paxton was "false," "misleading" and "full of errors big and small." He said all of the allegations were made known to voters when Paxton was up for re-election in November.
Impeachment requires a two-thirds vote of the state's 150-member House chamber, where Republicans hold a commanding 85-64 majority.
In a sense, Paxton's political peril came with surprising speed: House Republicans didn't reveal they were investigating him until Tuesday, the day after an extraordinary public outing of alleged criminal activity as one of Texas' most powerful figures.
But to Paxton's detractors, who now include a broad swath of his own party in the Texas Capitol, the rebuke has been seen for years.
In 2014, he pleaded guilty to violating Texas securities laws by failing to register as an investment adviser when soliciting clients. A year later, Paxton was indicted by a grand jury in his hometown near Dallas on felony securities charges, accusing him of defrauding investors in a technology startup. He pleaded not guilty to two felony counts that carry a possible sentence of five to 99 years in prison.
He opened a legal defense fund and accepted $100,000 from an executive whose company was under investigation by Paxton's office for Medicaid fraud. An additional $50,000 was donated by an Arizona retiree whose son Paxton later hired into a high-ranking job but was soon fired after trying to make a point by displaying child pornography at a meeting.
What posed the most serious risk for Paxton was his relationship with another wealthy donor, Austin real estate developer Nate Paul.
Several top Paxton aides said in 2020 that they were concerned the attorney general was abusing the power of his office to support Paul's unsubstantiated claims that there was an elaborate conspiracy to steal $200 million from his estate. The FBI searched Paul's home in 2019 but he has not been charged and his attorneys have denied wrongdoing. Paxton also told staff members he was having an affair with a woman who, it was later revealed, worked for Paul.
All were fired or resigned after Paxton's associates accused him of corruption and reported him to the FBI. Four filed suit under Texas' whistleblower law, accusing Paxton of wrongful retaliation, and agreed to settle the case for $3.3 million in February. But the Texas House must approve the payment, and Phelan said he doesn't think taxpayers should foot the bill.
A House investigation into Paxton began shortly after the settlement. The investigation amounted to a rare investigation of Paxton at the state Capitol, where many Republicans have long taken a silent stance about the allegations that have dogged the attorney general.
That includes Abbott, who in January swore in Paxton for a third term and said the way he approached the job was "the right way to run the attorney general's office."
Only twice has the Texas House impeached an incumbent: Governor James Ferguson in 1917 and state Judge OP Carrillo in 1975.
Trending news