Texas officials announced Wednesday that they will take over Houston's public school district, the eighth-largest in the United States, deepening tensions between local Democratic leaders and the Republican-majority statehouse.
In a letter sent to Houston Independent School District (HISD) superintendents and board members, Education Commissioner Mike Morath said the recipients of the letter will be replaced with a new superintendent and board of managers selected by the Texas Education Authority (TEA). ), and who will be officially established on June 1.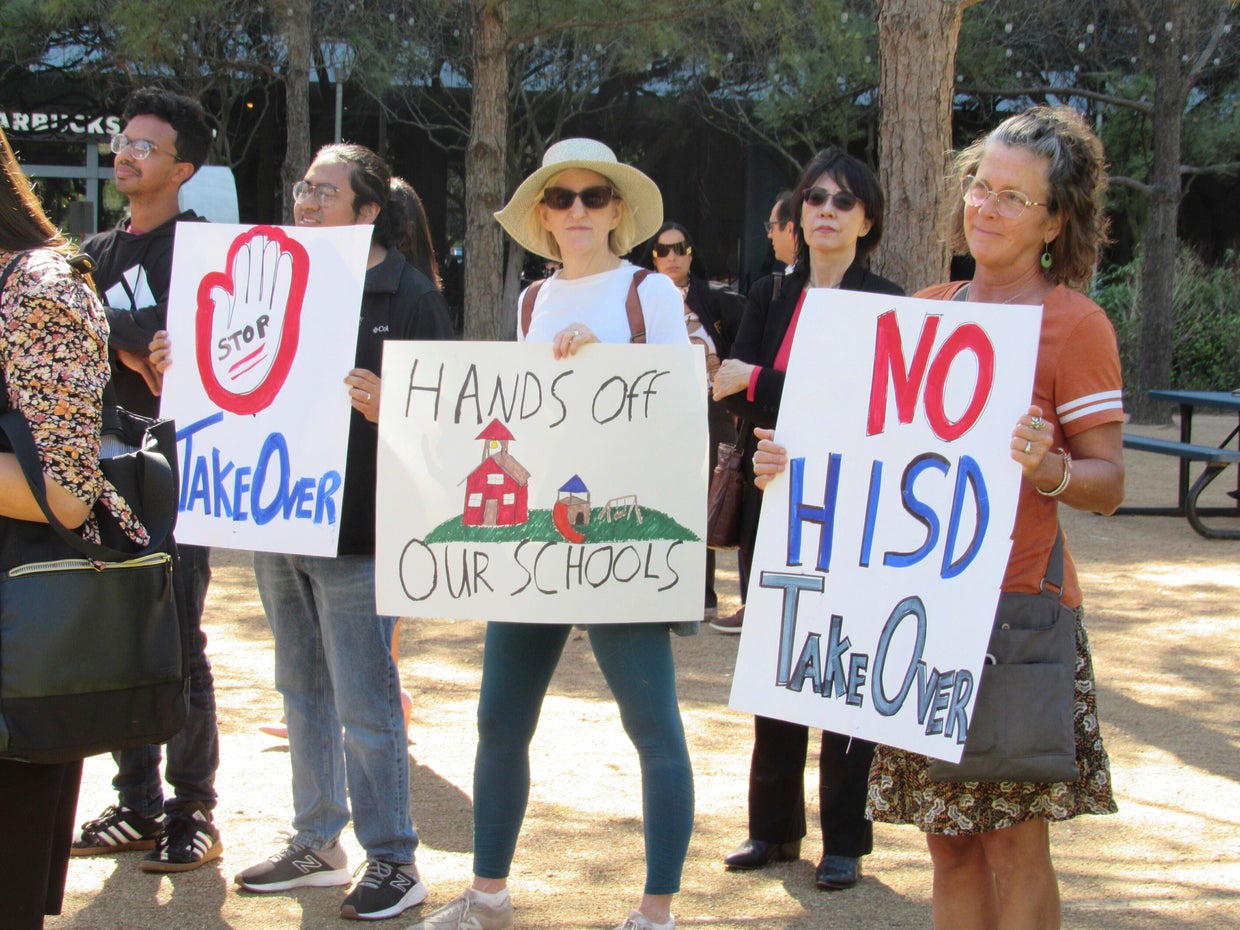 People sign up at a press conference March 3 in Houston to protest a proposed takeover of the city's school district by the Texas Education Agency.
Juan A. Lozano/AP
Morath alleged that the board failed to improve student performance in Houston, such as Wheatley High School, which received a failing grade from the TEA in 2019. Additionally, Morath accused the board of holding "chaotic board meetings due to infighting" and added that the investigation revealed "multiple law violations in the district."
"The district's approach to supporting students with disabilities also continues to violate state and federal law," wrote Morath, who noted "significant procedural compliance issues, including an ongoing inability to provide special education services to students without undue delay."
State Democratic lawmakers called the seizure "deplorable" and "disrespectful" at a press conference after the morning announcement:
"Today is a very — and I emphasize very — dark day for HISD and for many Black and Brown students and communities within HISD," said state Rep. Ron Reynolds, chair of the Texas Legislative Black Caucus, who emphasized that takeovers have been "continuous" over the past five years. Coming after showing exemplary growth".
"Despite all of this, it's wrong to take over the district now," Reynolds said.
The ACLU condemned the takeover, writing on Twitter that "hostile takeovers threaten to close schools, drive out teachers and rob local communities of their ability to elect their own leaders." In a city already saddled with a teacher shortage.
BREAKING: State officials to seize control of Houston ISD, Texas' largest school district.
This hostile takeover threatens to close schools, drive out teachers and take away the power of local communities to elect their own leaders.
— ACLU of Texas (@ACLUTx) March 15, 2023
"The state takeover of HISD isn't about public education — it's about political control of the 90 percent black and brown student body in one of the most diverse cities in the country. And that's not what our students and teachers need," the ACLU continued.
The Texas State Teachers Association also spoke out against the acquisition in a statement posted on Facebook, which it called "an injustice to students and educators."
"The commissioner is not responsible to HISD parents and taxpayers," wrote Morath's teachers association "He is accountable only to Gov. Greg Abbott, whose top education priority is taking millions of dollars in tax dollars from HISD and other public-school districts and transferring them to unregulated private schools. Abbott is less interested in supporting HISD and other public schools than he is in privatizing them. "
TSTA: State Takeover Injustices to HISD Students and Educators (3-5-21). Visit our website at https://tsta.org/wp-content/uploads/2023/03/20230315TSTA-State-takeover-HISD.pdf
Posted by Texas State Teachers Association on Wednesday, March 15, 2023
The teachers association also noted that the takeover is part of student performance on a standardized test called STARR, which they say "is not — and never has been — an accurate measure of student progress."
While student progress in Houston has indeed declined post-pandemic, that trend is not specific to the city, as performance in schools across the country struggled to rebound in 2019 data.
In 2022, the National Assessment of Educational Progress found that math and reading test scores nationwide declined post-pandemic. Fourth- and eighth-grade scores in both categories fell significantly from their 2019 counterparts, math scores showed their biggest declines since initial assessments in 1990, and reading scores were the lowest in three decades.
Trending news
C nuts