The polar explorer isn't slowed by a cancer diagnosis
The polar explorer, once diagnosed with terminal cancer, still lives for adventure
01:36
CRESTED BUTTE, Colorado — Eric Larsen lives for adventure.
One of the world's leading polar explorers, Larsen touched the South Pole and the North Pole six times. He is the only person to have climbed both and Mount Everest in the same year.
Did he ever think about slowing down?
"My old answer would be very strong, 'No way,'" Larsen told CBS News. "It was never enough. I'm not so sure now."
In 2021, at the age of 49, he was diagnosed with terminal colon cancer.
"Trying to think about what those few years would be like with my family and my little kids. To say it was difficult was a gross understatement," Larsen said.
However, the forecast was wrong. Larsen went through chemotherapy and radiation treatments. He had 14 inches of his colon removed.
During his treatment, he never thought he would do it again: pack his bags and head back to the North Pole. But that is exactly what he is doing.
"To see it again, when I thought I'd never do anything again, for me, felt like the right thing to do," Larsen said.
Trending news
David Begnaud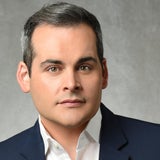 Thanks for reading CBS News.
Create your free account or login
For more features.