The United Nations human rights office on Tuesday pressed Singapore to "urgently reconsider" its proposed death penalty for one kilogram (2.2 pounds) of marijuana.
Singaporean Tangaraju Suppiah, 46, will be hanged on Wednesday after pleading guilty to conspiracy to transport 1,017.9 grams (35.9 ounces) of marijuana, twice the amount punishable by death in the city-state.
It will be the first execution in Singapore in six months, and the 12th since last year.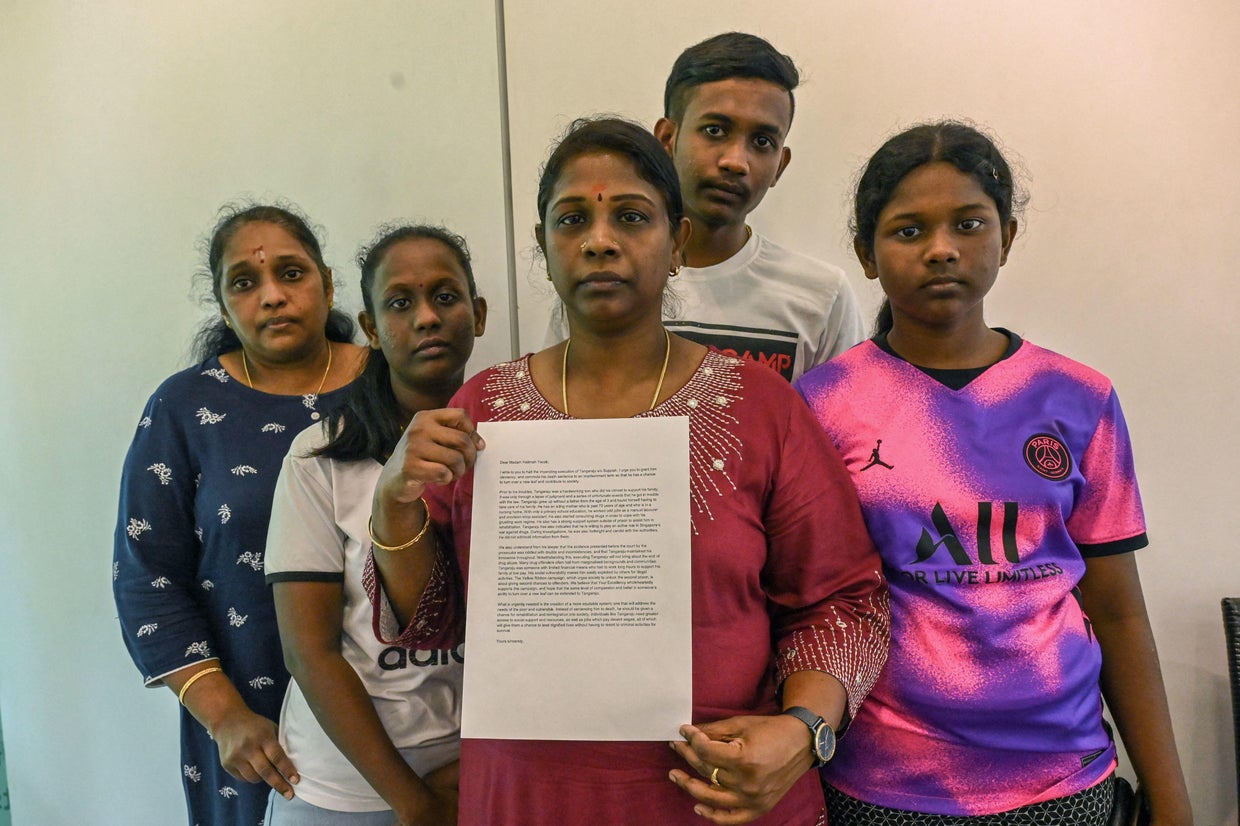 Lilavati Suppiah (centre), sister of convicted drug trafficker Tangaraju Suppiah, who is scheduled to be executed, poses with family members as she holds a petition for clemency in Singapore on April 23, 2023.
Roslan Rahman/AFP/Getty Images
The Asian financial hub has some of the toughest anti-drug laws in the world, and insists the death penalty is an effective deterrent against trafficking.
The Office of the United Nations High Commissioner for Human Rights disagrees.
"The death penalty is still used in a small number of countries, largely because of the myth that it deters crime," OHCHR said in a statement.
"We have concerns about respect for due process and fair trial guarantees. The UN Human Rights Office calls on the authorities not to carry out his execution," it added.
Earlier, British tycoon Richard Branson had also called on Singapore to halt Tangaraju's execution.
Branson, a member of the Geneva-based Global Commission on Drug Policy, wrote on his blog Monday that Tangaraju was "not even close" to drugs at the time of his arrest and that Singapore may be about to kill an innocent man. death
Chicken rice, nasi biryani, ice cream soda and milo-flavored sweets. This is the food Tengaraju requested from the Changi Prison authorities for his scheduled execution on April 26. Here's a heartbreaking read from his last days on death row: https://t.co/31F7FU5b1s pic.twitter.com/a88sow20IY
— Richard Branson (@richardbranson) April 25, 2023
Singapore's Ministry of Home Affairs said in response on Tuesday that Tangaraju's guilt had been proven beyond reasonable doubt.
Branson has "shown contempt for Singaporean judges and our criminal justice system with such allegations", it added.
Cannabis has been decriminalized in many parts of the world, including neighboring Thailand, and rights groups have called on Singapore to abolish the death penalty.
Tangaraju's family has appealed for a retrial.
Singapore began carrying out executions in March 2022 after a hiatus of more than two years.
Among those who were hanged was Nagenthran K. Dharmalingam, whose execution caused a stir worldwide, including by the United Nations and Branson, because he was considered mentally incompetent.
Singapore invited Branson to a televised debate on the death penalty last year but the billionaire businessman declined, saying authorities should engage with local rights activists instead.
Trending news