South Carolina GOP Sen. Tim Scott has officially entered the 2024 presidential race, filing his statement of candidacy with the Federal Election Commission on Friday.
He launched an exploratory committee in April and plans to be in his hometown of North Charleston on Monday to announce his candidacy before hitting the campaign trail in Iowa and New Hampshire. His campaign has bought $5.5 million in television ads that will air statewide in the early voting states of Iowa and New Hampshire, according to an adviser. The ads will run through the first GOP presidential debate, a buy that includes broadcast TV, cable, satellite and radio.
Scott's campaign will also launch what his advisers said was a significant seven-figure digital ad campaign at the time.
It's the largest candidate ad buy of the 2024 GOP primary campaign so far. Scott entered the race with $22 million cash on hand.
Formalizing his candidacy allowed his team to ramp up his campaign before Monday, including properly filing new ad buys announced Friday.
Scott, who was the first black senator elected from the South since Reconstruction, is positioning himself as a hopeful candidate in the 2024 Republican field — presenting a contrast to early front-runner and former President Donald Trump.
Caitlin Huey-Burns contributed to this report.
More Finn Gomez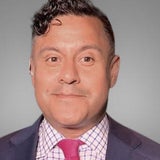 Thanks for reading CBS News.
Create your free account or login
For more features.