Washington — Manhattan prosecutors investigating former President Donald Trump's alleged "hush money" payment of $130,000 to adult film star Stormy Daniels in 2016 recently invited the former president to testify in the probe, a step that commonly comes before an indictment in New York.
The alleged scheme first came to light years ago, when Trump was still in office, but the investigation has gained new momentum in recent months, with the Manhattan district attorney's office convening a grand jury to examine the matter.
An indictment of a former president would be a first in American history and a politically explosive step with Trump seeking the GOP nomination for president in 2024. His attorney has said he has no plans to participate in the probe, and the former president has denounced the investigation as a witch hunt.
The developments in New York have once again drawn attention to Trump and his allies' well-documented efforts to suppress damaging stories ahead of the 2016 election and the sprawling investigations that ensued. Michael Cohen, his former attorney and "fixer," eventually pleaded guilty to campaign finance charges stemming from his involvement with the payments and served three years in prison.
The following timeline of those efforts and the district attorney's evolving investigation is based on court records, public filings and comments made by many of the key players involved. Trump has denied having affairs with Daniels, whose real name is Stephanie Clifford, and Karen McDougal, another woman who alleged a relationship and was paid for her silence.
2006
July: According to an interview Daniels would give to "60 Minutes" in 2018, Daniels meets Trump, the star of NBC's hit show "The Apprentice," at a celebrity golf tournament at Lake Tahoe in Nevada. She says he invited her to dinner, and she met him at his hotel suite, where they had sex. He later invites her to a Trump Vodka launch party in California, as well as to his office in Trump Tower in New York.
Daniels is 27 at the time. Trump is 60, and his wife Melania had recently given birth to their son.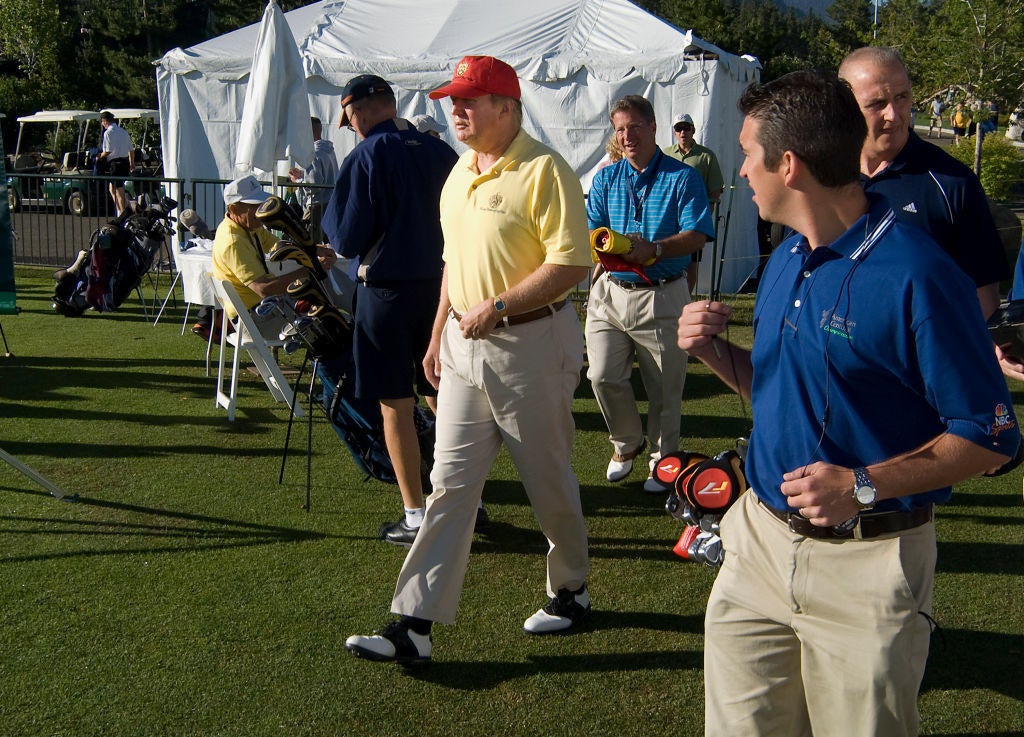 Donald Trump plays in the 2006 American Century Celebrity Golf Tournament played at the Edgewood Tahoe golf course in Nevada.
John Cordes/Icon Sportswire via Getty Images
2007
July: A year after their first interaction, Trump asks Daniels to meet at his bungalow at the Beverly Hills Hotel in Los Angeles to discuss a possible appearance on the spin-off "Celebrity Apprentice." The two spend four hours together but don't have sex, Daniels says later, and she leaves after Trump says he is still working on securing her a spot on the show. 
August: Trump calls Daniels and tells her he couldn't get her on "Celebrity Apprentice."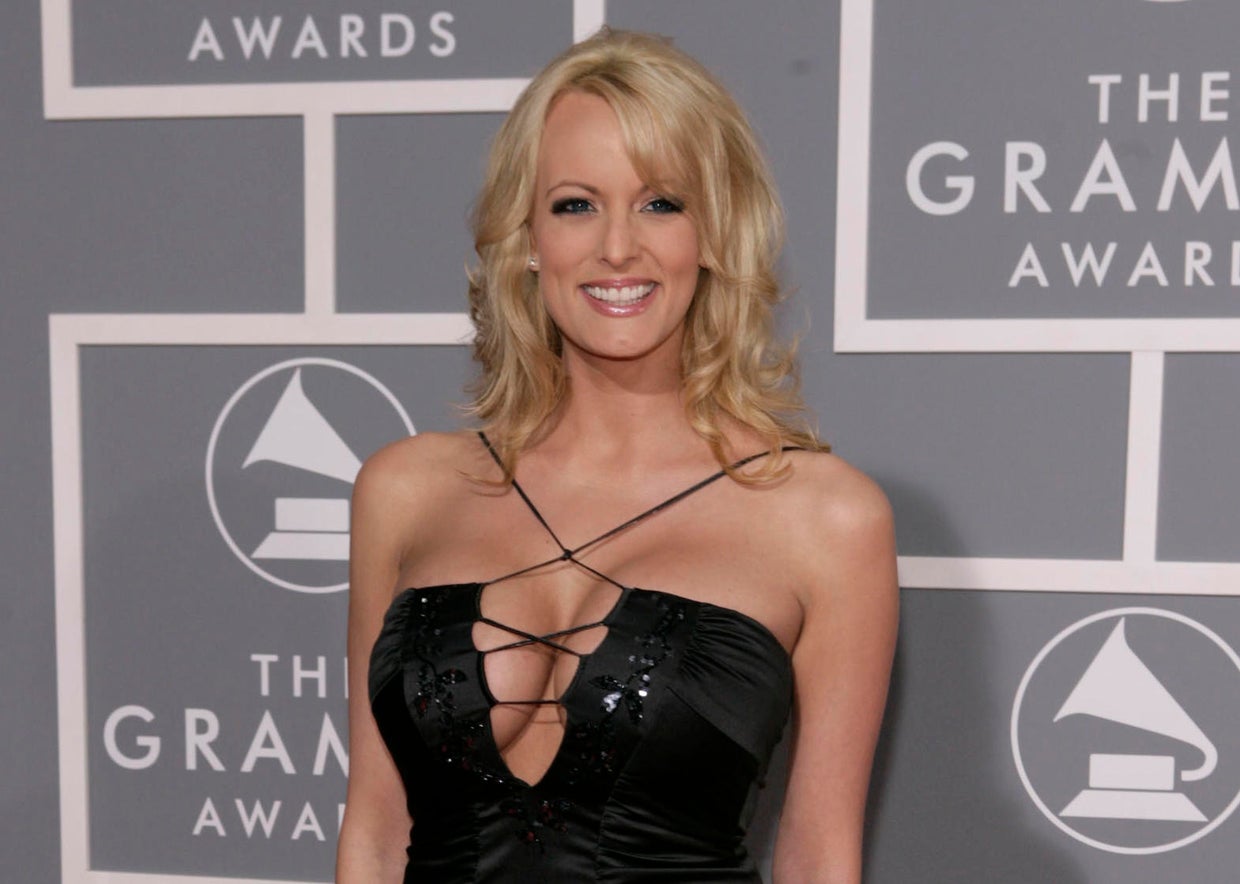 In this Feb. 11, 2007, file photo, Stormy Daniels arrives for the 49th Annual Grammy Awards in Los Angeles.
Matt Sayles / AP
2011
May: Daniels gives an interview to the magazine In Touch describing her encounters with Trump in exchange for $15,000. Two employees later tell CBS News that the interview never ran because Michael Cohen, Trump's attorney, threatened to sue when the publication asked Trump for comment. Daniels says she was never paid.
A few weeks later, Daniels says she is threatened by a man who approaches her in Las Vegas and tells her to "leave Trump alone" and "forget the story."
2016
June: Karen McDougal, an actress and former Playboy model, begins trying to sell her story of an alleged affair she had with Trump in 2006 and 2007. She retains attorney Keith Davidson, who approaches the National Enquirer about a possible deal. 
July 19: Trump secures the Republican Party's nomination for president.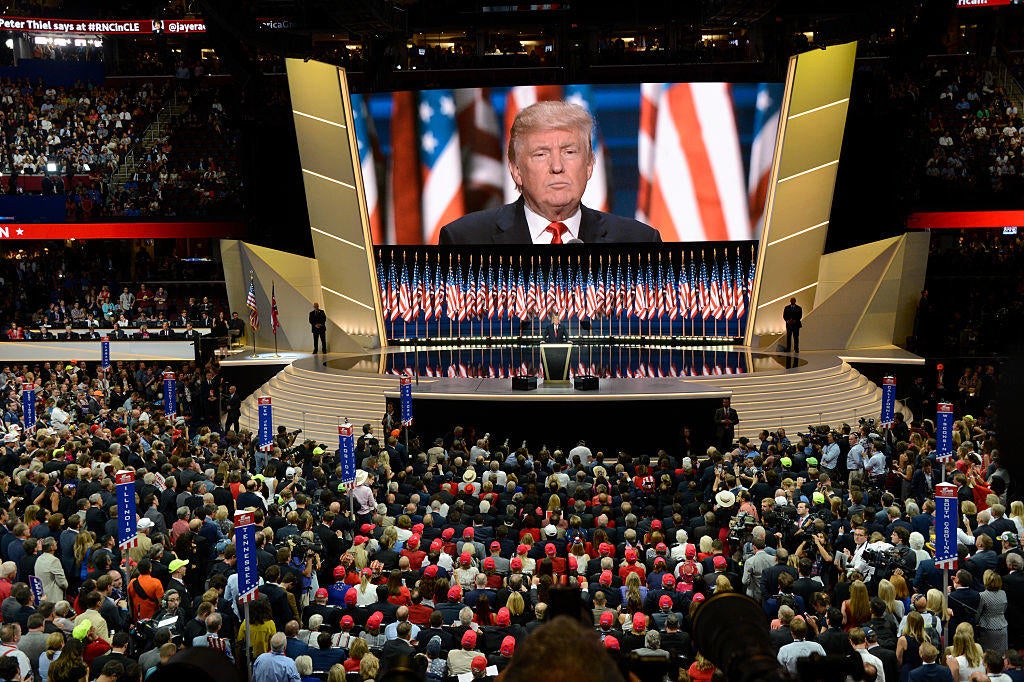 Donald Trump accepts the Republican Party's nomination for president in Cleveland, Ohio, on July 21, 2016.
Ida Mae Astute/Disney General Entertainment Content via Getty Images
Aug. 5: The National Enquirer secures the rights to McDougal's account for $150,000 but never publishes her story, a tactic known as "catch and kill." Federal prosecutors later say the agreement was meant "to suppress (her) story so as to prevent it from influencing the election."
August and September: Cohen reaches an agreement with David Pecker, the chairman and CEO of the National Enquirer's parent company, American Media, Inc. (AMI), to secure the non-disclosure portion of the company's deal with McDougal for $125,000. The deal between Cohen and AMI is never finalized, but Cohen retains a copy of the draft agreement.
Oct. 8: Daniels is now also represented by Davidson, who tells Dylan Howard, the editor-in-chief of the National Enquirer, that she is willing to go on the record about her alleged affair. Howard and Pecker inform Cohen about the conversation and put Cohen in touch with Davidson. 
Cohen negotiates a deal to pay Daniels $130,000 in exchange for the rights to her story and a non-disclosure agreement.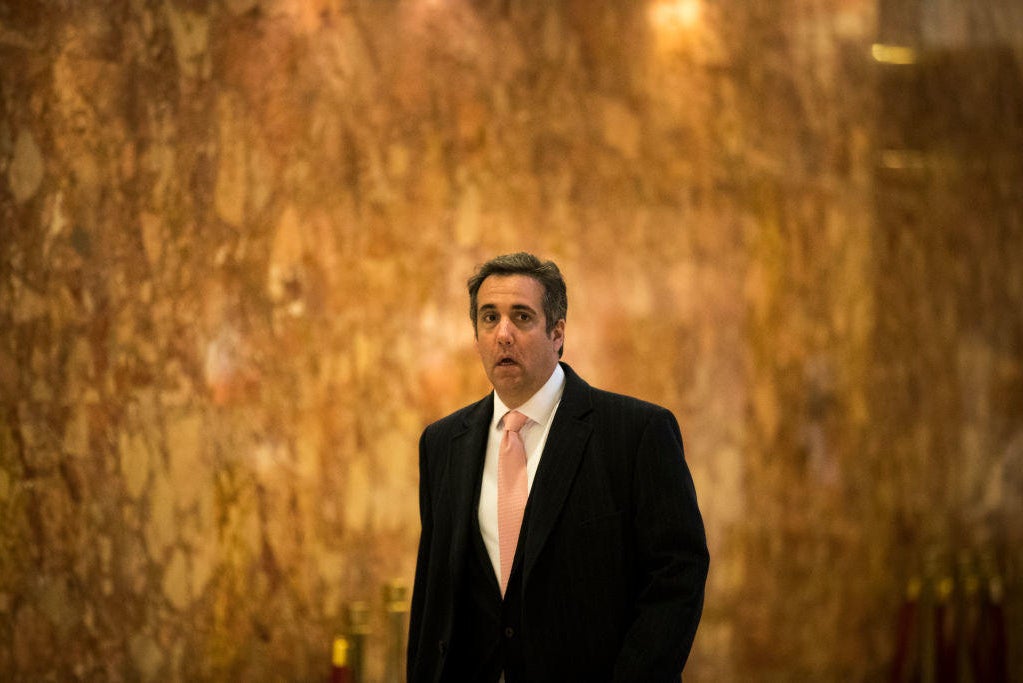 Michael Cohen walks through the lobby at Trump Tower in New York on Jan. 12, 2017.
Drew Angerer / Getty Images
Oct. 17: Cohen files paperwork to incorporate a firm known as Essential Consultants LLC in Delaware.
Oct. 25: No deal with Daniels has been finalized, and Davidson tells Cohen, Howard and Pecker that his client is close to reaching an agreement with another outlet to tell her story. Cohen agrees to finalize the deal. 
Oct. 26: Cohen opens a bank account for Essential Consultants and transfers $131,000 he obtained by taking out a home equity line of credit into the new account. 
Oct. 27: Cohen wires $130,000 to Davidson, Daniels' attorney. 
Nov. 1: Cohen receives signed copies of the agreement between "Peggy Peterson" and "David Dennison." It is dated Oct. 28.
In an accompanying letter, "Peterson" is identified as a pseudonym for Daniels. The identity of Dennison is redacted in later court filings, but Daniels' attorney later says it was the name used by Trump. The agreement bears the signatures of Daniels, Davidson and Cohen, but the signature for Dennison is blank. 
A screengrab of a page from the agreement between Stormy Daniels and then-candidate Donald  Trump.
Court filing
Nov. 4: The Wall Street Journal publishes a report detailing the $150,000 deal between McDougal and AMI. A Trump campaign spokeswoman calls McDougal's claims of an affair "totally untrue," and AMI says it "has not paid people to kill damaging stories about Mr. Trump."
The Journal story mentions that Daniels "was in discussions with ABC's 'Good Morning America' in recent months to publicly disclose what she said was a past relationship with Mr. Trump, according to people familiar with the talks."
Nov. 8: Election Day. Trump is elected president, defeating Democrat Hillary Clinton.
2017
January: Cohen seeks reimbursement from the Trump Organization for $180,035 — $130,000 for the payment to Daniels, plus a wiring fee and an extra $50,000. Trump Organization executives double the reimbursement to $360,000 and add another $60,000, for a total of $420,000 to be paid in monthly installments for 12 months.
Cohen sends invoices for $35,000 per month and receives $420,000 from the company over the course of the year.
Jan. 20: Trump is sworn in as the 45th president of the United States.
2018
Jan. 12: The Wall Street Journal publishes an article detailing the $130,000 payment to Daniels, the first public acknowledgement of the scheme. Cohen says Trump "vehemently denies" having an affair but does not address the payment. 
Cohen also sends a statement he claims is from "Stormy Daniels," saying the stories of an affair are false.
Feb. 13: Cohen acknowledges making the payment to Daniels for the first time, but denies being reimbursed and says it was not connected to the Trump campaign, both assertions that he will later recant.
"Neither the Trump Organization nor the Trump campaign was a party to the transaction with Ms. Clifford, and neither reimbursed me for the payment, either directly or indirectly," Cohen said in a statement. "The payment to Ms. Clifford was lawful, and was not a campaign contribution or a campaign expenditure by anyone."
March 6: Daniels, who is now represented by attorney Michael Avenatti, sues Trump and Essential Consultants LLC in California, an attempt to nullify the nondisclosure agreement, arguing that the deal is invalid since Trump never signed it. 
The suit alleges she began an "intimate relationship" with Trump in 2006 that ended the following year. She says she accepted $130,000 from Cohen in exchange for her silence about the alleged relationship. The agreement and an accompanying letter are included in the filing.
Daniels also alleges Cohen used "intimidation and coercive tactics" to get her to sign on to the statement denying the affair.
Stormy Daniels wants to "set the record straight" on alleged Trump affair, lawyer says
05:54
March 9: Avenatti releases emails showing Cohen used his Trump Organization email address to arrange a wire transfer connected to the agreement.
April 5: In his first public comment on the matter, Trump says he was unaware of the $130,000 payment.
April 9: FBI agents raid Cohen's home and office. The search is the first indication of a federal probe into Cohen's actions. Trump later calls the raid "a disgrace."
May 2: Rudy Giuliani, newly hired as Trump's personal attorney, makes the startling admission that the president reimbursed Cohen for the $130,000 payment.
May 3: Trump tweets that Cohen "received a monthly retainer, not from the campaign and having nothing to do with the campaign, from which he entered into, through reimbursement, a private contract between two parties, known as a non-disclosure agreement, or NDA."
He adds that "(m)oney from the campaign, or campaign contributions, played no roll (sic) in this transaction."
July 20: With pressure on Cohen mounting, CNN publishes a recording of a phone call between Cohen and Trump in which they discussed the payment to McDougal before it was made.
Secret audio tape between Trump and Michael Cohen released
03:56
Aug. 21: Cohen pleads guilty to eight federal charges of tax evasion, fraud and campaign finance violations related to the payments to Daniels and McDougal. He tells a federal court in Manhattan that Trump directed him to make the payments.
Aug. 28: CBS News reports that the Manhattan District Attorney's Office has opened an investigation and is considering pursuing criminal charges against the Trump Organization, one week after Cohen's guilty plea.
Dec. 12: Cohen is sentenced to three years in federal prison. After the U.S. Attorney's Office for the Southern District of New York agrees not to prosecute AMI, the company admits to burying McDougal's story to help Trump's campaign.
2019
May 6: Cohen reports to federal prison in upstate New York.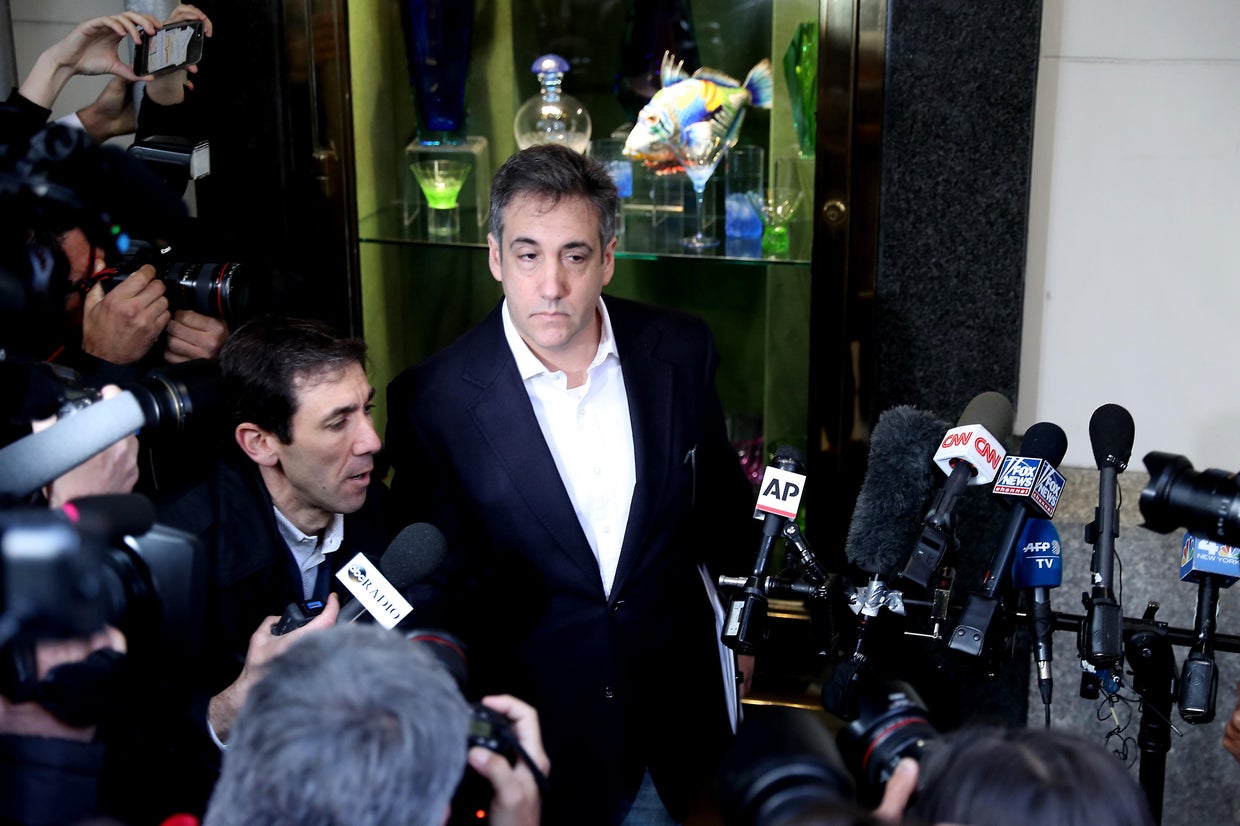 Michael Cohen addresses the press as he leaves his apartment to begin serving a 3-year sentence at a federal prison in New York on May 6, 2019.
Atilgan Ozdil/Anadolu Agency/Getty Images
July 18: Documents from the now-concluded federal probe into the payments suggest Trump was aware of efforts to buy the silence of both women in the days leading up to the election. 
The documents showed repeated communication between Cohen and Trump, as well as one phone call that included Daniels' lawyer and the AMI executives. 
"Based on the timing of these calls, and the content of the text messages and emails, I believe that at least some of these communications concerned the need to prevent Clifford from going public," one FBI agent wrote. 
August: The office of Manhattan District Attorney Cyrus Vance Jr. subpoenas the Trump Organization for records related to the payments. The New York Times reports that investigators are "examining whether any senior executives at the company filed false business records about the hush money, which would be a state crime."
Sept. 17: Vance's office issues a subpoena for Trump's tax returns dating back to 2011, an indication that its investigation is expanding beyond the "hush money" payments. Trump sues to block the subpoena two days later, with his attorneys arguing that "a sitting President of the United States is not 'subject to the criminal process' while he is in office."
Oct. 7: U.S. District Judge Victor Marrero turns down Trump's bid to keep his tax records out of the hands of Vance's investigators, determining the president is making a "categorical and limitless assertion of presidential immunity." Trump's attorneys immediately appeal the decision.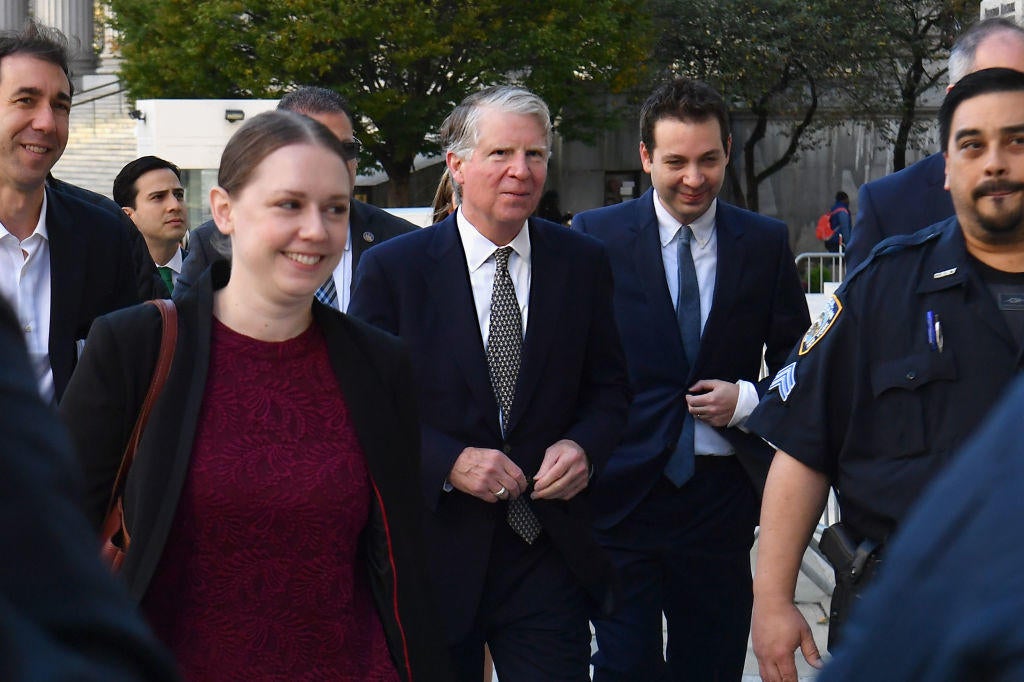 New York District Attorney Cyrus Vance Jr. arrives for a hearing at federal appeals court President Donald Trump's tax records on Oct. 23, 2019.
ANGELA WEISS/AFP via Getty Images
Nov. 4: The 2nd U.S. Circuit Court of Appeals rules that Trump's claims of immunity "do not bar the enforcement of a state grand jury subpoena directing a third party to produce non-privileged material, even when the subject matter under investigation pertains to the president." Trump appeals to the Supreme Court.
2020
May 12: The Supreme Court hears arguments in a pair of cases involving Trump's tax records. Conservative and liberal justices alike question the president's claim of "absolute immunity" from state investigations, seemingly skeptical of a blanket ruling shielding the president in non-federal cases. "You're asking for broader immunity than anyone else gets," Justice Sonia Sotomayor said. 
July 9: The Supreme Court sides with Vance in a 7-2 ruling, finding that Trump is not immune from the district attorney's subpoena.
"Two hundred years ago, a great jurist of our Court established that no citizen, not even the President, is categorically above the common duty to produce evidence when called upon in a criminal proceeding," Chief Justice John Roberts wrote for the majority. "We reaffirm that principle today and hold that the President is neither absolutely immune from state criminal subpoenas seeking his private papers nor entitled to a heightened standard of need."
2021
Feb. 3: Vance's office brings in Mark Pomerantz, a former federal prosecutor with deep experience in complex financial and organized crime cases, as a special assistant district attorney. Pomerantz is working solely on the Trump case.
Feb. 25: Vance's office obtains Trump's tax returns, three days after the Supreme Court rejected a last-ditch attempt by Trump to keep them under wraps. 
March 12: Vance announces he will not seek reelection that November, kicking off a high-stakes race for his replacement.
July 1: A Manhattan grand jury returns a 15-count indictment against two Trump Organization companies and Allen Weisselberg, its chief financial officer. Both plead not guilty. Prosecutors from the Manhattan District Attorney's Office detail the alleged crimes in court and a 25-page indictment filed in state court. 
The indictment alleges the company and Weisselberg orchestrated a scheme to funnel more than $1.7 million in untaxed "indirect employee compensation" to the longtime executive beginning in 2005. Prosecutors said the Trump Organization failed to properly report the payments to tax authorities.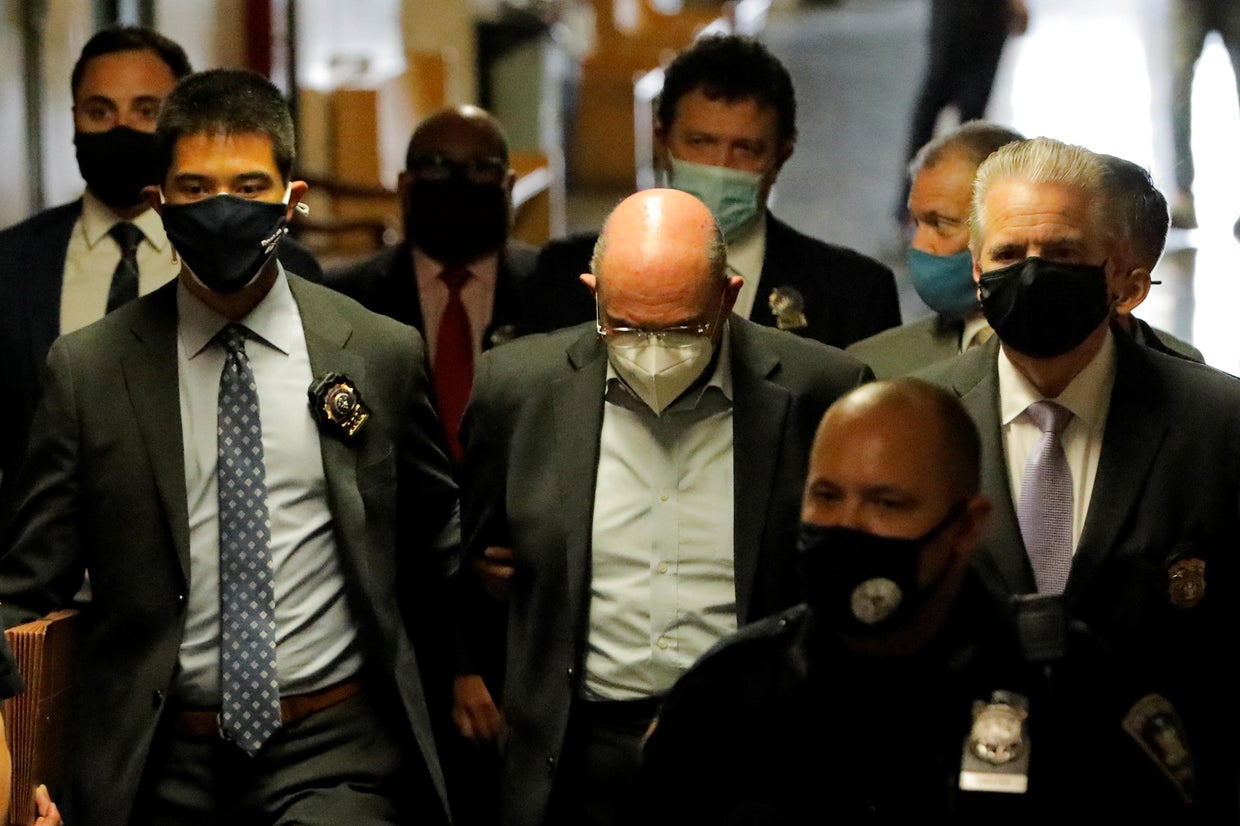 Trump Organization chief financial officer Allen Weisselberg is escorted as he attends his arraignment hearing in the New York State Supreme Court in New York City on July 1, 2021.
ANDREW KELLY / REUTERS
Nov. 2: Alvin Bragg is elected as the next Manhattan district attorney.
Nov. 22: Cohen is released from federal custody after serving most of the last 18 months of his sentence under house arrest.
2022
March 23: The New York Times reveals that Pomerantz, who stepped down the month before, wrote in his resignation letter to Bragg that he believes Trump is "guilty of numerous felony violations."
Pomerantz expressed frustration with the new district attorney's handling of the case, writing: "I believe that your decision not to prosecute Donald Trump now, and on the existing record, is misguided and completely contrary to the public interest. I therefore cannot continue in my current position."
Pomerantz wrote that "the team that has been investigating Mr. Trump harbors no doubt about whether he committed crimes — he did."
"I and others have advised you that we have evidence sufficient to establish Mr. Trump's guilt beyond a reasonable doubt, and we believe that the prosecution would prevail if charges were brought and the matter were tried to an impartial jury," he said.
Former New York prosecutor pushes for charges against Trump
03:14
April 7: Bragg reiterates that the criminal investigation into Trump and his company remains active. He says investigators and prosecutors are "exploring evidence not previously explored."
Aug. 17: Weisselberg, the Trump Organization CFO, pleads guilty. He admits to receiving more than $1.7 million in untaxed compensation and agrees to cooperate with prosecutors in the criminal case against two Trump Organization entities.
Nov. 17: At the Trump Organization's trial, Weisselberg testifies that Trump and two of his children allegedly participated in a scheme to defraud tax authorities.
Dec. 6: A New York jury finds the two Trump Organization companies guilty on all 17 charges of tax fraud and other crimes.
Defense attorneys said Trump, who was not charged in the case, was unaware of the schemes playing out beneath him, while prosecutors said he signed off on them. 
2023
Jan. 17: Cohen meets with investigators from the district attorney's office, a new sign that the years-old investigation into Trump may be picking up steam.
"They're calling me in for the 14th time, so we'll see what happens," Cohen says outside a government office building in downtown Manhattan, adding that he hasn't met with investigators since Bragg took office. "This is my first time meeting with Alvin Bragg."
Michael Cohen arriving at a New York City government building on Tuesday, Jan. 17, 2023, before a two-hour interview with prosecutors investigating former President Donald Trump.
CBS News
Jan. 30: The New York Times reports that Bragg has recently convened a grand jury to examine the evidence in the "hush money" probe. The report says Pecker, the AMI CEO, was spotted entering the building where the grand jury is meeting.
March 8: Kellyanne Conway, who was Trump's senior counselor in the White House, meets for at least the second time with Manhattan prosecutors investigating the Daniels payment.
Cohen wrote in his 2020 memoir, "Disloyal," that on Oct. 27, 2016, he unsuccessfully attempted to call Trump to confirm that he had made the payment to Daniels. Conway, he said, called back and "said she'd pass along the good news."
March 9: The district attorney's office invites Trump to testify before the grand jury investigating the payment to Daniels, a move that suggests Trump could face an indictment in the case, according to a source familiar with the matter. 
A Trump spokesperson says in a statement that the "Manhattan District Attorney's threat to indict President Trump is simply insane. For the past five years, the DA's office has been on a Witch Hunt, investigating every aspect of President Trump's life, and they've come up empty at every turn — and now this." 
The spokesperson characterized the possibility of Trump's indictment as "a new political attack" and "a clear exoneration of President Trump in all areas." 
March 13: Trump's lawyer says he will not be testifying before the grand jury. 
"He won't be participating in that proceeding — a proceeding that we and most election law experts believe is with absolutely no legal merit," said Joseph Tacopina, who represents Trump.
Cohen also testifies before the grand jury for the first time.
March 15: Cohen testifies again for three hours.
"We'll see what happens, what questions they ask, and then at the end the grand jurors have the opportunity to ask me questions and I'm looking forward to that," Cohen said.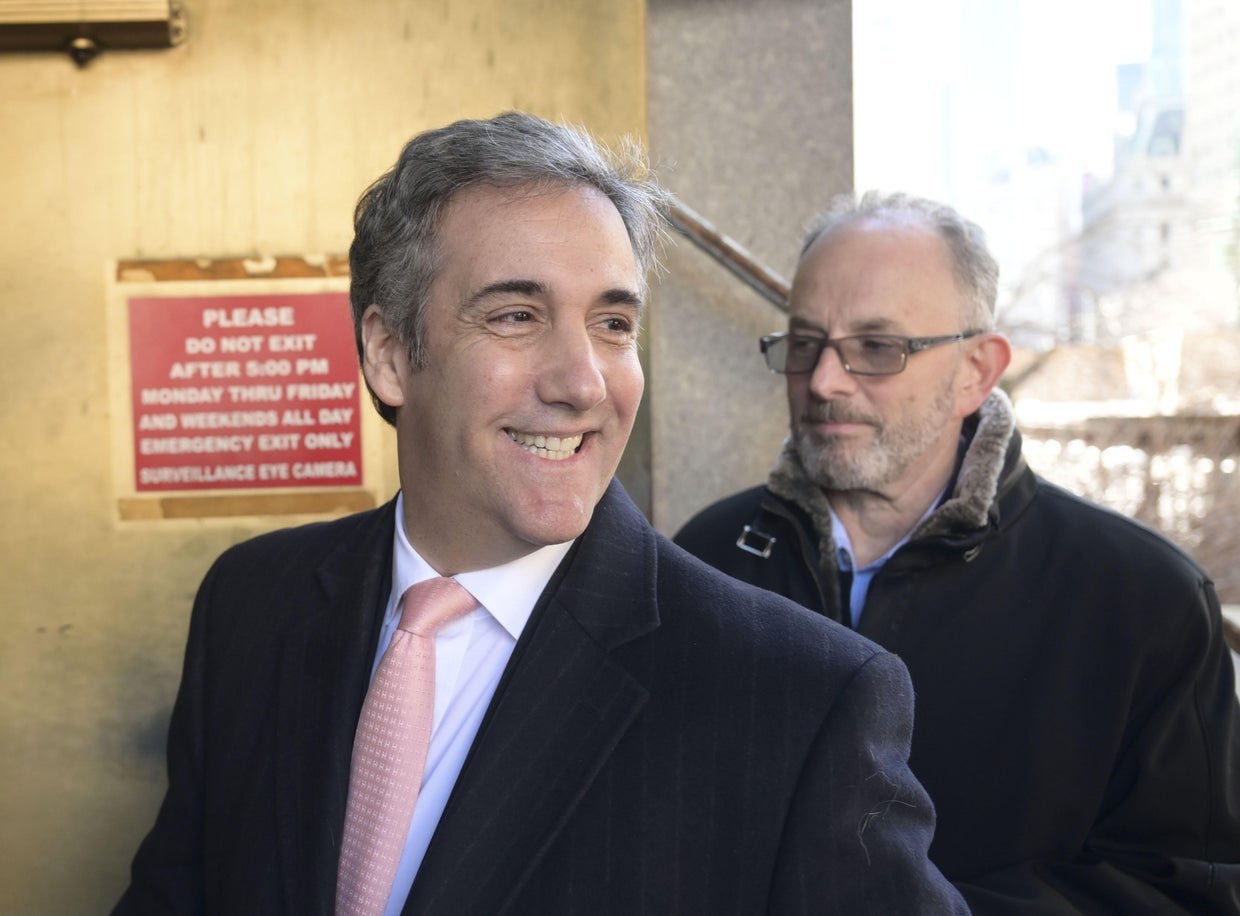 Michael Cohen walks out of a Manhattan courthouse after testifying before a grand jury on March 15, 2023.
Fatih Aktas/Anadolu Agency via Getty Images
Clark Brewster, an attorney for Daniels, also says his client met with investigators from the district attorney's office.
"Stormy responded to questions and has agreed to make herself available as a witness, or for further inquiry if needed," Brewster wrote on Twitter.  
Graham Kates, Melissa Quinn, Kathryn Watson and Pat Milton contributed reporting.
More