Severe weather, tornado damages Palm Beach Gardens
Severe weather, tornado damages Palm Beach Gardens
02:12
A burst of severe weather brought thunderstorms, golf-ball-sized hail and at least one confirmed tornado to parts of Florida on Saturday, officials and residents said. The twister touched down in the South Florida city of Palm Beach Gardens, about 75 miles north of Miami, in the late afternoon, overturning cars, flattening trees and downing power lines throughout the area.
Although fire officials said no injuries were reported in Palm Beach Gardens as a result of the tornado, they assisted with transport to hospitals in other areas.
The city wrote in a Facebook post that "multiple roadways were blocked by debris and trees" Saturday night, citing reports of "roof damage, minor structural damage to buildings, numerous downed trees and numerous vehicle damages." The city also shared images of the tornado's aftermath. One shows a pileup of cars in a parking lot while two others show large trees and a light post lying horizontally on the ground – in one instance scattered across several lanes of a major highway.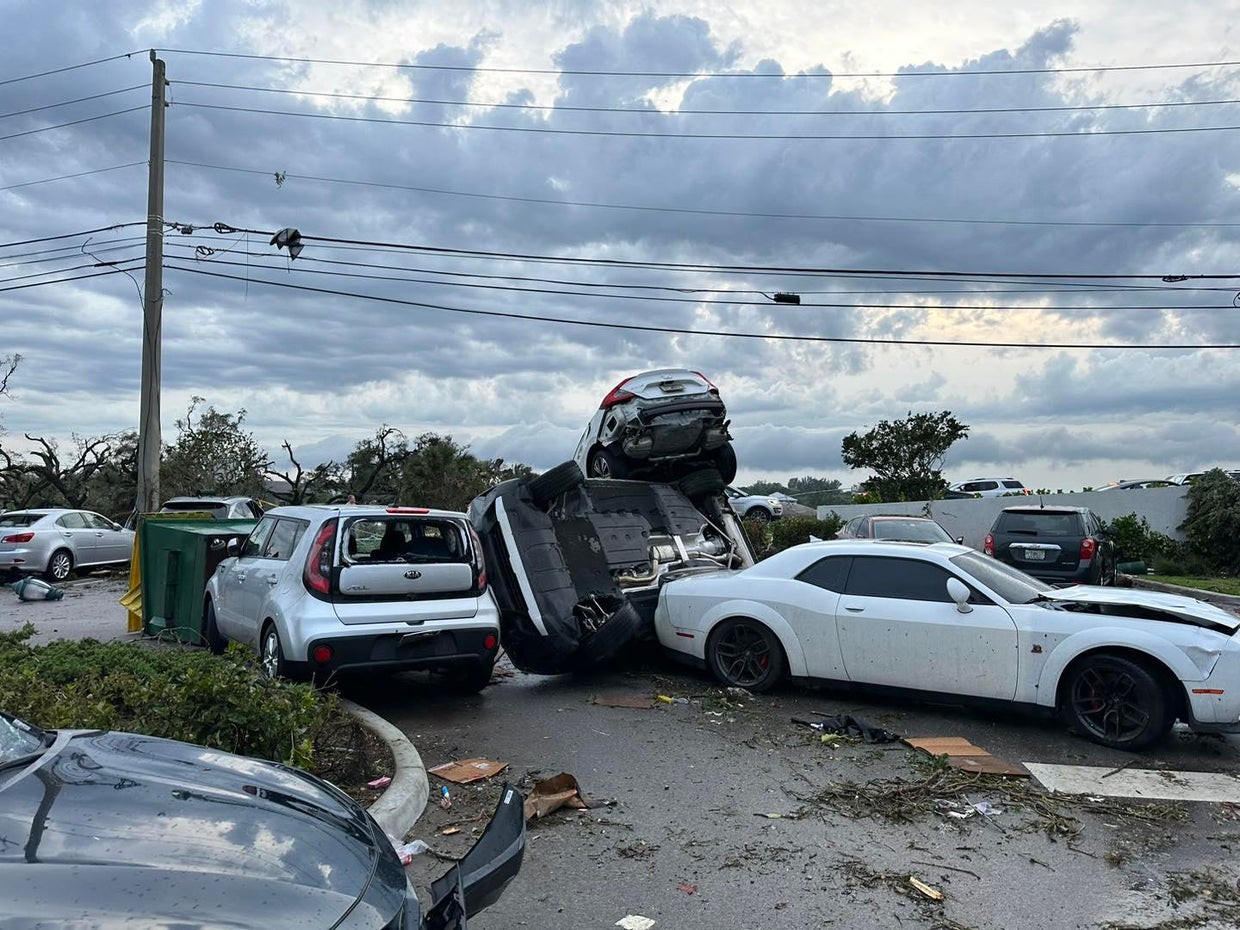 A tornado touched down near Palm Beach Gardens, Florida on Saturday afternoon, overturning cars and downing trees as well as power lines.
Palm Beach Gardens City Hall/Facebook
The National Weather Service in Miami confirmed that a tornado that tore through Palm Beach Gardens and surrounding communities on Saturday was a tornado traveling at "at least" 100 mph, and said they were in the process of surveying damage along its path in the first of several. Updates on the storm were shared on social media Saturday evening.
The agency's Storm Prediction Center issued a tornado watch for a wide swath of central Florida on Saturday, meaning weather conditions were favorable for severe thunderstorms and tornadoes, and was in effect until 10 p.m.
4/29 7:45pm – A tornado occurred in the vicinity of Palm Beach Gardens this afternoon.
We are currently in the process of surveying the damage along the path of the tornado and will release more information when our survey is complete.
Any additional reports are welcome! https://t.co/HfZa2dsNR6
— NWS Miami (@NWSMiami) April 29, 2023
Multiple roads were closed due to blocked lanes. Less than an hour before the tornado hit Palm Beach Gardens, the police department issued an alert advising people to avoid an area east of the Intercoastal Waterway, citing storm damage.
"At this time, roads are blocked at PGA Blvd and US 1. Please select an alternate route," the department wrote on Twitter.
At the same time, the Village of North Palm Peach said in a separate tweet that local police, firefighters and public works crews were "checking the area near the community center on Sampad Farms Road after the tornado touched down around 5:45 p.m." The village did not record any injuries with the twister but asked the public to "limit outdoor activities and be alert for power lines or other hazards."
Tornado warnings were active for several Florida counties on Sunday.
Trending news
Thanks for reading CBS News.
Create your free account or login
For more features.