According to the FBI, Americans lost more than $10 billion to online scams and digital fraud last year. Cons target every age demographic. People in their 30s filed the most complaints, but seniors were the most susceptible and lost $3 billion last year.
This week on 60 Minutes, correspondent Sharyn Alfonsi interviewed some of the seniors targeted by a particular bride called the grandparent scam. This is where a fraudster pretends to be a grandchild in trouble, afraid to tell their parents, but in need of money.
"They said my grandson had an accident…and they need $7,600 to get him out of jail," Judy Attig told 60 Minutes.
Attig and her husband Ron gave the money to a courier involved in the scam. They say con artists are very convincing.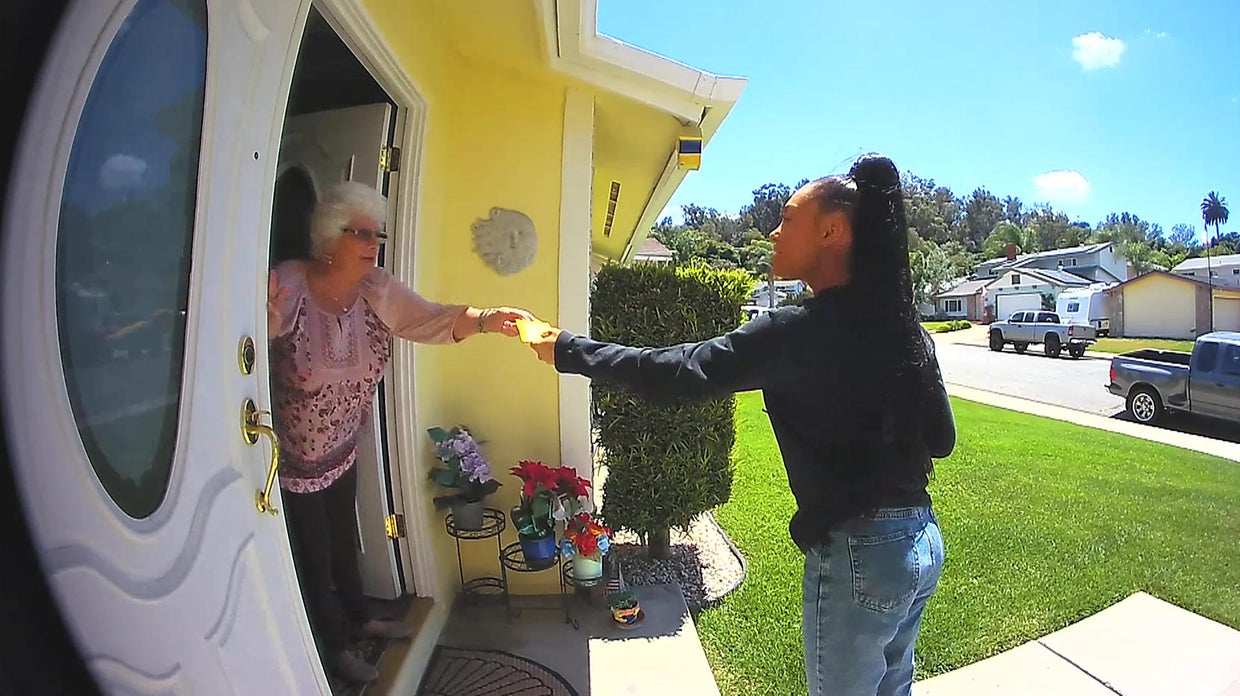 Courier recovering money from Judy Attig.
Ron and Judy Attig
When the fraudsters called back looking for more money, Attigs was told by a bank teller that they were probably being scammed. The couple recorded a follow-up phone call in which the scammers asked for an additional $17,000.
Atig has also provided law enforcement agencies with courier footage from their doorbell cameras. Authorities used it to identify the female messenger and bring down a major crime ring that stole money from at least 70 seniors.
"The search warrants were then able to pick up that trail from his cell phone downloads, connecting him to a number of other criminals," San Diego County District Attorney Summer Stephan said. "From this, the dots were connected to surrounding crimes… in multiple regions, truly bringing down an organized syndicate that was operating across the United States."
Courier was convicted for his role in the scam and remains in prison. The masterminds of the operation fled the country before being arrested. As for the Attigs, they could not recover the thousands stolen from them.
FBI statement:
The FBI is proud of the work done through the Elder Justice Task Force and the brave victims who are willing to speak up. Help protect our seniors by reporting incidents of elder fraud at ic3.gov.
You can watch Sharyn Alfonsi's full report, "Targeting the Elderly," below.
Cyber ​​scammers target parents, grandparents for digital theft 60 minutes
13:30
The video at the top was produced by Keith Zubrow and edited by Sarah Shafer Prediger.
Trending news