Criticism of Israel's new far-right, ultra-religious coalition government continues amid backlash over its judicial reform plans and violence between Israeli security forces and Palestinians. Below is the latest on what's happening, and why.
Thousands of Israeli workers Go on strike on Monday It follows a weekend of mass protests over Israel's far-right government's plans to overhaul the country's judiciary. Critics say the changes, pushed by Prime Minister Benjamin Netanyahu's coalition government, would allow the executive branch to overturn decisions by Israel's Supreme Court and undermine the country's democratic checks and balances.
Tens of thousands of Israelis have taken to the streets over the past two months to protest against the changes sought by Netanyahu's government, and protests escalated dramatically over the weekend when the prime minister fired his defense chief after calling for a halt to the planned work. Judicial Reforms.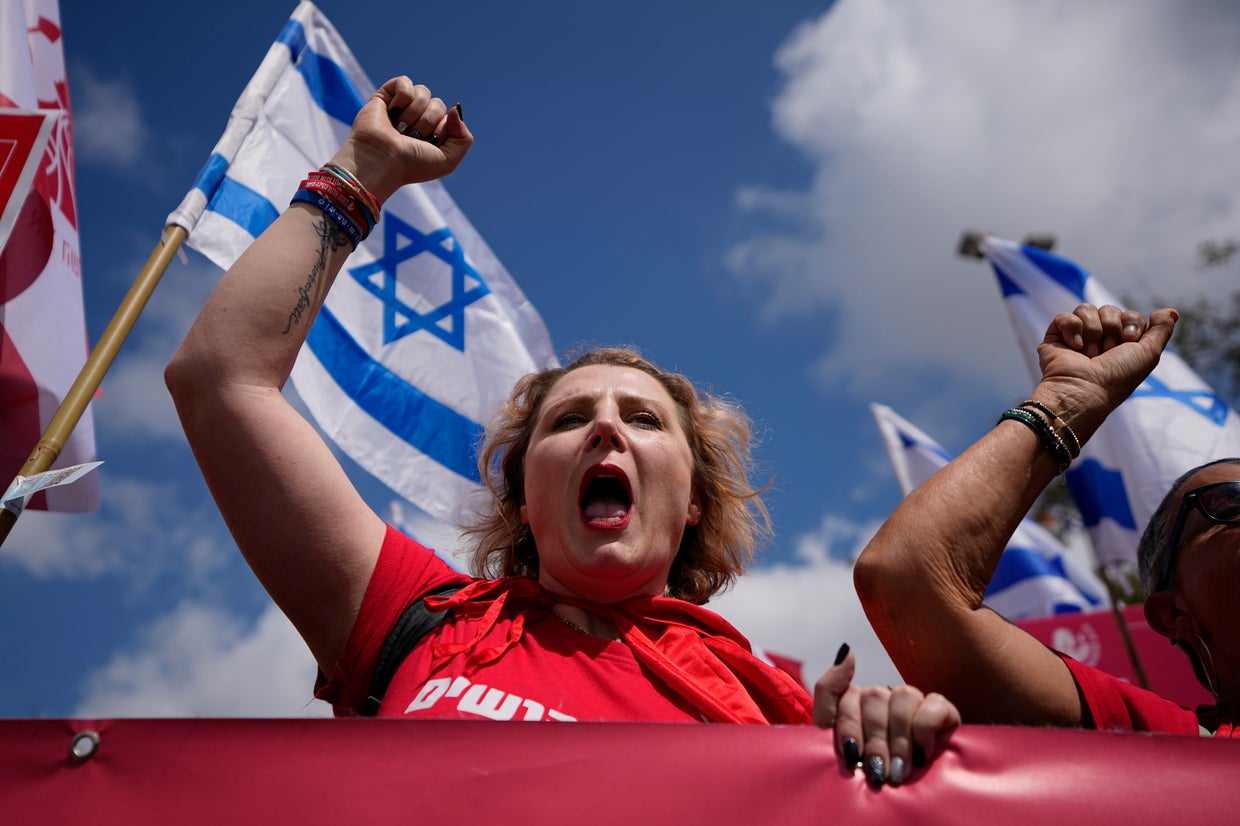 Israelis protest against Prime Minister Benjamin Netanyahu's judicial reform plan outside parliament on March 27, 2023 in Jerusalem.
Ariel Shalit/AP
The strike action, called by Israel's largest umbrella labor union group, saw workers walk off the job in sectors from transport to diplomacy, piling pressure on Netanyahu amid reports he was poised to announce a pause in reform plans.
Israeli reserve air force pilots joined protests against the proposed reforms earlier this month. In a letter sent by dozens of reserve pilots to their chiefs of staff, which was published by Israeli media on Sunday, the reservists said they would not participate in upcoming scheduled training. Military reservists are often asked to participate in a limited period of training each year in Israel, where military service is mandatory.
"We will continue to serve the Jewish and democratic state of Israel always and across borders… (but) we have decided to take a one-day break to talk about the troubling process the country is going through," they said. their letter
"Explosive Potential"
Despite meetings between Israeli and Palestinian officials in Jordan to try to maintain an increasingly fragile peace, violence and anger may be on the verge of erupting. Tensions often rise in the heart of the Middle East as Jews observe Passover and Muslims observe the holy month of Ramadan.
Since the beginning of the year, a series of Israeli military operations in the West Bank have killed and wounded many Palestinians. Meanwhile, seven Israelis were killed in an attack outside a synagogue in East Jerusalem, the deadliest of its kind in years.
After two young Israelis from a nearby settlement in the West Bank city of Hawara were killed, Israeli settlers rampaged through the area, setting fire to homes and cars in what was described as a "pogrom".
Recently Netanyahu His sixth term begins As Prime Minister of Israel — the veteran politician's return to power was made possible by forming alliances with members of extremist, far-right and ultra-religious political parties that have long been on the fringes of Israeli politics.
After returning to office, Netanyahu appointed some of these controversial figures to leadership roles within his government, including Finance Minister Bezalel Smotrich, a self-confessed "proud homophobe" who was once arrested on suspicion of attempting a terrorist attack.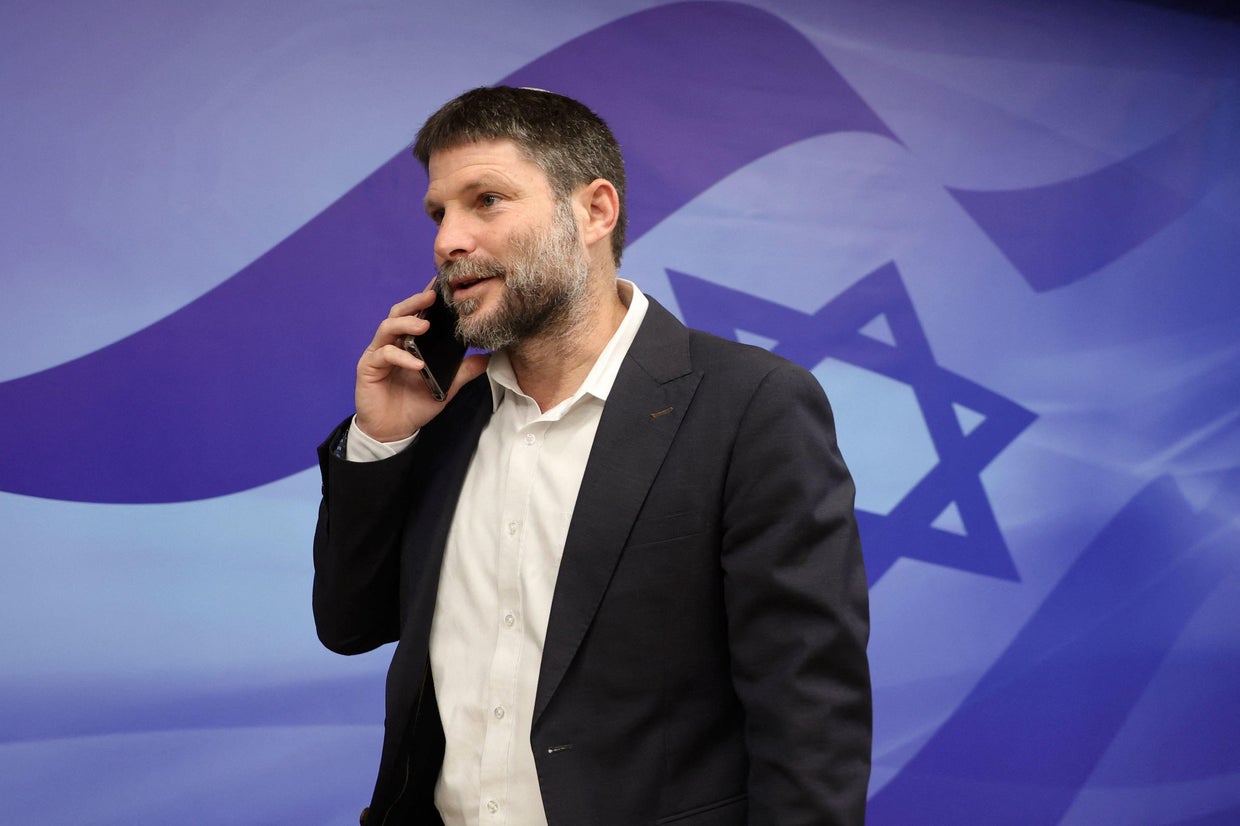 Israel's Finance Minister and Religious Zionist Party leader Bezalel Smotrich arrives to attend the weekly cabinet meeting at the Prime Minister's Office in Jerusalem on March 5, 2023.
Getty Images
After the riots in Hawara, Smotrich called on the Israeli government to "wipe out" the Palestinian village. His comments drew a sharp rebuke from US State Department spokesman Ned Price, who called them "irresponsible, despicable and despicable".
Smotrich later backtracked on his comments, and Netanyahu said over the weekend that he "wanted to thank Minister Bezalel Smutrich (sic) that his choice of words regarding the preemptive strike in Harawa after the killing of the Yaniv brothers was inappropriate, and that he clarified that he is strongly opposed to intentionally harming innocent civilians." ."
Another controversial minister in the government is Itamar Ben-Gavir, an extremist ultra-nationalist who has in the past chanted "death to the Arabs" and been convicted of inciting racism and supporting a terrorist organization. As the new Minister of National Security, Ben-Gavir is now in charge of the Israel Police.
Thousands of Israelis protested against the new government's far-right policies
02:42
Munir Marjih, a lawyer for Palestinians in East Jerusalem, told CBS News that Palestinians living in the occupied territories expected more violence at the hands of the Israeli police and military and further reductions in rights under the new extremist coalition.
"Palestinians are dealing with a system that is built on Jewish supremacy, supremacy and superiority," Marjeih said. "Living here, it's a daily struggle to stay here."
In February, Israel's parliament passed a law that allows the government to strip Palestinians of their Israeli citizenship or residency rights and deport them to the West Bank or Gaza if they are convicted of nationalist attacks and accept money from the Palestinian Authority. . Critics have called the law racist and say it violates international law.
It was one of Ben-Giv's first performances in his new role Visit highly sensitive sites in Jerusalem What Jews call the Temple Mount and Muslims call the Haram al-Sharif, the Al-Aqsa Mosque compound. His visit was seen by many inside and outside of Israel as a challenge to the status quo system under which the site had long operated to maintain peace. philosophy Draw a warning from the US State Department "Against any unilateral action that undermines the historical status quo."
Israel's new far-right National Security Minister Itamar Ben-Gavir, foreground, is seen on Jan. 3, 2023, visiting Jerusalem's holiest site, known as the Al-Aqsa Mosque by Muslims and the Temple Mount by Jews.
Reuters
"What Ben-Gavir did was very risky in many ways," Marjeih said. "We are talking about one of the most unstable geographical locations in Jerusalem… There is a very clear system that governs that place. There is an explosive potential to break that system."
Ben-Gavir has already banned the flying of the Palestinian flag in public spaces. He wants to amend gun laws to make it easier for Israelis to acquire firearms, and he has promised Settlement construction accelerated Occupied West Bank. New settlement construction undermines any eventual two-state solution that would create an independent Palestinian state alongside Israel. He also promised to relax rules of engagement for police and soldiers and promised harsher treatment of Palestinian prisoners.
"I think there's good reason to feel constant, to feel constant fear after the appointment of that Israeli politician," Marzeih said.
Boaz Bismuth, a member of Israel's Knesset, or parliament, of Netanyahu's Likud party told CBS News that Ben-Gavir "has made mistakes in the past … but he told me, 'I made a mistake. I changed,' and I believe him."
Bismuth said Ben-Gavir "hates terrorists … but does not hate or hate Arabs."
Boaz Bismuth, a member of Israel's Knesset, or parliament, of Prime Minister Benjamin Netanyahu's Likud party, speaks to CBS News in Jerusalem in January 2023.
CBS News
US Secretary of State Anthony Blinken visited the region in January and met with Israeli and Palestinian leaders. He spoke of America's continued support for the two-state solution, but said that ending the conflict "fundamentally depends on them. They have to work together to find a way forward that both mitigates the current cycle of violence and, I hope, also leads to . Positive steps to regain some confidence."
Asked if he supports a two-state solution, Bismuth said, "No."
"My message to America is, thank God … that we are friends," he said. "We share the same values. Yet we can disagree."
"a dramatic change"
Some Americans who have made their lives in Israel express deep concern about the new government and the direction the country is headed. Thousands of Israelis Protesters have gathered on the streets of Tel Aviv for weeks to protest proposed judicial reforms, as well as proposed changes to anti-discrimination laws that could curtail the rights of women, LGBTQ+ people, liberal Jews and other minority groups, in some cases on religious grounds.
"Americans need to know that this is not just a continuation of other right-wing governments. This is a dramatic change," Moshe Chertoff, who grew up in California and moved to Israel in the 1970s to live on a socialist kibbutz, told CBS News. "I don't understand what kind of extreme Judaism this is. It's certainly not the Judaism that I knew or I would say that 75% of American Jews know."
Moshe Chertoff, a California resident who moved to Israel in the 1970s to live in a socialist kibbutz, is seen at home in late January 2023.
CBS News
Some prominent Jewish Americans in the United States are also concerned about the changes that Israel's new hardline government may initiate. Last month, nearly 170 prominent American Jewish leaders published an open letter calling for "a critical and necessary debate about Israel's policies."
"Our criticism stems from love for Israel and steadfast support for its security and welfare," the letter said. "Some will try to delegitimize them by labeling them anti-Semitic. We want to be clear that, whether one agrees with a particular criticism or not, such criticisms of Israeli policy are not anti-Semitic. Indeed, they reflect a real concern that the new The government's direction reflects the anti-democratic tendencies we see emerging elsewhere — in other countries and here in the United States, rather than reinforcing the shared democratic values ​​that underpin US-Israel relations.
Abraham Foxman, a Holocaust survivor and former leader of the Anti-Defamation League, told CBS News that if the new Israeli government undermines civil rights or democracy in Israel, it could leave many American Jews with some serious questions.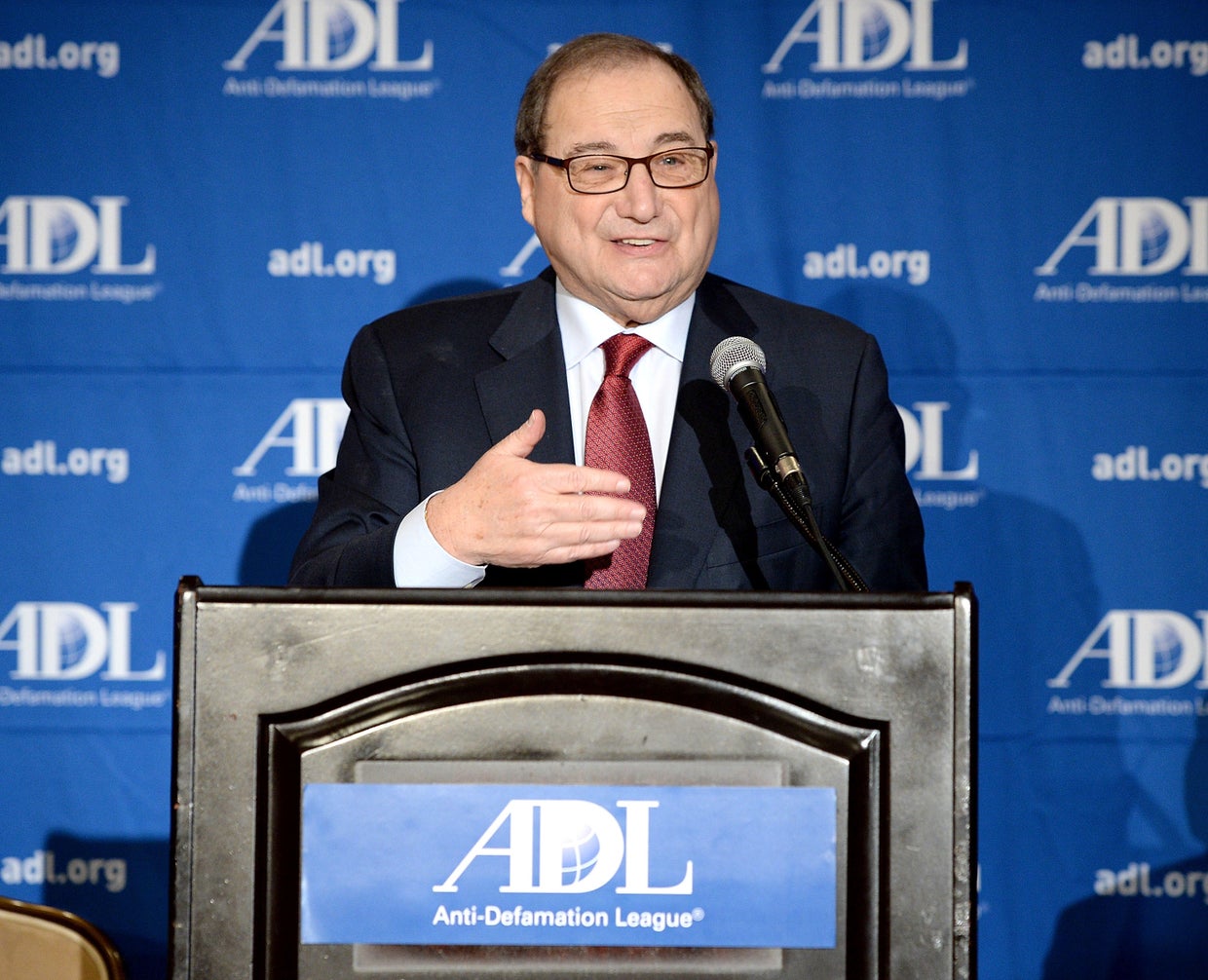 Abraham Foxman at the 2014 Annual Meeting of the Anti-Defamation League in Los Angeles.
Michael Kovac/WireImage/Getty
"The increase in violence makes it all the more urgent for the Netanyahu government to compromise some proposed legislation in order to maintain the support of allied democracies and the diaspora Jewish community," Foxman said. "The Jewish community, especially in the United States, is a liberal community. Judaism has liberal values. If the values ​​of the State of Israel change the relationship with the LGBT community, the non-Orthodox, the Arabs, etc., it will affect the relationship. … I am this I want the government to know that if it interferes with democracy, if it destroys the fundamental relationship between Israel and the Jewish people, there will be consequences. The consequences will be: It will be harder to defend Israel."
Opposition Israeli Knesset member and Reform Rabbi Gilad Kariv told CBS News that only half of Israelis voted for the new government, and most are not ultra-religious.
"Our responsibility is not to give up. Our responsibility is to remember that many Western democracies have faced major challenges in the past few years and today," Khariv said. "We are part of a global wave of ultra-nationalism and the rise of the far-right. You see it in Europe. You see it in America. And we have a responsibility to remember that there are millions of Israelis who are fully committed. to Israel's core democratic and liberal values."
Trending news
Haley Ott