Washington — A high-stakes court fight between Dominion Voting Systems and Fox News is set to kick off in Delaware superior court on Tuesday, as the voting technology company presses its claim before a jury that Fox knowingly aired false information about its voting machines and software in the wake of the 2020 presidential election.
Jury selection started Thursday and was set to resume before opening statements Monday, but the start of the trial was delayed until Tuesday morning, the judge presiding over the case, Delaware Superior Court Judge Eric Davis, said in a statement Sunday. The trial is predicted to last up to six weeks, during which Dominion has the burden of proving to the jury that Fox acted with actual malice in broadcasting the unfounded allegations about Dominion. 
To show actual malice, the legal standard established by the Supreme Court for defamation cases, a public figure — Dominion in this case — must prove the publisher knew the offending statements were false or acted with reckless disregard for the truth.
If the jury finds Fox News acted with actual malice, it will also determine whether Dominion is entitled to damages and if so, how much should be awarded.
The network's top stars and top executives from Fox Corporation, Fox News' parent company, are expected to feature prominently and could testify in-person during the trial.
Here are the key figures to know.
Fox Corporation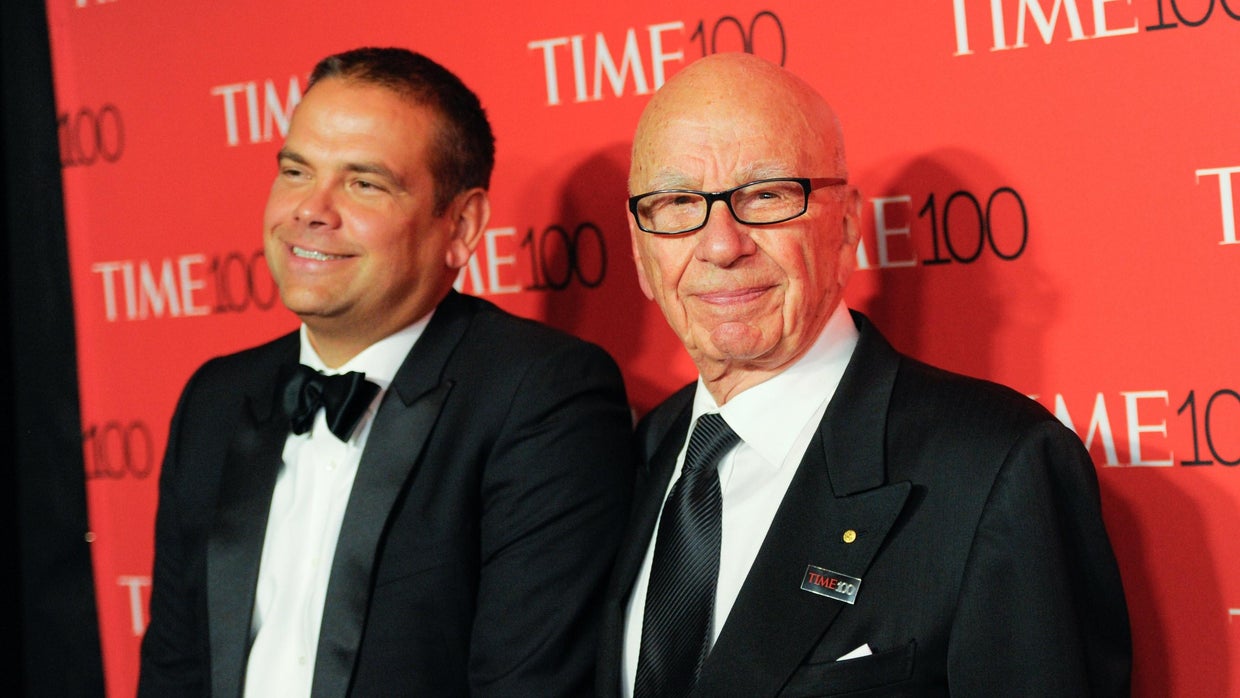 FILE — Lachlan Murdoch, left, and Rupert Murdoch attend the TIME 100 Gala, celebrating the 100 most influential people in the world, at the Frederick P. Rose Hall, Time Warner Center on Tuesday, April 21, 2015, in New York. 
(Photo by Evan Agostini/Invision/AP)
Rupert and Lachlan Murdoch, co-chairman and co-chairman and CEO, respectively 
Dominion alleges that Fox Corporation's top officers, including Murdoch, knew that the claims about Dominion were false, and that the evidence demonstrates Rupert and Lachlan Murdoch had editorial responsibility. 
In their complaint, the company says that the Murdoch family "plays a central and public role in the managing and oversight of Fox News."
file: Fox Corporation chief legal and policy officer Viet Dinh.
Fox handout photo
Viet Dinh, chief legal officer and policy officer  
Dominion claims that like the Murdochs, Viet Dinh knew the accusations about Dominion were false. He said in deposition testimony that he "sometimes" consults with shows before a particular guest appears because of legal concerns.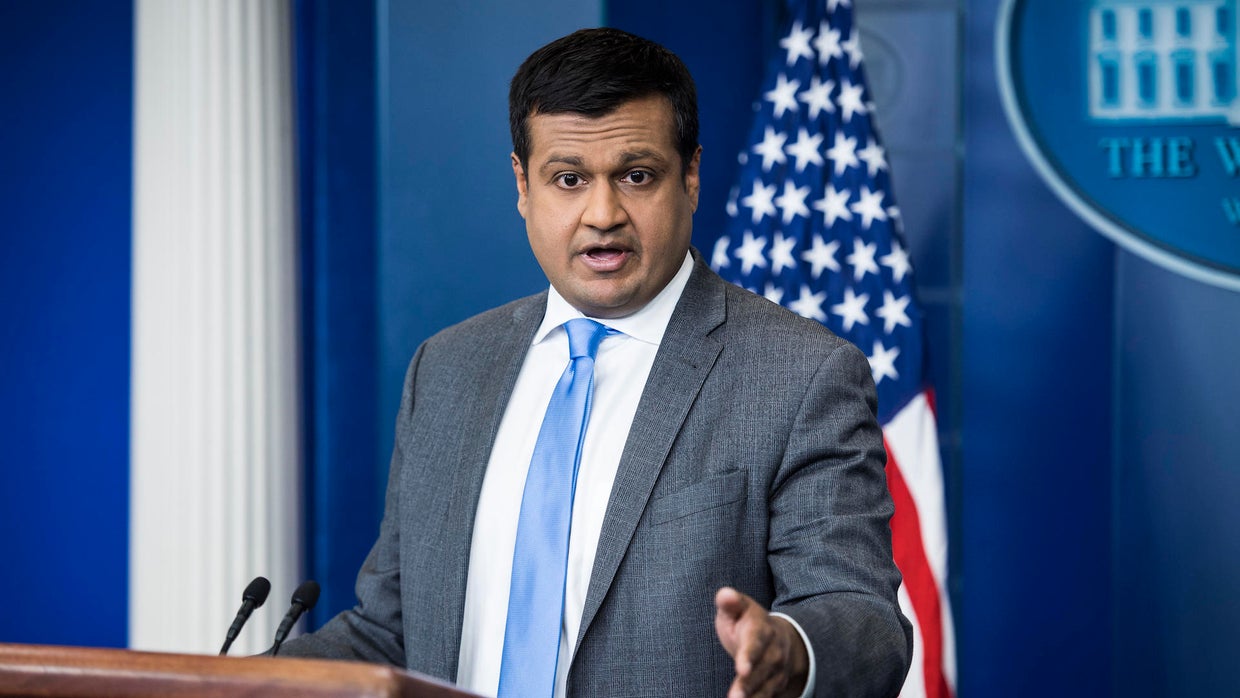 File: White House deputy press secretary Raj Shah takes questions from reporters during a press briefing at the White House on Monday, March 26, 2018 in Washington, DC.
Jabin Botsford/The Washington Post via Getty Images
Raj Shah, senior vice president
According to messages made public as part of the discovery process, Shah repeatedly indicated he knew the claims about Dominion were outlandish. Shah also led a "brand team" and notified senior leaders from Fox News and Fox Corporation that then-host Neil Cavuto's pushback to the White House's voter fraud claims posed a "brand threat."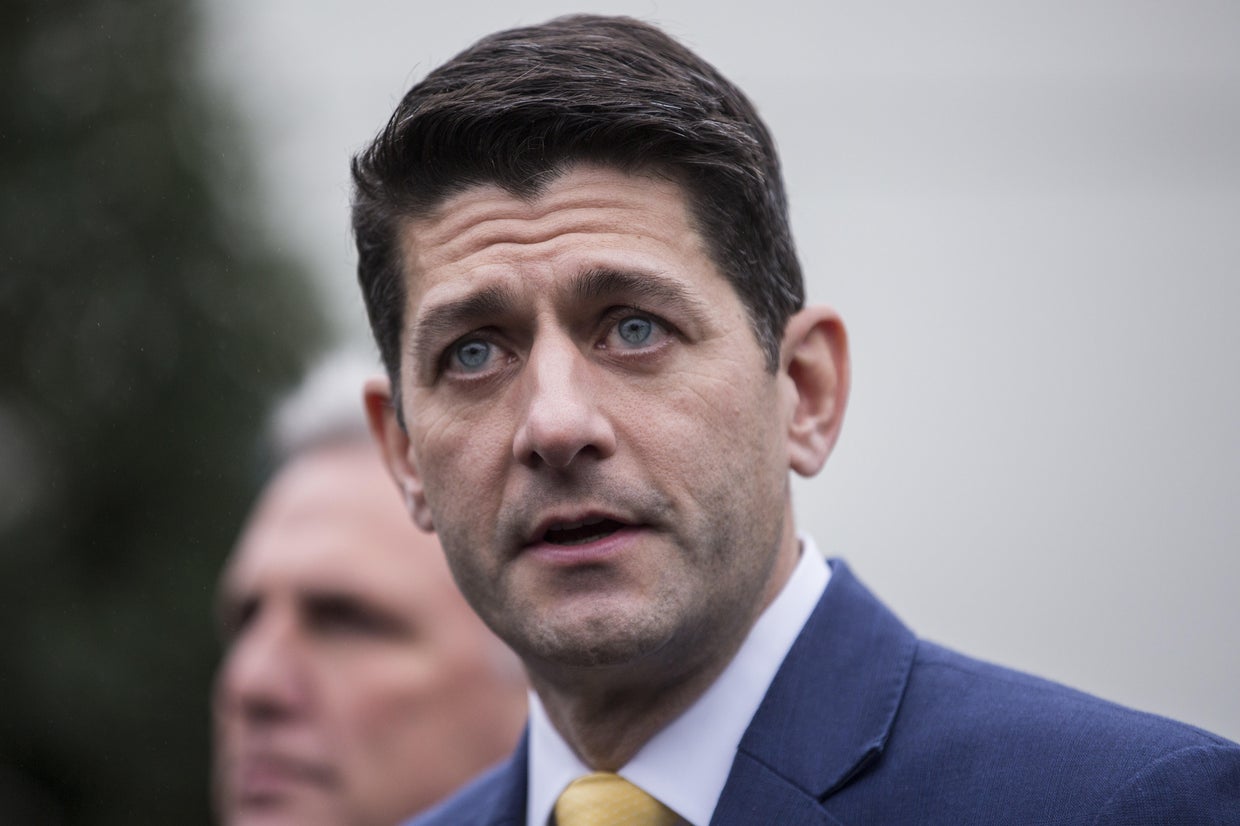 FILE: House Speaker Paul Ryan, a Republican from Wisconsin, speaks to members of the media following a meeting with U.S. President Donald Trump at the White House in Washington, D.C., U.S., on Thursday, Dec. 20, 2018.
.Zach Gibson/Bloomberg via Getty Images
Paul Ryan, former House speaker and Fox Corporation board member
Ryan joined Fox Corporation's board in 2019 and he sent a message to Rupert and Lachlan Murdoch on Dec. 6, 2020, urging "solid pushback" to Trump's calls for an alternate slate of presidential electors, according to documents made public as part of the case. 
"I think we are entering a truly bizarre phase of this where he has actually convinced himself of this farce and will do more bizarre things to delegitimize the election," Ryan told the Murdochs of Trump. "I see this as a key inflection point for Fox, where the right thing and the smart business thing do line up nicely."
Fox News Network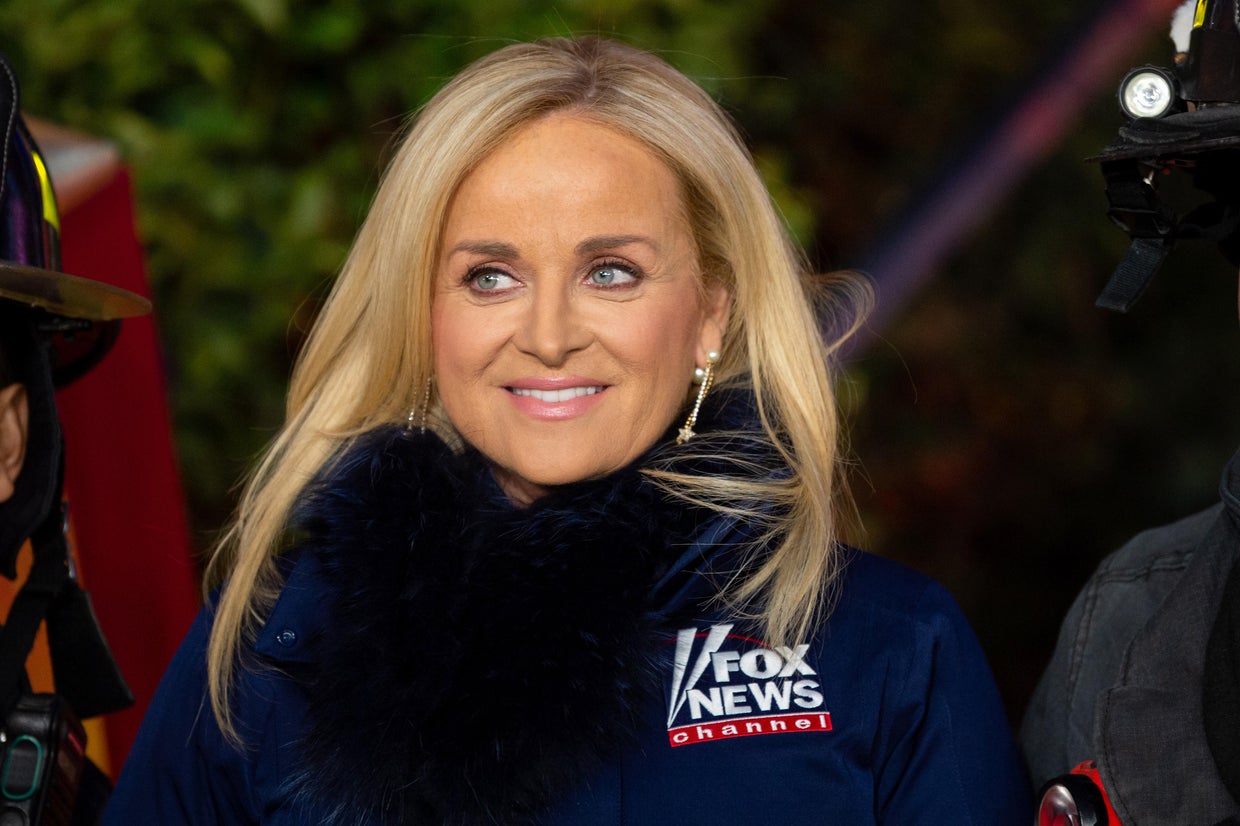 File: Fox News CEO, Suzanne Scott, attends the new All-American Christmas Tree lighting outside News Corporation at Fox Square on December 9, 2021 in New York City. 
Alexi Rosenfeld / Getty Images
Suzanne Scott, CEO of Fox News
Dominion alleged in its lawsuit that Scott and executives were responsible for airing broadcasts that included the 20 statements the company alleges were defamatory. In court filings, Dominion said Scott elevated concerns about the audience's backlash to its Arizona call for Joe Biden, and told Lachlan Murdoch in a text that the Arizona call "was damaging but we will highlight our stars and plant flags letting the viewers know we hear them and respect them."
Jay Wallace, president and executive editor of Fox News Media
Wallace is among the executives who Dominion says was responsible for airing the challenged broadcasts. He spoke with Dominion's representative on Nov. 17, 2020, and was told of the facts that refuted Fox's claims, according to the company.
David Clark, senior vice president for weekend news and programming
Messages made public show that Clark received Dominion's "Setting the Record Straight" emails and told a colleague on Nov. 14 that "I have it tattooed on my body at this point." He was among the executives who participated in the editorial process and said he oversaw the bulk of programming on the weekends. 
Meade Cooper, vice president of prime-time programming
Cooper oversees primetime show content, including Hannity's, Carlson's and Pirro's shows.
Ron Mitchell, senior vice president of prime time programming and analytics
Mitchell advised Carlson's, Hannity's and Laura Ingraham's primetime shows and said during deposition testimony that some of the claims about Dominion "didn't sound credible to me."
Lauren Petterson, president of Fox Business
Dominion alleges in court papers that Petterson "had decision-making authority" over what content could appear on Fox Business's air. 
Tom Lowell, executive vice president and managing editor of news
Lowell testified during a deposition that Fox does not "have evidence" to support the baseless allegations about Dominion.
Gary Schreier, senior vice president of programming for Fox Business Network
Schreier was Petterson's second-in-command and oversaw Dobbs' show. In a Dec. 13, 2020, email, he warned Dobbs' producer not to book Sidney Powell and on Jan. 19, 2021, said "We cannot go near dominion. Not the same area code."
Irena Briganti, senior vice president for corporate communications
Briganti wrote the evening that Mr. Biden was declared the winner of the election that "our viewers left this week after AZ," and according to Dominion's filings, said that Fox "Gave Powell & Giuliani platform with reach—all true they said crazy things."
Bill Sammon, former senior vice president and managing editor of Fox's Washington Bureau
Sammon received pushback from Trump's team, including then-White House chief of staff Mark Meadows, after the network called Arizona for Mr. Biden. He exchanged text messages with Chris Stirewalt on Dec. 2, 2020, expressing concern about the claims that Fox was broadcasting.
"More than 20 minutes into our flagship evening news broadcast and we're still focused solely on supposed election fraud — a month after the election," he wrote. "It's remarkable how weak ratings make good journalists do bad things."
He was let go by Fox News after the election.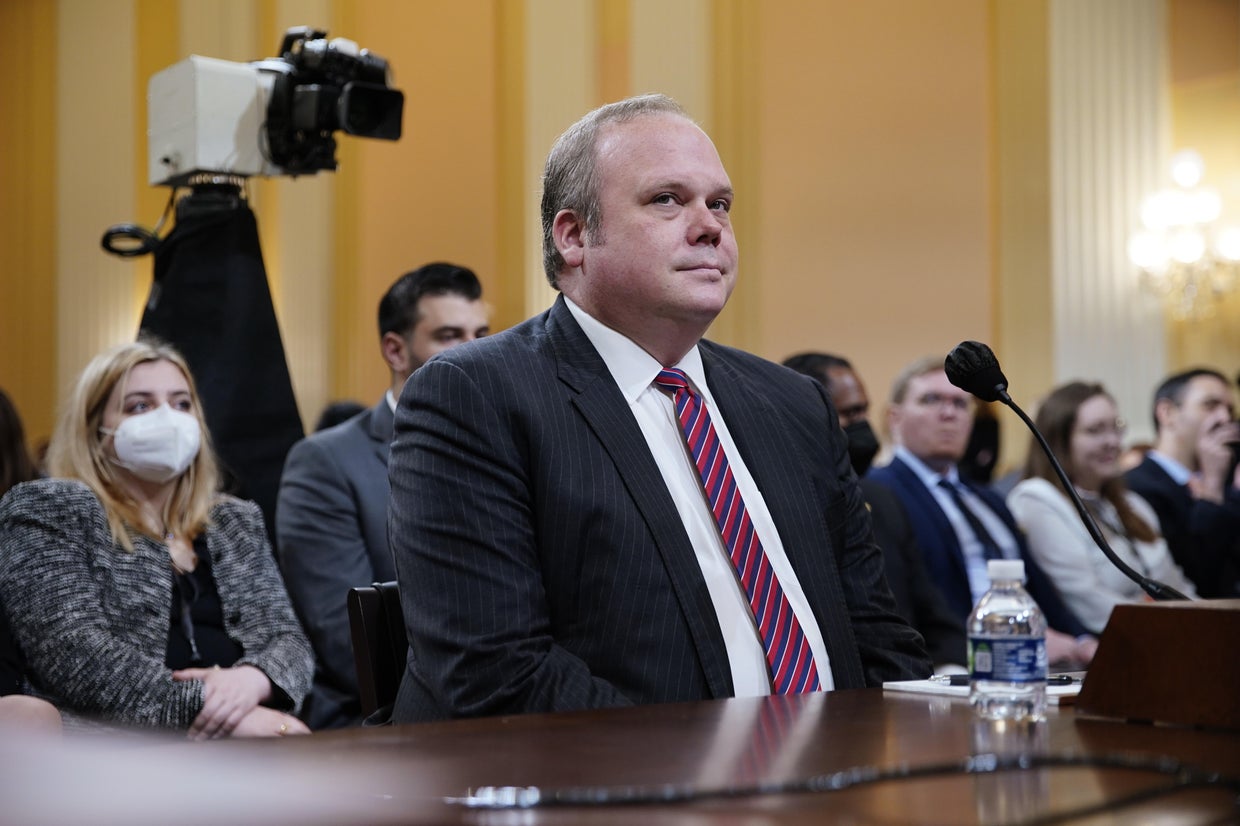 Chris Stirewalt, former Fox News political editor, during a hearing of the Select Committee to Investigate the January 6th Attack on the U.S. Capitol, on Monday, June 13, 2022. 
Al Drago/Bloomberg via Getty Images
Chris Stirewalt, former politics editor
Stirewalt was the politics editor behind Fox News' Arizona call and defended the decision to project Mr. Biden would win the state. In a deposition, he said that "no reasonable person" would have thought allegations Dominion rigged the election were true.
In the Dec. 2, 2020, exchange with Sammon, Stirewalt wrote, "What I see us doing is losing the silent majority of viewers as we chase the nuts off a cliff." Like Sammon, he, too, is no longer with the network.
The Hosts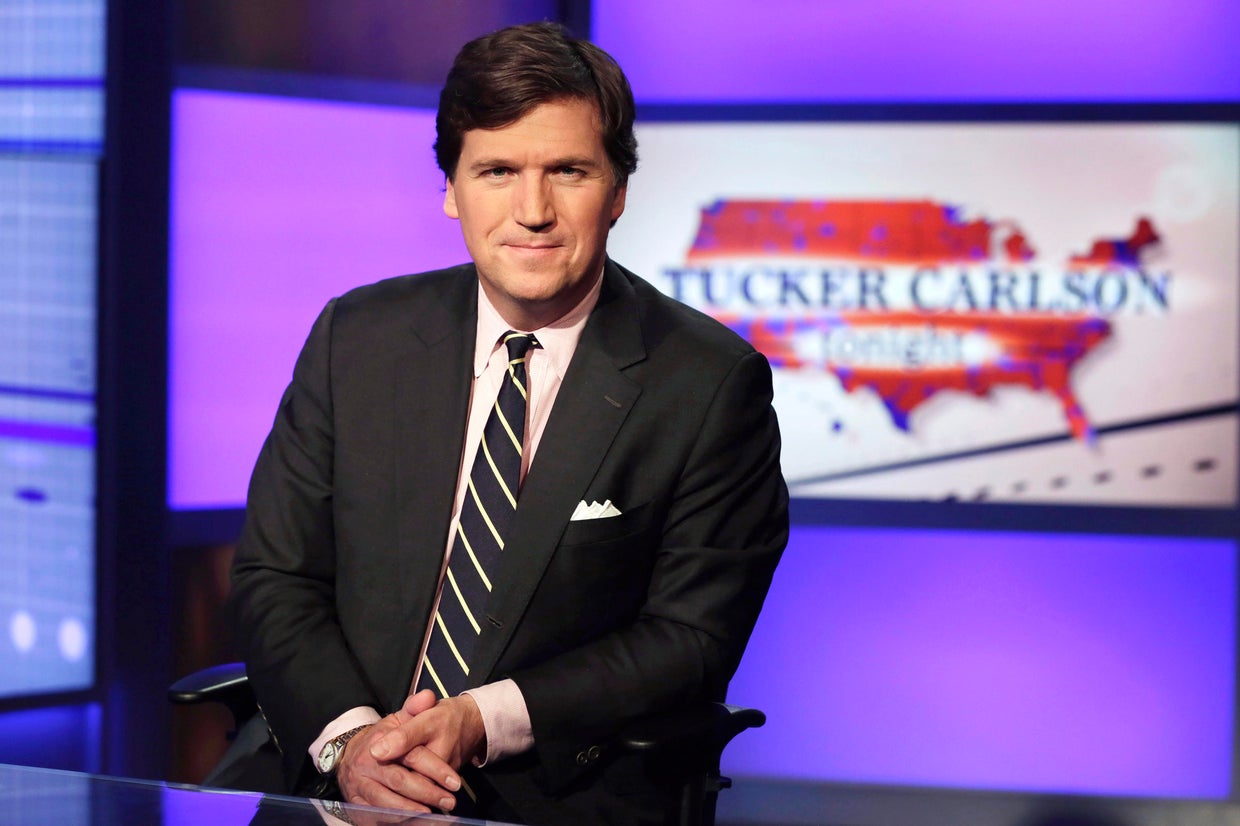 Tucker Carlson, host of "Tucker Carlson Tonight," poses for photos in a Fox News Channel studio on March 2, 2017, in New York. 
Richard Drew / AP
Tucker Carlson
Carlson hosts the 8 p.m. show "Tucker Carlson Tonight," and his Jan. 26, 2021, broadcast is among the 20 that included falsehoods about Dominion said were defamatory. That show featured Mike Lindell as a guest, and he claimed he found "machine fraud."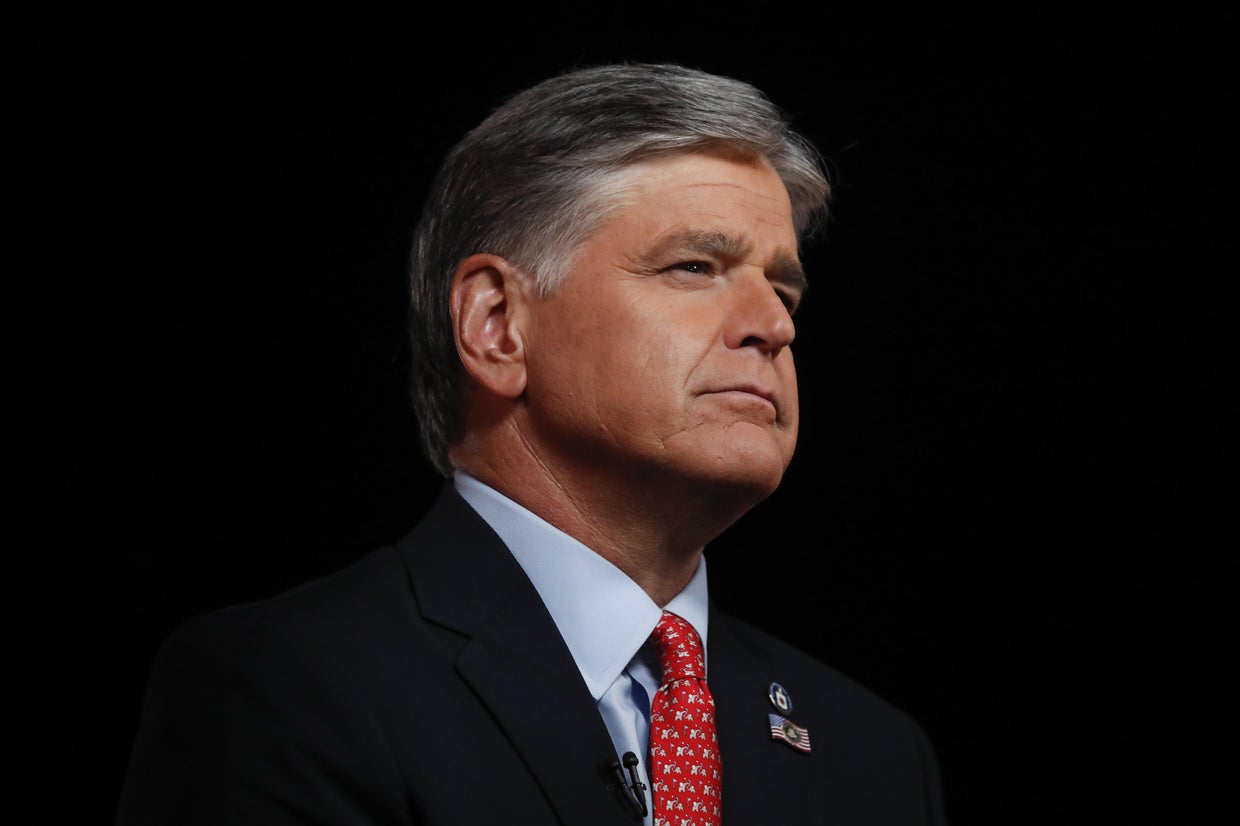 File: Sean Hannity, host at Fox News, broadcasts from the Republican National Convention at Fort McHenry National Monument and Historic Shrine in Baltimore, Maryland, U.S., on Wednesday, Aug. 26, 2020.
Al Drago/Bloomberg via Getty Images
Sean Hannity
Hannity is the host of the eponymous "Hannity," airing at 9 p.m. His Nov. 30, 2020, broadcast contained challenged statements from Sidney Powell, who peddled baseless claims Dominion's voting machines flipped votes from Trump to Mr. Biden.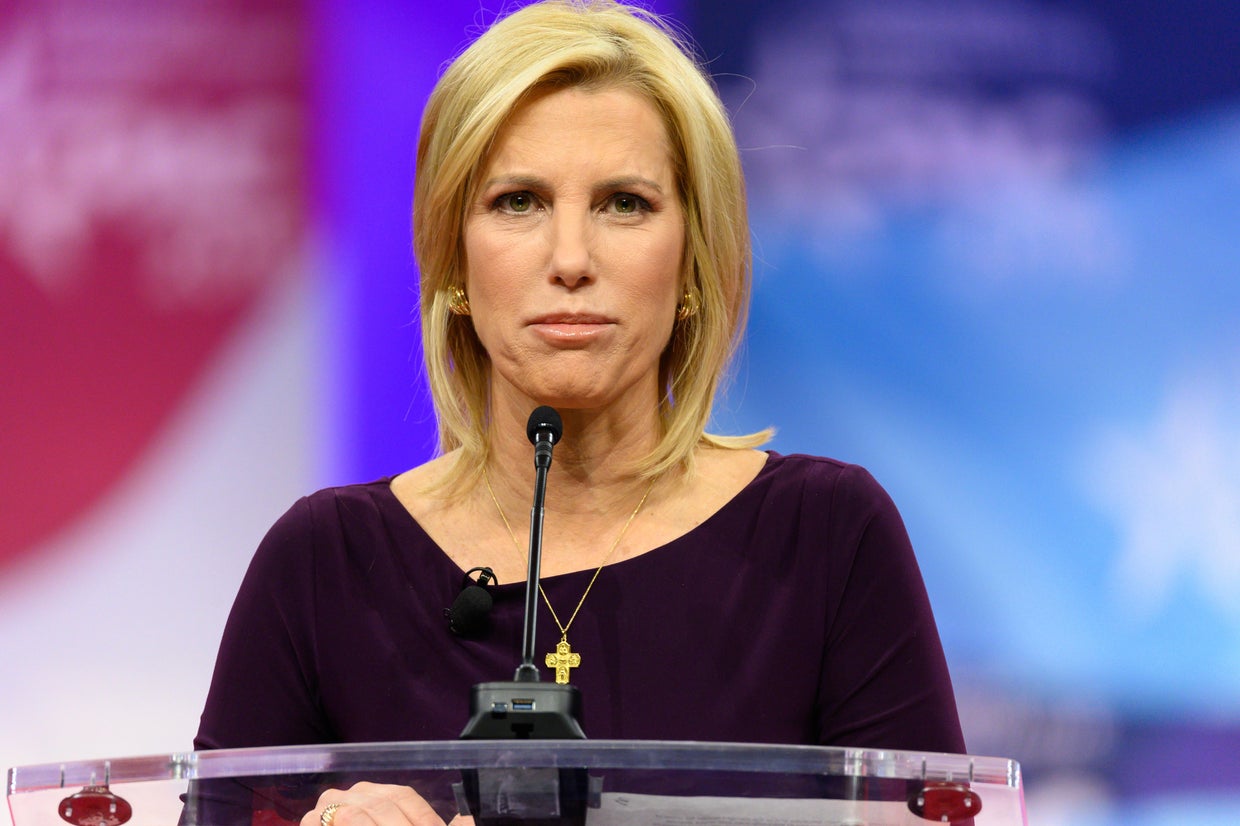 Laura Ingraham seen speaking during the American Conservative Union's Conservative Political Action Conference at the Gaylord National Resort & Convention Center in Oxon Hill, MD, on February 28, 2019.
Michael Brochstein/SOPA Images/LightRocket via Getty Images
Laura Ingraham
Host of the 10 p.m. show "The Ingraham Angle," Ingraham exchanged messages with Carlson and Hannity calling Powell "a bit nuts," and the three lamented about the backlash Fox News was receiving from viewers after its Arizona call.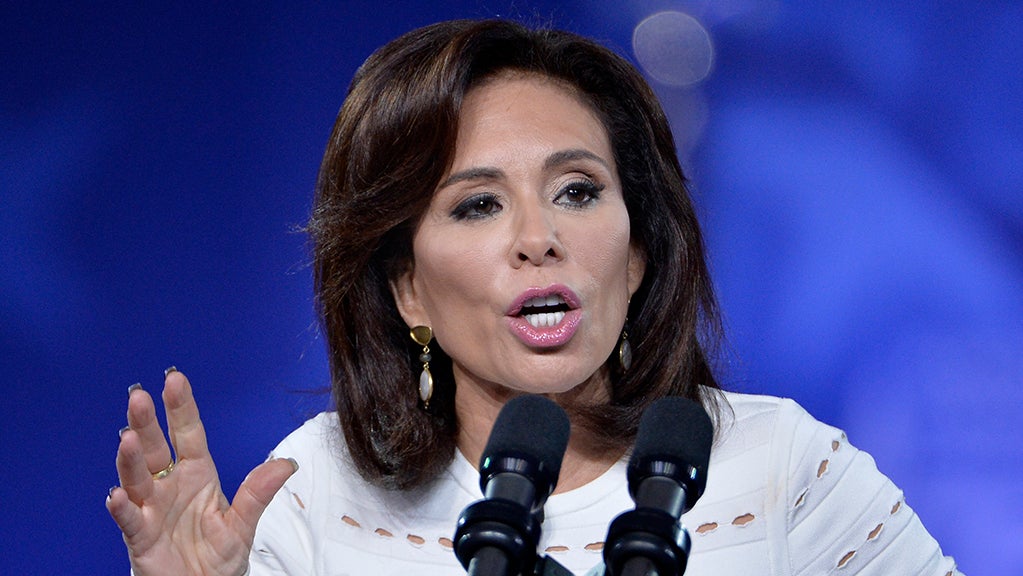 File: Judge Jeanine Pirro of FOX News Network makes remarks to the Conservative Political Action Conference (CPAC) at National Harbor, Maryland, February 23, 2017. 
MIKE THEILER/AFP/Getty Images
Jeanine Pirro
Pirro hosted the show "Justice with Judge Jeanine" on Fox News until January 2022, when she became a permanent co-host for its show "The Five." But two of Pirro's broadcasts on her earlier show, on Nov. 14, 2020, and Nov. 21, 2020, contained statements that Dominion alleges were defamatory.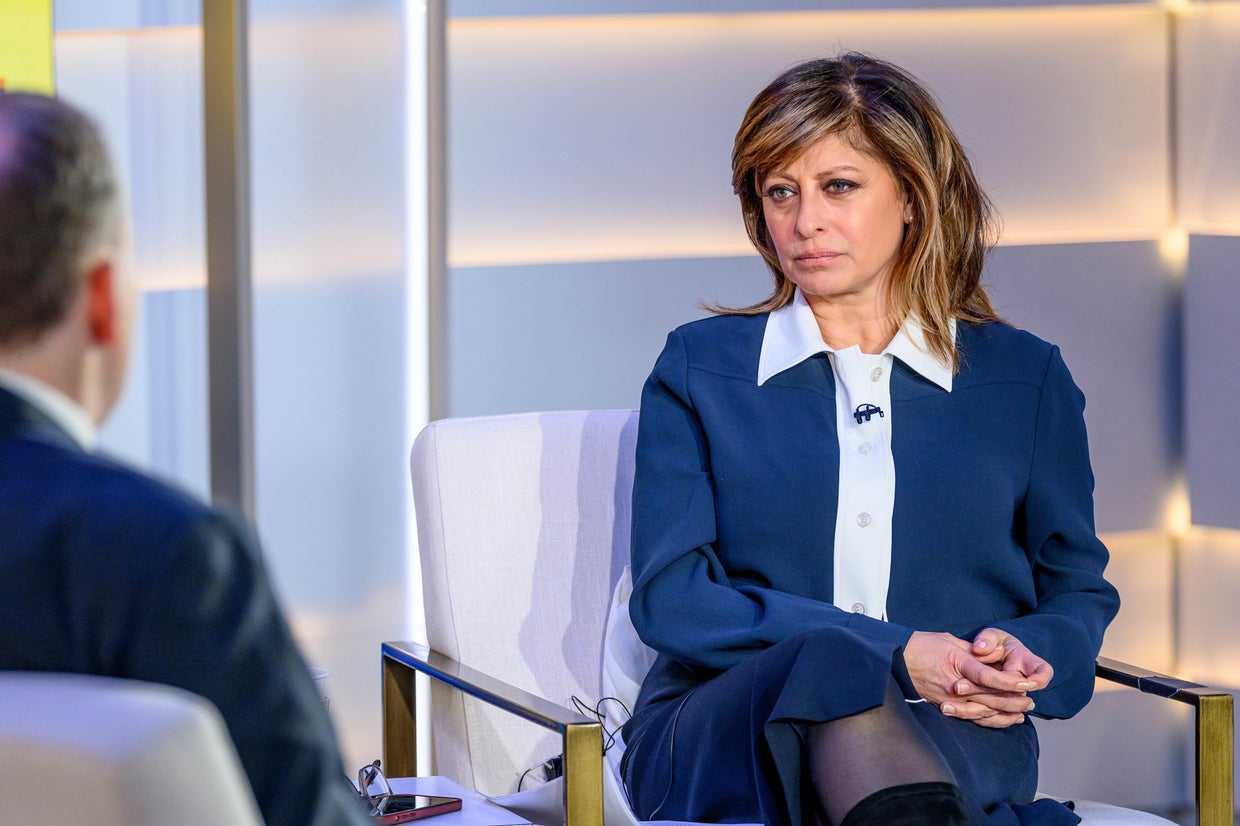 File: Host Maria Bartiromo with Lee Zeldin, former New York gubernatorial candidate as he visits "Mornings With Maria" at Fox Business Network Studios on Feb. 08, 2023, New York.
Roy Rochlin / Getty Images
Maria Bartiromo
Bartiromo's show "Sunday Morning Futures" airs weekly on Fox News, and Dominion has identified her Nov. 8, 2020, broadcast as containing information about it that the network allegedly knew to be false. 
That episode featured Sidney Powell claiming without evidence that Dominion used an algorithm to manipulate vote counts. 
Before the interview, Powell sent Bartiromo an email with the subject line "Election Fraud Info," which Powell received from a Minnesota woman claiming Dominion's software flipped votes from Trump to Biden. The email also claimed the late Justice Antonin Scalia was killed in a "human hunting expedition," and she receives messages from "the wind."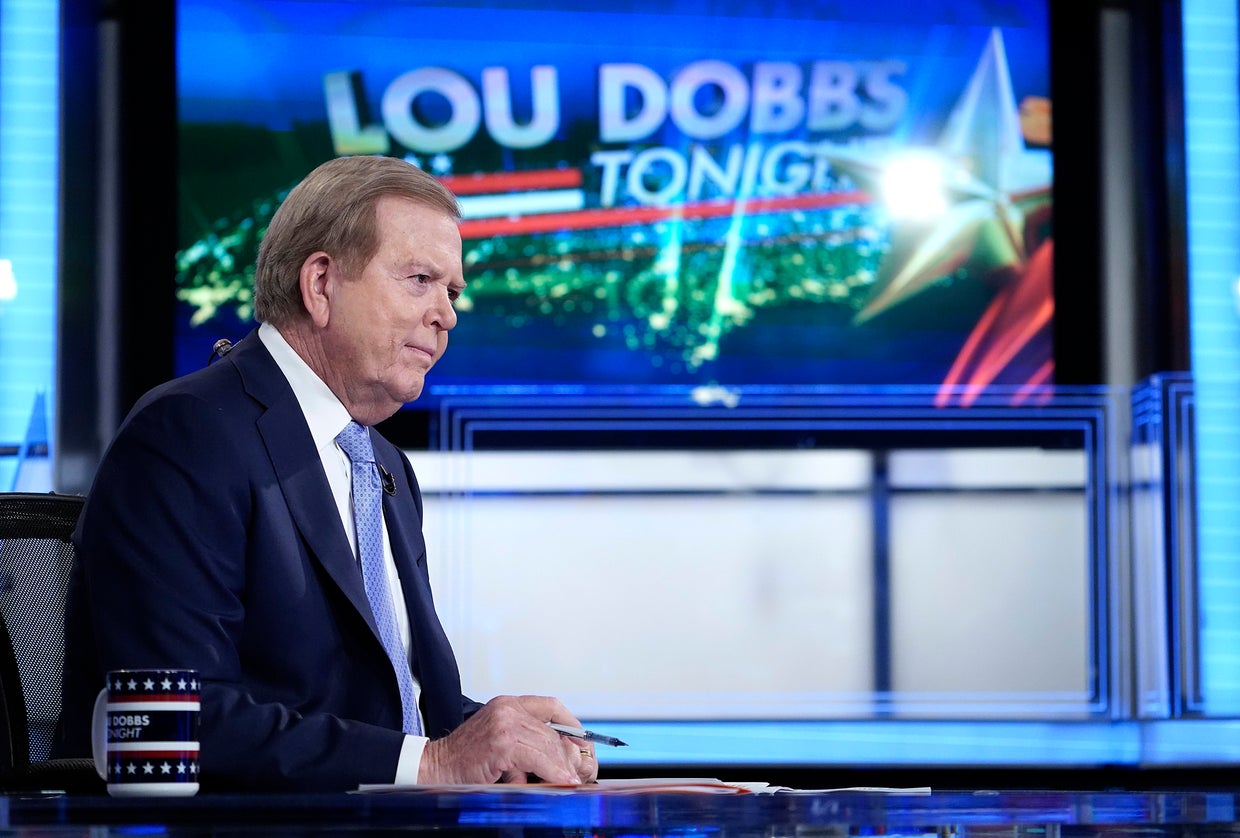 File: Lou Dobbs interviews Treasury Secretary Steven Mnuchin during "Lou Dobbs Tonight" at Fox Business Network Studios on Sept. 23, 2019 in New York City.
John Lamparski/Getty Images
Lou Dobbs
Dobbs, who is no longer with the company, hosted the show "Lou Dobbs Tonight," airing on Fox Business Network. Dominion points to eight of Dobbs' broadcasts that it said contained false information about it, as well as four of his tweets. 
Will Cain
Cain co-hosts Fox & Friends Weekend, and on its Dec. 12, 2020, show, Giuliani was a guest and made accusations about Dominion's voting machines. The company said that as of that date, the public record "clearly demonstrates" that those claims were false.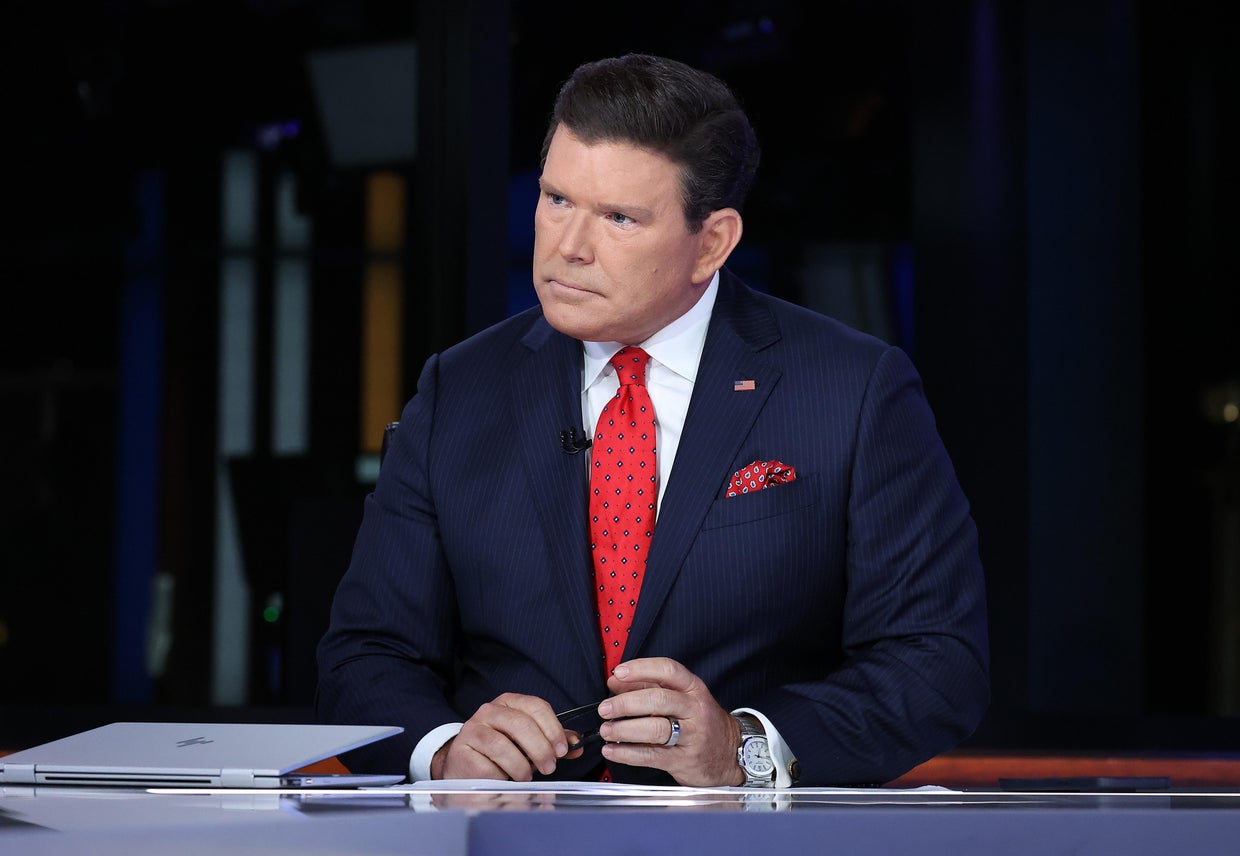 File: Bret Baier of "Special Report with Bret Baier" interrviews Secretary of Transportation Pete Buttigieg on Jan. 05, 2023 in Washington, D.C.
Paul Morigi / Getty Images
Bret Baier
Baier is the chief political correspondent for Fox News and encouraged a fact-check of voter fraud allegations posted on social media by Bartiromo to Sammon, writing "We have to prevent this stuff. … We need to fact check."
He also wrote in a text message on Nov. 5, made public in the case, that "there is NO evidence of fraud. None. Allegations—stories. Twitter. Bulls**t."
Eric Shawn
Another Fox host, he was the subject of an email about a fact-check he did about voter fraud claims. In the email, Scott told Cooper, "This has to stop now. … This is bad business and there is clearly a lack of understanding what is happening in these shows. The audience is furious and we are just feeding them material. Bad for business."
The Producers
Alex Hooper, senior producer, Lou Dobbs Tonight
Jerry Andrews, executive producer, Justice with Jeanine
Abby Grossberg, former senior booking producer for "Sunday Morning Futures"
The three producers are identified as "responsible employees" who knew the statements airing on their respective broadcasts were "false or recklessly disregarded the truth."
Grossberg, in particular, has emerged as a figure whose importance in Dominion's case appears to be growing. She is a former employee of CBS News.
Grossberg filed a separate lawsuit against Fox News, Scott and its lawyers in Delaware state court alleging she was misleadingly coached and manipulated to deliver incomplete answers during a deposition taken as part of Dominion's lawsuit against Fox.
In court filings Tuesday, she said Fox News had recordings, through an app called Otter, of separate conversations Bartiromo had with Giuliani and Powell that showed they had no evidence to support claims they amplified about Dominion on Fox's air. 
Fox turned over the recordings to Dominion last week, and during a pretrial conference Wednesday, Delaware Superior Court Judge Eric Davis, who is overseeing the trial, sanctioned Fox's attorneys for withholding evidence.
The Guests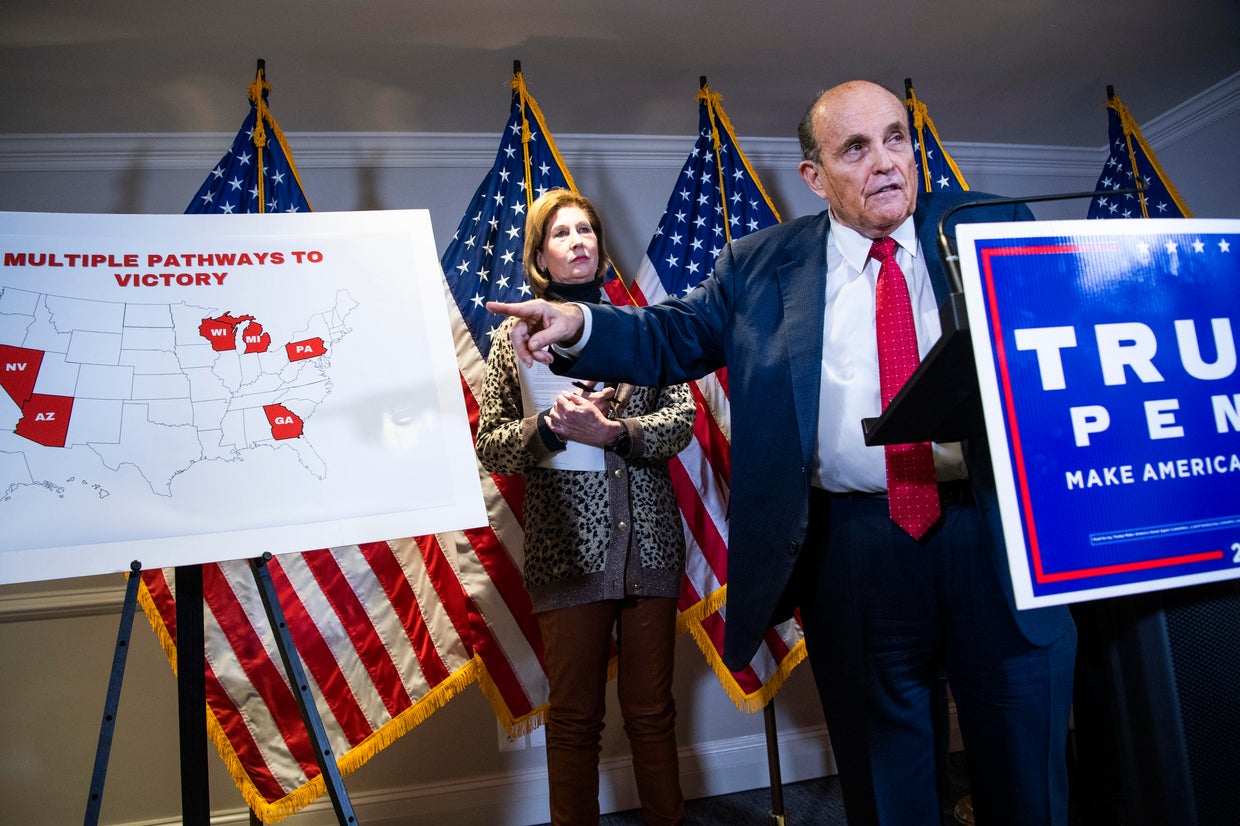 File: Rudolph Giuliani, attorney for President Donald Trump, conducts a news conference at the Republican National Committee on lawsuits regarding the outcome of the 2020 presidential election on Thursday, November 19, 2020.
Tom Williams/CQ-Roll Call, Inc via Getty Images
Sidney Powell
Rudy Giuliani
Mike Lindell
The three appeared as guests of Carson, Hannity, Pirro, Bartiromo and Dobbs, where they raised the unfounded accusations about Dominion and its role in the 2020 presidential election. Giuliani and Powell were the subject of internal messages from Fox's primetime hosts, who pushed back among themselves about the validity of the allegations.