President of Ukraine Volodymyr Zelensky It said on Sunday that Russian forces were not occupying it bekhmutCast doubt on Moscow's insistence that the East ukrainian The city fell.
Responding to a reporter's question about the status of the city at the Group of Seven summit in Japan, Zelensky said: "Bakhmut is not under the control of the Russian Federation to this day."
"We are not throwing people (away) to kill," Zelensky said in Ukrainian through an interpreter. "Humans are wealth. I clearly understand what is happening in Bakhmuth. I cannot share with you the technical details of what is happening with our warriors."
The fog of war made it impossible to confirm the situation on the ground in the longest battle of the offensive, and multiple comments from Ukrainian and Russian officials added to the confusion.
Zelensky's response in English to a question before the summit about Bakhmut's status suggested he believed the city had fallen to Russian forces, and he offered grim words about its fate.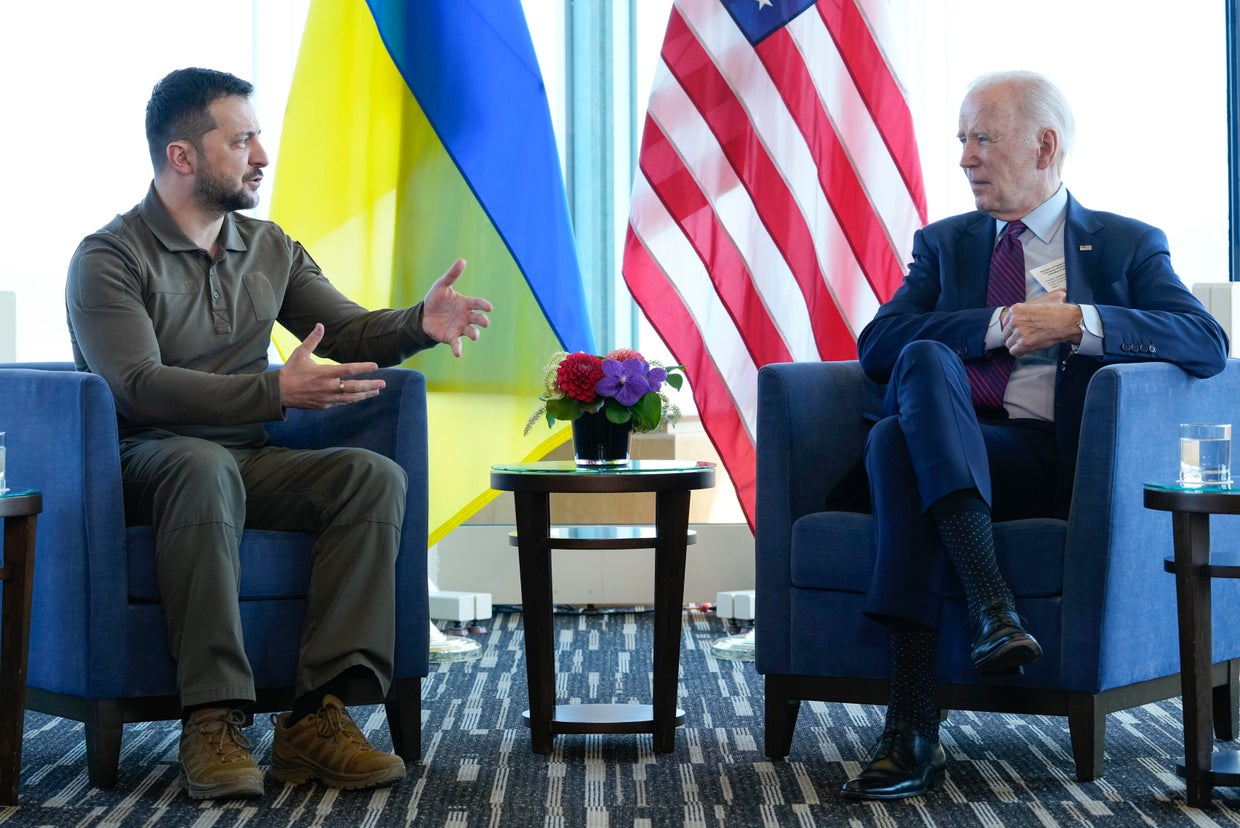 President Joe Biden, right, meets with Ukrainian President Volodymyr Zelensky on the sidelines of the G7 summit in Hiroshima, Japan, Sunday, May 21, 2023.
Susan Walsh/AP
Asked if the city was in Ukrainian hands, Zelensky said: "I don't think so, but you have to understand – there is nothing, they destroyed everything. There are no buildings. It's sad. It's sad."
"But, for today, Bekhmut is only in our hearts. There is nothing in this place, so — just dirt and — and a lot of dead Russians," he said.
Zelensky's press secretary later walked back those earlier comments.
Ukrainian defense and military officials say fierce fighting is ongoing. Deputy Defense Minister Hannah Mallier even went so far as to say that Ukrainian troops have "taken the city into a semi-encirclement."
"The enemy failed to surround Bakhmut, and they lost part of the dominant heights around the city," Malier said. "That is, the advance of our troops into the surrounding suburbs, which is still ongoing, greatly complicates the enemy's presence in Bakhmu."
And Serhii Cherevaty, spokesman for Ukraine's Eastern Group of Forces, said the Ukrainian military was managing to hold positions around Bakhmut.
"The President has rightly stated that the city has indeed been razed to the ground. The enemy is being destroyed daily by heavy artillery and airstrikes, and our units report that the situation is extremely difficult.
"Our military maintains forts and several squares in the southwestern part of the city. Heavy fighting is going on," he said.
This was only the latest flip-flopping in Bakhmut's situation after eight months of intense fighting.
Just a few hours earlier, Russian state news agencies reported that President Vladimir Putin "congratulated the detachment of the Wagner attack, as well as all the soldiers of the Russian Armed Forces units, who provided them with the necessary support and side protection to complete the operation to liberate Artyomovsk," which Bakhmut's Soviet-era name.
Russia's Defense Ministry also said Wagner and military units "completed the liberation" of Bakhmut.
At the G-7 in Japan, Zelensky stood next to US President Joe Biden at a press conference. Mr. Biden announced another $375 million in aid for Ukraine, including more ammunition, artillery and vehicles.
"I thank him for the significant financial support (to Ukraine) from (the United States)," Zelensky later tweeted.
The new pledge comes after allowing US-made F-16 fighter jets to train, laying the groundwork for their eventual move to Ukraine. Mr Biden said on Sunday that Zelensky had given the US a "flat assurance" that Ukraine would not use F-16s jets to attack Russian territory.
Many analysts say that a Russian victory at Bakhmu was unlikely to turn the tide of the war.
A Washington-based think tank said late on Saturday that the Russian occupation of Bakhmut, the last remaining stronghold, was "not strategically or operationally significant". The Institute for the Study of War said that taking control of these areas "does not provide Russian forces with functionally significant terrain to continue offensive operations" or "to defend against a possible Ukrainian counterattack".
In a video posted on Telegram, Wagner chief Yevgeny Prigozhin said the city was under full Russian control by midday Saturday. He spoke as he was surrounded by about half a dozen warriors, with crumbling buildings in the background and the sound of explosions in the distance.
Russian forces still want to occupy the remaining part of the Donetsk region under Ukrainian control, including several heavily fortified areas.
It is not clear which side paid more in the Battle of Bakhmut. Both Russia and Ukraine have suffered thousands of casualties, although neither has released casualty figures.
Zelensky stressed the importance of protecting Bakhmut in an interview with The Associated Press in March, saying its collapse would allow Russia to rally international support for a deal that might require Kiev to make unacceptable compromises.
Analysts said the fall of Bakhmut would be a blow to Ukraine and give Russia some strategic advantage but would not prove decisive for the outcome of the war.
Bakhmut, located about 55 kilometers (34 mi) north of the Russian-controlled regional capital Donetsk, had a pre-war population of 80,000 and was an important industrial center, surrounded by salt and gypsum mines.
Named after a Bolshevik revolutionary when Ukraine was part of the Soviet Union, Artyomovsk is also known for its sparkling wine production in underground caves. Its sprawling tree-lined avenues, lush parks and stately downtown with late 19th-century palaces – all now a smoky wasteland – make it a popular tourist destination.
When a separatist insurgency swept eastern Ukraine in 2014 following Moscow's illegal annexation of Ukraine's Crimean peninsula, rebels quickly won control of the city, only to lose it a few months later.
Moscow's troops tried to take Bakhmut in August but were pushed back, after Russia turned its attention to the Donbass following a botched attempt to capture Kiev early in the offensive in February 2022.
Fighting there stopped in the fall as Russia faced a counteroffensive in Ukraine to the east and south, but resumed full speed late last year. In January, Russia captured the salt-mining town of Soledar, just north of Bakhmut, and closed the city's outskirts.
Intense Russian shelling targeted the town and surrounding villages as Moscow launched a three-pronged attack to try to end resistance in what Ukrainians called "Fortress Bakhmut".
Wagner's mercenaries led the Russian attack. Prigogine sought to use the battle for the city to expand his influence, amid tensions with top Russian military leaders, whom he strongly criticized.
"We didn't just fight the armed forces of Ukraine in Bakhmu. We fought the Russian bureaucracy, which put sand in the wheels," Prigozhin said in the video on Saturday.
Few buildings remained intact amidst the house-to-house fighting under relentless Russian artillery bombardment. According to Ukrainian officials, Wagner's fighters "marched over the dead bodies of their own soldiers". Both sides have expended ammunition at a rate unseen in any armed conflict for decades, firing thousands of rounds a day.
Russian Defense Minister Sergei Shoigu said capturing the city would allow Russia to exert greater pressure on its offensive in the Donetsk region, one of four Ukrainian provinces that Moscow illegally annexed in September.
More

Source link